Note:
Please don't mark this email as 'spam'. If you were subscribed to our list in error by a colleague, please unsubscribe below and you won't hear from us again. Thanks for understanding.
Networking
and Events
Members
Corner
Member Referral
Program
Write
To Us
Connect
With Us
| | |
| --- | --- |
| | From The President's Desk |
Real Estate Awards

IBG will be hosting a quarterly Industry specific Awards, to recognize key players in different sets of businesses. As a first, We are planning a Real Estate Awards, covering all aspects, from top builders, township projects, iconic new buildings in Mumbai, infrastructure projects, etc etc.

The real estate Industry is one of the largest employers In Mumbai, and providers of downstream work to small scale businesses. Its an important barometer of the economic health of the city. currently the industry is passing through a low phase. We will hold a half day conference around these awards where top speakers will talk on the subject.

Those interested in taking part in these awards in any manner, either as recipients of the Awards, Sponsors, etc etc may send in their expression of interest to

priya@ibg.org.in
| | |
| --- | --- |
| | IBG President Mr. Vikash Mittersain's Weekly Radio Talk by ALL India Radio: |
Mr. Vikash Mittersain's radio interview on FM Gold Mumbai 100.1Mhtz – Radio broadcasted on 16th March 2018 in the program "Chhoo lo Asmaan".

Click here – Part 1
Click here – Part 2


In conversation with Dr. Lalit Kanodia on FM Gold Mumbai 100.1Mhtz broadcasted on 27th April 2018 in the program "Chhoo lo Asmaan".

Click here


In conversation with Mr. Anurag Batra, Chairman & Editor-in-Chief of Business World Media Group on FM Gold Mumbai 100.1Mhtz broadcasted on 11th May 2018 in the program "Chhoo lo Asmaan".

Click here
| | |
| --- | --- |
| | Make-A-Wish Foundation® of India is a non-profit organization established in 1996 and since then has fulfilled wishes of 52,710 children diagnosed with a critical illness, mostly Cancer. This year they are aiming to grant wishes of 7,500 such children. |
As part of the CSR initiative at IBG, we have partnered with Make-A-Wish India, on a long term basis till the year 2020, to help them accomplish the goal to grant the wish of the 75,000th child by 2020, which is their silver jubilee year. Make-A-Wish India is approved by Ministry of Corporate Affairs and can provide you benefits under the 2% CSR initiative.
Doctors have shared that granting the wish of such a child, helps restore hope, strength and joy and helps the child respond better to the medical treatment and reduce the drop-out rate at hospitals. A nominal donation of Rs. 1 lac can help grant wishes of 12 children.
For children battling life-threatening illnesses the joys of childhood are replaced with a daily battle for survival, painful treatment and medication and endless rounds of hospitals. The fulfilment of the most cherished wish of a child who has very little hope of enjoying a normal, healthy life not only gives happiness and joy to him/her but also has a therapeutic effect on the child. Doctors have often reported an improvement in the child's physical condition, after the fulfilment of his / her dearest wish
We urge you to consider support to this unique cause by adopting wishes or under your CSR program. Write to Deepak S Bhatia, CEO at Make-A-Wish India on
ceo@makeawishindia.org
for any further information.

| | |
| --- | --- |
| | Events |
IBG Awards of Excellence:
Global One and Arewah Travels were the co sponsor for IBG Awards of Excellence
1. Rehan Yaar Khan was awarded into IBG's startup category
He is known as the serial investor. He is Founder & Managing Partner of Orios Venture Partners, an early stage India technology venture capital firm. He is one of the most successful early backers of Indian software product startups. He's an amazing orator, speaker and thorough subject matter expert of everything around the Venture Capiltal investment niche.
| | |
| --- | --- |
| | GLIMPSES OF PAST |
1. Indo Lanka Business Opportunities at IBG event on 24th April at Artisan, Sofitel Hotel, BKC

were the main sponsor for this event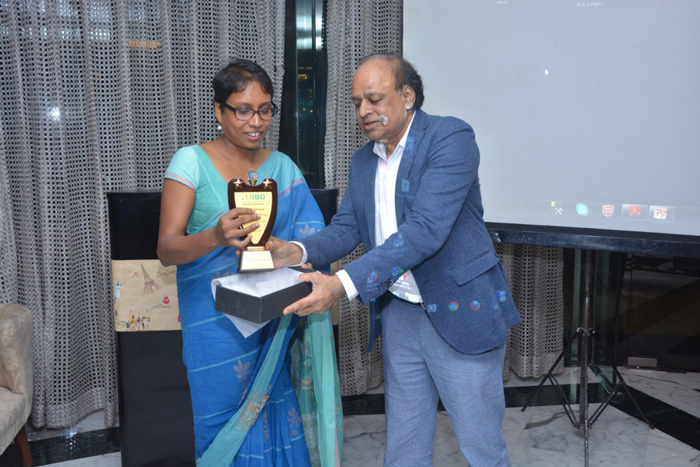 | | |
| --- | --- |
| | PRESS ISSUE |
The Free Press Journal dt. 2nd May 2018
Become an IBG member now!
| | |
| --- | --- |
| | Member's Corner |



Mr. Alok Gupta


Mr. Alok Gupta

Alok Gupta is an Engineering Graduate with management certifications having about 25 years of project experience in various industries. His career started with Vedanta Group (Sterlite) for their copper project from inception to completion (8 years).

His other major stint was in the offshore oil & gas industry and represented M/s Swiber Offshore from Singapore for 12+ years right from incorporation stage. He was a Director in the Indian entity and handled various mega projects for ONGC and other oil majors. Alok Gupta is now a wealth management advisor and catering to all insurance, mutual funds, equities, and PMS options for HNI and other clients.

Of late he is am now giving a lot of time for social service and am associated with various NGO and organisations like:
Vice President, Akhil Bhartiya Agarwal Sammelan, Maharashtra. (have been organising various networking and social events, managing the secretariat, social media and database/correspondence for its members)
Vice President, Agroha Vikas Trust & Shree Hari Satsang Samiti and other socio-cultural groups
Member, Lions Club of Kanjur Marg
Advisory Board, Umang Foundation Trust, NGO working for Child education and Women development
Closely associated with Home for Mentally Deficient Children, Mankhurd
Matoshree Old Age Home at Khadavali (Kalyan)
Organise musical shows and fund raisers for social causes
Active in social media



Mr. Jamshed Mistry


INTERNATIONAL LEGAL ALLIANCE (ILA) – Corporate Members Jamshed Mistry, Advocate; LLB, DLL&LW

Mr. Jamshed Mistry appears as Counsel in the Supreme Court and in various High Courts all over India. He is also an Associate member of the Canadian Bar Association and has appeared in the Supreme Court of British Columbia. His clients have included several corporate companies as well as public sector corporations and institutions such as the Reserve Bank of India, the Brihanmumbai Electric Supply and Transport Undertaking etc. He is a known specialist in the circles of media and entertainment law. His clients have included several corporate media and production houses, Hollywood studios and Bollywood celebrities, corporate entities as well as public sector corporations and institutions.

He was a legal consultant in Canada to the Times of India Film Awards given way in Vancouver in April 2013. He has been appointed Legal Advisor to the International Delphic Council who are in the process of organizing the International Delphic Games (on the lines of the Olympics for Art, Performing Arts, and Culture) in India. He is the Founder of International Legal Alliance (ILA) which is a worldwide network of lawyers. Mr. Mistry works actively for social causes like the rights of disabled persons, beach safety (Goa Action Plan), the setting up of distinct hawking and non- hawking zones in Mumbai, Spastics Society of India, etc. to name of few.



Ms. Sudisha Mukherji


Sudisha Mukherji, Advocate; LLB, M. COM, DIP EABL

Sudisha has worked extensively worked on Agreements, Negotiations, Due Diligence, Legal Audits and Legal Compliances with varisous entities in the start-up and media and entertainment industry and has also extensively represented various leading artists, lyricists, music composers as well production houses, and a top talent and modelling agency. Sudisha has also worked with Film Writers Association and Indian Independent Filmmakers Worldwide Association. She is also an IP Attorney and currently serves on the Ethics Committee of Nowrosjee Wadia Maternity Hospital and Bai Jerbai Wadia Hospital for Children. Sudisha is also associated with and has been assisting Adv. Jamshed Mistry (Independent Legal Counsel) since November 2014 on various matters such as Beach Safety, Safety of Mumbai. Railways and Pot Holes. She has also helped set up a worldwide network of lawyers for International Legal Alliance and is the Founder Member of the same.



Ms. Lakshmi Potluri


Lakshmi Potluri

Lakshmi Potluri

is the

Chief Executive Officer – DCF Ventures

. DCF Ventures is the destination for responsible entrepreneurs, connecting entrepreneurs with corporates, investors and subject matter experts. DCF Ventures also is a gateway for Corporates to access the Israeli innovation ecosystem through their partnership with SOSA, an Israeli startup enablement platform.

Lakshmi comes with 14 years of global experience where she has taken several leadership roles in finance, technology, e-commerce and digital media at IBM(US/Canada/Europe/Latin America), Goldman Sachs(Hong Kong),

jabong.com

(India), Shopify(India). During her stint as a cofounder of jabong.com, she became active in the entrepreneurship world and has been an angel investor herself having invested in companies in India and abroad. Some of her companies are in the consumer tech space such as velvetcase.com,
travellingspoon.com, purganics(organic womens hygiene products), driverskart that was acquired by Driveu and others.
Lakshmi
has an MBA
from
Columbia Business School, New York. She has been a recipient of many awards( Women Entrepreneur of the year - Rotary), a panelist at many prestigious events such as NASSCOMM,FICCI , CII, Indo-China FICCI conference , UK-IBC Conference,Techsparks , IIMs and a speaker at many MNCs.
Apart from this in her free time, she enjoys travelling, staying fit and has a special interest in assisting victims of acid attacks. She is originally from Chennai and is currently based out of Mumbai.
She can be contacted at:
lakshmi@apglobale.com
M: +91 96771 33039
Linked in profile:
https://www.linkedin.com/in/lakshmi-jothi-potluri-a125911/
| | |
| --- | --- |
| | Updates |

Additional New Benefits on being IBG member:
Members get to present their array of work and business at our Networking event.
Members get to unveil their expertise and company credentials once in our IBG Newsletter which is released in the first week of every month and read over by 1 Lac Business People.
Get added on IBG Whatsapp Group and interact with other IBG paid members.
Get to be a part of only paid members event where you will get badges according to your industry sector which makes easier to identify specific needs.
IBG is connected and in collaboration with several consulates. Thus the trade inquiries which are floated from their country is been passed on to our paid members. Also IBG paid members get to be part of such meetings held in turns.

For regular updates please connect with us on Facebook, click on. Also kindly revert back to us with your mobile numbers so that we can message you with our event details prior. Like our IBG start ups group on Facebook to receive regular updates.
| | |
| --- | --- |
| | Sponsorship / Advertising |

In case you would like to advertise in this news letter at nominal rates please write to us at

priya@ibg.org.in

IBG IBG Newsletter goes to around 100000 people To view sponsorship & advertising details and rates

click here

Kindly let us know if you too would like to sponsor a lucky draw prize of your Brand / Company / Any services such as Airline Tickets, 2 Night Hotel Stay or any Product/Service related to your Company at this event as soon as possible so that we can advertise & promote your Company Logo linked to your website, in our mailers. Our mailers go out to 1 Lakh people.

| | |
| --- | --- |
| | We Welcome Your Views |

We welcome views of Members to make this news bulletin more useful to IBG Members in particular and businesses at large. Your interest in India Business Group (IBG) is highly appreciated.
| | |
| --- | --- |
| | Subscribe |

| | |
| --- | --- |
| | Updates |

For regular updates please connect with us on Facebook

click here

Also kindly revert back to us with your mobile numbers so that we can message you with our event details prior.

| | |
| --- | --- |
| | Contact Us |

India Business Group

51-57, Maker Chambers 3,

Nariman Point,

Mumbai - 400021, India

Phone:

+91 22 67471646

Fax:

+91 22 67473821

Email: ibg@ibg.org.in
IBG Team