| | | |
| --- | --- | --- |
| | | India's most widely read newsletter |
Networking
and Events
Members
Corner
Member Referral
Program
Write
To Us
Connect
With Us
| | |
| --- | --- |
| | From The President's Desk |
Dear Friends,

Corona happened in March worldwide. It came into being months before but had minimum impact worldwide. In India, the government took action by shutting down everything in March. Despite major actions to control the virus, it went on increasing and gathering pace. India has now become the 2nd largest infected country in the world, next only to the USA. Sadly thousands of lives are lost already, more than 1 lac as of last count in India. The loss of lives does not discriminate between communities or castes, the rich or the poor.

Despite advances in technology in the world, particularly science in medicine, labs and genetic engineering, a real vaccine is still eluding the world. It's almost a year since the first cases were reported, and especially 6 months since the virus took over the world.

The whole world shut down, all aspects were impacted. Normal life as we knew it changed, no personal meetings, no hugs or shaking of hands, even meeting each other over a drink. Everyone sat at home for months. Finally, all got so tired, the governments were forced to begin opening up as the harm caused by the shutdown began getting worse than the disease. Stock markets are soaring to long term highs. It'ssurprising, but maybe there are undercurrents we don't understand. In the normal course with all countries GDP witnessing massive and never before drop, one would expect equity markets to crumble into dust, but this has not happened.

Businesses has begun to kick start their activities. Small and big companies are revving up their engines. Government sector employees, which form a large percentage of the economy. Retail spending has gone up by 12 to 13% in last 2 months and this is accelerating as people are spending to open up and filling their needs. Rural sector spend is also getting better. FMCG is showing a smart uptick of late indicating revival of economy. Factories and offices are increasing their operations. Many have reached pre Covid levels already. The monsoon has been good and given a boost to the rural economy. After all India is still a 70% rural economy, so when rains are bountiful, there is a fallout to every sector.

And one final thing. Post corona this world will be a different place to live in. whoever lives in the past will perish, means will go down in life. Both personal and business. So prepare for a new future if you wish to grow.
| | |
| --- | --- |
| | GLIMPSES OF activities by IBG |
IBG Film & Media Cell:
Stories. Story telling has been around from ages. History was told first by storytellers to pass on the history of the ages before the written word happened. Our grandmothers used to tell the kids stories. Mythical, real ones, some of her own imagination, and some from history. They were all very interesting and would captivate our imagination and we would listen every night sitting at her feet. Things have moved on from then. Films came along, first B&W, then as technology progressed, colour got added. Thousands upon thousands of films got produced, so many genres.
Now films are not only displayed in movie theatres, so many OTT platforms have emerged, especially since lockdown happened and theatres shut down, some forever. Many will limp back to some form of normalcy, but it will never be the same. A vast change is taking place in the film industry. Those who ride the waves of change will emerge as the future victors.
The film world has become huge, 7 billion people watch movies around the world. A large percentage shape their lives around the films they have watched so it is such an important medium. The way I watch a movie is to try and see what the director sees.
Every bit of what we see on the screen has been placed there, even a picture on the wall. One should watch every film at least twice. First time should like watching the rushes, just the story line and the actors. Second time round get into the director's mind, see every small object, and understand why the director placed it there. Get into the nuances of every word the actors utter, take in the entire 'picture;, so to say . Your movie watching will be so much more fulfilling.
And there is the commercial aspect of movie making, displaying, and the various revenue streams. Contrary to what a normal movie goes who sees a movie on any platform, there are now many revenue streams available to a producer. They go much beyond just the ticket sales. Theatrical release and its revenue is now barely 20%. There are the music rights, the theatrical rights, the International sales, the territory rights, and so much more. Even a flop movie bring enough revenue to return break even.
Then there is movie reviews that critics do. Many are light weight, but a few are worth following as they watch films with different lens. It's always important to read the reviews of such critics.

If you are interested in listening to or watching the makers of films, be part of this film vertical of IBG.
The first few months, we will bring you: -
Webinars and interaction with the movers and shakers of Films, includes actors, producers, music and film directors, at times even the technicians behind the 'scenes'.
Previews and reviews of upcoming films by experts
Free or discounted tickets and passes (only for IBG members)
Stories and write ups of films in the making
We will transport you to the film world
Film & Media Cell Committee:
Mr. Yusuf Shaikh–Chairman –IBG Film & Media Cell
Mr. PradeepDwivedi-CEO of Eros Intl. Media Ltd.
Mr. Sanjay Seksaria–CEO –Media Movers
Mr. VivekSinghania–Proprietor –Picture Perfect
Ms. Jhelum Ratna–Producer & Director –ColageCommunication
ii) IBG Real Estate Vertical - IBG.RE
Every structure begins with a plinth. This is what holds up the building for times to come.. So let's begin at the beginning. IBG has launched its Real Estate Vertical with a strong committee, each a stalwart.
The Real Estate business is in turmoil since beginning of lockdown. As it is it was in slowdown since a few years. This seems like the final nail in the coffin. Here are a few salient points.
Real Estate and Debt: Sadly this sector is greatly built on debt. Developers borrow to buy land and build. Buyers take bank loans, suppliers to builders have their own debt. Debt is like shifting sands, a slight change in economy makes the same sands into quick sands, in which you get sucked in deep, with very little chance of recovery.
Future of developers: It's estimated that 7 out of 10 builders and developers will or already have gone belly up. Or will soon. Marginal builders have run out of funds to continue their business. This will cause its own cascading effect. The entire trade is in disarray, from suppliers of building materials, the entire chain, back and front.
Banks and RE: All banks have extended themselves with their lending to this sector. They will have to write off huge amounts in their balance sheets this year. As it is in the past Indian businesses took loans from banks considering it a on way path This has all changed of late.
This brings me to the purpose of this note is to announce the setting up of IBG.RE, the Real Estate vertical of IBG. We will attempt the following:
OrganiseWebinars on Real Estate happenings
Promote Real Estate trade amongst members and to consumers.
Provide a platform to developers, property consultants, suppliers of all sorts to the trade, by way of sponsoring and advertising options on IBG website as well as Mailers
Facilitate government clearances for RE related members of IBG.
Special memberships rates to those who need additional services and presence in this vertical
Invite top people as Honorary members, from trade as also government
Real Estate Committee Members
Mr. Ajoykaant Ruia – Vice Chairman - Real Estate Division
Mr. Taher Ali Raotiwala – Committee Member - Real Estate Division
Ms. Meenal Sinha – Committee Member - Real Estate Division
Mr. Sangeet Hemant Kumar – Committee Member - Real Estate Division
2. IBG MEMBERS MEET ON 30th September
IBG Membersmeeting over 50 business contacts were exchanged between members. All this, even during a #COVID19 #lockdown2020.
3. IBG PowerGroup Meeting on 18th September
IBGs' new initiative, #IBG Power Groups is off to a rocking start!.
At #PowerGroups, we organize meetings for all #entrepreneurs who would like to network with people of a specific industry..
This month, our meeting focused on the Area of Real Estate
We witnessed a lot of business being given to IBG members and many referrals were exchanged for those needing specific connections.
4. IBG B2B Meetings with Domestic Chambers
i. Virtual B2B Meeting with The Vizagapatam Chamber of Commerce and Industry VCCI
ii. B2B Meeting with Andhra Pradesh Chamber of Commerce & Industry
iii. B2B Meeting with Indian Chamber of International Business.
| | |
| --- | --- |
| | IBG KNOWLEDGE CAFÉ WEBINAR SERIES |
i. Webinar with Mrs. Vanesa Alvarez Franc- Economic & Commercial Counsellor of Spain on 15th Sept

Topic: Doing business with Spain: trade and investment in the new global context

Link: https://youtu.be/POVkVCKmUZk


ii. Webinar with Nanik Rupani– Chairman of Roopmeck Electricals Pvt. Ltd, Chairman Emeritus of Priyadarshni Academy on 22nd Sept

Topic: Six Steps towards Success

Link: https://youtu.be/9qDHUmLPC5Y
iii. Webinar with Leena Mogre- Fitness Guru, Dietician, Entrepreneur & Author on 25th Sept

Topic: Fitness & Nutrition in Present Circumstances

Link: https://youtu.be/tagUXvFji58
iv. Webinar with Dr. Mustafa Saasa - Mind-Set & Leadership Coach on 29th Sept

Topic: Impact of Good Situational Leader in an Organization

Link: https://youtu.be/tagUXvFji58
v. Webinar with Viveck Vaswani – Actor, Producer, Writer on 8th October

Topic: Kal, Aaj Aur Kal - Bollywood yesteryear's, today's Covid world and Future post Covid

Link: https://youtu.be/CU2TotkRbaw
vi. Webinar with Mr Pierre –Emannuel - Consul General of Belgium on 9th October

Topic: India-Belgium relations

Link: https://youtu.be/QMjy3ffPInM
vii.Webinar with Mr. Damian Irzyk–Consul General - Consulateof Poland on 13th October

Topic: Poland and Central Europe as a Driving Force for European Economy

Link: https://youtu.be/Tal9rddlRKw
vii. Webinar with Mr. Yaakov Finkelstein - Consul General of Israel in Mumbai on 15th October

Topic: Israeli Innovation in days of Corona

Link: https://youtu.be/wwsYZv3kAE8
| | |
| --- | --- |
| | Upcoming Partnering event by IBG |
SOW is inviting IBG members to attend India's Biggest Virtual Summit for Startup Funding called "SOW From Home" on the 22nd and 23rd of October. The main focus at SOW has always been to help startups to evolve and grow.

The management team is giving the opportunity to all IBG Members to avail their attendee pass and booth at discounted prices.

Get the opportunity to network with 10000+ Attendees, 500+ Investors, and 3000+ Startups. Be a part of panel discussions held by top leaders and create your leads at SOW.

Website - www.sowsummit.co

To avail of this offer please visit:

FOR ATTENDEE TICKETS: https://sowsummit.co/attendee-landing-page/

FOR BOOTH PACKAGE: https://sowsummit.co/startup-booth-landing-page/


Mr. Vikash Mittersain as a Speaker on Impact Summit


| | |
| --- | --- |
| | TESTIMONIAL BY IBG MEMBERS |
Mr. Vikash Mittersain, the CMD of Nazara Technologies and the Founder President of India Business Group, conducts Virtual Business Mentoring sessions for one #IBG Member each week. Each mentorship session is over an hour long and is done online to help every #IBG member understand their industry's opportunities better and build solid organizations that can last any and every business challenge.
Mr. Taher Raotiwala, the Founder and Director of Effusion Designs, which designs and builds Hotels, Offices, Hospitals, HNI properties, Retail Chains, Educational Institutes, etc. They have offices in Mumbai, Bengaluru, Hyderabad, Gurugram & Chennai. In this video, Taher appreciates the insights Mr. Mittersain has shared in the field of Real Estate, Design and Luxury HNI clients. He thanked him for sharing information of different areas of the industry. Vikash's thoughts and ideas have helped Taher look at how he runs his company, and has allowed him to look at operations, marketing and business development in a new light. Click here for Video: https://www.facebook.com/watch/?v=660767834872911
Mr Jimmy Gandevia, is an IBG member and the Owner of 3 businesses. He has a Car Rental Service - Marathon Travels, a 25 year old business. Through his company Specktrum Decor, he takes up paint contracts, interior and exterior work and small civil work. He also specializesin making customized precious and semi precious stones studded jewellery.In this video, Jimmy talks about how Mr. Mittersain's entrepreneurial skills have won him many admirers and yet, his is so easily accessible to all. He feels that one can learn something new from Vikash every day. He thanked Vikash for his kind words, guidance and mentorship. Click here for Video: https://www.facebook.com/watch/?v=357323438632601
| | |
| --- | --- |
| | SUCCESS STORY OF IBG MEMBER |
Mr. Mandar Zalkikar
Bank Loans and Bank Finance
mandar.zalkikar@gmail.com

One of the leading CAs from Thane has introduced us to his client who was looking for a Home Loan of 3 Cr ( my ideal and preferred loan amount) in the third week of Sept. I met the client then but he said that he was already in discussion with Bank of India (his existing banker) and HDFC Ltd. So I gave him my best offer - which was better than Bank of India and HDFC Ltd.

After waiting for almost 2 weeks with no development on his loan sanction with both the institutions, the client approached us again and we started working on his loan proposal from 5th Oct. The case was approved in flat 7 working days and the disbursement was done yesterday and cheque delivered to builder today. The client is extremely pleased with our services and informed that even his existing bank (BOI) would not have been able to provide the services we offered.

My ask - practicing CAs so that we can provide doorstep service to their clients for all their Loan requirements. Thank you all for your support
| | |
| --- | --- |
| | Member's Corner |



Ms. Swini Deshpande
Founder & Director - SS Consultancy Services
swini@ssconsultant.co.in

Profile:
SS Consultancy Services is founded in 2010 providing services in Human resource development and learning and development. Myself, Swini Deshpande founder and Director having 17 years experience in Learning and Development and HRD. She is certified Trainer and Lead Auditor of ISO 9001:2015.

SS Consultancy Services provide Strategic Human Resource Services in India and Abroad.

Services like Recruitment, Learning and Development, HR Outsourcing, Design and Development of HR Policy Manual, Developing Performance Management System, OD Intervention, Consulting Quality Management System.




Ms. Dhwani Bagdai
Advocate, Bombay High Court - VRAJ Legal
dhwanibagdai@gmail.com / contact@vrajlegal.com

VRAJ Legal's endeavour has been to be proactive and exceed client expectations. We invest time in understanding our client's business which enables us to provide commercially oriented and innovative legal solutions to achieve the client's goals. We believe in providing high-quality advice on the basis of intensive and detailed legal research.

Our Services:

1) Arbitration, Dispute Resolution & Litigation
2) Banking and Finance
3) Consumer Law


4) Criminal Law
5) Family Law
6) Insolvency and Bankruptcy Laws
7) Intellectual Property
8) Real Estate
9) Succession and Testamentary

We appear in the following courts:

1) High Court of Bombay
2) Bombay and Dindoshi City Civil Court
3) National Company Law Tribunal and National Company Law Appellate Tribunal
4) Debt Recovery Tribunal and Debt Recovery Appellate Tribunal
5) All Metropolitan Magistrate Courts in Mumbai
6) District, State and National Commission
7) SEBI ans Securities Appellate Tribunal

Gives

1) CA Foram Shah
2) XHINS - Manufacturer of denim bags
3) Delta Finserv (Loans) - Nikhil Nagpal
4) VAK Clothings - Vruti Kothari, Fashion Designer

Asks

1) Secretary of Housing Societies
2) Manufacturers/ Traders of plastic/ chemical/ steel/ textile
3) Chartered Accountants
4) Owner of Start ups
5) Insurance agents




Ms. Sujata Upadhyay
Founder & Director - CDM Media Group
*Content Consultant | Online Marketing | Online Branding*
sujata@cdmconnect.com
www.cdmconnect.com

*Profile*:

CDM Connect

WE CARVE A PATH FOR YOUR CUSTOMERS TO REACH YOU


We work with start-ups, growing companies and enterprises to ensure they are visible online to both their prospects, competition, and Investors via:
Content Writing – Website Content, Brochure, Blog Series, Case Studies, INVESTOR and Corporate Presentations, eBooks and White Papers and much more.
Online Marketing – Social Media Optimization and Lead Generation, Search Engine Optimization and Content Marketing.
Online Branding – Creating your brand presence online via Graphics Design Services and Videos and Relevant Content.
*Industries that we are currently working with* –
IT Software and IT Services Companies, Legal and Law Firms, FMCG Companies, Housing Finance Companies, Manufacturers, Travel Companies, NGOs, eLearning Companies, Consulting Companies, Business Coaches, HealthCare, Accounting and Retail Companies.
Let's schedule a brief introduction session where we learn about each other businesses.




Mr. Sunil Devnani
Director – Marketing - Innofitt Systems Pvt. Ltd.
sunil@innofitt.com
www.innofitt.com



*Profile*

Sunil Devnani is the founder director of Innofitt Systems Pvt Ltd, Mumbai a company engaged in providing accessories for the workplace since 3 decades

The products include ergonomic Standing Desks, Monitor Arms, Footrests, Power & USB charging units.


Innofitt's clients include all leading office furniture manufacturers, interior contractors, leading architects and select corporates such as Mercedes Benz, Deutsche Bank, Wipro technologies, etc.

We serve B2C customers through our online store www.ergoyou.in and through amazon.

The success of our business is primarily because of our philosophy "Our products must be designed not only for use but also abuse" and "We go the extra mile for the customer"

Sunil is an avid Rotarian since 2004 and also Trustee of his Rotary Club's foundation.
Become an IBG member now!
TO BECOME AN IBG MEMBER AND ENJOY THE BENEFITS, CLICK ON
http://www.ibg.org.in/Link/IBG-Membership-Form.pdf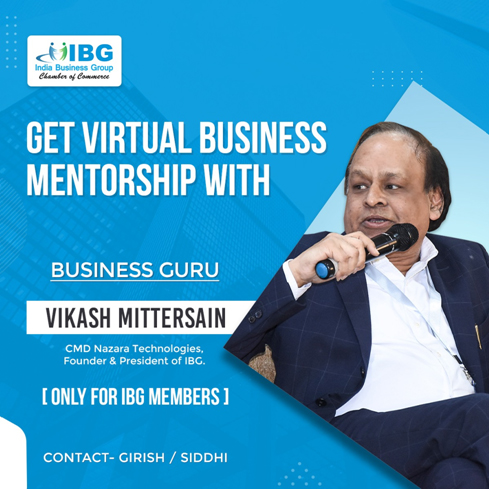 | | |
| --- | --- |
| | Updates |

Additional New Benefits on being IBG member:
Members get to present their array of work and business at our Networking event.
Members get to unveil their expertise and company credentials once in our IBG Newsletter which is released in the first week of every month and read over by 1 Lac Business People.
Get added on IBG Whatsapp Group and interact with other IBG paid members.
Get to be a part of only paid members event where you will get badges according to your industry sector which makes easier to identify specific needs.
IBG is connected and in collaboration with several consulates. Thus the trade inquiries which are floated from their country is been passed on to our paid members. Also IBG paid members get to be part of such meetings held in turns.

For regular updates please connect with us on Facebook, click on. Also kindly revert back to us with your mobile numbers so that we can message you with our event details prior. Like our IBG start ups group on Facebook to receive regular updates.
| | |
| --- | --- |
| | Sponsorship / Advertising |

In case you would like to advertise in this news letter at nominal rates please write to us at

priya@ibg.org.in

IBG IBG Newsletter goes to around 100000 people To view sponsorship & advertising details and rates

click here

Kindly let us know if you too would like to sponsor a lucky draw prize of your Brand / Company / Any services such as Airline Tickets, 2 Night Hotel Stay or any Product/Service related to your Company at this event as soon as possible so that we can advertise & promote your Company Logo linked to your website, in our mailers. Our mailers go out to 1 Lakh people.

| | |
| --- | --- |
| | We Welcome Your Views |

We welcome views of Members to make this news bulletin more useful to IBG Members in particular and businesses at large. Your interest in India Business Group (IBG) is highly appreciated.
| | |
| --- | --- |
| | Subscribe |

| | |
| --- | --- |
| | Updates |

For regular updates please connect with us on Facebook

click here

Also kindly revert back to us with your mobile numbers so that we can message you with our event details prior.

| | |
| --- | --- |
| | Contact Us |

India Business Group

51-57, Maker Chambers 3,

Nariman Point,

Mumbai - 400021, India

Phone:

+91 22 67471646

Fax:

+91 22 67473821

Email: ibg@ibg.org.in
IBG Team