| | | |
| --- | --- | --- |
| | | India's most widely read newsletter |
Networking
and Events
Members
Corner
Member Referral
Program
Write
To Us
Connect
With Us
| | |
| --- | --- |
| | From The President's Desk |
Dear Friends,

Is this a 'Happy' Diwali? We Indians have been celebrating the return of Shri Ram for centuries. There are several minor days around it like chotti Diwali, New Year etc. around this date. It's a period of gaiety and fun, and prayers, and gifts. It's like Christmas of the Western world. Everything is upbeat. Indian economic cycle revolved around Diwali. The New Year (next day of Diwali) meant the start of a new accounting period. Traditionally Indians business people started new WaiKhataas for the year ahead. Sathyas are made on the opening page. So many rituals are performed around it.

And then came 2020 and the spectre of Covid `19. This destroyed the world. As we all know, All businesses came to a full stop. Diwali has everything to do with business and money, though the original reason to celebrate was the day Lord Rama reached Ayodhya.

IBG used to have a major annual event called Diwaloween (a mix of Diwali and Halloween) as both came on nearby dates. It used to be one of the best attended and enjoyable evenings, with the Diwali excitement round the corner. Sadly, this is the first year since the start of IBG that we are unable to hold this event. I promise next Diwali IBG will have a blast of Diwaloween.

Anyway still let me wish all of you Happy Diwali!!

As an aside, let me mention, since Lockdown from 14thMarch, IBG has metamorphosed into a new IBG. From a normal Mumbai only Chamber we pivoted into a National and International Chamber. We began tying up with other chambers in India as well as overseas. We have done several webinars and interactions between our members and other chamber members. We expect to add many more chambers of commerce around the world.

We expect major changes in the business environment post Covid, nothing will remain the same. All IBG activities like these are in anticipation of, and to prepare our members to hit the ground running once business rebounds.

Once again, here is wishing you the best under the circumstances and a better year ahead.
| | |
| --- | --- |
| | FELICITATING MAYOR OF MUMBAI |
IBG salutes the Hon. Mayor Smt. KishoriPednekar, as we felicitated her today for her religious and selfless dedication to the City and People of Mumbai.
| | |
| --- | --- |
| | GLIMPSES OF activities by IBG |
1. Launch of Real Estate Vertical
IBG Real Estate Vertical was launched by our Guest of Honour Mr. SumeetAnand, a Corporate Real Estate Expert, Ex- Global Infrastructure and Logistics Leader, at Genpactin the presence of Mr. VikashMittersain, the CMD of Nazara.Comand the Founder President of India Business Group.
The IBG Real Estate Vertical aims to connect businessmen and businesswomen with Developers, Manufacturers, Consultants and Consumers, and help all of them to grow together, across India.
This vertical is being led by a committee which has seasoned sector veterans, namely - Mr. AjoykaantRuia, Ms.Meenal Sinha, Mr. SangeetHemant Kumar and Mr. Taher Ali Raotiwala.
Click here for FB Video:
https://fb.watch/1QtgHKdKk3/
2. IBG MEMBERS MEET ON 28th Oct
IBG Membersmeeting over 50 business contacts were exchanged between members. All this, even during a #COVID19 #lockdown2020.
2. IBG B2B Meetings with Domestic& International Chambers
i. Virtual B2B Meeting with Uganda Chamber of Commerce on 22nd Oct 2020
ii. B2B Meeting with Bodrum Chamber of Commerce & Industry, Turkey on 27th Oct 2020
The meeting was organized primarily to target sectors such as Weddings, Tourism and Hospitality. We are soon to announce some large business deals which are in the pipeline for IBG members in this sector.
iii. B2B Meeting with Maharashtra Chamber of Commerce, Industry & Agriculture (MACCIA) on 30th October 2020.
iv. President's Roundtable Meeting
| | |
| --- | --- |
| | IBG KNOWLEDGE CAFÉ WEBINAR SERIES |
i. Webinar with Mr. Ananth Mahadevan on 23rd October
Screenwriter, Actor & Director
Topic: Covid& Entertainment
Link: https://youtu.be/PVb-slA6Hok


ii. Webinar with Mr. Bharat Dabholkar– Actor, Writer & Director on 6th November
Topic: Reach the right audience with the Right Advertising
Link: https://youtu.be/DkSz97WDJG4
iii. Webinar with D Sivanandhan- Retd. Police Commissioner of Mumbai on 10th November
Topic: Leadership Model
Link: https://youtu.be/tKiOi8IhGqg
| | |
| --- | --- |
| | Upcoming Partnering event by IBG |
Grit is an attribute that enables entrepreneurs to turn goals into reality. Grit is a skill that can be developed to be more resilient, less impacted, and stay relevant during unprecedented times like these.

The Fifth Edition of @ascent_foundation eConclave 2020, aims to make this possible as they bring together Thought Leaders who talk about failures and setback and in doing so, underscore the precious nature of Grit

Theme: Rebuilding with Grit
Date: 25 - 28 November 2020.
Time: 5:00 - 7:30 PM
To know more and Register visit: www.ascentconclave.in


| | |
| --- | --- |
| | TESTIMONIAL BY IBG MEMBERS |
Mr. VikashMittersain, the CMD of Nazara Technologies and the Founder President of India Business Group, conducts Virtual Business Mentoring sessions for one #IBG Member each week. Each mentorship session is over an hour long and is done online to help every #IBG member understand their industry's opportunities better and build solid organizations that can last any and every business challenge.
Mentoring Testimonial by Mr. Ritesh Kapoor

Ritesh is reputed Tax Consultant, Chartered Accountant, Founder/ Director of Globify Consulting Pvt Ltd/Japan India Partners and Aus-Indo Advisors Pvt Ltd (Australia).

After attending the weekly mentoring one-on-one session, Ritesh got valuable insights of his industry from MrVikashMittersain, which would otherwise be tough to get from any other source.

We are glad to help IBG members in any and every way possible.

IBG members can connect with us to get mentored by Mr. Vikash Mittersain, and get a complete SWOT analysis of their business.

Click here for Video: https://fb.watch/1QuxS57OjL/
| | |
| --- | --- |
| | Member's Corner |



Ms. Komal Shah
Director - Transformative Technologies Pvt Ltd (EdTech)
techtransformative@gmail.com

Profile:
Komal Shah, Co-Founder Transformative Technologies "Sensei Academy" (www.senseiacademy.org), one of India's leading Youth Entrepreneurship and Management Programs as well as Trending Tech Course Platform. Komal is a KPMG Certified Six Sigma Green Belt, with an experience spanning Investment Banking, Banking Strategy, innovative product and business segment 'ideation, development and implementation' at a global level. She pioneered the launch of a 'seamless online loan' product with her stint at ICICI Bank, London, UK. Komal is an avid learner with a keen interest in innovation trends. Komal is a Mentor and Jury Panelist to leading Management Institutes,

a regular speaker at Entrepreneurship Events and has been featured across several publications for her work in the field of Innovation and Entrepreneurship.




Mr. Hitesh Turakia
FOUNDER & CEO - MAK Consultants
hitesh@makconsultants.co.in / 9898078844

Hitesh has over 35 years of vast experience and was lastly serving at a DIRECTOR position for over 3 years and looking after Consulting and Advisory Business. A professional with experience in Manufacturing & Capital Market Segment and held senior management positions at INTIME & Fortune Wealthmax before starting its own company MAK Consultants 3 years back.Every Organization Hitesh worked at has a clear objective of creating a class apart systems and sales cum revenue model to create Wealth for both its Owners and Shareholders by servicing - PE investors or coming out with a Buyout/Selling of Businesses.


HITESH has a vast knowledge in all fields related to Manufacturing Sector & Capital Market, Channel Management & Administration. Has vast experience in Financial & Accounting solutions, Regulatory Compliancy Management & Reporting. He also has hands-on experience in Industrial sector, Accounts, Book Management and Training HITESH's role at MAK Consultants is to steer THE GROWTH and referred to as a TRUSTED PARTNER with Organizations on long term basis to collectively take it to new heights by focusing on Strategic Planning related to Sales, Operations, Revenue, Risk surveillance & product training AND also to take the company to the highest levels of execution. To create better review systems at Corporate Houses – SME and CM segments, Streamlining compliance, training, advising for smooth and effective running of the organization.




Ms. Rita Chedda
Financial Advisor - Max Life Insurance
ritakchheda@yahoo.com / 9820980305

*Profile*:

I am RITA CHHEDA I represent MAX LIFE INSURANCE AND MAX BUPA HEALTH INSURANCE ADITYABIRLA SUNLIFR AND ADITYA BIRLA HEALTH INSURANCE for past 16yrs also I am COT AND MDRT agent in Industry.Why max life because its claim settling ratio is 99.74% and maxbupa is 99.89% Aum of Co is 35k Cr solvency margin is more than 500%. Not only that but the product feature are best in competition market.Best in class services no issue till day, Max bupa health insurance.Health companion and Re Assure and recharge policy are ultimate Reassure plan has got unlimited cover were no competition stands 100% cashless and offers Cover till 3 CR again no competition. All are value for money product.






Ms. Kajal Samwani
KajalSamwani the head designer of Venus Design is a Interior Stylist
ksamwani@gmail.com / 9833735271



*Profile*

Mostly focus on the Styling of the Home Decor products like Curtains, Bed quilts, Headboard, Customized Wallpaper and Wall texture, Sofa sitting, Highlighting Cushions, Blinds, Customized Furniture etc. We have undertaken a wide spectrum of projects Like Residential, Commercial, Bungalows, Hotels, High end Apartments projects pan India.

Our design philosophy stresses a close link between the disciplines of architecture and interior decoration. The end result are rich environments defined by sophisticated color palettes, refined materials and detailing that tailor these interiors to suit her clients' desires. We provide the product and design as per the client budget.


Become an IBG member now!
TO BECOME AN IBG MEMBER AND ENJOY THE BENEFITS, CLICK ON
http://www.ibg.org.in/Link/IBG-Membership-Form.pdf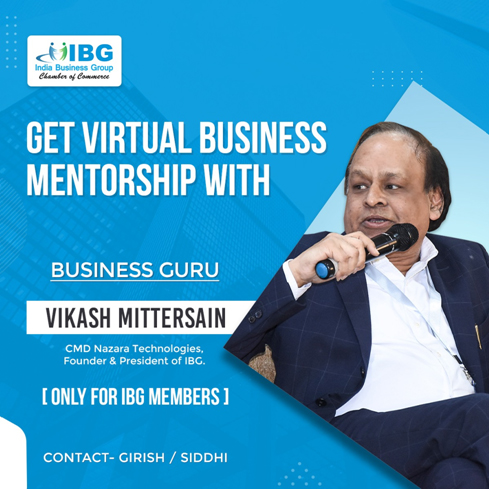 | | |
| --- | --- |
| | Updates |

Additional New Benefits on being IBG member:
Members get to present their array of work and business at our Networking event.
Members get to unveil their expertise and company credentials once in our IBG Newsletter which is released in the first week of every month and read over by 1 Lac Business People.
Get added on IBG Whatsapp Group and interact with other IBG paid members.
Get to be a part of only paid members event where you will get badges according to your industry sector which makes easier to identify specific needs.
IBG is connected and in collaboration with several consulates. Thus the trade inquiries which are floated from their country is been passed on to our paid members. Also IBG paid members get to be part of such meetings held in turns.

For regular updates please connect with us on Facebook, click on. Also kindly revert back to us with your mobile numbers so that we can message you with our event details prior. Like our IBG start ups group on Facebook to receive regular updates.
| | |
| --- | --- |
| | Sponsorship / Advertising |

In case you would like to advertise in this news letter at nominal rates please write to us at

priya@ibg.org.in

IBG IBG Newsletter goes to around 100000 people To view sponsorship & advertising details and rates

click here

Kindly let us know if you too would like to sponsor a lucky draw prize of your Brand / Company / Any services such as Airline Tickets, 2 Night Hotel Stay or any Product/Service related to your Company at this event as soon as possible so that we can advertise & promote your Company Logo linked to your website, in our mailers. Our mailers go out to 1 Lakh people.

| | |
| --- | --- |
| | We Welcome Your Views |

We welcome views of Members to make this news bulletin more useful to IBG Members in particular and businesses at large. Your interest in India Business Group (IBG) is highly appreciated.
| | |
| --- | --- |
| | Subscribe |

| | |
| --- | --- |
| | Updates |

For regular updates please connect with us on Facebook

click here

Also kindly revert back to us with your mobile numbers so that we can message you with our event details prior.

| | |
| --- | --- |
| | Contact Us |

India Business Group

51-57, Maker Chambers 3,

Nariman Point,

Mumbai - 400021, India

Phone:

+91 22 67471646

Fax:

+91 22 67473821

Email: ibg@ibg.org.in
IBG Team