| | | |
| --- | --- | --- |
| | | India's most widely read newsletter |
Networking
and Events
Members
Corner
Member Referral
Program
Write
To Us
Connect
With Us
| | |
| --- | --- |
| | From The President's Desk |
Hi Friends, Members and Associates of IBG

IBG progresses even in the Corona Pandemic. We used to be a Mumbai centric chamber, with events and networking at various hotels, pubs, restaurants. Members enjoyed them and there were at least 2 events a month. This was beside 3rd party events promoted by us.

Came March, and Covid and lockdown. The world came to a grinding screeching halt. On March 14. No events or get together happening even now and foreseeable future. Some functions like weddings, private parties etc. have begun to a small extent, but public bodies like Chambers of commerce cannot yet open up to public events and endanger their members.

As announced in a previous Newsletter, IBG pivoted an International Chamber, with several online events. We also tied up with several International and local Indian chambers to help members connect and do business with a wide spectrum of businesses around the world.


The latest offering from IBG are 2 new verticals
IBG RE: The Real Estate vertical of IBG. : This vertical will delve in all matter Real Estate. It will conduct webinars, interactions with the movers and shakers in the Industry, timely update on government policies , business opportunities , and more, much more. The committee is run by the following
1. Mr. Ajoykaant Ruia - Head of the Committee - Director –Allstate Group
2. Ms. Meenal Sinha - Founder & CEO meetingsandoffices.com
3.Taher Raotiwala - Architect -Effusion Designs Pvt. Ltd.
4.SangeetHemant Kumar - Founder & CEO - SHK Ventures

Some Features of this vertical are Promote the interest of end consumer, Representation of industry issues to Government Bodies, Focus on delivering value to our members. We invite those interested in Real Estate, in any manner to be included in this mailing list
Film and Entertainment vertical: This sector has become big in general.
It will be run by the following stalwarts of the industry
1.Mr. Yusuf Shaikh–Chairman –IBG Film & Media Cell
2.Mr. PradeepDwivedi-CEO of Eros Intl. Media Ltd.
3.Mr. Sanjay Seksaria–CEO –Media Movers
4.Mr. VivekSinghania–Proprietor –Picture Perfect
5.Ms. Jhelum Ratna–Producer & Director –ColageCommunication
IBG Members and associates who are into Media, Advertising, Digital Marketing, Finance, Event Management and others who see value in future thru networking with films and media.
Opportunities from this Vertical will cover :-
Mentorship from Media Leaders
Special forum for B2B Meetings in Entertainment Sectors designed for individual products and services of members
Opportunities to find Investors / Funders in Film & Media for member services
IBG Film Awards and chance for branding your product/ services
IBG Film Festival and chance for Infilm branding
Promotions & Endorsement of Content on different platforms to IBG subscriber base of 50K
Our media vertical members can access Connecting with Consulates for Film Shoots & related work (incentives etc..)
Endorsement from Celebrities
Influence Marketing
Barter & Cross Media Marketing
And various other new initiatives.
And of course, networking and participating on the chat is free for all our members who are interested. Kindly Let us know who all are interested in being part of the group and participate.
| | |
| --- | --- |
| | GLIMPSES OF activities by IBG |
1. IBG MEMBERS MEET ON 2nd December
IBG Membersmeeting over 50 business contacts were exchanged between members. All this, even during a #COVID19 #lockdown2020.
2. IBG B2B Meetings with Domestic& International Chambers
i. IBG - B2B Meeting with Afghanistan Women Chamber of Commerce and Industries (AWCCI) on 26th Nov
Afghanistan Women's Chamber of Commerce and Industry (AWCCI) is a women business association under the LEAD (Leading Entrepreneurs for Afghanistan's Development). Members from Afghanistan were mainly into handicrafts, apparel, clothing, carpet, jewellery, dry fruits and saffron procurement, processing and international supply. A lot of new business connections were made between the two Chambers of Commerce
ii. B2B Meeting with International Chamber of Commerce in Afghanistan on 3rd Dec
From Afghanistan, we had Mr. Hojat Fazly: CEO/ Secretary-general, Mr. Mohammad Aslam Popal: Head of the membership dept and Mr. Emran Rahmani: Head of the policy dept - joined us for the meeting. Through this meeting, members of IBG got the opportunity to network internationally in Afghanistan and connect with businesses operating in multiple continents.
iii. President's Roundtable Meeting
Mr Vikash Mittersain and Ms Priya Pansare, the CEO of IBG, held a roundtable meeting with 18+ Presidents of Chambers of Commerce from various countries. They discussed the future plan for all the International Chambers of Commerce to collaborate & help all their members to network better to grow globally.
| | |
| --- | --- |
| | IBG KNOWLEDGE CAFÉ WEBINAR SERIES |

i. Webinar with D Sivanandhan - Retd. Police Commissioner of Mumbai on 10th November
Topic: Leadership Model

ii. Webinar with Ms. Andrea Kuhn - Consul General of South Africa on 24th November
Topic: Trade & Investment Opportunities with South Africa
| | |
| --- | --- |
| | TESTIMONIAL BY IBG MEMBERS |
Mr. Vikash Mittersain, the CMD of Nazara Technologies and the Founder President of India Business Group, conducts Virtual Business Mentoring sessions for one #IBG Member each week. Each mentorship session is over an hour long and is done online to help every #IBG member understand their industry's opportunities better and build solid organizations that can last any and every business challenge.
| | |
| --- | --- |
| | Member's Corner |



Mr. Avddhut Rege
Founder - Shamang Events & Entertainment
avddhutjrege@gmail.com
www.shamangentertainment.com
7045480612 / 8433993664

Profile:
Shamang Events & Entertainment - A one-of-its-kind Event and Entertainment Combo was established in 2010. We are creative Conceptualizers and Executors to organize events for individuals, corporate sector, banks, social institutions and clubs as well as societies. We are also specialized in planning your all Social Events- Engagement, Wedding, Anniversary and Destination Wedding in a creative & innovative way,( Especially during Covid situation by following Govt Norm & looking after all safety)

A corporate event must be highly disciplined and professional one. So, here we are to make it a reality for your company.

While doing so, we work out a tailor-made budget by respecting your specific requirements and busy schedules. Plus, our precise finishing touches and attention to detail steals the show for sure.

For exclusive Corporate & Social Entertainment, we provide highly talented performers who will entertain your audiences to the last musical note. The AV and stage arrangements, carpet spread, installations, de-rig and colour-scheme, Led Walls, Led Lights, Hi-fi Sound, are all our responsibilities. Moreover, the most engaging and creative concepts are merged for fun-filled parties, holiday getaways, cultural events, inbound group tours and team-building activities. And, be it a tiny team or larger corporate group, So, just call us, relax and enjoy every bit of the event!!

During this challenging situation of Covid, We are organizing Virtual Events in Innovative way with Digital set up, Graphics, Landing page, Live Page, Event Coordination, Dry run(rehearsal with speakers)We provide a mobile and web platform that aims to change the way doctors learn by providing video content on demand.Our platform uses amazon web services for data storage and Google's CDN for streaming content and this makes our platform very secure to store and distribute content.

Furthermore, our platform is built for ease of use and we will continually keep adding features that will make it easier for users to discover and access video content.

*We make your every Event Memorable*




Mr. Bhagyawan Manjrekar
Proprietor- Websoft Technologies
bhagyawan@websofttech.in
9029088008

Profile:
This is *Bhagyawan Manjrekar*, Founder of *Websoft Technologies, 9 years old Mumbai based IT company. We help enterprises with business automation solutions & growth of the business. He has around 19 years of experience in IT sector. He is also member at Maharashtra Chamber of Commerce, Industry & Agriculture.

*Websoft Technologies* provides Website Development, Content management system, Cloud based CRM, Interactive Digital Business Card, E-commece solutions, Chatbot, Live Chat,
Digital Marketing services such Online SMS gateway (API, Promotional, Transactional), Bulk Email service (Marketing), Bulk WhatsApp, Voice Marketing, Short code, Lond code, VIP numbers for business and Virtual Receptionist.

He has started brand called *SMS Mantra* in 2012 for Telecom and VAS services.

He is working on creating online platform for Sellers as *GetMyShopee*. Launched beta version and will be launching with more services in couple of months. He also does Counseling and working in the field of Career, Health & Wellness industry for better healthy life.




Mr. Bhavyan Kothari
Founder - Infinity Systems
bhavyan@infinitysystem.in
www.infinitysystem.in
9819700631

Profile:
Infinity Systems was established in the year of 2003 (Total experience of 17 Years) Infinity Systems is a premier business intelligence service provider in the field of information Technology (iT) and focused on growing businesses.

We are one of the most trusted service provider & supplier among the customers. We provide our Services and Solution to Small Company, SMB Company and Large Corporates. We specialized in:-


* Networking (Wired & Wireless)
* Security (Firewall, CCTV, Biometric, Door Access)
* Data Management (Local and Remote Backup)
* Computing (Sever, Laptop & Desktop)
* Tele Communication (EPBX, IPBX, Mobile Booster)
* Managed Services (AMC & FMS)
* Consultancy

"We manage your iT Infrastructure, So you can manage your Core Business"






Dr. Wasim Ghori
Consultant Diabetologist
Doctorpreneur/Healthcare Consultant
Director - Healthcare, Indian Economic Trade Organization, (IETO)
Brand Ambassador - Education UK, British Council
Brand Ambassador - Association for Healthcare Management Professionals (AHMP), India

dr_wasim_care@yahoo.co.in
www.drwasimghori.com
+91 7208830785


*Profile*
Currently, Dr. Wasim Ghori serves as the Medical Director and Consultant Diabetologist for a chain of Specialty Heart & Diabetes Clinics in Mumbai with a focus on wellness and multi-disciplinary holistic care. He helps incorporate IT-supported care pathways for early detection and prevention of long-term complications caused by Type 2 Diabetes, this approach adds value to his patients.
Dr. Ghori helps people with diabetes on how to self-manage their health so that they can avoid long term complications and enjoy better quality of life. To achieve this goal of having a Diabetes Complications Free India, he educates and empowers individuals to become more aware of their health and enable them to make informed healthier lifestyle choices through *Healthcare on Your Fingertips* - a Patient Education and Awareness WhatsApp Messaging Initiative where bite-sized health nuggets gets delivered to people every morning which they can access anytime and anywhere. Dr. Ghori's Patient Education initiative received positive feedback and appreciation from Dr. V. Mohan, internationally renowned expert identified in the top 2% scientists in the world in the specialty of Endocrinology and Metabolism listed by Stanford University.
Dr. Ghori is also an award-winning UK Alumni with an MBA in International Health Services & Hospital Management from London South Bank University where he spent considerable time studying the National Health Service (NHS, England). He serves as the Director for Healthcare at Indian Economic Trade Organization (IETO). In 2012, the British Council appointed him as the Brand Ambassador for Education UK highlighting his outstanding achievements as a Healthcare Leader in The Club UK Magazine.
Dr. Ghori is an avid writer on Healthcare & Education and has landed coverage in several media publications of repute, both national and international.
*Dr. M. Wasim Ghori – _Education UK, Brand Ambassador_ – British Council*
https://alumni.lsbu.ac.uk/page.aspx?pid=422
*Dr. M. Wasim Ghori - _Distinguished Alumni_ - London South Bank University (LSBU), UK*
https://www.lsbu.ac.uk/stories/dr-mohammad-w-ghori-alumnus-health-services-and-hospital-management






Ms. Hiram Shaikh

Director - FynAlliance Advisors Private Limited
hiraminamdar@gmail.com
www.fynalliance.com
9892114853

*Profile*

A Chartered accountant, Masters in Commerce, IFRS Diploma holder from ACCA (UK) and A Certified Image Consultant & Soft Skills Trainer from Image Consulting Business Institute (ICBI) accredited by SQA (Scottish Qualifications Authority). Hiram is a certified Trainer by NABET (National Accreditation Board for Education and Training, a constituent Board of Quality Council of India).
Hiram is a Director at Fynalliance Advisors Private Limited, a business consultancy service provider. She is Co-founder of RAH Consultants, an Image consultancy and soft skills training form. She has 10 years of work exp in a corporate environment with one of the top CA Firms. Her transition to an entrepreneurial role was strongly aided by her passion to create job opportunities.




Mr. Prashant Girme

(MBA Finance and Marketing)
Director - Earthly Joy Global Pvt. Ltd.
Prashantg@earthlyjoy.in
www.earthlyjoyglobal.com
LinkedIn: https://www.linkedin.com/in/prashant-girme-2641697a
8796011414

*Profile*

Prashant Girme is Managing Director of Earthly Joy Global Pvt. Ltd.
Earthly Joy Global Pvt. Ltd. is FMCG Company which is 3 years old. They have their brands names *GoldMine* for powder and spices.


A variety of products like Green Chilli Powder, Garlic Powder and Ginger Powder, Jaggery Powder, Jaggery Nuggets, Jaggery Bar, and more.

And another brand *MY CHANG* for Chinese products brings to you a varieties like Schezwan Chutney, Dark Soy Sauce, Red Chilli Sauce, Green Chilli Sauce and Chilli Vinegar, where each and every product is of exceptional taste, quality, design, and packaging.

Now we are operating Mumbai, Pune and all over Maharashtra with 98 no of distributors.

He has done dual qualifications in MBA finance and Marketing.

His role in his company is marketing and sales. He has 13 years' experience. He is born and brought up from small village Akluj in Solapur. His hobbies are reading, traveling, cooking, and watching movies.
Become an IBG member now!
TO BECOME AN IBG MEMBER AND ENJOY THE BENEFITS, CLICK ON
http://www.ibg.org.in/Link/IBG-Membership-Form.pdf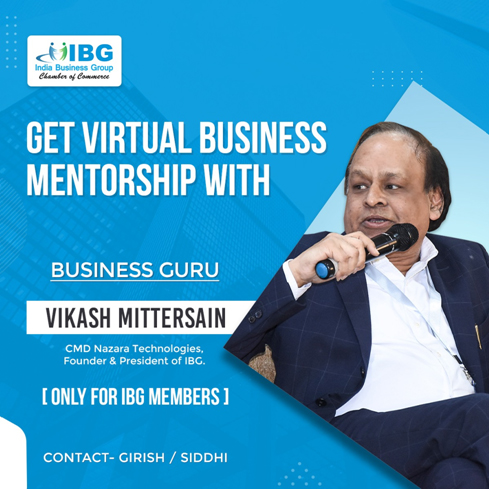 | | |
| --- | --- |
| | Updates |

Additional New Benefits on being IBG member:
Members get to present their array of work and business at our Networking event.
Members get to unveil their expertise and company credentials once in our IBG Newsletter which is released in the first week of every month and read over by 1 Lac Business People.
Get added on IBG Whatsapp Group and interact with other IBG paid members.
Get to be a part of only paid members event where you will get badges according to your industry sector which makes easier to identify specific needs.
IBG is connected and in collaboration with several consulates. Thus the trade inquiries which are floated from their country is been passed on to our paid members. Also IBG paid members get to be part of such meetings held in turns.

For regular updates please connect with us on Facebook, click on. Also kindly revert back to us with your mobile numbers so that we can message you with our event details prior. Like our IBG start ups group on Facebook to receive regular updates.
| | |
| --- | --- |
| | Sponsorship / Advertising |

In case you would like to advertise in this news letter at nominal rates please write to us at

priya@ibg.org.in

IBG IBG Newsletter goes to around 100000 people To view sponsorship & advertising details and rates

click here

Kindly let us know if you too would like to sponsor a lucky draw prize of your Brand / Company / Any services such as Airline Tickets, 2 Night Hotel Stay or any Product/Service related to your Company at this event as soon as possible so that we can advertise & promote your Company Logo linked to your website, in our mailers. Our mailers go out to 1 Lakh people.

| | |
| --- | --- |
| | We Welcome Your Views |

We welcome views of Members to make this news bulletin more useful to IBG Members in particular and businesses at large. Your interest in India Business Group (IBG) is highly appreciated.
| | |
| --- | --- |
| | Subscribe |

| | |
| --- | --- |
| | Updates |

For regular updates please connect with us on Facebook

click here

Also kindly revert back to us with your mobile numbers so that we can message you with our event details prior.

| | |
| --- | --- |
| | Contact Us |

India Business Group

51-57, Maker Chambers 3,

Nariman Point,

Mumbai - 400021, India

Phone:

+91 22 67471646

Fax:

+91 22 67473821

Email: ibg@ibg.org.in
IBG Team