Networking
and Events
Members
Corner
Member Referral
Program
Write
To Us
Connect
With Us
| | |
| --- | --- |
| | From The President's Desk |
There are Awards and there are Awards, but none like IBG Awards. Mayor of Mumbai Hon. Smt. Kishori Pednekar was chief guest. It may not be like the 'made for TV' awards functions but down to earth and real. The Awardees selected are winners in their own domains, mostly business (After all IBG is a serious business chamber with over 1000 members) which reaches out to around 80 k business people in Mumbai, the economic capital of India. The IBG Award has created an aura of its own. Members as well as general business people wait in anticipation and expectation, and of course hope they will be the one.

We get so many calls to consider them for the award. We get so many unsolicited bio data's and company profiles and achievements for consideration. We diligently peruse each them.

Awards are more than just a piece of wood or metal. They are acknowledgments of achievements, of thoughts and actions that led to success in endeavor.

It's not just the success of earning money. It goes beyond. Everyone works hard. It's just that some work harder, or smarter, or don't give up in face of difficulties faced. An Award is an uplifting amidst peers, among competitors too. An Award brings self-satisfaction, self-confidence, makes you set your goals higher for the future. Many work to win awards, many to succeed and their efforts to be recognized. A lot can be said for an Award. Awards are sublime, they transcend IBG Awards stand out. This year's awards saw over 200 in audience, including the awardees themselves, their friends, relatives and colleagues, IBG members and general business people who hope to be the next years Awardee.

I invite aspirants for the IBG 2021 Awards to keep us updated time to time on their progress, their journey. Be involved with IBG, become a member and avail of IBG benefits, including the interaction with the government Ministers and Secretaries. Our deep connections with Foreign Consul Generals, IBG fortnightly meetings and events, and so on and so forth. See you again on 31st Jan 2021!
| | |
| --- | --- |
| | GLIMPSES OF PAST |
1. IBG AWARDS OF EXCELLENCE 2020 on 31st January at IMC
India Business Group, a not for profit Chamber of Commerce organized the IBG Annual Business Excellence Awards, 2020 to honour entrepreneurs who have excelled in the past year and made a name for themselves in their chosen fields. The Hon. Mayor of Mumbai, Smt. Kishori Kishor Pednekar - Nagarsevika Worli Vidhansabha was the Chief Guest for this event. She inaugurated the ceremony by lighting the lamp. She highlighted the importance of building new businesses in the city and the various incentives and facilities that the city of Mumbai and the Government of Maharashtra have made available for all entrepreneurs.
The event saw the participation of over 200 IBG members and their families and friends.
We thank all our members and invite them to get ready for the IBG Annual Business Excellence Awards, 2021.


2. IBG Member Meet at IBG office
India Business Group Members Meet - 12th February, 2020
Our latest meeting witnessed the participation of over 65 Corporate Promoters, representing various business in various industry sectors. Every member gave an elevator pitch about their business. Over 20 referrals were shared between members.

The highlight of the evening was the success story of Mr. Vishwajeet Patki and Mr. Prasad Patki. One conversation between the two in the last meeting resulted in a spot transaction of over Rs.10 lakhs. Kudos to both of you for your quick decision making ability and business networking skills.
Star Members of Month:
Mr. Pankaj Nahar – He referred 12 New Members
Mr. Dinesh Kochar – He referred 6 New Members
| | |
| --- | --- |
| | IBG rolling into Governmental Activities |
1. #IBG President Mr. Vikash Mittersain with H. E. Hon. Shri Bhagat Singh Koshyari, Governor of Maharashtra & Shri. Uddhav Thakeray, Chief Minister of Maharashtra at Republic Day Function on 26th January..
2. IBG Members meeting with Shri S. V. R. Shrinivas, Principal Secretary (Information Technology)
3. IBG Members meeting with Shri Ashish Kumar Singh, PRINCIPAL SECRETARY TRANSPORT & PORTS Home Department
4. IBG Members Meeting with Ms. Pankaja Munde, Politician from State of Maharashtra. She was Minister of Rural and Women, Child Development.
5. IBG Members Meeting with Shri Ajoy Mehta, Chief Secretary of Maharashtra in Mantralaya.
6. IBG Members Meeting with Shri S. J. Kunte, Additional chief Secretary - General Administration Dept
| | |
| --- | --- |
| | Upcoming Event |
IBG's #Entertainment Potboiler #Networking Event is on 19th February 2020 Wednesday at The Walt, Park Hotel Juhu At the next IBG Potboiler event, we shall have-
Two trailers that shall be showcased in the event:
1. Seher – Directed & Written by Manas Shashidharan Jacob
2. MahaPratishodh by Director Ramesh Meer
The Chief Guest is the beautiful lady with a melodious voice - Ms. Shibani Kashyap, who is well recognized in India and the World!
RSVP:
siddhi@ibg.org.in
Free Entry for IBG Paid Members
For Non Members Rs. 750/-
Pay Online Before 17th Feb Rs. 500/-
http://www.ibg.org.in/payment.html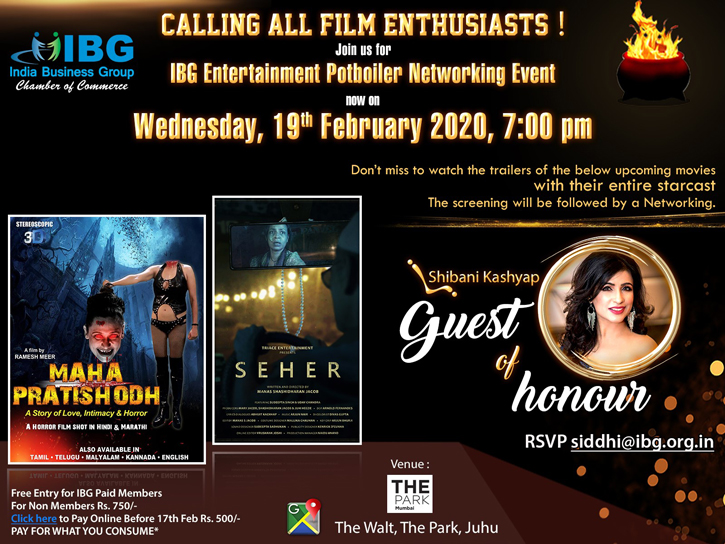 | | |
| --- | --- |
| | PARTENRING EVENTS |
IBG invites you to attend the 11th edition of TEDxGateway
IBG Patrons can avail 5% discount by using code 'IBG05'
Upcoming Edition: 23rd February 2020 at NSCI DOME, WORLI
Register at
www.tedxgateway.com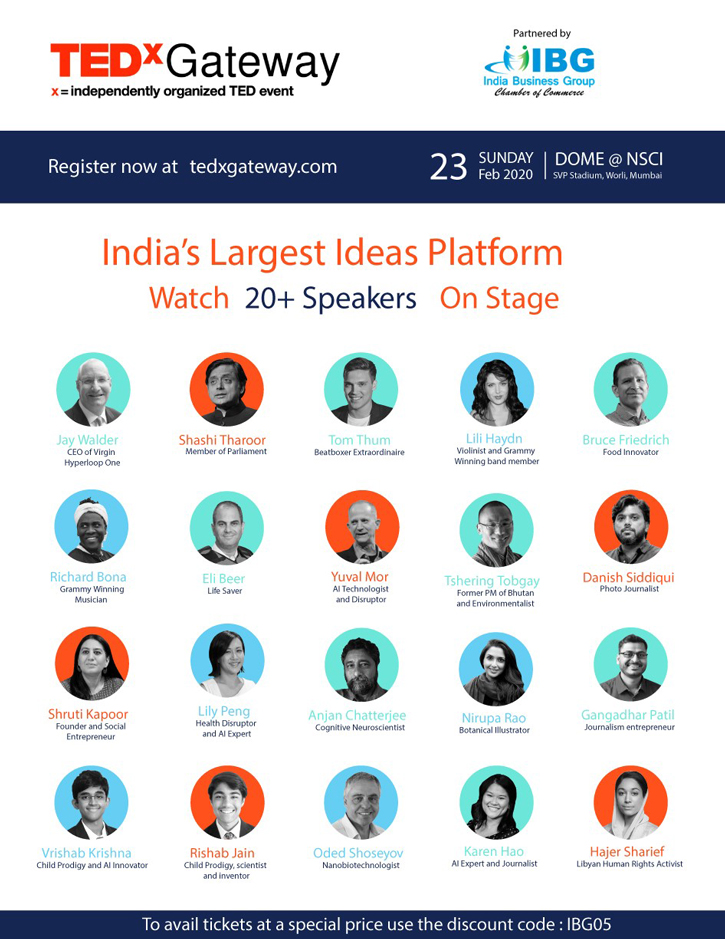 | | |
| --- | --- |
| | IBG President Mr. Vikash Mittersain awarded "Dream Achievers Awards" |
| | |
| --- | --- |
| | Member's Corner |



Ms. Shreevidhya Gold
Oracle Reader
Pure Energy Academy
7039011755 / 9029691739
shreevidhyagold@gmail.com
connect@pureenergryacademy.com
https://facebook.com/777shreevidhyagold
www.pureenergyacademy.com

I am an Oracle, Mystic Healer, Money Alchemist, Divya Shakti Master, Name Frequency Healer, Gem Therapist, Energy Vastu Consultant, and an EI Trainer also a person born with a calling to help people! Pure Energy Academy advocates that the process of healing is possible by unfolding your mystical powers and we find joy and happiness once we unfold them thus creating a vibrant and delighted world.




Ms. Kalpa Pethar
Founder AT Kalpa Jewels
kalpajwel@gmail.com / 9833770849

We are in Natural Gems & Fine Diamond Jewellery.

Our USPs

Wide variety of latest trends.
Solutions to fit your pockets.
Genuine advice on latest trends that helps you in decision making.
Kalpa Jewels is your trusted partner for your jewellery wardrobe as all jewellery comes with Hallmark, GIA and SGI certifications, with guaranteed lowest price.
You can choose jewellery at comfort at your home.
EMI facility available
Best price for your old jewellery




Ms. Foram Shah
Advocate & IPR Attorney
Law Wings - Advocates & Solicitors
9892018065
foramhshah@gmail.com / foram.shah@lawwings.in

Foram Shah holds Bachelor of Law ("LL.B") degree and is enrolled as an Advocate with the Bar Council of Maharashtra & Goa. She has also completed her Masters in Business Law from NLSIU, Bangalore and Post Graduate Diploma in Securities Law from Govt. Law College, Mumbai.

Foram has extensive experience in Information Technology, Data Protection Policy, E-Commerce legal structuring and advisory, Banking & Finance Transactions, Merger & acquisitions, Infrastructure, Intellectual property and Company Law.
Foram also advises various Franchisors and Franchisees and other Retails formats, IT Companies, Startups, Infrastructure Companies and Service industry. Prior to setting up this Firm, Foram has acted as an In-House Counsel with Shapoorji Pallonji & Group & Royal Bank of Scotland (formerly known as ABN AMRO BANK).




Ms. Karishma Ramnani
Director at Academy of Training & Enhancement
seturgoals.forums@gmail.com / 8128592080

About Karishma:

Karishma is a dynamic entrepreneur into Consumer Items & runs a training institute offering Skills Training Courses.

She is a successful entrepreneur in the business of many wonderful "Consumer products" and has received wonderful reviews from all her consumers & customers for her products She is the Director of "ATE Academy & a partner with KK Products", young, dynamic & a go getter, Karishma is a Personality Trainer & Self Development Skills Coach -with extra ordinary coaching skill sets. She trains people from all walks of life and all age groups
Corporate Associations:
Worldtrade centre ,Arya vidya mandir school juhu, St. Xaviers School, LIC of India , Max Newyork Life Insurance ,Yes Bank Ltd, Videocon DTH,Bright Outdoor Media Pvt Ltd,SNDT College JUHU Mumbai ,Sparks Broadband Pvt Ltd & many more

Social Media Links:
Follow me on facebook www.facebook.com/karishmaramnanipage | Instagram - karishmaramnnani_9 CONTACT :-trainings.ate@gmail.com | 8128592080




Maharashtra Gaurav Hr. Santosh K Pandey is a naturopath and an acupuncturist par excellence. He got himself trained in many modalities of healing apart from acupuncture however the high success achieved in acupuncture made him develop a vision to serve people with this therapy. This made him explore more into this science by learning more advanced techniques, taught in different countries. His vision of imparting optimal health to every individual has made him one of the most well-known & best healers in today's health world.

Santosh Kumar Pandey conceptualized the opening of SHENMEN HEALING CENTER in 2012.
The Centre located in prime areas of Santacruz west & Juhu prides itself on its use of new age therapies, modern equipment and technology like HHO, HBOT, CRYOTHERAPY, COLON HYDROTHERAPY along with acupuncture to attain optimal health. The center uses drugless therapy along with noninvasive state of art machinery.

He is member of the following organizations -
1. Executive member of Indian Academy of Acupuncture.
2. Executive member of National Cupping Therapy.
3. Member of INO

SHENMEN HEALING CENTER
4D / 4E, Fourth Floor, Victoria Plaza,
Above FAB INDIA, S.V.Road,
Santacruz ( W ), Mumbai , Pincode: 400 054
India
Hand Phone: +91 937 214 3281
Landline No.: +91-22-26 05 81 22
Email: enquiry.shenmen@gmail.com
Website: www.shenmenhc.com
| | |
| --- | --- |
| | IBG President Mr. Vikash Mittersain's Weekly Radio Talk by ALL India Radio for this month |

61. Ms. Rekha Rana:
Below is the link of Mr. Vikash Mittersain's Weekly Radio Talk. In conversation with Ms. Rekha Rana, International Award Winning Actress, Entrepreneur & Philanthropist on FM Gold Mumbai 100.1Mhz broadcast on 24th January 2020 in the program "Chhoo lo Asmaan".
Click here

62. Mr. Jamal Mecklai:
Below is the link of Mr. Vikash Mittersain's Weekly Radio Talk. In conversation Mr. Jamal Mecklai, CEO, Mecklai Financial Services Pvt. Ltd. on FM Gold Mumbai 100.1Mhz broadcast on 31st January 2020 in the program "Chhoo lo Asmaan".
Click here
Become an IBG member now!
| | |
| --- | --- |
| | Testimonials From Members |
Mr. Vishwajeet Patki

Success story of Mr. Vishwajeet Patki and Mr. Prasad Patki.One conversation between the two in the last meeting resulted in a spot transaction of over Rs.10 lakhs. Kudos to both of you for your quick decision making ability and business networking skills. All Thanks to IBG Platform.
| | |
| --- | --- |
| | Updates |

Additional New Benefits on being IBG member:
Members get to present their array of work and business at our Networking event.
Members get to unveil their expertise and company credentials once in our IBG Newsletter which is released in the first week of every month and read over by 1 Lac Business People.
Get added on IBG Whatsapp Group and interact with other IBG paid members.
Get to be a part of only paid members event where you will get badges according to your industry sector which makes easier to identify specific needs.
IBG is connected and in collaboration with several consulates. Thus the trade inquiries which are floated from their country is been passed on to our paid members. Also IBG paid members get to be part of such meetings held in turns.

For regular updates please connect with us on Facebook, click on. Also kindly revert back to us with your mobile numbers so that we can message you with our event details prior. Like our IBG start ups group on Facebook to receive regular updates.
| | |
| --- | --- |
| | Sponsorship / Advertising |

In case you would like to advertise in this news letter at nominal rates please write to us at

priya@ibg.org.in

IBG IBG Newsletter goes to around 100000 people To view sponsorship & advertising details and rates

click here

Kindly let us know if you too would like to sponsor a lucky draw prize of your Brand / Company / Any services such as Airline Tickets, 2 Night Hotel Stay or any Product/Service related to your Company at this event as soon as possible so that we can advertise & promote your Company Logo linked to your website, in our mailers. Our mailers go out to 1 Lakh people.

| | |
| --- | --- |
| | We Welcome Your Views |

We welcome views of Members to make this news bulletin more useful to IBG Members in particular and businesses at large. Your interest in India Business Group (IBG) is highly appreciated.
| | |
| --- | --- |
| | Subscribe |

| | |
| --- | --- |
| | Updates |

For regular updates please connect with us on Facebook

click here

Also kindly revert back to us with your mobile numbers so that we can message you with our event details prior.

| | |
| --- | --- |
| | Contact Us |

India Business Group

51-57, Maker Chambers 3,

Nariman Point,

Mumbai - 400021, India

Phone:

+91 22 67471646

Fax:

+91 22 67473821

Email: ibg@ibg.org.in
IBG Team