Networking
and Events
Members
Corner
Member Referral
Program
Write
To Us
Connect
With Us
| | |
| --- | --- |
| | From The President's Desk |
The government has swiftly taken 2 major economic and humanitarian steps to alleviate people from the worst commercial aspects of Corona. First was the announcement of a Rs. 1, 70 lac crores package for the poor, employees, migrant labour, jobless, farmers, etc. All this will be disbursed within 3 months. It will all be disbursed electronically direct the recipients accounts and they can withdraw from their banks branches wherever they are located. This will go a long way in at least keeping the poor with food and basic needs. It will be 3 months till they get paid work of any sort. It is possible that even after 3 months there will be a need for one more tranche of such social payment. This financial support will go a long way.

I am also seeing Delhi police giving food packets to the poor. They have today given out 6000 packages. No previous government has ever taken such direct action in times of crisis.

The second action is RBI package of deferment of several types of loan repayments, instalments, bank debits, interest etc. Interest rates of loans have been dropped substantially. Reverse REPO and RBI overnight rates have been dropped substantially, reducing cost to borrowers. 3 months moratorium is given to all repayment dates. This is of the order of Rs. 2 lac crores. The borrowing public is provided a huge relief by this prompt RBI action. People will not feel immediate relief by RBI action but it will impact them over next couple of months as repayments fall due. I think one more action is expected. This will be relief to MSME sector which is the largest employer of workers in India. This will also get the economy moving. At present the entire machinery is paralysed, and it needs urgent action.

Of course a lot depends if Corona virus can be controlled to some extent. India is a country with a deep crisis already on. Let's hope and pray that Prime Minister Modi's extraordinary actions bear fruit, and save the millions of our countrymen.
| | |
| --- | --- |
| | GLIMPSES OF PAST |
1. IBG Members Meeting on Zoom dated 1st April 2020
Overall 80 members attended the online meeting and 20 referrals were created during this meeting with IBG Members.


| | |
| --- | --- |
| | HELLO MUMBAI program |
IBG President Mr. Vikash Mittersain's Live Radio interview on FM Rainbow 107.1 broadcasted on 5th April 2020 in the program "HELLO MUMBAI"


Link to hear the interview – https://www.ibg.org.in/links/2020/05042020.mp3


| | |
| --- | --- |
| | IN A Business |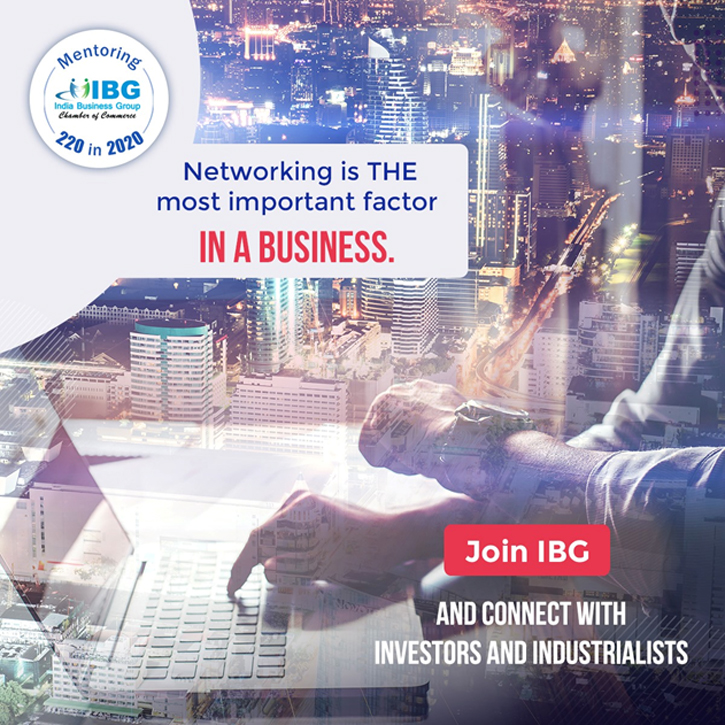 | | |
| --- | --- |
| | Member's Corner |



Mr. Ashwini Kukreja

Mr. Kukreja has multiple businesses - IT , Coaching , Property

In IT , as an MD of Realtime IT Concepts Pvt Ltd , he specialises in software development in websites space & is very famous for his deals in refurbished laptops & desktops.

Yellowskill showcases Mr.Kukreja as an eminent Speaker , an Author, a Lead Magnet Manufacturer and A Sales & Communication Expert.

The Franchise Model

Super passionate about his concept of Lead Magnets ,Kukreja has devised a brilliant Money Making model for the consulting, training, coaching & the counselling industry ....
Who can benefit from the franchise

Any one who does any kind of consultation or counselling ( ie speaks to customers to sell their products/services ) can get an additional stream of income ....Examples - trainers, coaches, counsellors, marketing consultants, brand strategists, website developers, social media marketeers, healers, students bodies, schools, tuition teachers, basically the entire service industry....

Benefits & Offerings of the franchise -

1. Credibility Enhancement
2. Foot in the door of a new prospect
3. Get new, retain existing, & revive old clients
4. Own a 250 pager website with Payment gateway
5. Unlimited free access to Yellowskill online tests ( each test sells online for Rs.5100/- )
6. Coaching on assessments & report reading
7. Training & Certification
8. Guaranteed Additional Income





Ms. Archana Balasubramanian
Founding Partner at AGAMA Law Associates
Ph: 9820302703
Email : archana@agamalaw.com


Archana, has versatile experience of over 13 years wherein she has gained immense tactical transactional understanding as well as significant industry expertise across diverse sectors such as manufacturing, logistics, media, pharmaceuticals, financial services, shipping, real estate, technology, engineering, infrastructure and health. Presently, Archana is catering through ALA to Listed Unlisted enterprises, mid-sized firms and also Start-Ups. She also advises clients on dispute strategy and actively provides pre-dispute advisory services for commercial litigation before various courts and tribunals. Archana has also been key in handling sensitive arbitrations related to data privacy laws in India as
well as several shareholder / joint venture disputes that were successfully resolved.

She has been identified as one of "The 30 Influential Business Leaders in 2017" by Insights Success Magazine. Archana was shortlisted for "Women Lawyer of the Year – 2019" by ALB India Law Awards 2019.




Mr. Manoj Dhanwani
Founder & CEO at Snell Business Collective LLP
Mobile : 9821111459
Email : manoj@snell.in
Website : www.snell.in

Introduction – Snell Business Collective LLP

Having worked with nearly 100 Domestic & International brands and private labels across 40 product categories of Retail Consumer products, Snell Business Collective LLP has successfully been able to build a sustainable and profitable Ecommerce Business for Manufacturers, Imports, Exporters of Retail Products by setting up and managing sale of consumer Goods on Digital Platforms like Amazon, Flipkart, Nykaa, Myntra, etc in India and across other countries.

We do this in 3 ways: Ecommerce Business Consulting, Ecommerce Implementation & Ecommerce Business support. For the past 10 years we have been focused on enriching sales of brands in their E-commerce Journey by working on strategy, planning, execution, maintenance, management and building a sustainable and profitable B2C E-commerce sales vertical.




Mr. Purrshottam Bhaggeria



Mr. PurrshottamBhaggeria, aged 58, an MBA from Cornell University, USA is the Joint Managing Director of Filatex India Ltd. (FIL) (www.filatex.com), a synthetic filament yarn manufacturing company. The company was incorporated in 1990 having its manufacturing facilities at Dadra, UT of Dadra & Nagar Haveli and Dahej, Gujarat. FIL is a public listed company in NSE and BSE and having a turnover of more than INR 28 Billion. Mr. Bhaggeria is taking care of Finance, Secretarial and Legal areas of the Company.

He is also the "Honorary Consul" of Republic of Moldova in India since March 2011, and Secretary General, Hon. Consular Corps Diplomatique (HCCD), an all India body of all the Honorary Consuls in India. He is also a Board Member (Director) of FICAC (World Federation of Consuls). He is Chairman of International Affairs Committee of Europe, PHD Chambers of Commerce and member of many prestigious clubs in Delhi & NCR.




Mr. Mukesh Singhvi
Proprietor at RAJENDRA METAL INDUSTRIES
rajendrametals@gmail.com / 9322224755
Nature OF Business : STOCKIEST AND SUPPLIERS OF ALL KINDS OF
FERROUS AND NON-FERROUS METALS

Products

STAINLESS STEEL TUBE , PIPE, SHEET, PLATE M.S. ERW PIPE & PIPE FITTING IRON & STEEL : CHANNEL, ANGLE, BEAM EN-8 / SPRING STEEL FLAT BAR AIR HEATER TUBE




Mr. Uday Nandrayog
Proprietor at Orbit Infosys
orbitinfosysmumbai@gmail.com
9820238146

Started my career in IT Industry way back in the year 1996.

With over 2 decades of experience have full knowledge on IT Products and have good unique skills to offer best solutions to our clients based on their requirements.

Have been into Distribution of various leading IT brands like Intel, Samsung, HP, Dell, Canon, Lenovo, iBall, Logitech, Kingston etc… These are just a few to name Have also ventured with brands to open Exclusive Retail Brand Stores like IBM, Lenovo, HP, and Canon.
We undertake all kinds of IT Hardware works like AMC, Repairs, Networking, and Upgrades etc.

We also provide our clients with Compliance Audits for various Software & Hardware norms. We also provide Data Backup & Data Recovery Services. Can recover data from any kind of Media Device.

We are now one of the leading sellers in the market for Refurbished Laptops.

Finally our core strength lies in giving Best Deals to our Valuable Clients




Mr. Nitin Jain
Managing Partner of Agama Law Associates ("ALA").
Ph: 9833382455
Email : nitin@agamalaw.com


Nitin comes with a rich experience of over a decade as an in-house lawyer as well as a practicing professional. Because of his extensive experience in handling transactional, advisory, governance and compliance matters, Nitin has an exceptional understanding of the nuances faced by clients and their expectations from legal services professionals.

Nitin's principal focus is on commercial disputes. Nitin arrives at strategies for handling client litigation with a long term vision and value proposition ensuring cost effectiveness. Nitin's keen eye for litigation has proven result oriented for various clients. ALA under Nitin has achieved a 80% rate of concluding client litigation, whether it is a complex arbitration or other commercial litigation, within a short span of 12-18 months.. He has been instrumental in achieving successfully substantial recovery of client outstanding as well as defence of claims of approximately INR 100 Crores by advising the right steps from the inception stage of the dispute.
Nitin has also been instrumental in implementing an entire new compliance system nationally for TATA Chemicals in his role as the company's Legal Counsel, and his team along with him had been awarded the Star Legal Team Award in the 2016-17. While he was handling the legal department of Mahindra Logistics, he was awarded and recognised for his "Exceptional Contribution" by the executive team. His most recent achievement includes being recognised as a winner of the 40 Under 40 Rising Stars of 2017 in the LegalEra Awards 2016-17.

Nitin routinely authors articles to share his views and insights on laws and the legal profession. Amongst his various published works, "The ever evolving role of the New Age Lawyer" and "Compliance & Ethics - A Journey & Not Destination" was published by Enchiridion Publication in their 2016 and 2017Editions respectively.
| | |
| --- | --- |
| | IBG President Mr. Vikash Mittersain's Weekly Radio Talk by ALL India Radio for this month |

63. Mr. Dharmendra Rai:
Below is the link of Mr. Vikash Mittersain's Weekly Radio Talk. In conversation withMr.DharmendraRai, Mumbai's First Mind Map Traineron FM Gold Mumbai 100.1Mhz broadcast on7th February 2020 in the program "Chhoo lo Asmaan".
Click here

64. Mr. Munaf Kapadia:
Below is the link of Mr. Vikash Mittersain's Weekly Radio Talk. In conversation with Mr.Munaf Kapadia, Founder & Chief Eating Officer at The Bohri Kitchen on FM Gold Mumbai 100.1Mhz broadcast on14th February 2020 in the program "Chhoo lo Asmaan".
Click here

65. Ms. Madhura Samarth
Below is the link of Mr. Vikash Mittersain's Weekly Radio Talk. In conversation with Ms.Madhura Samarth, Co-Founder, Ripple Animation on FM Gold Mumbai 100.1Mhz broadcast on21st February 2020 in the program "Chhoo lo Asmaan".
Click here

66. Mrs. KaminiKaushal:
Below is the link of Mr. Vikash Mittersain's Weekly Radio Talk. In conversation with Mrs.KaminiKaushal, Legendary Hindi Film and Television Actress, she is doing a movie with Amir Khan.Broadcaston FM Gold Mumbai 100.1Mhz on25th February 2020 in the program "Dear Zindagi".
Click here

67. Ms. DilnnawazDamania:
Below is the link of Mr. Vikash Mittersain's Weekly Radio Talk. In conversation with Ms. DilnnawazDamania, A Fitness Professional on FM Gold Mumbai 100.1Mhz broadcast on 13th March 2020 in the program "Chhoo Lo Aasman".
Click here
| | |
| --- | --- |
| | IBG President Mr. Vikash Mittersain'sRadio Talkby FM Rainbow Mumbai |

4. H. E. Ms. Andrea Kuhn – Consul General of South Africa::
Below is the link of Mr. Vikash Mittersain's Radio Talk. In conversation with H. E. Ms. Andrea Kuhn, Consul General of South Africa on FM Rainbow Mumbai 107.1Mhz broadcast on 18th March 2020 in the program "Consular Access".
Click here
| | |
| --- | --- |
| | IBG President Mr. Vikash Mittersain's Articles: |
Become an IBG member now!
| | |
| --- | --- |
| | Testimonials From Members |
Mr. Vishwajeet Patki

Success story of Mr. Vishwajeet Patki and Mr. Prasad Patki.One conversation between the two in the last meeting resulted in a spot transaction of over Rs.10 lakhs. Kudos to both of you for your quick decision making ability and business networking skills. All Thanks to IBG Platform.
2.) Mr. Prasanna Risbud

Thanks to Mr. Ajit Gupte our IBG Member for recommending me as a Digital Marketing Consultant for NMIMS Alumni Association.
| | |
| --- | --- |
| | Updates |

Additional New Benefits on being IBG member:
Members get to present their array of work and business at our Networking event.
Members get to unveil their expertise and company credentials once in our IBG Newsletter which is released in the first week of every month and read over by 1 Lac Business People.
Get added on IBG Whatsapp Group and interact with other IBG paid members.
Get to be a part of only paid members event where you will get badges according to your industry sector which makes easier to identify specific needs.
IBG is connected and in collaboration with several consulates. Thus the trade inquiries which are floated from their country is been passed on to our paid members. Also IBG paid members get to be part of such meetings held in turns.

For regular updates please connect with us on Facebook, click on. Also kindly revert back to us with your mobile numbers so that we can message you with our event details prior. Like our IBG start ups group on Facebook to receive regular updates.
| | |
| --- | --- |
| | Sponsorship / Advertising |

In case you would like to advertise in this news letter at nominal rates please write to us at

priya@ibg.org.in

IBG IBG Newsletter goes to around 100000 people To view sponsorship & advertising details and rates

click here

Kindly let us know if you too would like to sponsor a lucky draw prize of your Brand / Company / Any services such as Airline Tickets, 2 Night Hotel Stay or any Product/Service related to your Company at this event as soon as possible so that we can advertise & promote your Company Logo linked to your website, in our mailers. Our mailers go out to 1 Lakh people.

| | |
| --- | --- |
| | We Welcome Your Views |

We welcome views of Members to make this news bulletin more useful to IBG Members in particular and businesses at large. Your interest in India Business Group (IBG) is highly appreciated.
| | |
| --- | --- |
| | Subscribe |

| | |
| --- | --- |
| | Updates |

For regular updates please connect with us on Facebook

click here

Also kindly revert back to us with your mobile numbers so that we can message you with our event details prior.

| | |
| --- | --- |
| | Contact Us |

India Business Group

51-57, Maker Chambers 3,

Nariman Point,

Mumbai - 400021, India

Phone:

+91 22 67471646

Fax:

+91 22 67473821

Email: ibg@ibg.org.in
IBG Team