Networking
and Events
Members
Corner
Member Referral
Program
Write
To Us
Connect
With Us
| | |
| --- | --- |
| | From The President's Desk |
IBG the iconic chamber of commerce has been extremely active even during the lockdown. It was physical active all these years before lockdown but equally active now digitally. We provided great interaction between members and to be members before. But we now provide even more connectivity with our new initiatives.

We are now adding an International component to IBG. Tie ups are already underway with chambers of commerce all over the world beginning from the Asia and Middle East regions. The purpose is to add business interactions with around the world. I am visualizing a total change in business dynamics from 2021. Balance of 2020 will go in the shakeout that is inevitable and re settling business.

We are also in talks with chambers across India for interaction between members. The old way of doing business in silos or isolation has gone.

Come join us to take advantage of our vision. I and my team led by CEO Priya Pansare are available 24/7 to members. Take advantage of IBG special membership rates for the next couple of months
| | |
| --- | --- |
| | GLIMPSES OF PAST |
1. IBG Knowledge Café Webinar Series
Webinar with Nitish Mittersain, founder and MD of #Nazara Technologies - Nitish Mittersain. He gave insights about how his company had planned, for a day, when there will be a massive increase in internet usage and consumers!
Topic : Nazara Beats Corona Blues
Link :-
https://youtu.be/FUiiHj1JPZI
| | |
| --- | --- |
| | Webinar with IBG |
1. Webinar with IBG Members
https://www.youtube.com/watch?v=GvyJ8AJiIPY
2. Webinar with Mrs. Rajyalakshmi Rao, President of the Indo-American Chamber of Commerce
4. UPCOMING IBG KNOWLEDGE CAFÉ WEBINARS
5. UPCOMING IBG KNOWLEDGE CAFÉ WEBINARS
| | |
| --- | --- |
| | IN A Business |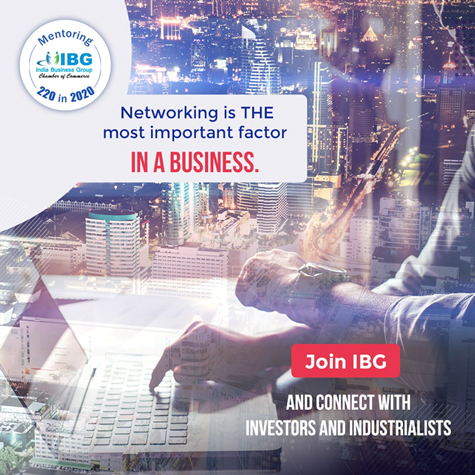 | | |
| --- | --- |
| | Member's Corner |



Ms. Amreen Luthra
Entrepreneur, Corporate Trainer and Personal-growth Coach
AmreenLuthra Training Systems (ALTS)
amreenluthra@gmail.com
9833273969
www.amreenluthra.com

An Entrepreneur, Corporate Trainer, Personal-Growth & Image Coach, Artist and an unshakable optimist dedicated to helping you become the person you most want to be.Also an public speaker at Toastmasters International &teached the English language. Also trained and worked with the 1000 plus young minds, gradutes, MBA students, Corporates, SME's and Business owners in professional line.
Started her Personal Development Training Company called AmreenLuthra's Training Systems, which helps people procure their big dreams and back it up with meaningful action to create results.

I am here to serve you, whether you're starting or growing your business or looking to make a big change in your personal life, will help you reach the highest levels of your creative potential and tap into the deepest wisdom within you. The truth is, You know what to do, You know why you need to do it, I am here to show you HOW & it is awesome when we do it together. Rooting for your success!




Mr. Ravi Sachdev
Proprietor at Polestar Polymers
ravi@polestarpolymers.com
www.polestarpolymers.com
9920289941


Having an experience in the polymer field for more than 18 yrs, we are into manufacturing, imports & exports of engineering plastics (Rods, Sheets, Tubes& Components) in various polymers. These are machined into components to be used by multiple industries like Conveyor Industry, Medical/Pharma, Chemical, Food Industry, Mechanical etc. Our latest addition has been an in-house machine shop wherein we have put up CNC's and other machines to give the final product to the customer as per the drawings received.




Ms. Ruchita Kothari
Managing Partner
iGrowth Financial Services
info@igrowthfinserv.com
www.linkedin.com/in/ruchita-kothari
www.igrowthfinserv.com
Category: Commercial General Insurance
9820041852

About Us

- iGrowth Financial Services was co-founder by 'Ruchita Kothari' along with her Father Mr.ShyamsunderPoddar, specialising in Business General Insurance.
What we do
– We have root dated to year 1945 and sells, solicits, or negotiates with insurance company on behalf of our client. We provide array of products such as property, casualty, health, life, liability, etc to help client to mitigate risk.
USP
- We specialising in serving
textile industry, have served brands like Welspun and Future group,
equipment renting company like crane, camera etc
Short period policy like Event, films, netflix series, etc
Marine insurance like International Trade, etc
Complex products like cyber insurance, Trade credit Insurance, Commercial general liability, etc
We are giving complimentary audit to our IBG Family, during this lockdown time.
You Tube like -
https://youtu.be/aNMswbHlxIg




Dr. Sandya Advani



Dr Advani is the Founder and Principal Consultant of

POSH Systems.com

– a firm handling compliance with respect to Prevention of Sexual Harassment of Women at the Workplace.

She is a professional with over 30 years of experience in multiple domains – Travel, IT, BPO, Aviation, Education etc. She retired as Director, Administration and Facilities from Accelya Kale Solutions Limited in Feb 2019.

POSH

is a word used to denote Prevention of Sexual Harassment. It stands for the Sexual Harassment of Women at the Workplace (Prevention, Prohibition and Redressal) Act 2013. It's a mandatory statutory compliance for all organisations with 10 or more employees.
Dr Advani's educational background is as follows:
B.A.M.S. (Bachelor of Ayurvedic Medicine and Surgery).
L.L.M. (Master of Laws)
Executive Certification in Sexual Harassment Prevention & Workplace Diversity Offered by National University of Juridical Sciences.
"Train the Trainer" program completed from Dale Carnegie Institute Dr Advani has conducted trainings for over 4000+ persons. Her website is www.poshsystems.com.
Asks- To be connected to
Decision makers in all organisations specially those which have more than 10 employees
To Law firms
To HR Heads/ Managers of organisations




Mr. Sharad Kochar
Proprietor at Jyotipriyaa Inc
sharadkkochar@gmail.com
9322827222 / 9029106109

We the Jyotipriyaa Inc holds a perfect solution for your refreshments and beverages which especially includes a small shot of TEA, COFFEE, LEMON TEA and Many More...Our firm is a predominant organization which is completely engaged in distributing the high-quality beverage with complete cost effectiveness.

Most of our services include vending Machines and Premixes. We offer a wider range of products which suit the appropriate requirements of Our Clients. We have completely involved ourselves in selecting the best machines which suits the organization and selecting the best products which suit the taste with Refreshing and Energizing feeling of the clients.

*Asks*

Mid-Size Corporates and Hospitals/Educational Institutions




Mr. Siddharth Bissa
Astrologer
siddharth.bissa@gmail.com
9769763068
Website: www.gurujihariom.com
Mail us @: Info@gurujihariom.com

Visit us:
Facebook: https://www.facebook.com/GurujiHariOmLLP/
Instagram: https://www.instagram.com/gurujihariom/
LinkedIn: https://www.linkedin.com/in/siddhartha-bissa-6a8a2bb/
*What we do*: Astrology, Palmistry and Vastu Services to remove obstacles and make life comfortable for our clients. *Our USP special product* - We guide by the medium of Vedic Mantras, Metals and Gems stones (precious and semi-precious) showing positive results within a turnaround time of 💯 days. We specialise in predicting events like Marriage, Child birth, Job, Disease & it's Cure, Doshas like PitruDosha, MangalDosha and their effective remedies.

*Background*: Gurujihariom is in this area of services since last 20 years. Holding degrees of JyotishVisharad and Jyotish Surya. We are a second generation and Traditional Astrologers.

People looking for Astrology Guidance, Vastu Guidance Friends, Family members, Corporate Vastu, Corporate Astrology.
| | |
| --- | --- |
| | IBG President Mr. Vikash Mittersain's Weekly Radio Talk by ALL India Radio for this month |

63. Mr. Dharmendra Rai:
Below is the link of Mr. Vikash Mittersain's Weekly Radio Talk. In conversation withMr.DharmendraRai, Mumbai's First Mind Map Traineron FM Gold Mumbai 100.1Mhz broadcast on7th February 2020 in the program "Chhoo lo Asmaan".
Click here

64. Mr. Munaf Kapadia:
Below is the link of Mr. Vikash Mittersain's Weekly Radio Talk. In conversation with Mr.Munaf Kapadia, Founder & Chief Eating Officer at The Bohri Kitchen on FM Gold Mumbai 100.1Mhz broadcast on14th February 2020 in the program "Chhoo lo Asmaan".
Click here

65. Ms. Madhura Samarth
Below is the link of Mr. Vikash Mittersain's Weekly Radio Talk. In conversation with Ms.Madhura Samarth, Co-Founder, Ripple Animation on FM Gold Mumbai 100.1Mhz broadcast on21st February 2020 in the program "Chhoo lo Asmaan".
Click here

66. Mrs. KaminiKaushal:
Below is the link of Mr. Vikash Mittersain's Weekly Radio Talk. In conversation with Mrs.KaminiKaushal, Legendary Hindi Film and Television Actress, she is doing a movie with Amir Khan.Broadcaston FM Gold Mumbai 100.1Mhz on25th February 2020 in the program "Dear Zindagi".
Click here

67. Ms. DilnnawazDamania:
Below is the link of Mr. Vikash Mittersain's Weekly Radio Talk. In conversation with Ms. DilnnawazDamania, A Fitness Professional on FM Gold Mumbai 100.1Mhz broadcast on 13th March 2020 in the program "Chhoo Lo Aasman".
Click here
| | |
| --- | --- |
| | IBG President Mr. Vikash Mittersain'sRadio Talkby FM Rainbow Mumbai |

4. H. E. Ms. Andrea Kuhn – Consul General of South Africa::
Below is the link of Mr. Vikash Mittersain's Radio Talk. In conversation with H. E. Ms. Andrea Kuhn, Consul General of South Africa on FM Rainbow Mumbai 107.1Mhz broadcast on 18th March 2020 in the program "Consular Access".
Click here
| | |
| --- | --- |
| | IBG President Mr. Vikash Mittersain's Articles: |
Become an IBG member now!
| | |
| --- | --- |
| | Testimonials From Members |
Mr. Vishwajeet Patki

Success story of Mr. Vishwajeet Patki and Mr. Prasad Patki.One conversation between the two in the last meeting resulted in a spot transaction of over Rs.10 lakhs. Kudos to both of you for your quick decision making ability and business networking skills. All Thanks to IBG Platform.
2.) Mr. Prasanna Risbud

Thanks to Mr. Ajit Gupte our IBG Member for recommending me as a Digital Marketing Consultant for NMIMS Alumni Association.
| | |
| --- | --- |
| | Updates |

Additional New Benefits on being IBG member:
Members get to present their array of work and business at our Networking event.
Members get to unveil their expertise and company credentials once in our IBG Newsletter which is released in the first week of every month and read over by 1 Lac Business People.
Get added on IBG Whatsapp Group and interact with other IBG paid members.
Get to be a part of only paid members event where you will get badges according to your industry sector which makes easier to identify specific needs.
IBG is connected and in collaboration with several consulates. Thus the trade inquiries which are floated from their country is been passed on to our paid members. Also IBG paid members get to be part of such meetings held in turns.

For regular updates please connect with us on Facebook, click on. Also kindly revert back to us with your mobile numbers so that we can message you with our event details prior. Like our IBG start ups group on Facebook to receive regular updates.
| | |
| --- | --- |
| | Sponsorship / Advertising |

In case you would like to advertise in this news letter at nominal rates please write to us at

priya@ibg.org.in

IBG IBG Newsletter goes to around 100000 people To view sponsorship & advertising details and rates

click here

Kindly let us know if you too would like to sponsor a lucky draw prize of your Brand / Company / Any services such as Airline Tickets, 2 Night Hotel Stay or any Product/Service related to your Company at this event as soon as possible so that we can advertise & promote your Company Logo linked to your website, in our mailers. Our mailers go out to 1 Lakh people.

| | |
| --- | --- |
| | We Welcome Your Views |

We welcome views of Members to make this news bulletin more useful to IBG Members in particular and businesses at large. Your interest in India Business Group (IBG) is highly appreciated.
| | |
| --- | --- |
| | Subscribe |

| | |
| --- | --- |
| | Updates |

For regular updates please connect with us on Facebook

click here

Also kindly revert back to us with your mobile numbers so that we can message you with our event details prior.

| | |
| --- | --- |
| | Contact Us |

India Business Group

51-57, Maker Chambers 3,

Nariman Point,

Mumbai - 400021, India

Phone:

+91 22 67471646

Fax:

+91 22 67473821

Email: ibg@ibg.org.in
IBG Team