Networking
and Events
Members
Corner
Member Referral
Program
Write
To Us
Connect
With Us
| | |
| --- | --- |
| | From The President's Desk |
March 14 we sat at home. Offices shut down businesses closed down, including the whole world. Before that, we were all leading a life as we knew all our lives, some good, some not so good. We all faced some problems, something's small, sometimes big. We also had great times. No one imagined we were soon going to hit a rock wall which will give us a full stop in our tracks. We woke at our normal time, did the morning chores and went off merrily to our daily activity. Often we went to lunch meetings, evening teas, and sometimes cocktail dinners. In between work also happened. We earned, we lost, we recovered and life went on merrily.

Then came along the Corona virus, something this world never faced in living memory. A once in a hundred years occurrence, called a Black Swan event, which destroys everything in its path. It's already 4 months and we are still not able to see the light at the end of the dark tunnel.

The world's best scientists are working overtime to find a solution, a vaccine to protect humans, but no real hope yet. Businesses have shut down, the real impact will be known once these dark clouds lift. Many will perish. Services, products and all in between. Once the world restarts, the chickens will come home to roost. That's when all dues will become due. Banks which have suspended repayments, instalments, will begin demanding to pay. Suppliers of products and services will come around with their bills to collect. Most of us would have already scraped the bottom of the barrel just to keep body and soul alive. Of us and our businesses. A very small number have been able to maintain our heads above water. And it looks a mass vaccine is still months away, if not more. All that we are doing is stay safe. If we can. What are we to do? Huge job loss is round the corner, poverty is staring the world in its face.

Yet, don't lose hope. God brought this on us, and it is God who will bring us out into sunshine. Keep your head down, but chin up. Think beyond Corona, look into all that you do, what of your business will survive this onslaught, and plan for its revival and future. As they say, every dark cloud has a silver lining. Look for yours and build on it from now. And remember, at such times, cash is King. Some large governments have understood the depths of the short and long term of this pandemics destruction and are taking corrective steps. USA has begun to pour trillions into the system. India is taking baby steps but it's too little, and soon will be too late. We need to wake up out of the stupor before it is too late. Make sure the embers of your business are kept alive so that they can be fanned into a fire.

So keep well, think well, stay safe and all the best
| | |
| --- | --- |
| | GLIMPSES OF activities by IBG |
1. IBG B2B VIRTUAL MEETING WITH AFGHANISTAN CHAMBER OF COMMERCE
IBG is affiliated with multiple Chambers of Commerce across the world, which gives its members an exclusive opportunity to work with Businesses across the border, despite a lockdown being in place.

B2B meeting - with the Afghanistan Chamber of Commerce and Industries - which represents over 75,000 members in the country and 26 provincial chambers in the country.

IBG and ACCI members exchanged contacts and business in the meeting in the sectors of - Construction, Tourism, Trading (Import & Export), Dry fruits, Raisins, Talc Stone, Manufacturing and Cumin.
| | |
| --- | --- |
| | IBG KNOWLEDGE CAFÉ WEBINAR SERIES |
i. Webinar with one young Founder, Munaf Kapadia, who is the CEO (Chief Eating Officer) at The Bohri Kitchen

Topic: How to quit Google to sell samosas

Link:https://youtu.be/NYo4iFAyxV8


v. Webinar with Mr. Pradeep Dwivedi

Topic: Future of Entertainment Business – Cinema, OTT, TV & Emerging Technologies

Link: https://youtu.be/JFbruMck2WY
2. IBG MEMBERS MEET

India Business Group held an evening #Potboiler, yesterday with cool drinks for all its members. Our meeting with cool sundowners was a hit all our members - as we could discuss business - with pleasure.

It was great to interact and exchange business with all members.
3. IBG POWER GROUP MEETING

Sector: Mutual funds & Stock Market
| | |
| --- | --- |
| | TESTIMONIAL BY IBG MEMBERS |
Mr. Vikash Mittersain, the CMD of Nazara Technologies and the Founder President of India Business Group, conducts Virtual Business Mentoring sessions for one #IBG Member each week. Each mentorship session is over an hour long and is done #online.


Mr. Vinit Lohiya, the founder of ICCU - Intensive Car Care Unit, talks about the new paths he discovered with Mr. Mittersain in this session. His emphasis on his progress as an IBG member is one thing you shouldn't miss.
CLICK ON THIS LINK TO VIEW: https://youtu.be/WLbqj0ZY2e4


ACP Havildar Mahesh Narvade, is a dynamic, young ex-Indian Army Officer, an IBG member and the Founder and Director of the JAY HIND Academy http://www.jayhindacademy.in/ - which provides innovative, unique programs for practical self-defence skills for real world situations in a fun, family-friendly atmosphere. Reach him - maheshnarvade@gmail.com ; 9967113920 CLICK ON THIS LINK TO VIEW: https://youtu.be/bVQDOME7TRs
| | |
| --- | --- |
| | UPCOMING IBG KNOWLEDGE CAFÉ WEBINARS |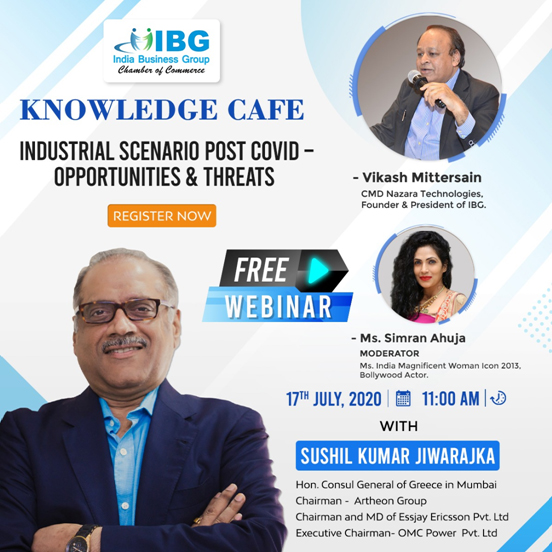 | | |
| --- | --- |
| | Member's Corner |



Ms. Amita Pande
Manager - CSR and Facilities at Sasken Technologies Ltd.
amita9@hotmail.com

Profile:

Currently working with Sasken Technologies Limited, Bangalore as a Manager – Travel, Hospitality, CSR, D&I.

My responsibilities include CSR activities for the organisation, Travel, facility management, management of executive events such as board meetings, quarterly business meetings, café & shared services, establishment and operationalizing of a digital travel management portal, and internal & compliance audits. In my tenure I have initiated several programs to raise the service delivery and ensure that it is at par with global standards. I also provide leadership and support for community, environment, well-being, and Diversity & Inclusion programs in Sasken.




Mr. TAHER RAOTIWALA
ARCHITECT + INTERIOR DESIGNER
FOUNDER & DIRECTOR FOR EFFUSION DESIGNS
raotiwalataher@gmail.com
www.effusiondesigns.com
https://www.youtube.com/watch?v=O2dVtfnsOAs&t=16s

Profile:

WE DESIGN AND BUILD

1. HOTELS, RESORTS & BANQUETS

2. CORPORATE OFFICES

3. HOSPITALS

4. HNI- VILLAS OR EXOTIC HIGHEND RESIDENTIALS

6. RETAIL CHAIN

7. EDUCATIONAL INSTITUTES + CAMPUS DESIGN

8. MANUFACTURE LOOSE LUXURY FURNITURE AND EXPORT
OFFICES AT
MUMBAI, HYDERABAD, GURGAON, CHENNAI, BANGALORE...




Ms. Bindu Khurana
Doc. Biindu Khuraana
Principal Consultant at Mann Numerro Jewels
biindukhuraana@gmail.com / mannbk23@gmail.com
www.biindukhuraana.in

Profile

First Numero-Vaastu

Consultant &Signalyst of India with an experience of

11 grand years, a *Gold Medalist, PHD Holder, Author

of 5 books, operating from an office in Atria Mall, Worli. I talk about Numbers, Maths& Calculations, Placements & Directions, Brands, Logos& Visiting Cards. I have worked with 45 builders & more, about 300 plus

Restaurants & Hotels,

approximately 150 jewellers, 10

Banks,

very many companies & brands, have Appeared in magazines such as Mothers World,
Today's Women, Wow, Newspapers such as Mumbai Mirror, Mayapuri, Free Press Journal, India Today & TV presentations on AstroVani on Zee, Amazon FlixTv Serials regularly....My data base of clientele is over 6 Lac Persons.....from a new born to a teenager, to a business or personal partnership, from company naming to factory or house vaastu to designing a logo or creating a visiting card from car or mobiles numbers to naming brands & banks I have done it all, My company's name is MANN... have been the Winner of very many Awards - Nostradamus Awards in Bangkok, Bharat Bhushan Award In Delhi-2019, Wow, Ishma, Inspire, International Speaker's Award, Woman with Substance, Special Achievers Award, Woman of the year, BNI achievements certificates.

MANN conducts certified workshops in:
Numerology (Basic & Advance), Vaastu, Signature Analysis, Soul Mates, Ideal Visiting Cards, Prosperity, Gemology, Health & Share Market
My belief is "Destiny is Now in Our Hands"




Mr. Hitesh Turakia
FOUNDER & CEO at MAK Consultants
hitesh@makconsultants.co.in



Hitesh

has over 35 years of vast experience and was lastly serving at a

DIRECTOR

position for over

3 years

and looking after

Consulting and Advisory Business

. A professional with experience in Manufacturing & Capital Market Segment and held senior management positions at INTIME & Fortune Wealthmax before starting its own company

MAK Consultants

3 years back.

Every Organization

Hitesh

worked at has a clear objective of creating a class apart systems and sales cum revenue model to create Wealth for both its Owners and Shareholders by servicing - PE investors or coming out with a Buyout/Selling of Businesses.
HITESH has a vast knowledge in all fields related to Manufacturing Sector & Capital Market, Channel Management & Administration. Has vast experience in Financial & Accounting solutions, Regulatory Compliancy Management & Reporting. He also has hands-on experience in Industrial sector, Accounts, Book Management and Training

HITESH's role at MAK Consultants is to steer THE GROWTH and referred to as a TRUSTED PARTNER with Organizations on long term basis to collectively take it to new heights by focusing on Strategic Planning related to Sales, Operations, Revenue, Risk surveillance & product training AND also to take the company to the highest levels of execution. To create better review systems at Corporate Houses – SME and CM segments, Streamlining compliance, training, advising for smooth and effective running of the organization.




Mr. Nilesh Dedhia
Founder at NTD Trading
missionarjun369@gmail.com
www.ntdtrading.in
Twitter handle : @ntdmagic

Profile

The Visionary: Mr. Nilesh Dedhia, Currency & Equity Strategist, comes from humble background. He had started his career with Ex Business Journalist & Dealer at ITC in to Equity and stands tall today with total experience of 28+ years in the markets. He is also founder of NTD Trading, which was earlier found in 1998 with the sole purpose of proprietary trading.
He is also associated as Investment Consultant at Bajaj Allianz. MDRT, COT .Since then the company has grown Multifolds in last 21 years. His one man army and sheer passion to excel and outgrow in the markets has led him to walk the path of not only improving his own skills over a time to come but has also developed unique scientific strategies for bang on results in dynamic markets. His biggest achievements are Brent oil crash and Brent oil appreciation on top of Google. Based on the success achieved with his unique trading techniques, he started currency trading and here too he achieved outstanding results in very short period of time, which inspired him to offer advisory services to corporate clients in the currency segment with focus on Equity, Currency, Commodity & various asset classes. The company today is equipped with professional & qualified support system to constantly improve its services & products. WE have recently ventured into our project @missionarjun, where we generate demand and supply for 40-50 stocks and do have a product which trades only on Bank Nifty intraday and also we have a product which has an extensive long term outlook on Nifty.
Become an IBG member now!
TO BECOME AN IBG MEMBER AND ENJOY THE BENEFITS, CLICK ON
http://www.ibg.org.in/Link/IBG-Membership-Form.pdf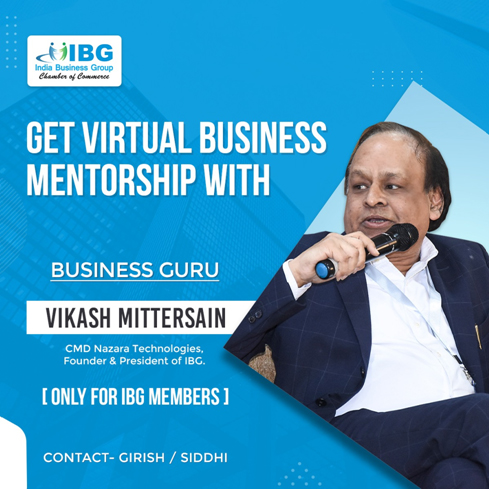 | | |
| --- | --- |
| | Updates |

Additional New Benefits on being IBG member:
Members get to present their array of work and business at our Networking event.
Members get to unveil their expertise and company credentials once in our IBG Newsletter which is released in the first week of every month and read over by 1 Lac Business People.
Get added on IBG Whatsapp Group and interact with other IBG paid members.
Get to be a part of only paid members event where you will get badges according to your industry sector which makes easier to identify specific needs.
IBG is connected and in collaboration with several consulates. Thus the trade inquiries which are floated from their country is been passed on to our paid members. Also IBG paid members get to be part of such meetings held in turns.

For regular updates please connect with us on Facebook, click on. Also kindly revert back to us with your mobile numbers so that we can message you with our event details prior. Like our IBG start ups group on Facebook to receive regular updates.
| | |
| --- | --- |
| | Sponsorship / Advertising |

In case you would like to advertise in this news letter at nominal rates please write to us at

priya@ibg.org.in

IBG IBG Newsletter goes to around 100000 people To view sponsorship & advertising details and rates

click here

Kindly let us know if you too would like to sponsor a lucky draw prize of your Brand / Company / Any services such as Airline Tickets, 2 Night Hotel Stay or any Product/Service related to your Company at this event as soon as possible so that we can advertise & promote your Company Logo linked to your website, in our mailers. Our mailers go out to 1 Lakh people.

| | |
| --- | --- |
| | We Welcome Your Views |

We welcome views of Members to make this news bulletin more useful to IBG Members in particular and businesses at large. Your interest in India Business Group (IBG) is highly appreciated.
| | |
| --- | --- |
| | Subscribe |

| | |
| --- | --- |
| | Updates |

For regular updates please connect with us on Facebook

click here

Also kindly revert back to us with your mobile numbers so that we can message you with our event details prior.

| | |
| --- | --- |
| | Contact Us |

India Business Group

51-57, Maker Chambers 3,

Nariman Point,

Mumbai - 400021, India

Phone:

+91 22 67471646

Fax:

+91 22 67473821

Email: ibg@ibg.org.in
IBG Team