| | | |
| --- | --- | --- |
| | | India's most widely read newsletter |
Networking
and Events
Members
Corner
Member Referral
Program
Write
To Us
Connect
With Us
| | |
| --- | --- |
| | From The President's Desk |
We are all so sick and tired of Corona and its effects and destruction across the world and on humanity. Around 6 lac people have perished world over. In India the numbers have become alarming, with around 50k infections daily. Deaths, which used to be in the region of 5000 have in recent weeks have jumper to 35k. Businesses perished around the world. God alone knows how many businesses are in deep trouble or gone under. The real figures will be known around 2 months after corona has receded or abated. Currently most repayment schedules have been deferred, giving temporary relief.

This virus has come after 100+ years, no one anticipated it, leave alone prepare for it .This was the sad part. There is an uptick also. On the business front, I have been speaking to several people I know, and many are saying that though they are going through trouble, they are stable, and seeing some green shoots appear.

Some enquiries have emerged and hopefully will turn into business. Some companies are declaring good results for the last quarter which is a great surprise. Governments are realising there should be balance between virus and economy and opening up.

The great news, if any is that many countries are in the race to produce vaccines, some are into 3rd stage of testing. Of particular mention is the Oxford vaccine which is showing the greatest promise. We should expect real usable mass vaccines to emerge by the turn of the year, Jan or Feb 2021.

I am already hopeful of an end to this scourge that has hit the world and destroyed everything in its path. On the economy front, governments are now pushing hard cash into the people's hands to boost spending and demand. This will pass up to the production centres as demand increases.

The US has already poured Billions, nay, Trillions of Dollars into the economy, pushing up stock markets around the world. The need of the hour is for the government of India to follow suit. We should make the country awash in liquidity, moving the engine of growth into high gear. I believe Modi government has already such a plan in place, and only waiting for the right time to kick it into motion. We need to push over Rs 100 lac crore to the poor so they can revive their lives and revive the economy and Industry and businesses. I end with this note of hope. All the very best.

Be safe but also be positive
| | |
| --- | --- |
| | GLIMPSES OF activities by IBG |
1. International Chambers Connections: IBG Connected with Adana Chamber of Commerce in Turkey.
Some members of both the chambers connected for business. Their sectors were Construction & mining, Electronics, Agriculture and Food Products, Machinery, Auto ancillaries, textiles, Agriculture.
2. IBG MEMBERS MEET ON 29TH JULY
We had attendance of over 55 members and amongst them 37 Members generated leads and referrals within them.Don't miss Members Only Meet because this is where actual business is generated through referrals.
3. IBG PowerGroup Meeting on 15th July.
IBGs' new initiative, #IBG Power Groups is off to a rocking start!.
At #PowerGroups, we organize meetings for all #entrepreneurs who would like to network with people of a specific industry.. This month, our meeting focused on the #Finance sector, with a focus on Fund Raising and Cash Flow Management for #MSMEs and #SMEs. We witnessed a lot of business being given to IBG members and many referrals were exchanged for those needing specific connections.
| | |
| --- | --- |
| | IBG KNOWLEDGE CAFÉ WEBINAR SERIES |
ii. Webinar with H.E. Gerry Kelly-Consul General of Ireland

Topic: Doing Business with Ireland in changing world

Link: https://youtu.be/QNb4kQmXQhw
iii. Webinar with Mr. Sushilkumar Jiwarajka - Honorary Consul of Greece

Topic: Industrial Scenario Post Covid – Opportunities & Threats

Link: https://youtu.be/grJE5hqkK5c
iv. Webinar with Mr. Ashok Wadhwa - Group Chief Executive Officer - Ambit Hon. Consul of Consulate of the Republic of Guatemala

Topic: Reform measures & Policy initiatives

Link: https://youtu.be/Ob3Am-sl4Ek
v. Webinar with Mr. Pratap Dighavkar - Inspector General of Police, Maharashtra State

Topic: Prevention Methods Of Crime Against Women And Children In Maharashtra

Link: https://youtu.be/ioD53aSEgC4
vi. Webinar with Mr. Satinder Pal Singh Ahuja - Honorary Consul of Georgia

Topic: Trade, Tourism Investment Opportunities in Georgia

Link: https://youtu.be/U8E2UkRv0lU
vii. MASTERCLASS with Mr. Navneet Munot Chief Investment Officer - SBI Mutual Funds

Topic: Economy & Businesses : From Survival to Revival

Link: https://youtu.be/G6Sc6l1a_zg
| | |
| --- | --- |
| | TESTIMONIAL BY IBG MEMBERS |
Mr. Vikash Mittersain, the CMD of Nazara Technologies and the Founder President of India Business Group, conducts Virtual Business Mentoring sessions for one #IBG Member each week. Each mentorship session is over an hour long and is done #online.


Mr. Anurag Gangwal, the MD of HRK & Co. Chartered Accountants. HRK is a 31 year old firm dealing in Audits, Project Finance, Investigation Audits, Due Diligence, Taxation (Direct and Indirect), Company Law Matters, Management Consultancy and Advisory Services. They operate in Mumbai, New Delhi, Surat, Bhilwara and Vapi.In this video Anurag mentions, that it is impossible for him to count the number of new opportunities that Business Guru - Vikash Mittersain suggested for HRK. He specifically appreciates his emphasis on building a strong team around himself, in order to scale up the business.
CLICK ON THIS LINK TO VIEW: https://www.facebook.com/watch/?v=3853980651284161


Ms. Archana Sand, the Founder of #SandAssociates, had an hour long mentoring session. In this video she talks about the new business opportunities which she will be targeting. In this session, she realized that there are so many skills, which she as an individual has, but has neglected completely. Mr. Mittersain has generously offered to connect with her again, in case she needs any guidance.Archana can be reached at archana@sandassociates.co, http://sandassociates.co/ - 9833795309
CLICK ON THIS LINK TO VIEW: https://www.facebook.com/watch/?v=312443756564718
| | |
| --- | --- |
| | Member's Corner |



Mr. Anurag Gangwal
CA Anurag Gangwal (B.com, CA and CS)
HRK & Co - Chartered Accountants - Managing Partner
Cell: 7737781714
Email: anurag.stepup@gmail.com / gangwalca@hotmail.com

He is the Managing partner of HRK & Co, Chartered Accountants.

HRK & Co is a 31 years old firm dealing in Audits, Project Finance, Investigation Audits, Due Diligence, Taxation (Direct and Indirect), Company Law Matters, Management Consultancy and Advisory Services.

We are operating from 5 location in India i.e. Mumbai, New Delhi, Surat, Bhilwara and Vapi.
CA Anurag gangwal has an experience of more than 8 years in the field of Finance, Management audits and Company Law Related Matters.

He is fully engaged in management audits and arranging the funding requirements of business based on multiple sensitivity scenarios. He is leveraging his experience in negotiating with all parties involved, to bargain the best deal for its client company and its promoters.

He has taken dual qualification as a Chartered Accountant and Company Secretary.
He was previously associated with 2 listed companies where he handled a debt of approx. 250 Cr.
He is born and brought up in Jaipur and fond of reading, travelling and exploring new things.




Ms. Khushnum Sidhva
Entrepreneur - Nature & You (Handmade designer bath and body care products)
Khushnumsidhva@gmail.com / 9833756051

Profile:

We deal in making homemade designer+ non designer soaps, bath salts, gels, scrubs, body lotion, Special Shea butter Soaps, body lotions, face wash, body wash, healing Salts which will capture not only your "HEART" but also your "SOUL".These products are absolute chemical free and the best nutrition for your skin in every way.
We take single orders as well bulk orders for Birthday, Anniversary, baby shower return favors, our vision and mission is to make every day and every occasion truly memorable.
Our Vision and Mission is taking Personal hygiene to the whole next level.Making it fun and exciting,unlike normal commercial one which is mundane.
Instagram –
https://www.instagram.com/natureandyou7/
Facebook –
https://www.facebook.com/natureandyouu/




Mr. Nilesh Shah
Principal Consultant - Ascentech Project Consultants
er.nileshshah@gmail.com / nilesh@ascentech.tech

Nilesh Shah is currently Partner and Principal Consultant of Ascentech Project Consultants, a company engaged in Redevelopment and Self Redevelopment Projects. Specialising in Self Redevelopment of Societies, he is a Project Management expert and has full-fledged team of associates from Liaison and Design Architect, RCC Consultant, Legal and Commercial team, RERA, and other consultants on board, including Sales and Marketing teams. Ascentech is one stop solution for Society's Redevelopment.He is a Civil Engineer, having completed his Bachelors' in 1986 and started his career with Nhava Sheva Port Project (Currently JNPT) in a Japanese firm Mitsui & Co, followed by other MNCs, to Development Companies like Peninsula Land, Sanghavi Group, Romell Group and has lead large projects including 50 Acres project
at Noida, Delhi NCR as PMC with Quantum ProjectInfra Pvt Ltd. Experienced in Infrastructure Projects like ports, bridges, waste water treatment facilities to residential, commercial highrise buildings projects, last 15 years of his career, he has been at the top management level, before deciding to start his own consultancy.As a hobby, Nilesh was a Mountaineer having done his Mountaineering Courses and taken part in various Climbing Expeditions and lead High Altitude treks in The Great Himalayas. An avid trekker and explorer, he has trekked the length and breadth of the Sahyadri Ranges across Maharashtra.




Mr. Ritesh Kapoor
Founder & Director - Globify Consulting Pvt Ltd /
Japan India Partners Gk (Japan) Aus-Indo Advisors Pty Ltd ( Australia)
Email: Info@japanindia.co.jp
Cell: 9820263544
www.japanindia.com
www.globify.biz
LinkedIn Profile: https://www.linkedin.com/in/ritesh-kapoor-india-business-entry-consultant-fca-b16275116



A reputed Tax Consultant & Chartered Accountant, who has helped many individuals/organizations to establish business in India.
Ritesh is a member of the Institute of Chartered Accountants of India (ICAI) since 1998. He has worked with professionally managed corporates in capacity as a consultant. He has experience of handling corporate affairs in different areas for over a decade. He has helped many organisations to set up business in India and operating it smoothly.

Ritesh has vast knowledge and a thorough understanding of Indian laws and regulations, as well as the complex corporate taxation system. Ritesh & his team have assisted many overseas companies in completing paperwork, getting necessary approvals, paying taxes, necessary filings and much more.




Mr. Sunil Kumar Singh
Business Development Manager
BBG Ebranding Business Consultancy Pvt. Ltd.
business@bbgebranding.com
www.ebrandingindia.com
9984238888

I'm a First Generation Entrepreneur Relationship&Business Development professional of BBG eBranding Group, Business Consultant.25+years of experience in Business development of Consumer Products, have been
Expertise in Sales & Marketing,Logistics,Creating and Managing Franchise/Distributors,Managing Office Administration Activities by timely meeting the dynamic end to end office requirements by building A Strong Supplier Relation and Networking and Enhanced Team Support. Areas of Expertise

• End to end expertise of Packaged Drinking Water and beverages.
• Successfully managed entire plant production of packaged drinking water.
• Good contact in railways (Cleared many files related to sanction/Licensing)
• Handled all coordinating activities related to Government Authority
Become an IBG member now!
TO BECOME AN IBG MEMBER AND ENJOY THE BENEFITS, CLICK ON
http://www.ibg.org.in/Link/IBG-Membership-Form.pdf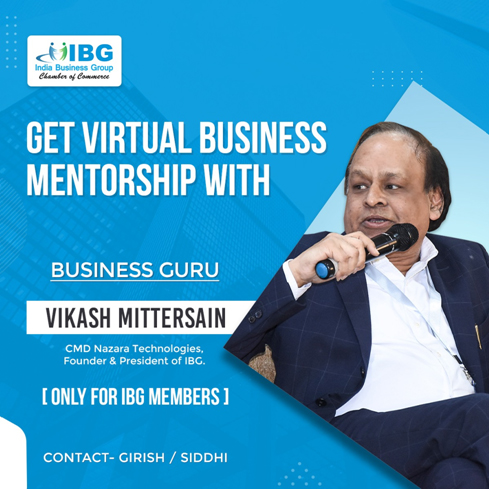 | | |
| --- | --- |
| | Updates |

Additional New Benefits on being IBG member:
Members get to present their array of work and business at our Networking event.
Members get to unveil their expertise and company credentials once in our IBG Newsletter which is released in the first week of every month and read over by 1 Lac Business People.
Get added on IBG Whatsapp Group and interact with other IBG paid members.
Get to be a part of only paid members event where you will get badges according to your industry sector which makes easier to identify specific needs.
IBG is connected and in collaboration with several consulates. Thus the trade inquiries which are floated from their country is been passed on to our paid members. Also IBG paid members get to be part of such meetings held in turns.

For regular updates please connect with us on Facebook, click on. Also kindly revert back to us with your mobile numbers so that we can message you with our event details prior. Like our IBG start ups group on Facebook to receive regular updates.
| | |
| --- | --- |
| | Sponsorship / Advertising |

In case you would like to advertise in this news letter at nominal rates please write to us at

priya@ibg.org.in

IBG IBG Newsletter goes to around 100000 people To view sponsorship & advertising details and rates

click here

Kindly let us know if you too would like to sponsor a lucky draw prize of your Brand / Company / Any services such as Airline Tickets, 2 Night Hotel Stay or any Product/Service related to your Company at this event as soon as possible so that we can advertise & promote your Company Logo linked to your website, in our mailers. Our mailers go out to 1 Lakh people.

| | |
| --- | --- |
| | We Welcome Your Views |

We welcome views of Members to make this news bulletin more useful to IBG Members in particular and businesses at large. Your interest in India Business Group (IBG) is highly appreciated.
| | |
| --- | --- |
| | Subscribe |

| | |
| --- | --- |
| | Updates |

For regular updates please connect with us on Facebook

click here

Also kindly revert back to us with your mobile numbers so that we can message you with our event details prior.

| | |
| --- | --- |
| | Contact Us |

India Business Group

51-57, Maker Chambers 3,

Nariman Point,

Mumbai - 400021, India

Phone:

+91 22 67471646

Fax:

+91 22 67473821

Email: ibg@ibg.org.in
IBG Team