| | | |
| --- | --- | --- |
| | | India's most widely read newsletter |
Networking
and Events
Members
Corner
Member Referral
Program
Write
To Us
Connect
With Us
| | |
| --- | --- |
| | From The President's Desk |
Dear Friends,
We have been getting frequent suggestions from members to set up a new vertical in IBG focused on Films and Entertainment activities (Games, Dramas, Fashion shows, etc.) These sectors have become a major Industry by itself. This is a vast sector, commanding large revenues across the Board. Corporates have entered in a big way since 5 years or so, professionalising it with large investments and management practices. While there are a couple of Industry bodies for films, they do not work on the entire entertainment sector which is now spread wide.

There are hundreds of thousands of jobs created, from top management to workers. The sector needs a professional body to handle their interactions with the government, authorities, within the fraternity, and in general to help them in better planning, HR, Monetary issues, interaction with banks and financiers, etc...

IBG will be able to assist in promotion of films, get special discounts for members, special screenings of new releases , inviting top people of the films , actors, producers, Directors , etc. We will accept memberships also on approval basis post vetting.

The activities will not be limited to Bollywood, it will encompass films of all languages, and even include International Media, Hollywood, UK, Europe, Japan, etc.

As you know by now, IBG has begun linking with many overseas chambers of commerce, so we will do tie ups with Media houses and Chambers in other relevant countries.

This vertical will be headed by Mr. Yusuf Shaikh who works closely with the Industry. Yusuf is an endearing figure of Bollywood with two decades of experience and 100 + films under his belt. Yusuf is one of the biggest go to person for independent film procurers and also produces films under his banner Yen Movies. Since we have few more members connected to the Industry we may even have a committee to coordinate this vertical.
| | |
| --- | --- |
| | GLIMPSES OF activities by IBG |
1. IBG MEMBERS MEET ON 29TH JULY
In IBG Membersmeeting over 50 business contacts were exchanged between members. All this, even during a #COVID19 #lockdown2020.
2. IBG PowerGroup Meeting on 12th August
IBGs' new initiative, #IBG Power Groups is off to a rocking start!.
At #PowerGroups, we organize meetings for all #entrepreneurs who would like to network with people of a specific industry..
This month, our meeting focused on the Area of Media Content - Buying & Selling
Content buying and selling zoom chat will cover opportunities in buying and selling, pitching and trading of films, web series, independent programs, docus, old movies and old songs libraries in the traditional media and new media platforms (such as Netflix, Amazon, Hotstaretc)We witnessed a lot of business being given to IBG members and many referrals were exchanged for those needing specific connections.
3. IBG B2B Meetings with Domestic Chambers
i. B2B Meeting with Southern Gujarat Chamber, Surat
ii. B2B Meeting with Karnatak Chamber of Commerce & Industry, Hubbali
| | |
| --- | --- |
| | IBG KNOWLEDGE CAFÉ WEBINAR SERIES |
ii. Webinar with Webinar with Shweta Shalini – Spokesperson of BJP on 13th August

Topic: How New Education Policy is New Base for India?

Link: https://youtu.be/QorTDuFnw08
iv. Webinar with KunalVijaykar - Author, Foodie, Television Personality on 21st August

Topic: Restaurants & Hospitality during & post Covid

Link: https://youtu.be/BDekOxrOz44
v. FIRESIDE Chat with Aunpam Mittal, Founder & CEO, People Group& Nitish Mittersain, FOUNDER AND MANAGING

DIRECTOR, NAZARA TECHNOLOGIES LTD. On 25th August

Link: https://youtu.be/X60GXiMsnxY
vi. Webinar with Mr. Vivek Bhargava - CEO ofDenstu Aegis Performance Group on 1st Sept

Topic: Happiness is a Muscle

Link: https://youtu.be/9lNPEWHOErI
Mr. Vikash Mittersain as a Speaker on INCREDIBLE INDIANS with Simran Ahuja.

Watch on https://youtu.be/6D-wyfn-654

With Ms Simran Ahuja, the former Miss India, 2013 and an International Anchor
| | |
| --- | --- |
| | TESTIMONIAL BY IBG MEMBERS |
Mr. Vikash Mittersain, the CMD of Nazara Technologies and the Founder President of India Business Group, conducts Virtual Business Mentoring sessions for one #IBG Member each week. Each mentorship session is over an hour long and is done #online.
Mr. Arvind Tandon, who is the Director of Ark Travels. Arvind is a veteran of the travel, tourism and hospitality industry. He introduced Star Cruises to the India market in 1994 as he saw opportunity in the cruising sector at a time when India was a virgin market for cruises.In this video, he talks about how mentoring with Vikash, has helped him look at the current #covid19#lockdown in a new light. It helped him locate opportunities in new markets and sectors. CLICK ON THIS LINK TO VIEW THE VIDEO: https://www.facebook.com/watch/?v=747989816065872&extid=rlMgYTJED1UUyI5j
Mr. Hemant Mistry, the Owner and Partner at M Square Construction. Hemant is an#Architect and has 9+ years of experience in Real Estate Development. M. Square Construction is a Turnkey Solution Provider for new Infrastructure projects in Residential & Commercial Buildings. In this video Hemant genuinely appreciated the time that he received from Business Guru - Vikash Mittersain.Hemant can be reached at hemant.mistry03@gmail.com ; 9820969114
CLICK ON THIS LINK TO VIEW THE VIDEO: https://www.facebook.com/watch/?v=696470374280034&extid=TtifcQnMbcJRsOrF
MrVineetRastogi, who is the Founder & Managing Director of Exponential Healthcare, MD of Healium.io and MD of BIZpaye India. CLICK ON THIS LINK TO VIEW THE VIDEO: https://www.facebook.com/watch/?v=1487475618125475&extid=ea5L48jyyAEXzpMj
Mr. Ghanshyam Gupta, the Director of G.K. Associates. He is an alumni of the prestigious IIM Ahmedabad and has 28 years of engineering and mangerial experience. He now focuses on coaching HNI and Ultra HNI clients. CLICK ON THIS LINK TO VIEW THE VIDEO: https://www.facebook.com/watch/?v=3178807752173896&extid=ay5rbXoRDmzt5iM3
| | |
| --- | --- |
| | Member's Corner |



Mr. Hemant Mistry
Arch. Hemant Mistry
Owner & Partner - M. Square Construction
CONNECT with Him at hemant.mistry03@gmail.com / 9820969114

Mr. HEMANT MISTRY Hold Degree of Architecture from Mumbai University. He started working in his company while he was studying his Architecture.He has over all 9+ years of Experience in Real Estate Development.

M. Square Construction Company is Turnkey Solution Provider for new Infrastructure projects in Residential & Commercial Buildings.It is also one-point Solutions for all kinds of Building Repairs and Maintainers from Foundation to terrace. They provide these services all over India from Over 35+ years. They are also empanelled under MCGM.
*Asks*:
Secretary / Chairman of SOCIETY and INDUSTRIAL BUILDING
Managing Committee of SCHOOL and COLLEGES
Hotels & Resorts Owners
Bungalows & Farmhouses Owners




Ms. Maushmi Divekar
Founder & Owner - Happiness Stores
happinessstorespune@gmail.com
www.happinessstores.com
9881232526
DREAM BIG. They have funny ways of coming true"

This has been a central theme in my career of over 25 years where I had the experience of selling and marketing across industries as varied as automotive, finance or insurance where I held respectable positions which meant I lead teams to achieve more than anyone's expectations. Often the front-runner in all these places, I always had a healthy, competitive approach towards doing the best in what was assigned to me. And it stood its stead by winning me accolades besides oodles of goodwill from clients who went ahead and got me more clients (my clients in most cases were my salesforce!).

Talking of leadership, I realized early on that the only way to be at the top is to have a TEAM. I had mine. Nurtured, supported and encouraged by me, quite a few of my team members are today leaders in their own vocations besides being entrepreneurs of some serious repute.




Mr. Nayan J Rawal
IP – Attorney - NRA Law
nayanrawal@gmail.com / 9820188710

He has more than 23 years of experience in the field of Corporate Law and IPRPractice more focused on Patents & Designs, Trademarks and Copyrights and Law IP- Commercialization.Experience in counseling and advising clients regarding creation, protection and commercialization of Intellectual Property, Intellectual Property Rights-Consultancy and Strategy, Conducting and IP Audit, Valuation of IP, Public Issue Management, Competition Law
In the IP field has prospected more than 800 Trade Mark Applications has prospected more than 50 Patents in the subject of Pharmaceuticals & Medical, Electronics, Information Technology, Mechanical, Protected more than 50 Designs and more than 50 Copyrights.

*Function and Specialization*:
IP Attorney
IP –Strategy
IP – Valuation
Design Thinking in IP





Ms. Rajashri Rajashekhar
Founder - Poornam Foundation &WeTransform HR
poornam.shiksha@gmail.com
www.wetransformhr.org
www.poornamfoundation.com
9820012052



On 15th August 2020 was given "National Leadership Award - Innovative Community Leadership" by Confederation of Indian Micro, Small & Medium Enterprise.

What we do......in WeTrasnformHR, We undertake HR Documentation from Policy formation, format creations, Job Descriptions, Strategy Building, compensation architecture, designing performance management, Training Modules design, scorecard to link to the goals and JD, entry to the exit process.
In Poornam Foundation - We do POSH CONSULTING, We build Gender Neutral Leadership, Mindsets and Societies which are free of conflict with high potential & creativity.

Gender Neutral Leadership Program for Girls / Women to embrace the Roles of being a Woman to Entrepreneur and thrive as a Being.Corporate Programs on Gender Neutral Leadership & create Gender Neutral Workplaces of harmony and Dignity, POSH consulting.Youth Program to instil the sense of oneness and empowerment, Youth Gender Counselling (especially for men & boys too to participate in woman empowerment) we have worked a lot with MAH Police, NCC Leadership academy, Rotractors)
Become an IBG member now!
TO BECOME AN IBG MEMBER AND ENJOY THE BENEFITS, CLICK ON
http://www.ibg.org.in/Link/IBG-Membership-Form.pdf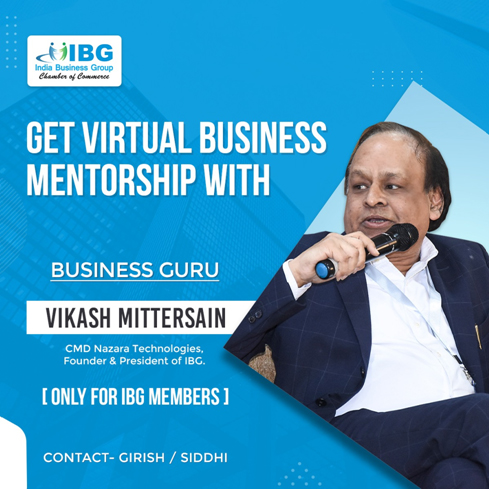 | | |
| --- | --- |
| | Updates |

Additional New Benefits on being IBG member:
Members get to present their array of work and business at our Networking event.
Members get to unveil their expertise and company credentials once in our IBG Newsletter which is released in the first week of every month and read over by 1 Lac Business People.
Get added on IBG Whatsapp Group and interact with other IBG paid members.
Get to be a part of only paid members event where you will get badges according to your industry sector which makes easier to identify specific needs.
IBG is connected and in collaboration with several consulates. Thus the trade inquiries which are floated from their country is been passed on to our paid members. Also IBG paid members get to be part of such meetings held in turns.

For regular updates please connect with us on Facebook, click on. Also kindly revert back to us with your mobile numbers so that we can message you with our event details prior. Like our IBG start ups group on Facebook to receive regular updates.
| | |
| --- | --- |
| | Sponsorship / Advertising |

In case you would like to advertise in this news letter at nominal rates please write to us at

priya@ibg.org.in

IBG IBG Newsletter goes to around 100000 people To view sponsorship & advertising details and rates

click here

Kindly let us know if you too would like to sponsor a lucky draw prize of your Brand / Company / Any services such as Airline Tickets, 2 Night Hotel Stay or any Product/Service related to your Company at this event as soon as possible so that we can advertise & promote your Company Logo linked to your website, in our mailers. Our mailers go out to 1 Lakh people.

| | |
| --- | --- |
| | We Welcome Your Views |

We welcome views of Members to make this news bulletin more useful to IBG Members in particular and businesses at large. Your interest in India Business Group (IBG) is highly appreciated.
| | |
| --- | --- |
| | Subscribe |

| | |
| --- | --- |
| | Updates |

For regular updates please connect with us on Facebook

click here

Also kindly revert back to us with your mobile numbers so that we can message you with our event details prior.

| | |
| --- | --- |
| | Contact Us |

India Business Group

51-57, Maker Chambers 3,

Nariman Point,

Mumbai - 400021, India

Phone:

+91 22 67471646

Fax:

+91 22 67473821

Email: ibg@ibg.org.in
IBG Team