Networking
and Events
Members
Corner
Member Referral
Program
Write
To Us
Connect
With Us
| | |
| --- | --- |
| | From The President's Desk |
Hello friends, associates, and IBG members

This is my first note for the year 2021. (Many more going forward). The whole world has gone through a most terrible year. Most have survived till now. We are finally seeing the advent of vaccines, though their real therapeutic value is still to unfold. There is a lot of confusion about their efficacy. We do not yet know if there will be short term or long term side effects. Even if they really protect against Covid. There is unclarity on how long they last and protect. The guess is from 3 months to a year. Are there side effects will be visible after millions have been inoculated. It's best to stay with the known safety protocols like wearing a mask, maintaining the distance of minimum 6 feet, washing hands frequently, etc.

I know I am repeating of repeated ideas and suggestions, after all it's a matter of life or death. We cannot and should not take Covid lightly even for a minute. Even a friend could be a carrier,
unknowingly. And don't forget your slip or wrong actions can affect your family. It is expected that things will become better with time, may be till end of this year. There is no magic bullet yet. It exists inside each of us, the chances we take, the actions we do. Most of us have survived this long, make sure you come through on the other side and continue with our life till natural death. Vaccines will being administered from 16th of Jan., so let's bid our time for our turn. Even after getting the required dose, our guard must not be let down.
Budget:
Let me speak briefly on the budget which is round the corner. The government knows well how businesses have crumbled across the country and the world. This is the best opportunity to set the economy into positive direction. While I don't have detailed suggestions on the budget, our PM has the best economists to advise and guide. What we should hope it the government thinks of the lowest common denominator. The budget must leave cash in the hands of the masses, the poorest of the poor, those who most need it. Many of us have a nest egg to fall back on, so hope the budget allows us to build on it. The taxes, especially the indirect taxes like GST must be reduced. It hits every pocket @18 or 27 %. Money in the hands of the poor will eventually reach the top when it is spent. Money in the hands of the rich will stay there, not trickle down, so it should be a bottoms up budget.
IBG:
The moment the lockdown was announced on 14th March 2020, it became starkly evident that IBG would not survive in its present form. We pivoted IBG into an online and International chamber. We quickly made efforts to do tie ups with other Indian and International chambers. Within a few months we have made a working group of around 10 Indian and 35 International chambers. This is called the Sister Chambers Group. This number will increase this year. As most of you know we are aware, we now do regular interactions between our members. I hope all of you take advantage of this and increase your business interactions and benefit from this IBG move. Become a member to take best advantage.
https://www.ibg.org.in/IBG-Membership-LP.html
Before I end this note, I wish you all a good 2021. We will review this end of the year.
| | |
| --- | --- |
| | GLIMPSES OF activities by IBG |
1. IBG MEMBERS MEET ON 6th Jan
We had members from various fields like FMCG, Real Estate, Infrastructure, Finance and Consumer Durables. The members of IBG, meet every month to discuss business and support each other's businesses by sharing referrals and business connects.
2. IBG B2B Meetings with Domestic& International Chambers
i. IBG –B2B Myanmar Fruit, Flower and Vegetable Producer and Exporter Association (MFVP) on 24th Dec
ii. B2B Meeting with India Myanmar Chamber of Commerce on 12th Jan 2021
This meeting was held to help increase the awareness of business opportunities in Myanmar for Indian Businesses. This meeting proved to fruitful as we had IBG members, and leading Enterprise Promoters from various sectors like Power, Pharma, Textiles, Agro, IT, Oil and Gas etc. network today.
iii. Collaborative Meeting with The Kenya National Chamber of Commerce on 13th Jan 2021
The Chamber is in existence since 1965. They have direct members around 32000 and indirect members through other associations are around 10 million representing 24 sectors. Their Key Development Sectors are Horticulture, Manufacturing, Defense, Industrial Products, Agriculture, Automotive Engineering, Medicine, Computer science, Tourism, Blue Economy, and Infrastructure, Logistics, Fisheries, Textiles etc.
Please click on the link to get synopsis of the meeting.
https://youtu.be/ur3EKiZPW58
Their president Mr. Richard Ngatia has expressed a business query that Anyone who want to set up a business in Kenya under SEZ /EPZ program, then the Kenya Chamber will facilitate the National Technical and Vocation skills.Please connect with us to know more. write at
siddhi@ibg.org.in
/
girish@ibg.org.in
| | |
| --- | --- |
| | IBG KNOWLEDGE CAFÉ WEBINAR SERIES |

i. Webinar with Anand Milind–India's Famous Music Composers
| | |
| --- | --- |
| | Ads & Promotions By IBG Members: |
| | |
| --- | --- |
| | TESTIMONIAL BY IBG MEMBERS |
Mr. VikashMittersain, the CMD of Nazara Technologies and the Founder President of India Business Group, conducts Virtual Business Mentoring sessions for one #IBG Member each week. Each mentorship session is over an hour long and is done online to help every #IBG member understand their industry's opportunities better and build solid organizations that can last any and every business challenge.
Sr. No.
Business Enquiries from Chambers
1
Meeting with The Kenya National Chamber of Commerce & Industry (KNCCI)
The Chamber is in existence since 1965. They have direct members around 32000 and indirect members through other associations are around 10 million representing 24 sectors.

Following was discussed and they are looking to explore the below areas:


Key Development Sectors are Horticulture, Manufacturing, Defense, Industrial Products, Agriculture, Automotive Engineering, Medicine, Computer science, Tourism, Blue Economy, and Infrastructure, Logistics, Fisheries, Textiles,
Joint Collaboration in mentioned sectors
They are looking Training from India in sector like Oil & Gas Production
Looking for Indian companies to set up in their SEZ taking benefits of the incentives given by Government
How can we promote Industrial Corporation & Technical Development
They want to promote their SEZ Zone or EPZ program – Opens 55 Countries, Renewable Energy, Fishing, Blue Economy, Bollywood - Bring Production Houses in Kenya
Anyone who wants to set up in Kenya under SEZ /EPZ program the Chamber shall facilitate.
Attached above are the benefits they offer in Kenya and the entire 55 counties open up under this program.

Please click on the link to get snippet of the meeting. https://youtu.be/ur3EKiZPW58
2
Meeting with The Chamber of Commerce and Industry of the Republic of Karelia, Russia.
The Chamber of Commerce and Industry of the Republic of Karelia (CCI RK) was established in 1992 and is part of the system of the Chamber of Commerce and Industry of the Russian Federation.
Following business enquires were generated in this meeting:
Members of Karelia:


Mr. Dmitry Kislov: The product is network of cloud based hyper-converted high speed data processing centers (DPC) in Republic of Karelia Karelian Data Centers.
Ms. T ATYANA : Organic Food Company producing sugarless pastille from Karelian berries. She is looking new partners.
Ms. Tatyana: Anyone looking for film locations details in Republic of Karelia can connect with her
Ms. D ayana: Webiomed Project – It is a system of predictive analysis and risk management healthcare using artificial intelligence method. It gives healthcare recommendations to doctors as well as patients. It is successfully used in various Russian regions. They are looking for partners in other countries.
Boris Makhrenskii : Connect for Marketing agency in Republic of Karelia

IBG Members:

Mr. Vivek Singhania: He is interested to do renewable energy projects in solar and photovoltaic and to do research for converting waste to energy.
Ms. Hiram Shaikh: She is a Chartered accountant and would like to connect with people who are looking for consultancy in the below areas:- Cross border restructuring, Setting of prices in various regions, Advising companies in value chain analysis, Econimic substance analysis, Covid analysis, Accounts outsourcing
Priti Shekawat – Consultant
She is a Supplier of Swimming pool cover Hardware (Brass Anchors, Wood Deck Anchor, SS Buckle, Brass Collars, SS Springs, L Wrench, Allen Wrench with Plastic Handle, Installation Rods with PVC Grips, spring safety covers, Tamping Tool, Lawn tube with Anchor.
Dr. Neeta Suhag: Owner - Aatm Body Clinic - Healthcare Anyone looking to set up aesthetic center with marketing and devices please connect.
Dolphy Mascarenhas: Director – Transfomatrix – Human Resource They are into International HR Platform, IT Industry Specialization, already working with Middle east, Latin America, etc
Mr. Ajoykant Ruia: Director - All State ComServe Pvt. Ltd. He would like to explore possibilities of Indians are allowed to have property in Karelia & Venezuela. Also they are into Food Processing equipment Please connect with him

If you like to connect with any of them, kindly get in touch with us and we will help you connect with them.
Please click on the link to see the video of the meeting: https://youtu.be/UhMCGoq-mgc
| | |
| --- | --- |
| | Member's Corner |



Ms. Amita Pande
Manager - CSR and Facilities
Sasken Technologies Ltd.
amita9@hotmail.com


Profile:
Currently working with Sasken Technologies Limited, Bangalore as a Manager – Travel, Hospitality, CSR, D&I.

My responsibilities include CSR activities for the organisation, Travel, facility management, management of executive events such
as board meetings, quarterly business meetings, café & shared services, establishment and operationalizing of a digital travel management portal, and internal & compliance audits. In my tenure I have initiated several programs to raise the service delivery and ensure that it is at par with global standards. I also provide leadership and support for community, environment, well-being, and Diversity & Inclusion programs in Sasken.




Ms. Chaitaly Mehta
Director - EKF Global Logistics Private Limited
chaitaly@ekfpl.com
www.expresskargo.in

Profile:
EKF was established in 1977 in Mumbai. We have offices across India – own, rep and work with associates where we don't have our own.
We handle almost all types of cargoes including:
Pharma/Bulk Drugs, Chemicals, Engineering Goods/Machinery/ODC cargo, RORO/Break Bulk shipments,
Electronics, Valuables, Textiles, Perishables, Live Animals, Hazardous Cargo/DGR, Diplomatic Cargo, Airline products including AOGs, Emergency Spares, Automobile Goods, Food Products, ATA Carnet – Exhibition Cargo

We offer the following services to our clients:

Regular:
Customs Clearance – air and sea- imports and exports
Freight Forwarding
IATA Accredited Air Cargo Agent
Licensed Multimodal Transport Operator
Customs registered Breakbulk Agent
Door to Door Logistics Solutions – DDU/DDP/DAP

Global Logistics Solutions
Cross Trade – 3rd country shipments
Trading
Sourcing
Insurance
Warehousing- on a limited scale
Transportation
Buyer's consolidation

We are members of National and Local Associations in India and Internationally.




Ms. Priyanka Ann Saini
Chief Strategy Officer - Charlie Pesti
priyanka@pesti.io
www.pesti.io

Profile:
Priyanka Ann Saini, Chief Strategy Officer at US-based Charlie Pesti, is a marketing and PR strategist who works with customers in the shipping and logistics sector. For her clients, she handles a gamut of services that range from Brand awareness, PR, Digital Marketing and Ad management to Content Architecture, Media & Event Management. Her aim is to create opportunities for her customers to ensure their message reaches the desired audience, while always positioning them as thought leaders in the industry.
A marketing, content and PR aficionado, Priyanka has worn many hats since the beginning of her career, almost 15 years ago. Her foray into the professional space began with her love for writing. She has authored children's books and penned a motivational biography series to encourage reading among young adults under Shree Publications. She has worked with publishing giants like The Hindu on a limited edition luxury bridal magazine that enabled her to connect with Richard Branson's PR team as well as that of the Burj-Al-Arab. She has worked with the National Institute of Information Technology (NIIT) to develop Teacher Learning Programs (TLPs) in the humanities domain and was on the Editorial Board of the prestigious Defence Services Staff College (DSSC), Wellington, India.

Additionally, she briefly worked with The Princeton Review as a Mentor and Counsellor to prospective MBA and Ph.D. students, helping them to understand their strengths, realise their goals and get into their dream universities, many of which were Ivy League Colleges.

As a strategist, she takes on marketing, PR & communications consulting for SMEs and large corporations looking to sharpen their content strategy and engage their desired markets.






Mr. Rayomand Damania
Vice President - Investments and Client Advisory for Pan India
AlpasaraFinvest Care Advisory Private Limited
rayodamania@gmail.com




Profile:
I am RayomandDamania. Having experience in Banking and Finance Industry since last 17 years. Worked with Co-operative Banks, Private Banks, Private Banking, NBFC for Business Development with a demonstrated history of working in the Wealth Management, fundraising industry, debt syndication.

Skilled in Construction Finance, Banking, Customer Relationship Management (CRM), Debt Restructuring, and Debt & Equity Financing.
Strong business development professional with a Master of Business Administration (M.B.A.) focused in Finance and Marketing from Institute of Technology and Management (ITM).

Currently managing the family office for the Manipal Group - Kurlon Ltd and corporate advisory services for listed and unlisted companies. I also manage the vertical for investment advisory services and the vertical for HR Outsourcing solutions majorly into Outsource Staffing, Payroll Processing, Training and Recruitment with absolute labour law compliance.




Mr. Sachin Bhand
Director - Earthly Joy Global Pvt. Ltd.
sachin@earthlyjoy.in
www.earthlyjoyglobal.com
9881554477




Profile
MyselfSachinBhand is a enthusiastic &hardcore young Entrepreneur.

I have completed Degree in Electronics & Telecommunications from Prestigious Pune University. To gain experience in this field



I worked with couple of Private Companies in the field of telecommunication.

While working in these organization my qualities of Leadership & Marketing Techniques helped me to achieve higher positions in those organizations.Having big ambition of being a good entrepreneur & building businesses to all over the globe I have started partnership firm to cater services of telecommunications industries.Company started with 4 team members & very limited resources.

With good communication skill, Marketing skills & unique leadership qualities company grown steadily year to year. With turnover of 60 Lakhs in first year company registered turnover of 15 Cr within 7 years.With Innovative mind set & ability to strive to achieve new highs I have started Earthly Joy Global Private Limited to cater ever increasing demand of Global FMCG & food Industries.

Earthly Joy Global Pvt. Ltd. is FMCG Company which is 3 years old.They have their brands names Gold Mine for powder and spices. A variety of products like Green Chilli Powder, Garlic Powder and Ginger Powder, Jaggery Powder, Jaggery Nuggets, Jaggery Bar, and more.

And another brand MY CHANG for Chinese products brings to you a varieties like Schezwan Chutney, Dark Soy Sauce, Red Chilli Sauce, Green Chilli Sauce and Chilli Vinegar, where each and every product is of exceptional taste, quality, design, and packaging. Now we are operating Mumbai, Pune and all over Maharashtra with 98 no of distributors.Recently we are awarded with Best Start Up Company of the year.




Mr. Vikram Jain

Sr. Marketing Director - Shankeshwar Metals
Brand: SDS ( Stainless Designer Studio)
shankeshwarmetals@gmail.com
9833362402 / 9869139715

Profile
Shankeshwar Metals established in Mumbai since 1989.


Our company has gained sufficient experience and expertise in providing better designed Stainless Steel metal products through past three decades.

We at SDS provide customized metal fabrication for our customers from the field of Corporate, Retail, Individual, Hospitality, Commercial Places, Residential, Malls & Architectural Installations, and Multiplexes etc.

*Customization is our forte.
Become an IBG member now!
TO BECOME AN IBG MEMBER AND ENJOY THE BENEFITS, CLICK ON
http://www.ibg.org.in/Link/IBG-Membership-Form.pdf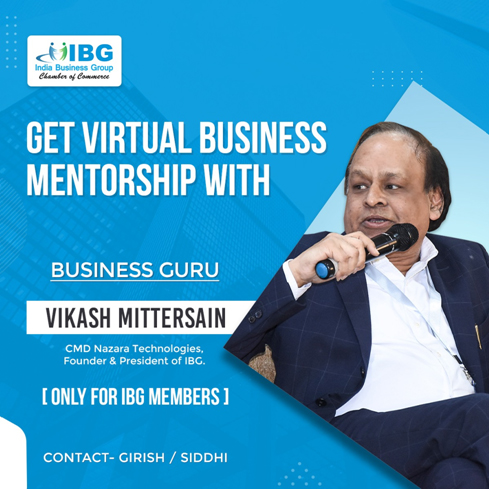 | | |
| --- | --- |
| | Updates |

Additional New Benefits on being IBG member:
Members get to present their array of work and business at our Networking event.
Members get to unveil their expertise and company credentials once in our IBG Newsletter which is released in the first week of every month and read over by 1 Lac Business People.
Get added on IBG Whatsapp Group and interact with other IBG paid members.
Get to be a part of only paid members event where you will get badges according to your industry sector which makes easier to identify specific needs.
IBG is connected and in collaboration with several consulates. Thus the trade inquiries which are floated from their country is been passed on to our paid members. Also IBG paid members get to be part of such meetings held in turns.

For regular updates please connect with us on Facebook, click on. Also kindly revert back to us with your mobile numbers so that we can message you with our event details prior. Like our IBG start ups group on Facebook to receive regular updates.
| | |
| --- | --- |
| | Sponsorship / Advertising |

In case you would like to advertise in this news letter at nominal rates please write to us at

priya@ibg.org.in

IBG IBG Newsletter goes to around 100000 people To view sponsorship & advertising details and rates

click here

Kindly let us know if you too would like to sponsor a lucky draw prize of your Brand / Company / Any services such as Airline Tickets, 2 Night Hotel Stay or any Product/Service related to your Company at this event as soon as possible so that we can advertise & promote your Company Logo linked to your website, in our mailers. Our mailers go out to 1 Lakh people.

| | |
| --- | --- |
| | We Welcome Your Views |

We welcome views of Members to make this news bulletin more useful to IBG Members in particular and businesses at large. Your interest in India Business Group (IBG) is highly appreciated.
| | |
| --- | --- |
| | Subscribe |

| | |
| --- | --- |
| | Updates |

For regular updates please connect with us on Facebook

click here

Also kindly revert back to us with your mobile numbers so that we can message you with our event details prior.

| | |
| --- | --- |
| | Contact Us |

India Business Group

51-57, Maker Chambers 3,

Nariman Point,

Mumbai - 400021, India

Phone:

+91 22 67471646

Fax:

+91 22 67473821

Email: ibg@ibg.org.in
IBG Team