| | | |
| --- | --- | --- |
| | | India's most widely read newsletter |
Networking
and Events
Members
Corner
Member Referral
Program
Write
To Us
Connect
With Us
| | |
| --- | --- |
| | From The President's Desk |
Hello Friends, Associates, and IBG Members,

Diwali or Diwala. Just one letter changed and the entire meaning changes. When India declared entire country lock lockdown on 14th March 2020 due to Covid, people (including me) thought next Diwali will see Diwala for most businesses. Everything stopped. Shops, transport (goods as well as people), airlines, almost everything we could think of. Naturally, it was Diwala time.

To the surprise of most, somehow the economy kept ticking, and stability returned soon and by Dec 2020, Covid seemed to be getting under control. Modi Government has done an extraordinary job of vaccination. Today, nearly 100 crore jabs have been administered. Around 30% population has received 2 vaccinations and this is progressing fast

The stock markets have rebounded hugely (somehow they did not collapse) and the indices are seeing huge growth, daily topping previous highs. India is looking at a 9% + GDP growth this year, the best in the world for large economies. We have to look at a grand Diwali this year. Also the third wave does not seem to be happening. All businesses are looking for renewed growth.

Let's all meet at the Diwali Potboiler on 27th Oct and celebrate together.
Follow IBG on Social Media
| | |
| --- | --- |
| | IBG Members Meeting at IBG Office held on 6th Oct. |
Japan Consul General addressing IBG Members at IBG Office held on 13 th Oct
| | |
| --- | --- |
| | Government Meetings |
Meeting with Shri Nawab Malik Office of Ministry for Minorities Development & Aukaf, Skill Development, Employment and Entrepreneurship, Government of Maharashtra.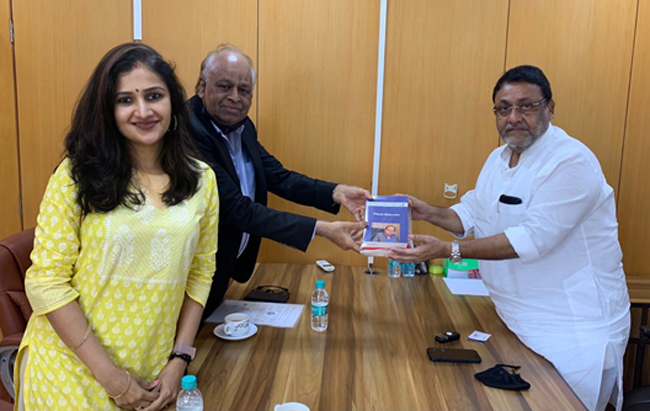 Meeting with Shri. Dadaji Dagdu Bhuse, Minister - Agriculture & Ex Servicemen Welfare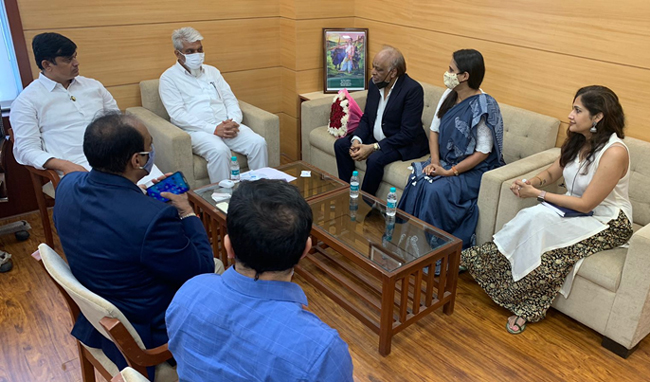 IBG Committee Members Hangout on Sunday at Global Fusion Bandra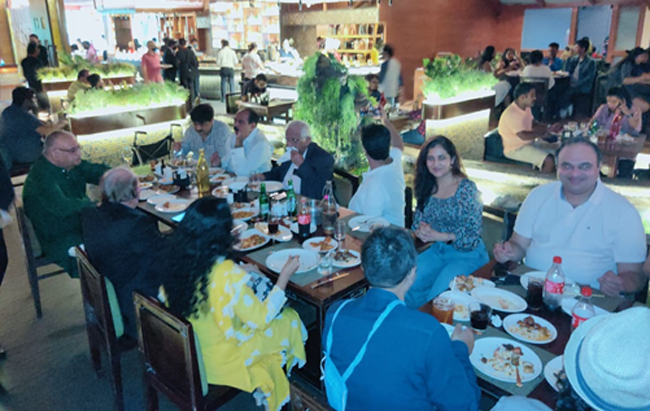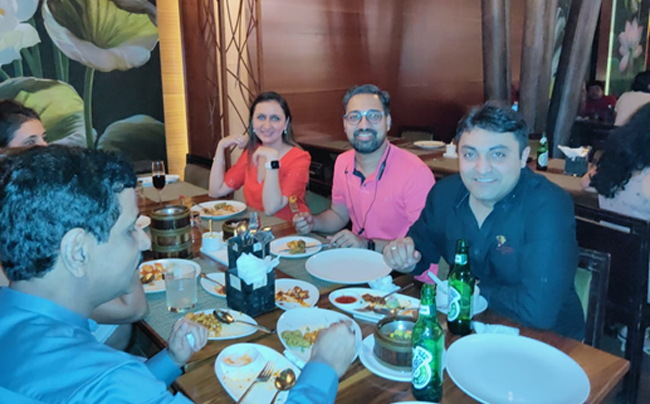 IBG' s Virtual B2B meeting with member of Union chamber of Karelia, Russia held on 1st Oct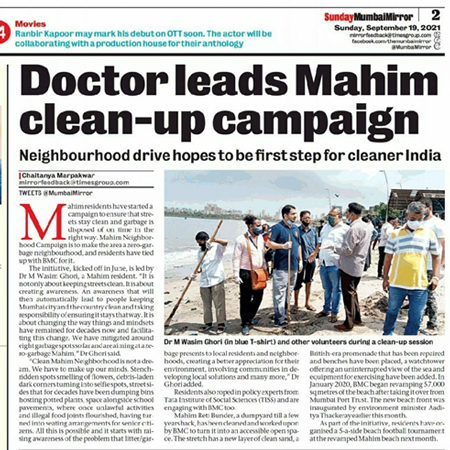 Diabetologist and IBG-Member Dr. Wasim Ghori and a few others had kicked off the Cleanliness Drive in Mahim under the umbrella of Mahim Residents Forum in June this year.

The eminent citizens who appreciated the efforts of the residents to keep their neighbourhood clean and green included Mayor of Mumbai Smt. Kishori Pednekar.
IBG Member Payal Shah - +91 9821925985

www.payalshah.in

payal@payalshah.in

As a photographer specializing in advertising, beauty, corporate portraits, editorial, fashion and publicity stills, me along with a few professionals, we aim to focus on getting a total understanding of our clients business and being able to merge their understanding with our expertise. A relentless pursuit of exploring, we try to blend skill, design, aesthetics, technique and a sense of simplicity in our work by generating such images/designs.

Its our endeavour to create and expand the power of a brand.From specific jobs to complete campaigns we custom make each of our services.

Having said that , one can view my work on – www.payalshah.in

Please find below the services offered

Photography

Conceptual | People | Beauty | Jewellery | Products

Digital Post Production

Creative Retouching | Print and Pre-Press Production

Design

Print Media | Advertisements | Brochures | Newsletters

Looking forward to hearing from you and an opportunity to create some

great images , together for mutual interest.

Payal Shah
Mr. Vikash Mittersain - Founder of IBG taking about the real estate industry.
| | |
| --- | --- |
| | TESTIMONIAL BY IBG MEMBERS |
Mr. Vikash Mittersain, the CMD of Nazara Technologies and the Founder President of India Business Group, conducts Virtual Business Mentoring sessions for one #IBG Member each week. Each mentorship session is over an hour long and is done online to help every #IBG member understand their industry's opportunities better and build solid organizations that can last any and every business challenge.
Mentoring Testimonial by Mr Siddharth Jain

The virtual mentoring session with Mr. Vikash was beyond my expectations, he is so humble with zero attitude nature. He gave me solutions that I can easily apply and follow time to time. I am eager to meet Mr. Vikash in real soon. I recommend every business entrepreneur to be a part of IBG and know various methods to scale their business through networking. Thanks to the entire team of IBG for taking the process so smoothly with the best support.

Click here for Video: https://fb.watch/7rsO3JHuzo/
Mentoring Testimonial by Mr. Sachin Mehta

"I am fortunate to be part of IBG. I would especially like to thanks Mr. Vikash for giving solutions that are out of the box. I see IBG as a complete expression of commitment for the people here. They are so committed and supportive towards the members. Happy to be a member of the India Business Group and thanks to Mr. Vikash and team IBG."

Click here for video: https://fb.watch/7rsRvL3WVQ/
| | |
| --- | --- |
| | Member's Corner |



Mr. Sagar Chandni
Head of Incubation and Startup Engagement
Center for Incubation and Business Acceleration (CIBA)
sagarchandni@gmail.com
9773066027


Profile:

I am Sagar Chandni, I have about 8+ years of experience in the startup ecosystem. I have been an entrepreneur and now I am a Startup Enabler.

Currently, I am working with the Center for Incubation and Business Acceleration, which is a Department of Science and Technology Govt. of India catalyzed Startup Incubator. Our goal is to help Technology Startups become Investable. I consult startups early-stage startups from Idea Validation to making their Pitch Perfect. Also, along with my better half, I am helping companies with 'Company Secretary Compliances'.

I would be happy to support through my areas of expertise and look forward to meaningful collaborations for both my initiatives.




Mr. Chintan Shah
Director - Etica Wealth Pvt. Ltd.
chintan.shah@eticawealth.com
www.eticawealth.com
8097900036

Profile:

Chintan has more than 10 years' experience in Capital Markets. He joined Etica Wealth Pvt Ltd in 2014.

Prior to becoming a part of the Etica family in 2014, Chintan has done internships at AKD Securities (Currency Derivatives), Anagram and Edelweiss (Equity Research). He then joined his Family Business and was instrumental in doubling the turnover in less than two years.
Chintan had always been passionate about equities, money markets and was actively involved in managing his family's investments. It was here that he realized the lack of awareness and low financial literacy in the people around him. That's when he left the family business and found his calling in helping people plan their financials.

About Etica Wealth (P) Ltd:

Etica Wealth was incorporated in 2009 based on T Rowe Price's principle "What is good for the client is also good for the firm". The word 'Etica' comes from Spanish / Portuguese language, which means Ethics and it is our constant endeavor to abide by our tagline "Ethics before Everything" that echoes our DNA. We would invest your money where we have put our own hard earned money. In other words, "The owner of this restaurant also eats here". All we look for is how many happy clients are we serving.




Mr. Harsh N Sodhani
Business Development- Pravah Pragati Products LLP
hsodhani1@gmail.com
9167234508 & 9321545390

Profile:

Mr. Harsh is a qualified chartered accountant having done his article ship from BSR& Co. LLP ( member firm of KPMG India).


He is currently working as a Business Development Officer in his family firm- Pravah Pragati Products LLP.

Currently - Pravah Pragati Products LLP is engaged retailing/ distributing Covid-19 essentials which majorly includes Hand Sanitisers, Handwashes and Surface Disinfectants. The firm is also actively involved in expanding its product portfolio into speciality chemicals mainly *textile chemicals and other FMCG products.

Under his tenure the firm has tied up with *Rossari Biotech Limited*- India's leading speciality chemical company and India's top textile chemical manufacturer. Rossari Biotech clientele includes *HUL, Godrej, IFB* to name a few...




Mr. Mahesh Varma
Proprietor - Nimiwal Printers
nimiwals@gmail.com / varmamahesh@rediffmail.com
9819328879




Profile:

Nimiwal Printers have been supplying quality printing in Mumbai for more than 15 years.

Over the years we've demonstrated consistently strong growth to become most progressive, respected and reliable printers.

We provide printing services to many large Corporates, Banks, Hospitals, Schools, Hotels, and many leading Mumbai businesses.

Whether you are part of a small business or a large corporation, you can benefit from the specialty printing services that Nimiwal Printers offers.

We promote your Business with high quality printing materials, stationary, packages & printed collaterals materials.

*Our range of services includes* Graphic design, Offset printing, Digital Printing, Screen Printing & Binding Unit.

*Our range of products* are Letterheads, Visiting cards, Envelopes, Broacher, Catalogue, Magazines, Annual Report, Flyers, Paper bags, Flex, Banner, Hospital stationaries, School printing, etc.

The Secret of our success a simple formula : Combine high quality products with eco-friendly practices & make sure it's all delivered to you exactly when you need it, even if its tomorrow.




Mr. Prashant Agarwal
IBBI Govt Regd. Property Valuer & Architect
aparch35@gmail.com
www.linkedin.com/in/prashant-agarwal
9820808401





Profile:

a) Practicing architect for more than 21 years, (1999)

b) Practicing as Valuer of properties since more than 8 years. (2012)

An experienced Architect and IBBI Govt. Registered Valuer and Real estate Professional with more than 21 yrs in architectural practice and Valuation practice across India.
With a Strong young though significant experienced team of professionals including Marketing team headed by Marketing head having more than 30 years of experience for dedicated contact with Banks and NBFCs and clients & by engineers, site visit field executives, we are into providing quality Valuation services especially for Banks and NBFCs, and other finance companies,

Work closely with Chartered Accountants, Company Secretary's and Tax professionals, Insurance and Advocates/ Solicitors/ Law firms.

Acquired experience including in Legal / Court proceedings, mortgage valuation, Project Appraisal, Special property valuations, Capital Gains Tax Valuations, Income Generating property Valuations and company's asset valuations.

Exclusively authorized to carry out Valuations under Companies under Companies Act 2013 and IBC Code 2016 through IBBI (Insolvency and Bankruptcy Board of India), for Company's Assets and versatile business proposals including NCLT, DRT, Insolvency, Restructuring, Liquidation, Asset Valuation, Mortgage & Financing, Asset Securitizations and Asset Reconstruction, Mergers & Acquisitions, Joint Ventures, Sale & Purchase, Capital Gains Tax, Insurance, Accounting & Financial Reporting, Fair Rental Valuations, etc.

Being practicing Architect and real estate professional since 1998 have great exposure to Real Estate business dynamics and have successfully done many TDD (Technical Due Diligence) and TEV reports for real estate projects including that of Residential cum Commercial project, Industrial and Warehousing project and Income generating projects such as Hotels, Theatres, Malls etc.
Become an IBG member now!
TO BECOME AN IBG MEMBER AND ENJOY THE BENEFITS, CLICK ON
http://www.ibg.org.in/Link/IBG-Membership-Form.pdf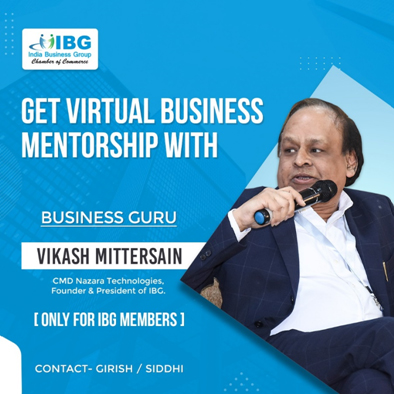 | | |
| --- | --- |
| | Updates |

Additional New Benefits on being IBG member:
Members get to present their array of work and business at our Networking event.
Members get to unveil their expertise and company credentials once in our IBG Newsletter which is released in the first week of every month and read over by 1 Lac Business People.
Get added on IBG Whatsapp Group and interact with other IBG paid members.
Get to be a part of only paid members event where you will get badges according to your industry sector which makes easier to identify specific needs.
IBG is connected and in collaboration with several consulates. Thus the trade inquiries which are floated from their country is been passed on to our paid members. Also IBG paid members get to be part of such meetings held in turns.

For regular updates please connect with us on Facebook, click on. Also kindly revert back to us with your mobile numbers so that we can message you with our event details prior. Like our IBG start ups group on Facebook to receive regular updates.
| | |
| --- | --- |
| | Sponsorship / Advertising |

In case you would like to advertise in this news letter at nominal rates please write to us at

priya@ibg.org.in

IBG IBG Newsletter goes to around 100000 people To view sponsorship & advertising details and rates

click here

Kindly let us know if you too would like to sponsor a lucky draw prize of your Brand / Company / Any services such as Airline Tickets, 2 Night Hotel Stay or any Product/Service related to your Company at this event as soon as possible so that we can advertise & promote your Company Logo linked to your website, in our mailers. Our mailers go out to 1 Lakh people.

| | |
| --- | --- |
| | We Welcome Your Views |

We welcome views of Members to make this news bulletin more useful to IBG Members in particular and businesses at large. Your interest in India Business Group (IBG) is highly appreciated.
| | |
| --- | --- |
| | Subscribe |

| | |
| --- | --- |
| | Updates |

For regular updates please connect with us on Facebook

click here

Also kindly revert back to us with your mobile numbers so that we can message you with our event details prior.

| | |
| --- | --- |
| | Contact Us |

India Business Group

51-57, Maker Chambers 3,

Nariman Point,

Mumbai - 400021, India

Phone:

+91 22 67471646

Fax:

+91 22 67473821

Email: ibg@ibg.org.in
IBG Team