Networking
and Events
Members
Corner
Member Referral
Program
Write
To Us
Connect
With Us
| | |
| --- | --- |
| | From The President's Desk |
Hello friends, associates, and IBG members,

IBG is constantly evolving since lockdown of 14th March. Before that we just had physical meets at different venues. It became instantly apparent that it could no longer be done given the Covidsituation. We decided to pivot completely into an online chamber. We also went out and did tie ups with several chambers in India and overseas. We now hold online meetings with members of different chambers giving great exposure to IBG members. This has worked very well.

The latest initiative is to make sectoral groups within members of different business categories. The sectors are as below:
1. Real Estate
2. Film & Entertainment
3. Information Technology (IT)
4. Healthcare & Pharmaceutical
5. Banking & Finance
6. Legal

7. Travel, Tourism & Hospitality
8. Advertising & Marketing
9. Manufacturing
10. Retail
11. HR, Learning & Development

This initiative has received tremendous response from members and this will form the backbone of 2021 activities. Actual business is being exchanged in these sectoral meets. We plan to add the physical meetings of members at hotels, restaurants etc. from second half of March 2021 if the Covid situation and numbers of infections remain low as they now are. Vaccines will also help in improving the situation as we go along.
| | |
| --- | --- |
| | IBG SECTOR WISE MEETINGS |
1. REAL ESTATE Sector Meeting held on 18th& 19th January at IBG Office.
IBG conducted the Real Estate sector meeting with the head of the Real Estate vertical Mr. AjoykantRuia and few members of IBG from Real Estate sector.
In this meeting, the members discussed the current challenges and opportunities in the Real Estate Industry. The profile of each member was discussed in detail to know more about each member and best help them to connect with the right people.
2. FILM & MEDIA VERTICAL Meeting held on 27th January at IBG Office.
The current challenges in Media and Film Industry, OTT, theatres, online media, etc, were discussed. IBG members exchanged thoughts about Bollywood, Tollywood, Mollywood and various OTT platforms. Over 30 C-suite reference and business connects were exchanged in the meeting.
3. INFORMATION TECHNOLOGY (IT) Sector Meeting held on 3rd February at IBG Office.
We held one summit recently, with members from the Information Technology sector. The discussions primarily revolved around the Policies of the new US administration led by President Joe Biden - with USA being an important market for all IT MNCs. Other major topics discussed: Indian Budget, Indian Startup Ecosystem, Private Equity Investments in IT, Startup Policies in India and the World.
4. Banking & Finance Sector Meeting held on 10th February at IBG Office.
Check out Business Enquiries generated in sector wise meeting
IBG Presidents Roundtable Meeting held on 28th January on Zoom
| | |
| --- | --- |
| | TESTIMONIAL BY IBG MEMBERS |
Mr. VikashMittersain, the CMD of Nazara Technologies and the Founder President of India Business Group, conducts Virtual Business Mentoring sessions for one #IBG Member each week. Each mentorship session is over an hour long and is done online to help every #IBG member understand their industry's opportunities better and build solid organizations that can last any and every business challenge.
Mentoring Testimonial by Mr. Avddhut Rege

Mr. AvddhutRege, Founder of Shamang Events & Entertainment.
He mentions, "its wonderful experience to be a member of IBG and connect with like-minded entrepreneurs. Had a fruitful mentoring session with Mr. VikashMittersain and got insights and was guided about how he can reach more people internationally.He thanked the IBG team and MrMittersain for giving full support and guidance, and mentioned that entrepreneur must be a member of IBG

Click here for Video: https://fb.watch/3AOBZ5Yyyd/
Mentoring Testimonial by Mr. Manish Khanna

Mr. Manish Khanna, Director of Khanna Industrial Pipes Pvt Ltd.
In this video, he mentions about how Mr. Vikash mentored and cleared the doubts he was facing. He is thankful to the team of #IBG for always being ready and responsive to help and guide IBG members for every minute query.

Click here for Video: https://fb.watch/3AOMPC55ei/
| | |
| --- | --- |
| | Member's Corner |



Mr. Appurva Desai
Proprietor
T.A.J. Enterprises
tajent.ap@gmail.com
9819892666

Profile:
We are glad to introduce our company T.A.J. Enterprises, that has been in the business of Interior's since past 10 decades.

We have established ourselves with excellent track record for best client satisfaction. Our various range of Interior and related services include:

1) Interior Designing.
2) Design & Built solutions.
3) Interior Turnkey works.
4) Interior Contracting.
5) Interior Project management consultation.
6) Modular furniture.

Our firm includes team of specialized, skilled & experienced Designers, 3D visualizer's, Site Engineers, Project managers, Project coordinators, Site supervisors, who are extremely dedicated to deliver their best. The office also sits other departments like Estimators, Purchase team and Admin.

Besides our various Associates from diverse fields and Sub-contractors we have our own in-house team of workers on company payroll to give regular and timely services to our esteemed clients.

Design is our strength, quality is something we never compromise on and we adhere time. We believe in client satisfaction and hence for all these years retained our clients. Our passion of doing something novel and striking has always kept us one step ahead of our competitors.

T.A.J. has a lot to offer, I/we are akin to meet you in personal and explain our business and services better, that we can offer you to suite you. Kindly provide us with a convenient date and time to meet.




Ms. Chitra T R
Founder & CEO
TRC Impex
trcimpex5@gmail.com
www.trcimpex.com
9867316555

Profile:
We are into wholesale supply and exports of Eco-friendly bags & Fruit pulp.

1️ Eco-friendly bags
Our Eco-friendly bags are made of Cotton Canvas, Jute, Juco and Vegetable Starch.

✳️ Our bio-compostable bags are certified and each bags come with unique QR Code to prove the genuineness of bio-composability of our bags
Our range of bio-compostable are
➡️ Compostable Carry Bags
➡️ Compostable Garbage Bags
➡️ Compostable Fruit &Vegetable storage rolls.
➡️ Compostable Grocery Bags
➡️ Compostable Apparel Bags
➡️ Compostable D-Cut Bags
➡️ Compostable Hospital Bio-Waste Bags
➡️ Compostable Covers & Bags for packing food

✳️ Our range of cotton and jute bags include
➡️ Shopping Bags
➡️ Laptop Bags
➡️ Files
➡️ Folders
➡️ Pouches

All our products contain natural ingredients that are completely Bio-Based, Earth-Friendly, Customizable & Customer-Centric.




Ms. Hiral Ahuja
Owner
Hirral'z Sweet Treats 9
hirraldahuja@gmail.com
Facebook Page: https://www.facebook.com/sweettreats0009/
Instagram: https://www.instagram.com/sweettreats009/
9372878559

Profile:
Hirral'z Sweet Treats 9 is not just another home baking company started out of boredom during the lockdown.

My baking journey started in 2003 when I moved to China after marriage. I loved sweets and cakes but soon found out that it was almost impossible to get eggless cakes or desserts in China.
Hence began the quest for recipes that didn't use eggs and could be made easily at home.

The first-ever cake I baked was for my son's first birthday and never looked back. I kept baking more and exploring various new recipes.

I moved to Singapore in 2015, and once I was settled there, I started baking professionally from 2016. I not only catered to personal orders but also baked for school events and other programs.

When fate brought me to Mumbai in 2019, a mentor told me "to believe in myself and follow my dreams."

That is when Hirral'z Sweet Treats 9 came into existence.

I bake all kinds of exotic cakes, cookies and muffins. And have also ventured into healthy baking and made amazing vegan, gluten and sugar-free delicacies. Connect with me today to know more about freshly baked cakes and healthy variations of all your favourite desserts.






Ms. Komal Jatakia
Co-Founder
Soulmate Destination Matrimony
komaljatakia@gmail.com
www.soulmatedestination.com
8082428421




Profile:
Komal Samir Jatakia is co-founder of Soulmate Destination Matrimony. Komal has an experience of 7 years in matrimonial field. She has an expertise of handling matrimonial profiles of niche and cream segment of the society.

Soulmate Destination Matrimony is an efficient pioneer, which helps you seek for the perfect life partner you have been waiting for. We believe that a person is much more than just their bio-data hence we meet them to know about their education, qualifications, their
childhood, growing up years, family members, background and, what they seek in their partner. Connecting people from hearts is our motto thus, it can be possible that your dream partner may not be living in the same city as yours. Hence, then we analyze the data of your prescribed criteria and shortlist the bio-data which is apt.




Mr. Manish Khanna
Director
Khanna Industrial Pipes Pvt Ltd
mkhanna@khannapipes.com
www.khannagroup.org
+919820033462




Profile
Khanna Industrial Pipes Pvt Ltd (KIPPL) is the flagship company of Khanna Group. We are into manufacturing of Steel Pipes and tubes since 1966 for various end application. We started with manufacturing Steel Conduits Pipes for electrical concealed wiring and then diversified to production of the Pipes and Tubes for various other end application such as Lancing pipes for furnaces, Furniture, Automobile accessories, Construction, Scaffolding components, Infra projects etc.
We have our manufacturing units in Shahpur on the Mumbai-Nashik highway started in 1986 and the second unit in 2012. We are an ISO 9001:2015 certified company by TUV NORD and have the licenses to manufacture as per various standards of Bureau of Indian Standards (BIS) and also as per various international standards. Our manufacturing facilities are spread over 150000 Sq. Feet in the 2 units at Shahpur.

We operate thru our network of dealers as well as actual end-users for various segments. We are selling our products mainly in Maharashtra and Gujarat as well as exporting to many countries such as UK, USA, Canada, Germany, Middle East etc. The company has to its credit Highest Exporters Trophy awarded by EEPC for many years.

Mr Manish Khanna having a Science Degree in Chemistry is associated with the company since 1986 and is overlooking all aspects of the business such as Purchase, Production, Sales and General Administration. He was instrumental in diversifying the Pipes and Tubes business into steel fabrication for Construction/ Scaffolding components. We have a long term contract with one of the biggest scaffolding companies in UK for various products since year 2000. We are also supplying our fabricated products to domestic end-users in the construction industry.

Ours is a family owned business running the company from its administrative office at Khar, Mumbai-400052.




Ms. Reena Sachdev

Founder - Travel Arena
reena@travelarena.in
Instagram - @travelarena
FB - @travelarena1
www.travelarena.in
9820093724

Profile
We bring you the enviable lifestyle you long to own. Pack it with episodes that widen your horizons and add to your worldview. Indulgence in the raw wilderness of silky beaches, silent valleys and rugged deserts? Peace with snow-tipped pine trees, crisp autumn leaves and flaming sunsets. Vibrant cities or abandoned towns? Recreation, relaxation, adventure, culture goals?



Offbeat, lesser-known locations, hidden gems, local hangouts?
Luxury experiences in popular or uncommon destinations?
Climbing smoking volcanoes in Hawaii, glacier walking in Patagonia, hot-air ballooning in Mongolia, alpine walks in Norway?
Luxury glamping in Morocco, yachting in Turkey, river cruising in Europe, camper van holidays in New Zealand?
Art expeditions in Italy, museum tours in France, cultural tours in Peru?
Culinary tours in Spain, cooking classes in Greece, wine tasting in Georgia?
Royal palace stays, street food trails, nature treks, culture immersions, religious pilgrimages, adventure activities, driving holidays and mountain retreats across the diverse landscape of India?
What's on your wish-list? We're the genie in the bottle. Just ask
Become an IBG member now!
TO BECOME AN IBG MEMBER AND ENJOY THE BENEFITS, CLICK ON
http://www.ibg.org.in/Link/IBG-Membership-Form.pdf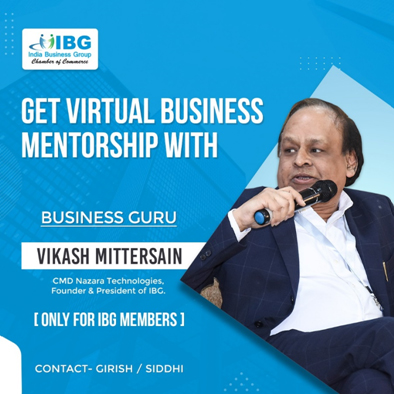 | | |
| --- | --- |
| | Updates |

Additional New Benefits on being IBG member:
Members get to present their array of work and business at our Networking event.
Members get to unveil their expertise and company credentials once in our IBG Newsletter which is released in the first week of every month and read over by 1 Lac Business People.
Get added on IBG Whatsapp Group and interact with other IBG paid members.
Get to be a part of only paid members event where you will get badges according to your industry sector which makes easier to identify specific needs.
IBG is connected and in collaboration with several consulates. Thus the trade inquiries which are floated from their country is been passed on to our paid members. Also IBG paid members get to be part of such meetings held in turns.

For regular updates please connect with us on Facebook, click on. Also kindly revert back to us with your mobile numbers so that we can message you with our event details prior. Like our IBG start ups group on Facebook to receive regular updates.
| | |
| --- | --- |
| | Sponsorship / Advertising |

In case you would like to advertise in this news letter at nominal rates please write to us at

priya@ibg.org.in

IBG IBG Newsletter goes to around 100000 people To view sponsorship & advertising details and rates

click here

Kindly let us know if you too would like to sponsor a lucky draw prize of your Brand / Company / Any services such as Airline Tickets, 2 Night Hotel Stay or any Product/Service related to your Company at this event as soon as possible so that we can advertise & promote your Company Logo linked to your website, in our mailers. Our mailers go out to 1 Lakh people.

| | |
| --- | --- |
| | We Welcome Your Views |

We welcome views of Members to make this news bulletin more useful to IBG Members in particular and businesses at large. Your interest in India Business Group (IBG) is highly appreciated.
| | |
| --- | --- |
| | Subscribe |

| | |
| --- | --- |
| | Updates |

For regular updates please connect with us on Facebook

click here

Also kindly revert back to us with your mobile numbers so that we can message you with our event details prior.

| | |
| --- | --- |
| | Contact Us |

India Business Group

51-57, Maker Chambers 3,

Nariman Point,

Mumbai - 400021, India

Phone:

+91 22 67471646

Fax:

+91 22 67473821

Email: ibg@ibg.org.in
IBG Team