Networking
and Events
Members
Corner
Member Referral
Program
Write
To Us
Connect
With Us
| | |
| --- | --- |
| | From The President's Desk |
Hello Friends, Associates, and IBG members,

IBG moved fast soon after lockdown which was announced 14th March 2020. It became apparent there would be no physical meets for a year, and surely IBG would have lost its mojo and probably shut down. We were just a Mumbai based chamber doing physical meetings about once or twice a month. We pivoted and converted to an online chamber. We also went out and did chamber tie ups around the world. We call this group Sister Chambers. At last count we are a group of 40 chambers working in tandem to assist members to realise the new reality post covid.

IBG has built 10 verticals covering most business aspects and areas. Each vertical by itself is like an independent chamber. These are as below.

1) Manufacturing
2) Advertising and Marketing

3) Real Estate
4) Travel and Tourism
5) Film, Media & Events
6) Legal
7) HR, Learning & Development
8) Healthcare and Pharma
9) Logistics and Infrastructure
10) Banking & Finance
11) Information Technology
12) Retail
Each vertical is headed by a member from that respective line of business, and has a working committee assisting. It's become very dynamic connecting members to counterparts in other chambers in the Sister Chamber group. Members are delighted by this transformation. Inviting all non-members who read this note to join IBG and benefit from the many activities being undertaken. We host meetings of each vertical and of late crossover meets between different verticals too. IBG helps members to find customers and suppliers as and when they need.
IBG has created a very useful website with loads of info, inquiries for products and services, which is unique and a great help to all members.
IBG is now capable of hosting a much larger number of members than present, but Covid has dampened the spirit. Soon as we begin physical meets (hoping from April 2021) we will see a large jump, making us even more useful to members. Our outreach to the outside world of business is now over 50k and growing. We also invite non-members to our programs time to time and will continue to do so.
Wishing you all stay safe from covid. Visit our website
www.ibg.org.in
for more info
| | |
| --- | --- |
| | IBG SECTOR WISE MEETINGS |
1. IBG Healthcare & Pharmaceutical Sector along with Advertising Sector Meeting held on 17th Feb at IBG Office.
IBGmembers of the Healthcare sector came together to discuss various issues and opportunities in the Health Care Industry. Topics such as Hospital Technologies, Tele-medicines and other upcoming segments were discussed.
On other hand, the promoters of Advertising and Media companies discussed the trends that can help their business leverage and overcome the hurdles that the sector is currently facing.
2. IBG Real Estate Sector with Finance Sector Meeting held on 3rd March at IBG Office.
It was a mix meeting of IBG members from Real Estate & Banking and finance background. Finance Committee Head MrVipulThaker gave a session talk on current issues in Real estate and Last Mile Funding.
3. HR, Learning & Development and Legal Sector Meeting held on 10th March at IBG Office.
Check out Business Enquiries generated in sector wise meeting.
| | |
| --- | --- |
| | IBG Chamber B2B Meetings |
1. B2B Meeting with Assam Chamber of Commerce & Industry
2. B2B Meeting with Kashmir Chamber of Commerce & Industry
3. B2B Meeting with Everest Chamber of Commerce & Industry, Delhi
4. IBG Members Meet on Zoom on 19th Feb
| | |
| --- | --- |
| | TESTIMONIAL BY IBG MEMBERS |
Mr. VikashMittersain, the CMD of Nazara Technologies and the Founder President of India Business Group, conducts Virtual Business Mentoring sessions for one #IBG Member each week. Each mentorship session is over an hour long and is done online to help every #IBG member understand their industry's opportunities better and build solid organizations that can last any and every business challenge.
Mentoring Testimonial by Mr. Jitendra Sharma

"After joining IBG, I got a chance to get connected with the Assam Chamber of Commerce which was really helpful as I received good business connects and leads." IBG has helped Jitendra broaden his horizon and business network in a short span of time. Click here for Video: https://fb.watch/4hokmQhIZ4/
Mentoring Testimonial by Mr. Rayomand Damania

Mr. Rayomand Damania, Vice President - Investments and Client Advisory for India at AlpasaraFinvest Care Advisory Private Limited Mr. Rayomand highly recommends entrepreneurs to join IBG and connect with a wide group of successful entrepreneurs in diverse sectors across the globe. Click here for video: https://fb.watch/4hosffpx4E/
Mentoring Testimonial by Mr Sunil Kumar Singh

Mr. Sunil Kumar Singh, Business Development Manager at BBG Ebranding Business Consultancy, who joined IBG, during the Covid-19 lockdown. Even when he joined IBG during a challenging period of time, Sunil testifies that he received many effective leads which they could successfully convert into large business deals. His mentoring meeting with Mr. VikashMittersain was extremely positive and thought provoking. He also gave very good suggestions to the CEO of BBG Ebranding - Mr. Prakash Bhosale. Click here for Video: https://fb.watch/4hoybCXlzZ/
| | |
| --- | --- |
| | Member's Corner |



Ms. Aarti Dharmadhikari
Founder - AAD Consulting
dharmadhikariaarti@gmail.com / aartid@aadconsultant.co.in
www.aadconsultant.co.in
9819877996

Profile:
Aarti has an experience of over 19 years in Healthcare industry in Sales & Marketing & Market research. She established AAD consulting in 2016 & has trained more than 2000 participants so far. AAD consulting provides 2 main services- Soft Skill Trainings & Business Coaching.

A study conducted in this field have suggested that as much as 80% of achievements in an individual's career are determined by soft skills & only 20% by hard skills. To be successful in career, you need more than just expertise in your given specialty.


She conducts training in Business Communication, Improved Selling skills, Employee Branding program, Confidence building workshop, Managerial development program & Campus to Corporate for students. She also coaches Executives, Entrepreneurs & Career oriented Women for success in career.

She has been instrumental in conducting training programs for Healthcare, Manufacturing sector, Distribution & trading companies, Logistics firm & Educational institutions.




Ms. Gaurangi Patil
Partner - Vjuris The Law offices
gaurangi.patil@gpandassociates.in
9969137418

Profile:
Before becoming Co-Founder of V Juris, she was running an independent law firm for more than 7 years primarily focusing on Company Law, Insolvency Law, Civil and Commercial Litigation, Inheritance Law, Estate Planning and Banking Law.
She is a Faculty at prestigious Government Law College, Mumbai and is actively involved in social and academic institutions.

Gaurangi has with her result-oriented approach successfully handled complex matters and created client base from diverse business sectors such as Bank's and NBFC's, Oil and Gas, Insurance, Transport and Logistics, Trust, Assets Reconstructions Companies, Infrastructure, Shipping and Maritime, Agriculture and Allied Industries, Automobiles, Education and Training, Gems and Jewellery, Healthcare, Manufacturing, Media and Entertainment, Pharmaceuticals, Retail, Textiles, Tourism and Hospitality, and Private Clients.

She has positively provided commercially viable results in Criminal cases, Commercial suits, and other proceedings. She has carried out Due Diligence, prepared Title report and Restructuring reports, and given SARAFESI and Insolvency & Bankruptcy advisory and opinions to various Financial Institutions, Corporates in relation to various legal aspects arisen under it.




Ms. Mittal Dedhia
M/s. Jjade Legal Adviisory
mittal.dedhia26@gmail.com
9699741741

Profile:
We at Jjade Legal Advisory provide you with all sorts of Legal Assistance required at very nominal fee. We have very strong team who make sure we provide best and sure shot solution to your legal problem.

"Prioritizing JUSTICE through LAW"

Our Services:
Bank NPA Matters
Family Court Matters
138 Matters, NCLT, CMM Matters, DRT, DRAT, CBI Matters taken
Legal Drafting

Will and All Agreement drafting
RTI Application
Formation of Trusts, Companies
Trademark, Copyright, FSSAI license etc all work done.




Ms. Preeti Kapoor
Business Head - KC Head Hunters
jobs.kcinfotek@gmail.com
9833689996




Profile:
Graduate in Industrial Relations and Personnel Management from Delhi University
MBA in Human Resource Management from IIPM
Masters in Psychotherapy from Institute for Psychotherapy and Management Sciences
A seasoned HR consultant with over 15 years of vast experience in industry with strong sense of HR Strategy aligned with Business Goals. Experience in managing and developing strategic talent acquisition Processes, TA — Advisory, systems and procedures in allied functions.


Diverse experience and strong educational background to deliver in Mid and Senior level talent acquisition in Manufacturing, Service, Financial, Engineering, IT, Automotive and Pharma Industry ranging from Fortune 500 companies to Star -Up projects.

Having strong experience into key skills: Executive Search, Resourcing, Training with good understanding of Industry dynamics and Human Psychology. Experience working as speaker with MNCs for Performance and Stress management.




Mr. Rachit Vora
CEO & Founder - True Space Advisor
www.truespace.co.in
rachitvora81@yahoo.co.in
7303030455




Profile
RachitVora, the founder of TRUE SPACE, is passionate about real estate.

True Space is a real estate advisory company that helps people to buy and invest in properties.


Thoroughly Understanding customers' need, Guiding them, matching the requirement, property site visit, bargaining and closing the deal to hand holding till the Possession of property is what they provide.

They guide NRIs and corporate employees regarding their buying need.

They are channel partners with almost all the Builders in Mumbai from Lodha, Wadhwa, Kalpataru, Shapporji, Godrej, Oberoi, Mahindra, Chandak, A&O Realty and many more.

Recently, True Space has received an award from the prestigious Builders for booking 8 apartments in their Andheri West property in a single day.




Mr. Ranjan Periwal

CA RanjanPeriwal
Director - Cityfirst Financial Advisor Private Limited
ranjan@cffa.in
9579052956

Profile
We are into Consulting Business since 2011 and having offices at Mumbai, Nagpur, Ajmer and Surat.

8 Partner's firm with associate present in PAN India.

Working with Various Multinational company, Listed companies and large corporate in advisory. Some of the esteemed clients are Pidilite Industries, Polycab Wires, Nuvoco Cement, Shaze Luxury (TBZ Group).
Core Expertise is in Management consulting, Setting up of Business in India for Foreign Companies, Internal Audit, and Compliance Services.

Qualification - Chartered Accountant; Company Secretary; Pursuing CPA, USA

Looking for connects with Large Law Firms such as J Sagar, ASM, Platinum Partner for Association; Foreign client who are looking to establish business in India, Foreign companies who are looking to outsource from cost saving perspective, Private Equity players for their Due Diligence and compliance needs and Corporate for Audit and Assurance Services.
Become an IBG member now!
TO BECOME AN IBG MEMBER AND ENJOY THE BENEFITS, CLICK ON
http://www.ibg.org.in/Link/IBG-Membership-Form.pdf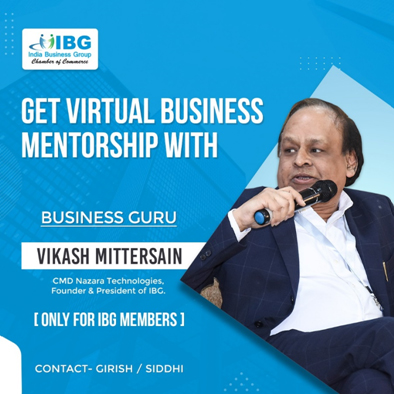 | | |
| --- | --- |
| | Updates |

Additional New Benefits on being IBG member:
Members get to present their array of work and business at our Networking event.
Members get to unveil their expertise and company credentials once in our IBG Newsletter which is released in the first week of every month and read over by 1 Lac Business People.
Get added on IBG Whatsapp Group and interact with other IBG paid members.
Get to be a part of only paid members event where you will get badges according to your industry sector which makes easier to identify specific needs.
IBG is connected and in collaboration with several consulates. Thus the trade inquiries which are floated from their country is been passed on to our paid members. Also IBG paid members get to be part of such meetings held in turns.

For regular updates please connect with us on Facebook, click on. Also kindly revert back to us with your mobile numbers so that we can message you with our event details prior. Like our IBG start ups group on Facebook to receive regular updates.
| | |
| --- | --- |
| | Sponsorship / Advertising |

In case you would like to advertise in this news letter at nominal rates please write to us at

priya@ibg.org.in

IBG IBG Newsletter goes to around 100000 people To view sponsorship & advertising details and rates

click here

Kindly let us know if you too would like to sponsor a lucky draw prize of your Brand / Company / Any services such as Airline Tickets, 2 Night Hotel Stay or any Product/Service related to your Company at this event as soon as possible so that we can advertise & promote your Company Logo linked to your website, in our mailers. Our mailers go out to 1 Lakh people.

| | |
| --- | --- |
| | We Welcome Your Views |

We welcome views of Members to make this news bulletin more useful to IBG Members in particular and businesses at large. Your interest in India Business Group (IBG) is highly appreciated.
| | |
| --- | --- |
| | Subscribe |

| | |
| --- | --- |
| | Updates |

For regular updates please connect with us on Facebook

click here

Also kindly revert back to us with your mobile numbers so that we can message you with our event details prior.

| | |
| --- | --- |
| | Contact Us |

India Business Group

51-57, Maker Chambers 3,

Nariman Point,

Mumbai - 400021, India

Phone:

+91 22 67471646

Fax:

+91 22 67473821

Email: ibg@ibg.org.in
IBG Team