Networking
and Events
Members
Corner
Member Referral
Program
Write
To Us
Connect
With Us
| | |
| --- | --- |
| | From The President's Desk |
Hello Friends, Associates, and IBG members,

We have now full experience of Corona. It's a pity it's still going strong after more a year of its emergence. It surged all last year, then went down to lower numbers and we felt the government got it under control.

Business picked up, stock markets went up. It looked like a revival of the economy, and things would be back to normal. But it was not to be. Covid is back with revenge. Maharashtra is the worst hit, especially Mumbai the megacity. A crore people are back under lockdown, though the government does not wish to utter that word.

Businesses and jobs anyhow passed through Covid Phase1. They survived the first onslaught of Covid by disposing assets of any and all sorts. It also helped that the government declared a moratorium on repayments and recoveries by banks and other lenders. So they only needed to meet their current expenses to a great extent and to keep body and mind going.


Then things started getting better. Covid began its retreat beginning Jan 2021, slowly. People began hoping we will lead a normal life soon, go about daily activities. People looked forward to the day their children would go to school, have normal meals and nutrition, maybe wear new clothes, have ice creams, new shoes, and also get to go back to school?

But come end of march 2021, Mumbai collapsed again. The economy has begun to shut down again. This time round I think the business collapse will be worse than the first time. Last time the government supported businesses, companies had to pay salaries of staff even if they went away to home town or stayed home, the government came up with a moratorium plan for businesses, private lenders had to stop recoveries, etc. etc.

With this Covid resurgence, none of the above will happen. Already banks have begun recovery processes, offices have been shut but employers cannot make staff sit home and pay as they have run out of money, factories and businesses will shut down. Last time round people somehow managed to stay afloat by various means, any means. Some sold jewelry, some liquidated real estate, and some had public shares and stocks. All sold off their assets with the thought that they would spring back once Corona came into control. This new corona situation will finish off these hopes. Most have no assets left to cash, no borrowing power remaining. Who will they turn to provide?

The economy is expected to move into downturn soon. Be careful. Be positive and take positive steps.

| | |
| --- | --- |
| | IBG SECTOR WISE MEETINGS |
1. IBG Travel & Tourism, Logistics, Infrastructure Meeting held on 24th March 2021 at IBG office.
IBGmembers of the Healthcare sector came together to discuss various issues and opportunities in the Health Care Industry. Topics such as Hospital Technologies, Tele-medicines and other upcoming segments were discussed.
On other hand, the promoters of Advertising and Media companies discussed the trends that can help their business leverage and overcome the hurdles that the sector is currently facing.
2. IBG Sector wise meeting held on 1st April on Zoom.
It was a mix meeting of IBG members from Banking and finance, Film & Media, Marketing & Advertising Members. Finance Committee MemberMrAnmolSekhri gave a session talk on Valuation for Media Entertainment & Celebrities.
| | |
| --- | --- |
| | IBG MEMBERS MEETINGS WITH CONSUL GENERALS |
1. IBG Members Meeting Consul General of Poland held on 24th March at IBG Office.
The members of IBG had a meeting with the Consul General of Rep. Poland H.E. Mr. Damian Irzyk and Head of Foreign Trade office Miss Ada Dyndo. #IBG members from sectors - Travel & Tourism, Banking & Finance, FMCG and Information Technology were present in the meeting. Consul General of the Rep. of Poland discussed their relevant potential in the EU for the sectors mentioned.
2. IBG Members Meeting Economic and Commercial Counsellor of the Embassy of Spainheld on 26th March at IBG Office.
Ms. Vanesa Álvarez Franco who is an Economic and Commercial Counsellor of the Embassy of Spain, today had a B2B meeting with IBG members looking to grow their business in the EU.

The discussion at the meeting was about the bilateral trade and Investment between India and Spain. The Spanish Consulate was in search of mobility, home décor, and construction enterprises. We helped them connect with the IBG members who are excelling in these fields.
Check out Business Enquiries generated in sector wise meeting.
| | |
| --- | --- |
| | IBG Chamber B2B Meetings |
1. B2B Meeting with Liberia Chamber of Commerce & Industry
2. B2B Meeting with Rajasthan Chamber of Commerce & Industry
3. IBG Members Meet on Zoom on 6th April
| | |
| --- | --- |
| | WHAT IS SURAKSHA BOX? |
The SURAKSHA BOX is a UVC light sterilization box that provides protection against viruses, bacteria, fungi including COVID-19, by sterilizing food and items of daily use. Inspired by a nature's natural disinfectant: UV rays, the Suraksha box can be used to decontaminate and disinfect items like vegetables, groceries, wallets, currency, mobile phones, newspapers, parcels, letters, pens, watches, etc. and can be used in households, offices, educational institutions, restaurants and other such areas. The Suraksha Box has a Government of India (MC&I) patent published and is tested, approved and certified by CSIR-CMERI (ICMR Approved lab) of Govt. of India. The Suraksha Box has been tested and certified to protect against Corona Virus.


Our mission of providing 15,100 Suraksha Boxes to the underprivileged section of the society is only possible with your continued support. We hope that other organisations will follow your example and join the movement to help in raising funds for this novel cause, so that we can distribute as many Suraksha Boxes as possible to the underprivileged.

We request you to nominate maximum people from your organisation to sign up for this cause and join the movement.

We have issued a pr article on this campaign which we will share with you shortly.

Being a partner we request if you can further circulate this message to your network so that we can reach maximum people who might want to support this noble cause and impact as many lives as we can. We will share the message as a separate email for your easy reference.

Join the movement
https://www.nextgeninnov8.com/socialcampaign/
| | |
| --- | --- |
| | TESTIMONIAL BY IBG MEMBERS |
Mr. VikashMittersain, the CMD of Nazara Technologies and the Founder President of India Business Group, conducts Virtual Business Mentoring sessions for one #IBG Member each week. Each mentorship session is over an hour long and is done online to help every #IBG member understand their industry's opportunities better and build solid organizations that can last any and every business challenge.
Mentoring Testimonial by Ms. Payal Shah

Ms. Payal Shah a professional photographer specializing in advertising, beauty, corporate portraits, editorial, and fashion. Click here for Video: https://fb.watch/4LXyB9IdSq/
Mentoring Testimonial by Mr. Rayomand Damania

Mr. Rayomand Damania, Vice President - Investments and Client Advisory for India at AlpasaraFinvest Care Advisory Private Limited Mr. Rayomand highly recommends entrepreneurs to join IBG and connect with a wide group of successful entrepreneurs in diverse sectors across the globe. Click here for video: https://fb.watch/4hosffpx4E/
| | |
| --- | --- |
| | Member's Corner |



Mr. Vaibhav Moondra
Co-Founder and Chief Business Officer (CBO)
Webtraffic Agency
vaibhav.m@webtraffic.agency
www.webtraffic.agency
7977039305

Profile:

Please find the below mentioned drive link containing our portfolio and company profile.

https://bit.ly/3fEQkcK Our Services:

# Digital Marketing

# Content Ideation and Conceptualization.
# Social Media Management
# Search Engine Optimization
# Creative Content Writing ( technical & non-technical)
# Facebook, Google Advertising etc.
# Brand Identity and Development
# Website Development
# Different Design Experiences - Logo Designing, Brand Collaterals, Pitch Deck Design, Packaging Design etc.
# Corporate Videos, Product Explainer Videos, Creative Explainer Videos, Animation and Video Productions.




Mr. Sandeep Pachpande
Co – Founder
NextGenInnov8 Global Solutions Pvt. Ltd.
chairman@asmedu.org
9422009213

Profile:
An academician, entrepreneur, real estate developer, technopreneur, mentor, author, keynote speaker, agriculturist, and visionary Dr. Sandeep Pachpande brings a multi-faceted business sense to the table every day.
With a vision to provide global standards of education combined with the strength of industry exposure, binds his avid leadership that has guided and mentored the careers of thousands of students.

Dr. Sandeep Pachpande has done his Senior Executive Leadership Program from the Harvard Business School, Boston, USA, and is a Harvard Business School Alumni. He is currently pursuing the Kellogg Executive Scholars Program at Kellogg School of Management. A Ph.D. from one of the top 10 universities of India, University of Pune, MBA topper from Leeds Metropolitan University, UK, and B. E. Computers

He is the co-founder of NextGenInnov8 Global solutions Pvt. Ltd. an innovative company started by his 14-year-old son Aditya Pachpande. He is currently the Chairman AudyogikShikshan Mandal (ASM), a premier education trust providing quality education right from KG to Ph.D. level.




Mr. Nilesh Kishorkumar Jain
Partner
Neptune Uniforms
nilesh@neptuneuniforms.in
www.neptuneuniforms.in
8104591941

Profile:
As an organization we have evolved and grown over the years. We believe in relationships and maintaining highest levels of quality in everything we do.


We are proud and blessed that our clients have been with us for more than fifteen years because they trust us and the quality we deliver. As an organization, we have always made every effort to give the best service to our clients be it in terms of the fit and design of the uniforms or the fabric we use.

Our team of masters ensures our customers, whether professionals or children are comfortable in the uniforms we design for them.

We have professional team of designers.

With more than twenty-five years in the business of providing quality uniforms to over 40 Schools & Corporates, Neptune Uniforms is a preferred partner to number of Educational institutes & Corporates. We are growing!!!




Mr. Jitender Sharma
Director - D'Carbonsing Center India Pvt Ltd
jitender.sharma.vp@gmail.com / https://dcarbonisingcenter.com
7021940977




Profile:
We would like to offer our warm welcome for joining hands with us to take a green step to save Mother Nature By Reduce the Air Pollution at least 50 to 65% coming from your Vehicles and Help Economy by Saving Fuel

The gases coming out of the vehicle silencer are
1) Carbon Monoxide – CO
2) Carbon Dioxide – CO2





Ms. Fatema Udaipurwala
Chief Operating Officer (COO)
999 Entertainment and Marketing LLP
hola@999entertainment.in
+919321988440




Profile
At 999, we will help you get the best out of your event in the most exclusive + affordable way possible. We specialize in curating Events | Workshops | Award Shows !!!

Our Services:
1. Production Management
2. Photography & Films
3. Workshops & Seminars
4. Award Shows & Events

5. Strategy & Planning
6. Marketing Consultants
7. Celebrity Management
8. Corporate & Launch Events




Dr. Neelam Mathur

MD - PV Industries
email id: neelam.mathur@gmail.com
Mobile: 9820228322

Profile
PV Industries is lubricant manufacturing company. It makes industrial and automotive lubricants. It is a five year old small scale unit.

The products include Cutting oils, hydraulic oils, gear oils, engine oils and rust preventive oils and various grades of oils.




Ms. Divya Bahadur

Independent Financial Consultant
divyamakesyouwealthy@gmail.com
Instagram: wealth_owl28
Facebook Page: wealthowl
9223280129 / 7738202598

Profile
Qualification: B.Com, MDRT, Amfi and IRDA Certified.
Catering to a wide range of customers Businessman, Professional, Salaried People.

Being a part of the Insurance industry for 18 years and Mutual Fund Industry for 4 years.
Offering customized solutions as per clients goals for them to achieve it.
Have held numerous webinars on child education planning to build a corpus for child education. An avid blogger under the name of wealth owl on word press.
Providing the following services in insurance:
* Business Insurance ,Keyman Insurance and Married Women Property's Act.
* Retirement Solutions, Child Education Planning and Wealth Creation.
* Mutual Funds providing the following services.
* Systematic Investment Plan
* Systematic Withdrawal Plan
* Lumpsum investments under all AMC's for wealth creation.
* Corporate Fixed Deposits from HDFC , BAJAJ and MAHINDRA FINANCE.
* TAX FREE BONDS.
Become an IBG member now!
TO BECOME AN IBG MEMBER AND ENJOY THE BENEFITS, CLICK ON
http://www.ibg.org.in/Link/IBG-Membership-Form.pdf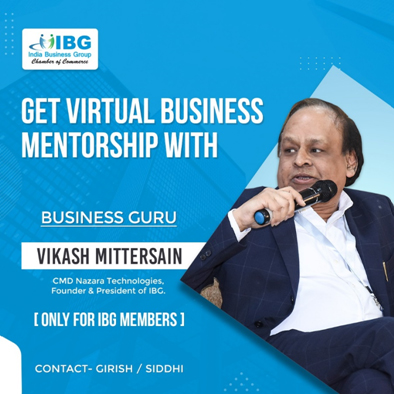 | | |
| --- | --- |
| | Updates |

Additional New Benefits on being IBG member:
Members get to present their array of work and business at our Networking event.
Members get to unveil their expertise and company credentials once in our IBG Newsletter which is released in the first week of every month and read over by 1 Lac Business People.
Get added on IBG Whatsapp Group and interact with other IBG paid members.
Get to be a part of only paid members event where you will get badges according to your industry sector which makes easier to identify specific needs.
IBG is connected and in collaboration with several consulates. Thus the trade inquiries which are floated from their country is been passed on to our paid members. Also IBG paid members get to be part of such meetings held in turns.

For regular updates please connect with us on Facebook, click on. Also kindly revert back to us with your mobile numbers so that we can message you with our event details prior. Like our IBG start ups group on Facebook to receive regular updates.
| | |
| --- | --- |
| | Sponsorship / Advertising |

In case you would like to advertise in this news letter at nominal rates please write to us at

priya@ibg.org.in

IBG IBG Newsletter goes to around 100000 people To view sponsorship & advertising details and rates

click here

Kindly let us know if you too would like to sponsor a lucky draw prize of your Brand / Company / Any services such as Airline Tickets, 2 Night Hotel Stay or any Product/Service related to your Company at this event as soon as possible so that we can advertise & promote your Company Logo linked to your website, in our mailers. Our mailers go out to 1 Lakh people.

| | |
| --- | --- |
| | We Welcome Your Views |

We welcome views of Members to make this news bulletin more useful to IBG Members in particular and businesses at large. Your interest in India Business Group (IBG) is highly appreciated.
| | |
| --- | --- |
| | Subscribe |

| | |
| --- | --- |
| | Updates |

For regular updates please connect with us on Facebook

click here

Also kindly revert back to us with your mobile numbers so that we can message you with our event details prior.

| | |
| --- | --- |
| | Contact Us |

India Business Group

51-57, Maker Chambers 3,

Nariman Point,

Mumbai - 400021, India

Phone:

+91 22 67471646

Fax:

+91 22 67473821

Email: ibg@ibg.org.in
IBG Team