Networking
and Events
Members
Corner
Member Referral
Program
Write
To Us
Connect
With Us
| | |
| --- | --- |
| | From The President's Desk |
Hello Friends, Associates, and IBG Members,

Come march 2020. The whole roof came down on Earth. Covid emerged, and reality of an unknown Virus became evident. People around the world began collapsing even as they walked the streets. Cascading reports began to emerge around the world. City after city shut down. Movements halted, countries went into lockdown. Citizens got shut behind the doors of their homes.

Seminars, conferences, public meetings, theatres, clubs, offices, trains, buses, all shut. It seemed like Apocalypse. Now Migrants began to leave their Karma bhumies in millions. Every day the TV screen showed heart wrenching scenes of families, men, women, small crying children, old people in carts, all going back to their distant homes in far flung villages deep into the north. UP, Bihar, Bengal, South India etc. They had all lost their permanent and temp jobs, their only source of incomes and sustenance. They had no options but to return to the family homes regardless of financial situations there, the family issues they had left behind when they moved to settle in the cities, ties split. The families left behind would not want them but they had no choice but to re adjust. So this became the reality of Covid life.


Coming to IBG, we were a one city chamber, with member meets and other events once a month, max 2 at times.

When Covid struck and full lockdown happened, we realised that it's the end of IBG. We decided to pivot completely. IBG became an online virtual chamber within a few days. We reached out and entered tie ups with other chambers within India and around the world. Currently we already work with around 50 such chambers. We moved from 2 meetings a month to 2 a day. The scope expanded from just local talks to interactions with many chambers as well as their members. IBG members now get to interact with counterparts of other chambers. We began talks by Consul Generals of Consulates and Embassies. Speaker events with important business people and Government, And much more.

Virtual meetings and interactions have now become a way of life and will continue even after corona recedes into the past and physical meets restart. The entire way of personal and business life has undergone a sea change. Nothing will be the same going into the future. Prepare yourself not to return to the past.

Look to the future and change yourself, your way of business, your lifestyle. Change with IBG
| | |
| --- | --- |
| | IBG SECTOR WISE MEETINGS |
1. IBG Travel & Tourism, HR, Learning & Development, IT, Manufacturing & Retail SECTORS MEETING held on 5th May 2021 on Zoom.
2. IBG Real Estate, Logistics & Infrastructure, Banking Finance SECTORS MEETING held on 12th May 2021 on Zoom.
3. IBG Manufacturing & Retail, Legal, Advertising & Marketing, Healthcare & Pharma SECTORS MEETING held on 19th May 2021 on Zoom.
| | |
| --- | --- |
| | IBG MEMBERS MEETINGS WITH CONSUL GENERALS |
1. IBG Members Meeting Consul General of Royal Norwegian held on 7th May on Zoom
This meeting held on 7th May with the Consul General of Royal Norwegian Consulate in Mumbai, H.E Mr. Arne Jan Flolo. He gave pointed insights about the lucrative opportunities in Norway. He talked about ways to establish direct business links, opt for investment projects, joint ventures, trade operations etc., in Norway.The members exchanged professional and social contacts among themselves.
2. IBG Members Meeting Consulate General of UAE held on 10th May on Zoom
The attendees of the meeting were - Ms. Haya Al Ali, Head of Economic Affairs Section, Embassy of the United Arab Emirates, New Delhi & H. E. Abdulla Husein Al Marzooqi, Consulate General of United Arab Emirates, Mumbai.

In this meeting, they discussed the prospects for economic cooperation between India and UAE. The members expressed their intention to facilitate direct contact between business people and network with them. The Consulate General informed the members about emerging market opportunities that they can gain in the UAE.
3. IBG Members Meeting with Consulate General of the Soc. Rep. of Vietnam held on 20th May on Zoom
Despite the Covid-19 pandemic, we have continued to maintain high-level engagements with Vietnam. Recently, IBG had a Consulate meeting with Vietnam Consulate - H.E. Mr. Hoang Tung, Consul General, Mr. Duong Duc Anh, Deputy Chief of Mission, and Ms. Mini Kumar, First Secretary and Embassy of India in Vietnam. Through this meeting, the members of IBG got the opportunity to engage and enhance trade and investment tie-ups. Under the guidance of Consulates, members envisioned closer collaboration in Trade, Engineering, Automobiles, Plastic raw materials, Agro-processing, IT, and Tourism.
Check out Business Enquiries generated in sector wise meeting.
| | |
| --- | --- |
| | IBG Chamber B2B Meetings |
1. B2B Meeting with Argentine Chamber of IT & Software Services on 21st May on Zoom.
2. B2B Meeting with Maharashtra Chamber of Commerce Industry & Agriculture.
3. IBG Members Meet on Zoom on 6th May
| | |
| --- | --- |
| | TESTIMONIAL BY IBG MEMBERS |
Mr. Vikash Mittersain, the CMD of Nazara Technologies and the Founder President of India Business Group, conducts Virtual Business Mentoring sessions for one #IBG Member each week. Each mentorship session is over an hour long and is done online to help every #IBG member understand their industry's opportunities better and build solid organizations that can last any and every business challenge.
Mentoring Testimonial by Mr. Rakesh Marrott

Mr Rakesh Marrott, an IBG member, got mentored recently by Business Guru - Vikash Mittersain , CMD of Nazara.Com and Founder President of India Business Group. In his weekly mentoring session, Mr Rakesh mentions - "Mr Vikash is a great personality, who spreads positivity and helps people do better in life. My business reached a plateau and his guidance helped me. His advice is sound kind and practical, which I can apply in my business. I am grateful to Mr. Vikash for being with me at every point." Click here for Video: https://fb.watch/5Hs0JtXyUe/
Mentoring Testimonial by Ms Hiram Shaikh

Ms. Hiram Shaikh, Director of FynAlliance Advisors Private Limited and a certified Image Consultant & Soft Skills Trainer, was recently mentored by Business Guru - Vikash Mittersain CMD of Nazara.Com and Founder President of India Business Group.

In this video, she says: "Feeling great to get mentored by such a senior person and the suggestions that I received from Vikash sir are very useful and implementable at every stage." Click here for video: https://fb.watch/5Hs5xOf3zz/
Mentoring Testimonial by Neha Gada

Ms. Neha Gada, Founder, and Director of Dhhanish Advisors Private Ltd, recently got mentored by Business Guru - Vikash Mittersain , CMD of Nazara.Com and Founder President India Business Group.

In this #mentoringtestimonial, she mentions - "The platform of IBG is great and dynamic for entrepreneurs. The mentoring given by Mr. Vikash is priceless, as he mentors you with an eye on the future." Click here for video: https://fb.watch/5HsaGjkjIk/
| | |
| --- | --- |
| | Member's Corner |



Mr. Nirav Mehta
Founder at Gizmoswala
nirav@gizmoswala.com
www.gizmoswala.com

Being a second generation Entrepreneur, who has grown up in a family that deals into MATTRESSES for the last 30 years, he wanted to venture into anything & everything that enhances Sleep Experience...
that's while doing ground research and talking to multiple audiences he found a huge need gap and this idea of SEXUAL WELLNESS PRODUCTS.
Welcome to Gizmoswala – India's premium adult products online store that offers exotic sexual wellness products, accessories & adult products for men, women, couples, LGBTQ Community across India. You can explore a wide collection of sexual wellness products for yourself or your beloved one.
Our vast collection includes products like bedroom games, lubricants, condoms, sexy lingerie, enlargement devices, vibrators, romantic kits and many more. Now buying adult toys in India is no more a challenge via online store with smooth transactions, discreet packaging and free shipping.
They are certified by Government of India under 'Health & Wellness Sector'
https://www.gizmoswala.com/pages/certificate-of-recognition-from-the-government-of-india




Ms. Prreeti Shah
Partner - Kravia
prreeti@kravia.in

Profile:
Kravia - A luxury ready to eat collection of Gourmet Dishes.

Change the way you dine with Kravia. We believe food is not a product, it's an experience, and a divine experience at that. We through our companies have always tried giving our patrons that. Our ingredients are sourced thoughtfully, with the highest quality standards.


We currently deliver all over Mumbai and are distributing to multiple stores across the city and many more. We are also available on online platforms such as our website www.kravia.in and belboy app.

We aim to distribute to retail stores all over India and be available on all major online platforms such as amazon, flipkart, etc. And to be displayed at airport and corporate kiosks at all major metro cities across the country.

Our state of the art food processing technology and retort packaging ensures fuss free food reparations for our users. To consume our product, you need to follow just 3 simple steps: Open, heat and enjoy our delicious, hearty, tasty food!

We also ensure 100% nutrient preservations and 0% contamination of the food along with a shelf life of 1 year on all our products.

Try our extensive range of food products, and never feel the stress of cooking when you're traveling or are coming home from a busy day at work. Kravia's ready to eat, delicious and healthy products have you covered for all your cravings!




Mr. Rajnish G Shirsat
Co-founder and CEO at R&S Enterprises
rajnish@rsenterprises.info
www.rsprintingsolutions.com

Profile:

At the core I'm a Strategy & Marketing driven person with global exposure.

Over twenty-five years of experience in the print & publishing segment, I operate in the print management model to offer printing services to clients in India and abroad. Broadly, the products we print include: Books primarily (such as Children's, Trade, Fiction, Non-fiction, Coffee Table Books, Bibles, Qurans etc.),


Promotional material for consumer & pharma industry, Premium Diaries and Note Pads etc. We also create eBooks for Publishers and also help aspiring authors and entrepreneurs to help them design, write, print, publish (online & offline) to launching their books with promotions (online & offline). Our products are exported to countries such as Africa, Australia, Europe, Russia, UK and the US.
Graduated from Mumbai University, studied at IIM Bangalore, Certified Digital Marketer from Ministry for Skill Development & Entrepreneurship (Govt. of India), Certified from FIEO for Packaging, I'm also a Jury member with Printweek India to judge book entries in India, on the online panel of McKinsey & Company and a member of Bombay Management Association (life member).
Please visit www.rsprintingsolutions.com
My LinkedIn Profile:
https://www.linkedin.com/in/rajnishshirsat/




Ms. Sakina Patrawala
Registered Dietitian and Sports Nutritionist
Zealwellness
zealwellness.in@gmail.com





Profile:
Sakina Patrawala is a Registered Dietitian & Sports Nutritionist and the proprietor of Zealwellness.

She is into 121 diet consultations (for any health issues like weight loss, weight gain, diabetes, hair fall, acidity, high uric acid, etc), health mentoring sessions (webinars and health talks) and nutrition blogging.


Currently, she visits four clinics in South mumbai and is a specialist in Online Diet Consultations.




Ms. Shashivadana Shetty
Founder at Swadeshee Foods
Shashivadana69@gmail.com
www.swadesheefoods.com




Profile
Due to my own health concern a few years back, I found myself looking for healthier options in my diet.

While reading upon several foods I was shocked to come across various common misconceptions that existed which led me to start Swadeshee.


I took up the name Swadeshee as my products directly come from Farmers from different states of India.
We provide only naturally grown chemical free food products which mainly includes grains like Unpolished Millets, Spices and their value addition products, etc.
We wish to export our products in the near future so any leads would be helpful.
About My company:
Swadeshee Foods is a company started with the basic aim of providing our indigenous grains from the farm to your plate.
➔ Our products are 100% naturally grown and chemical free.
➔ Products are directly sourced from Farmers of India.
➔ Our Lakadong Turmeric and Ginger Powder is procured from 2020 Padmashree Awardee Trinity Saioo's farm.
➔ Our Unpolished Millets are available at Luke Coutinho's Holistic Health Store.
Social media pages:
Instagram:
https://www.instagram.com/Swadeshee_Foods
Our FB page:
https://www.facebook.com/Swadeshee-Foods-104159050965447/
Email:
shashipunjabfoodproducts@gmail.com




Mr. Yeshwant D Shingwekar

Founder at Wealthcare Solutions
yeshwants@gmail.com

Profile
I am MBA in marketing & Chartered Wealth Manager (CWM) with 29 years of experience in sales & marketing at senior level in various industries. Having worked at senior level in Life-Insurance industry for 10 years and interacted with individuals in various parts of India for their insurance & financial needs, understood dearth of qualified and client-centric financial advisors in the market and hence decided to start a firm 'WEALTHCARE Solutions' in November 2015
which helps individuals define their financial goals and help them achieve it through proper wealth management advice and hand holding throughout their financial journey.

In wealth management process help my clients design wealth plan through proper Cash-flow management, Insurance planning, Investment Planning, Tax Planning, Liability Management and Estate Planning. My USP is "I don't sell financial products but do proper wealth management by educating and hand holding the clients". In short span of time, streamlined wealth management of 225 families. Aim to streamline wealth management of 1k families by 2022.

To create awareness, conduct "Investor Awareness Program" in various organizations covering various aspects of wealth management.
Become an IBG member now!
TO BECOME AN IBG MEMBER AND ENJOY THE BENEFITS, CLICK ON
http://www.ibg.org.in/Link/IBG-Membership-Form.pdf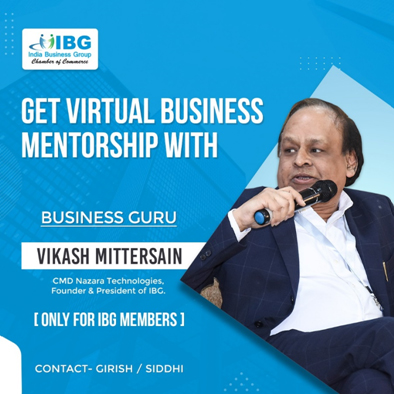 | | |
| --- | --- |
| | Updates |

Additional New Benefits on being IBG member:
Members get to present their array of work and business at our Networking event.
Members get to unveil their expertise and company credentials once in our IBG Newsletter which is released in the first week of every month and read over by 1 Lac Business People.
Get added on IBG Whatsapp Group and interact with other IBG paid members.
Get to be a part of only paid members event where you will get badges according to your industry sector which makes easier to identify specific needs.
IBG is connected and in collaboration with several consulates. Thus the trade inquiries which are floated from their country is been passed on to our paid members. Also IBG paid members get to be part of such meetings held in turns.

For regular updates please connect with us on Facebook, click on. Also kindly revert back to us with your mobile numbers so that we can message you with our event details prior. Like our IBG start ups group on Facebook to receive regular updates.
| | |
| --- | --- |
| | Sponsorship / Advertising |

In case you would like to advertise in this news letter at nominal rates please write to us at

priya@ibg.org.in

IBG IBG Newsletter goes to around 100000 people To view sponsorship & advertising details and rates

click here

Kindly let us know if you too would like to sponsor a lucky draw prize of your Brand / Company / Any services such as Airline Tickets, 2 Night Hotel Stay or any Product/Service related to your Company at this event as soon as possible so that we can advertise & promote your Company Logo linked to your website, in our mailers. Our mailers go out to 1 Lakh people.

| | |
| --- | --- |
| | We Welcome Your Views |

We welcome views of Members to make this news bulletin more useful to IBG Members in particular and businesses at large. Your interest in India Business Group (IBG) is highly appreciated.
| | |
| --- | --- |
| | Subscribe |

| | |
| --- | --- |
| | Updates |

For regular updates please connect with us on Facebook

click here

Also kindly revert back to us with your mobile numbers so that we can message you with our event details prior.

| | |
| --- | --- |
| | Contact Us |

India Business Group

51-57, Maker Chambers 3,

Nariman Point,

Mumbai - 400021, India

Phone:

+91 22 67471646

Fax:

+91 22 67473821

Email: ibg@ibg.org.in
IBG Team