Networking
and Events
Members
Corner
Member Referral
Program
Write
To Us
Connect
With Us
| | |
| --- | --- |
| | From The President's Desk |
Hello Friends, Associates, and IBG Members,

Second covid wave has done a lot of damage, since last 2 to 3 months. The Government is battling it out strongly. The only answer is vaccination, vaccination, vaccination, which is still not working to the desired level. Having said this, we are seeing an easing of the intensity of people getting covid in Mumbai. Daily numbers are down to around 600 from the peak of 12000 it reached. BMC has reduced the lockdown to some extent, though not yet fully to the desired level, may be due to fear of resurgence if people begin meeting in crowds at markets etc.

Business has got decimated badly, though of late shops are allowed to stay open till 4 pm. Other activities too like restaurants, hotels are allowed to operate. This partial opening up will bring relief to traders and smaller businessmen, as cash flows will become better.
People are getting back to work with companies re starting. If the 3rd wave can be avoided, the economic situation will become better every week and eventually lead to a recovery. But one has to continue to keep extraordinary vigil to keep up Covid protocol and not allow recurrence and lapse into third wave. It can be hoped that International travel will commence in July, since many countries are seeing relaxation of lockdowns, therefore allowing visitors to their countries.

IBG is hoping to restart member meets at hotels and other venues from August. This is not yet decided but smaller gatherings may get permitted from August, as the governments will need to restart economic activity in all sectors sooner rather thanlater.

Wishing you all the best of health and business activities
| | |
| --- | --- |
| | Launch of IBG 'The First Ladies' |
Many women are willing to start something of their own but struggle to get the guidance, potential clients, new skills, etc. Thus, #IBG is glad to announce the formation of 'IBG First Ladies,' to provide a platform to all women entrepreneurs and professionals across sectors.

The Women on the Committee are - Ms. Dimple Merchant, Ms. Jhelum Ratna, Meenal Sinha, and Ms. Agnes Chen. They highlighted how strongly they believe that IBG Women's Wing will lead to women empowerment that can change society.

Join IBG First Ladies: https://youtu.be/TAHVwreojqk
| | |
| --- | --- |
| | IBG Real Estate Brick Talks |
The flexible space market remains tough with Covid-19 erecting barriers for developers.

IBG had Power Packed Panel Discussion on Inspiration for REAL ESTATE by thought leaders - Sanjay Dutt, Anuj Puri , Samir Jasuja, and Saumyajit Roy, presented their findings, facts, trends, opportunities and shared their insights about the post-covid situation and analysis about the Indian real estate investment environment.

You can watch Facebook LIVE here: https://fb.watch/68nUfdYduh/
| | |
| --- | --- |
| | IBG SECTOR WISE MEETINGS |
1. IBG Real Estate, Logistics & Infrastructure, Manufacturing & Retail Sectors Meeting held on 2nd June 2021 on Zoom.
2. IBG Banking & Finance, Healthcare & Pharma, Advertising & Marketing and IT Sectors Meeting held on 9th June 2021 on Zoom.
| | |
| --- | --- |
| | IBG MEMBERS MEETINGS WITH CONSUL GENERALS |
1. IBG Members Meeting Consul General of Mauritius held on 27th May on Zoom
In meeting with the Mauritius Consulate, we had Mr. Vishwajeet Cheetoo, Officer-in-Charge, and Mr. Seewraj Nundlall, Trade and Investment Counsellor, to guide IBG members about the various business opportunities, and economic collaborations with the Republic of Mauritius.
2. IBG Members Meeting Bangladesh High Commission held on3rd Juneon Zoom
Interactive Meeting with Bangladesh Deputy High Commission (Consulate) To discuss business & trade with IBG Members H.E. MdLutfor Rahman, Deputy High Commissioner, Bangladesh Deputy High Commission
3. Webinar with Ethiopian Consul General H.E. Mr. Demeke Atnafu
Ethiopia is known globally as one of the most attractive African country for foreign investment. With a stable business community known for real estate development and investment opportunities for foreign investors, Ethiopia is currently offers some of the best investment opportunities.

H.E. Mr. Demeke Atnafu Ambulo addressed IBG's Knowledge webinar to give members comprehensive insights about the 'Trade and Investment opportunities in Ethiopia.' He will underscored opportunities in various sectors like textile and apparel, leather products, Pharma, IT, and other industries in Ethiopia.
Check out Business Enquiries generated in sector wise meeting.
| | |
| --- | --- |
| | IBG Chamber B2B Meetings |
1. B2B Meeting with Argentine Chamber of IT & Software Services on Zoom.
2. B2B Meeting with Indian Myanmar Chamber of Commerce
| | |
| --- | --- |
| | TESTIMONIAL BY IBG MEMBERS |
Mr. Vikash Mittersain, the CMD of Nazara Technologies and the Founder President of India Business Group, conducts Virtual Business Mentoring sessions for one #IBG Member each week. Each mentorship session is over an hour long and is done online to help every #IBG member understand their industry's opportunities better and build solid organizations that can last any and every business challenge.
Mentoring Testimonial by Vipul Shah

Mr. Vipul Shah, the second generation Chartered accountant and the head of the organization M/s. Account Assist got mentored by Business Guru - Vikash Mittersain , CMD of Nazara.Com and Founder President of India Business Group.

In this mentoring session, he mentions, "I am grateful to such a successful business man, who listened to me patiently and guided me very well. Mr. Vikash was able to find the loopholes in the my business and learn my mistakes in a very short span of time. He thanked to Mr. Vikash from bottom of his heart."

Click here for Video: https://fb.watch/6f_ek_yhhk/
Mentoring Testimonial by Mr Rajesh Dossa

Mr Rajesh Dossa has been associated with IBG since 2017. He has a team of Chartered Accountants (CA) and Certified Financial.Planners (CFP) and Result Certified Coaches (RCC).

He explains in this video, why should one join IBG. MsPriyaPansare, CEO of India Business Group, and Business Guru - VikashMittersain , CMD of Nazara.Com and Founder President of India Business Group , are helping entrepreneurs to leverage their business through networking.

Click here for video: https://fb.watch/6f_s9JvJDg/
| | |
| --- | --- |
| | Member's Corner |



Mr. Deepak Bhatia
CEO
Make-A-Wish Foundation of India
ceo@makeawishindia.org
www.makeawishindia.org
https://www.facebook.com/makeawish.india
https://www.instagram.com/makeawishindia


Make-A-Wish India is a non-profit charity established in 1995. In the last 25 years we have fulfilled 70,364 wishes across 10 offices in India.


The Foundation is dedicated to granting the most cherished wish of children between the ages of 3 and 18 years, living with life-threatening illnesses, mostly Cancer. It is regulatory compliant, with CSR registration from Ministry of Corporate Affairs. We can accept donations in India and from abroad. Visit www.makeawishindia.org for additional information or call Deepak. For children battling life-threatening illnesses the joys of childhood are replaced with a daily battle for survival, painful treatment and medication and endless rounds of hospitals. The children with such an illness have simple wishes like a doll, bicycle, battery operated / remote control cars, new dress, birthday celebration, video games, laptop, mobile phone etc. The average cost of granting a wish is Rs. 8,000/- only.

We have over 1,805 wishes pending to be fulfilled. We are unable to grant them only due to lack of funds.

We sincerely appeal to all IBG members to adopt at least one wish / year and to refer us to like-minded corporates who are looking for an accountable and transparent CSR partner to implement their programs. We will give you the 80G tax exemption receipt for your donation.

Thanking you for your kind consideration to Transform Lives, One wish at a time.




Ms. Neha Gada
Founder & Director
Dhhanish Advisors Private Limited
nehagada@nrgada.com

A Chartered Accountant and InsolvencyProfessional having experience of 20 years.

Have been working with oldest Asian StockExchange, BSE Ltd for more than 6 years.Have vast experience in Compliancepertaining to Securities Law, CorporateLaw. Specializes in Restructuring,Acquisitions and Mergers, Due Diligence,Takeovers, SEBI Exemption and Consentapplications, LODR & ICDR Compliance,Listing matters,Insolvency, NBFCRegistrations and Takeovers.
N R GADA & ASSOCIATES:

- Instrumental in transactions involving acquisition / takeovers of listed companiesand structuring the companies.Restructuring of Capital
- Exemptions & Consent Applications
- Delisting from Stock Exchanges
- Investor Contact Programme
- Compliance with Minimum Public Shareholding
- Handholding for IPO, SME Listing
- SEBI and LODR Regulatory Compliance
- Corporate Law, Secretarial Services
- ESOP Schemes and Listing
- CFO Services
- NBFCs Registrations, Takeover and Compliance's
- FEMA Compliance's
- Insolvency Services





Ms. Priyanka Kashikar
Producer
Tukai Films
priyanka@tukaifilms.com
http://tukaifilms.com/

Priyanka has graduated from 2 Films schools and has trained in Film-making and Screenwriting. She is an alumni of the New York Film Academy(NYC) and Whistling Woods (Mumbai). She believes that a successful film is one that maintains the fine balance between - logistics and aesthetics. She credits this to her work experience with the talented film-maker, SriramRaghavan, having worked with him on films Badlapur (2015) and Andhadhun (2018).


She started Tukai Films in 2018 to create valuable content across platforms. "With more women in the driving seat, there will be more inclusivity in content and the overall film environment" she says.

Her recent short film on gender equality has been appreciated across several national and international platforms. Through the films she produces, Priyanka wishes to tell stories that inspire change and meaningful conversations.

About - TUKAI FILMS:

Tukai Films produces short films and corporate videos.

This company specializes in creating 2D and 3D animation videos that provide personalized corporate videos for companies that wish to promote their products/services in non-traditional formats.




Mr. Swapnil Bhavekar
Co-Founder & Director
CreativeWebo
swapnil.bhavekar@creativewebo.com
https://www.linkedin.com/in/swapnil-bhavekar-51b98825




I am a technophile and the Co-founder of CreativeWebo, a web agency that helps businesses simplify their technological requirements. According to me, technology can be a savior and I envisage creating a positive change with the power of the same.

With more than 10 years of experience in the IT and development sector, I have always adored technology, and now with CreativeWebo, I intend to help brands and businesses across the world utilize technology in an effective way.
CreativeWebo, a team of dynamic tech experts where we try to blend our core Experience & Expertise to help clients with an apt solution who is serving the community for 4 years & will continue to do it at an accelerated pace throughout.

We offer a very unique customized technology solutions by strategic approach & concepts for your business which not only resolves your existing business challenges but ensures a comprehensive digital transformation of the brand.

We are delighted to tell you that to date we have successfully completed more than 150 projects with a client base crossing a number of 100 right across 10 countries. Our core services include Web-Applications, Mobile-Applications, Custom Software, Digital-marketing aptly.

Website: https://www.creativewebo.com/
Facebook: https://www.facebook.com/creativewebomumbai/
LinkedIn: https://www.linkedin.com/company/creativewebo/
Instagram: https://instagram.com/team_creativewebo?igshid=nhg3nkrc4mif




Dr. Yogini Deshpande
Principal Consultant
Renuka Consultants
yogini@renukac.com
http://renukac.com/




Renuka Consultants is currently headed by Dr. Yogini Deshpande who has a PhD in Civil Engineering from Purdue University. She has over 20 years of rich experience in the construction industry as an academic, researcher and consultant. Notably, she has worked as a Senior Research Fellow on the construction of India's Nuclear Power Plant using high strength grades of concrete for the first time in India.
After receiving PhD from Purdue University in the area of repair and rehabilitation using durable materials she was a faculty member at Michigan Technical University and University of South Alabama, USA. She was the 2006 Fellow of International Road Federation and received the 2005 and 2006 Best Teaching Award at Purdue University, Civil Engineering Department.

Renuka Consultants are pioneers in Ground Engineering and Geotechnical Investigations for the infrastructure industry on land and marine projects. Prestigious projects include Coastal Road Of Mumbai, Shivaji Statue, Mumbai Trans Harbour, Mumbai Metro 3, 2A and Metro 5, Iconic MandoviPanaji Bridge called Atal Setu. We saved at least 15% construction costs of foundations for these projects with accurate analysis and testing of ground.

Renuka Consultants empanelled with Mumbai Municipal Corporation, Reserve Bank of India, IIT Mumbai etc. and has carried out Structural Assessment services for various types of structures including heritage structures and essential services structures such water reservoirs & pumping stations built in 1890 to earthquake damaged structures. They have done structural health assessments for India's first Nuclear Reactor Apsara, Trombay. We routinely conduct workshops and seminars for professionals and local government bodies so as to disseminate knowledge on the assessment and quality control in the field of construction engineering. Renuka Consultants has an NABL accredited Laboratory in Taloja, New Mumbai.




Mr. Zulfikar Saria

Director
Trade Cool Services India Pvt Ltd
zsaria@gmail.com

Trade Cool Services (I) Pvt. Ltd. has been involved in Business of Air-conditioning for the Past 40 years. We are Authorised Sales & Service Dealers for Daikin Air Conditioning Pvt. Ltd, ETA Star Appliances Pvt Ltd, Panasonic, L.G., Voltas Ltd, Mitsubishi, Samsung, Electrolux and Hitachi. One stop Shop for all Brands.

With our Contribution to various requirements connected to Corporates, Consulates, Small Industries and Individuals we are certain that we can solve all your Cooling Solutions with the above mentioned product range.

Our Corporate Office is Located at Fort. We have state of Art Equipment's like Pressure Cleaning, Vaccumizing and Gas Charging Units from Germany and America. Highly Experienced and Technically Qualifies Sales and Service team can provide complete solution to problems in very Short-Gap-Time.

We undertake Quality Assurance Assignments. Our Scope of Work includes Repair, Annual Maintenance Contract, Hire and Installations for all types of Airconditioners.
Become an IBG member now!
TO BECOME AN IBG MEMBER AND ENJOY THE BENEFITS, CLICK ON
http://www.ibg.org.in/Link/IBG-Membership-Form.pdf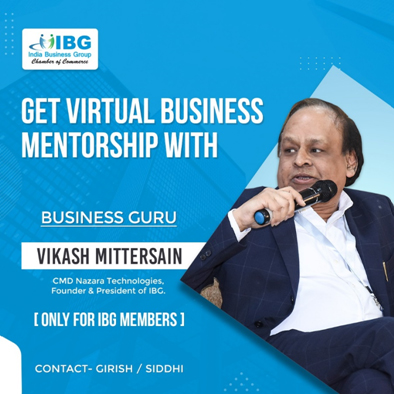 | | |
| --- | --- |
| | Updates |

Additional New Benefits on being IBG member:
Members get to present their array of work and business at our Networking event.
Members get to unveil their expertise and company credentials once in our IBG Newsletter which is released in the first week of every month and read over by 1 Lac Business People.
Get added on IBG Whatsapp Group and interact with other IBG paid members.
Get to be a part of only paid members event where you will get badges according to your industry sector which makes easier to identify specific needs.
IBG is connected and in collaboration with several consulates. Thus the trade inquiries which are floated from their country is been passed on to our paid members. Also IBG paid members get to be part of such meetings held in turns.

For regular updates please connect with us on Facebook, click on. Also kindly revert back to us with your mobile numbers so that we can message you with our event details prior. Like our IBG start ups group on Facebook to receive regular updates.
| | |
| --- | --- |
| | Sponsorship / Advertising |

In case you would like to advertise in this news letter at nominal rates please write to us at

priya@ibg.org.in

IBG IBG Newsletter goes to around 100000 people To view sponsorship & advertising details and rates

click here

Kindly let us know if you too would like to sponsor a lucky draw prize of your Brand / Company / Any services such as Airline Tickets, 2 Night Hotel Stay or any Product/Service related to your Company at this event as soon as possible so that we can advertise & promote your Company Logo linked to your website, in our mailers. Our mailers go out to 1 Lakh people.

| | |
| --- | --- |
| | We Welcome Your Views |

We welcome views of Members to make this news bulletin more useful to IBG Members in particular and businesses at large. Your interest in India Business Group (IBG) is highly appreciated.
| | |
| --- | --- |
| | Subscribe |

| | |
| --- | --- |
| | Updates |

For regular updates please connect with us on Facebook

click here

Also kindly revert back to us with your mobile numbers so that we can message you with our event details prior.

| | |
| --- | --- |
| | Contact Us |

India Business Group

51-57, Maker Chambers 3,

Nariman Point,

Mumbai - 400021, India

Phone:

+91 22 67471646

Fax:

+91 22 67473821

Email: ibg@ibg.org.in
IBG Team