Networking
and Events
Members
Corner
Member Referral
Program
Write
To Us
Connect
With Us
| | |
| --- | --- |
| | From The President's Desk |
Hello Friends, Associates, and IBG Members,

With less than 500 daily infections in Mumbai since last 2 weeks, we can consider present wave 2 Covid infections has nearly ended. Now it's up to the government to contain and control further escalation. Maharashtra government is yet to officially recognize this fact and continue the restrictions including week end lockdowns. Open timings are yet up to 4 pm daily, and commercial establishments including hotels, restaurants most public places shut down after 4 pm. Offices too have most of these restrictions. This results in curtailed economic activity leading to limited cash flow in hands of the citizens. It's a vicious circle, a downward spiral.

With increasing vaccination, we are getting better control on Covid infections. Yet though, we are not out of the woods, and need more rapid vaccination efforts. Only mass vaccination can save humanity. It applies to our city as well as the country.


As a business chamber, we need commercial establishments to begin cautious opening of activities, like shops, travel, offices, meeting of people, etc. etc. Commercial activities need to begin slowly so velocity of money improves. We need to learn to return to normal, to the extent possible, with all checks and balances against Covid. A balanced approach is needed, neither throttling nor uncontrolled opening.

Let us hope a 3rd wave is not allowed to enter, let us do a slow build up. We expect the Maharashtra government to reassess the situation and allow sectorial opening of commerce by 1st week August. This is the time Government of India needs to do fresh funding across the board, to put money into hands of people and businesses.

IBG President Vikash Mittersain presented his four books to H.E. Hon. Shri Bhagat Singh Koshiyari Governor of Maharashtra at Raj Bhavan.

Presented the following books to the governor:
- You the Leader
- You CEO
- My Posts on Facebook 1
- My Posts on Facebook 2
Mr. Vikash Mittersain - Founder of IBG taking about the real estate industry.
| | |
| --- | --- |
| | IBG SECTOR WISE MEETINGS |
1. IBG Healthcare & Marketing SECTORS MEETING held on 15th July 2021 on Zoom.
2. IBG the First Ladies Networking Meet on Zoom held on 2nd July.
| | |
| --- | --- |
| | IBG MEMBERS MEETINGS WITH CONSUL GENERALS |
1. IBG Members Meeting Consul General of Afghanistan held on 25th June on Zoom
The Consulate General of the Islamic Republic of Afghanistan had a virtual meeting with India Business Group.

Their representatives - H.E. Ms Zakia Wardak, Afghanistan Consul General, and Mr Abdul Nafi Sarwari - Commercial Counsellor Afghanistan Consulate talked in length about the opportunities for trade and investment.

The members also discussed the roadmap and benchmarks to improve trade relations between India and Afghanistan.
2. IBG Members Meeting with Consulate General of Malaysia held on 9th July on Zoom
Malaysia is a leader in digital technologies, e-commerce and mobile applications. It is also an important financial centre and is today known as a global leader. To gain more insights into business opportunities, IBG had a virtual meeting with the Consulate General Malaysia Mumbai.
The dignitaries at the meeting were:
H.E. Zainal Azlan Mohd Nadzir CG
Mr Mohd Feisal Ezuan - Consul (Trade)
Mr Roswaidin Mohd Zain - Consul (Investment)
Check out Business Enquiries generated in sector wise meeting.
| | |
| --- | --- |
| | IBG Chamber B2B Meetings |
B2B Meeting with ASSOCHAM – Uttar Pradesh on Zoom on 29th June.
| | |
| --- | --- |
| | TESTIMONIAL BY IBG MEMBERS |
Mr. Vikash Mittersain, the CMD of Nazara Technologies and the Founder President of India Business Group, conducts Virtual Business Mentoring sessions for one #IBG Member each week. Each mentorship session is over an hour long and is done online to help every #IBG member understand their industry's opportunities better and build solid organizations that can last any and every business challenge.
Mentoring Testimonial by Vipul Shah

Mr. Vipul Shah, the second generation Chartered accountant and the head of the organization M/s. Account Assist got mentored by Business Guru - Vikash Mittersain , CMD of Nazara.Com and Founder President of India Business Group.

In this mentoring session, he mentions, "I am grateful to such a successful business man, who listened to me patiently and guided me very well. Mr. Vikash was able to find the loopholes in the my business and learn my mistakes in a very short span of time. He thanked to Mr. Vikash from bottom of his heart."

Click here for Video: https://fb.watch/6f_ek_yhhk/
Mentoring Testimonial by Mr. Rajesh Dossa

Mr Rajesh Dossa has been associated with IBG since 2017. He has a team of Chartered Accountants (CA) and Certified Financial. Planners (CFP) and Result Certified Coaches (RCC).

He explains in this video, why should one join IBG. Ms Priya Pansare, CEO of India Business Group, and Business Guru - Vikash Mittersain , CMD of Nazara.Com and Founder President of India Business Group , are helping entrepreneurs to leverage their business through networking.

Click here for video: https://fb.watch/6f_s9JvJDg/
| | |
| --- | --- |
| | Member's Corner |



Ms. Anjali Dalvi
Director - Accompt Solutions Pvt. Ltd.
accomptsolutions@gmail.com
9833446569


A Chartered Accountant with varied experience – audit, taxation, banking, investment banking, consulting – spanning over 31 years in banks, corporates and profession; now venturing into the field of Information technology to make life simpler for professionals (CA, CS, Lawyers, Doctors, Architects, HNIs, Artists, Consultants, Trusts etc), HNIs, wealth managers and chartered accountants.

Looking for connect in the IT field.




Mr. Hasnain Mamuwala
Partner - Talimahomed & Co.
hsmamuwala@gmail.com
https://www.talimahomed.com/
9820633381

We are Manufacturer and Dealers of Food Flavours, Food Colors and Trader of Fragrances and Cosmetic Colors.

We are a 97 years old company and trade all over India. We also export flavours and colors even fragrances.

Our brand name is TAMCO, with a tag line is Flavours are not born they are created.






Ms. Preeti Passi
Founder - Fortune Capital
Partner - BR Jalan Securities Pvt. Ltd.
preetipassi786@gmail.com
http://www.brjalan.com/
9137665148



My Mission: Fortifying future of people and help them build strong corpus fund in most secured way in short span of time. Strengthen the hands of law through my area of expertise and contributing in building a secure environment primarily for our city and hopefully for our country.

I am Investment advisor with 15+ years of experience in field of Finance & Accounting. By Qualification I am commerce graduate, Inter CA & PGDBA – Finance. NISM certification – Series VII Equity


Derivatives Certification, Series XA Investment Advisor Level 1 , Series XB Investment Advisor Level 2 Concluded " N " number of online and Offline courses related to share market.

Share Market happens to be my passion and for sure it is not a gamble. Well they say in share market we never have satisfied customer but loyal customer and I do have some loyal ones.

I have been investing and following the market for more than 20 years. Based on my experience (good bad and ugly) have designed a product - Wealth Management (ROI – 18% to 40% per annum , risk – Low) It is a product to reap the benefit of stock market with minimum risk. Risk-Reward ratio is very lucrative.

We also deal in Option Selling - ROI – 2% - 5% per month, risk – medium.

I am also developing a product based on Algo trading to deliver consistent moderate returns with minimum risk and less human intervention.

Working in collaboration to build Investor database and provide a platform for complete solution for their investment needs from Startup Funding to Investment in Dubai Real Estate.




Mr. Sharad Srivastava
Director - Enhansafe India Pvt. Ltd.
sharad@enhansafe.com
www.enhansafe.com
9011616169





Working as a Risk Consultant with the Government and Semi-Government, Corporates, Educational and Manufacturing Verticals. Our Clients include the Universities, schools, IT parks, Private companies,


Police, Transport Department, Defence establishments etc. We have consulted and designed and executed several large turnkey projects for customers in the state of Jammu and Kashmir and Maharashtra.

My Qualifications: BE, PGEC(IIM Calcutta), CPP, PSP(ASIS USA), CSP(IISSM), CLPOS & CCPS(ASIRS Singapore), CTSP(UK) I am registered as a Certified Technical Security Professional with UK and a Certified Protection Professional and Physical Security Professional with ASIS, Law Enforcement Liaison for Pune Chapter, Core Committee Member, Fire Safety Association of India. Am a lead auditor for Business Continuity Management System, a Situational Awareness Specialist, PG diploma in Criminal Investigation and Forensic Sciences.

My Affiliations- Nasscom, MCCIA, Fellow member (Risk Management Association of India), ASIS (USA), IISSM & ASIRS Singapore, ISRM( UK), The Security Institute ( UK),Fire Safety Association of India and Electronic Security Association of India.

My expertise is turnkey projects which include Electronic Security & Surveillance Systems and Crisis and Rescue and Disaster Management, Tactical equipment and Drones.

We presently work with Israel, South Korea, USA Taiwan and Germany.




Ms. Suhani Mackdani
Partner - Fresh World Products
info@freshworldproducts.com
www.freshworldproducts.com





Welcome to the world of Paper, we are into:

Hygienic Tissue Paper: Hygienic tissue paper is commonly used for facial tissue (paper handkerchiefs), napkins & household towels. This product is manufactured in one & two ply. The tissue is made of 'VIRGIN' soft paper.

Toilet Roll: Toilet paper rolls have been available since the end of the 19th century. Unlike most of the manufacturers, we use 'VIRGIN' soft paper of 2 ply.

Facial Tissues: Facial tissue (paper handkerchiefs) refers to a class of soft, absorbent, disposable paper that is suitable for use on the face. The term is commonly used to refer to the type of facial tissue, usually sold in boxes, that is designed to facilitate the expulsion of nasal mucus although it may refer to other types of facial tissues including napkins & wipes. The importance of it is to minimize the spread of an infection.

M-Fold Tissue Paper: There tissue paper napkins are very smooth & highly absorbent. This product is most commonly used in toilets & washrooms like in malls, theaters & other public places.

Aluminium Foil: Used for wrapping food in order to preserve it. For example, when storing leftover food in a refrigerator (where it serves the additional purpose of preventing odour exchange), when taking sandwiches on a journey, when baking or when selling some kinds of take-away or fast food.

Kitchen Roll: It's a soft, thick paper on a roll, from which square pieces as torn & used in the kitchen or other places, especially for removing liquid (oil while frying) or for presentation of dishes like sandwiches or finger foods. This product is made in 2 ply & 4 ply: 100 pulls.

JRT - Jumbo Toilet Roll: Jumbo toilet roll proves to be much economical than using toilet roll as it is around 7 times the length of it. It is very economical especially in industries & malls. Replacement time of JRT is much higher than the usual toilet rolls.

HRT - Hard Roll Tissue: It is very economical than using toilet rolls especially in cinemas & corporate offices. It ensures consistency of length & convenient.




Mr. Tejas Bodawala

Director - Cosmos Aircon Pvt. Ltd.
tejasbodawala@gmail.com


Tejas Bodawala is Highly Passionate Entrepreneur & founder of Cosmos Aircon Pvt Ltd., a one stop complete HVAC / Air-conditioning solutions provider since 01/04/2000. The company started to provide the World class Air-Conditioning experience to its customers. Tejas is an Active member Of American Society of Heating & Air-conditioning Engineers (ASHRAE), Indian Society of Heating & Air-conditioning Engineers (ISHRAE), Refrigeration & Air-conditioning Trade Association Ltd. (RATA). Tejas Bodawala is Popularly Known as #TheAcDon.
Cosmos Aircon Pvt Ltd -
Cosmos Aircon Pvt Ltd. is a Boutique HVAC / Air-conditioning Company engaged in providing complete HVAC / Air-conditioning solutions for High End Residential / Commercial / Industrial / Pharma Applications & authroised Project dealers for Leading AC Brands like Mitsubishi, O General, Carrier, Toshiba, LG. They are also engaged in providing Fresh Air & Ventilation solutions for Parking, Staircase, Lift wells, Factory Production areas. USP of Cosmos Aircon is they have In House team for Design to Execution to after sales & Service & Unmatched Passion.
Cosmos Aircon's Customers are Ultra HNI Individuals to leading Indian Cooperates / MNCs & would be Keen to connect to the same.
Follow us on:
www.facebook.com/CosmosAircon/
Become an IBG member now!
TO BECOME AN IBG MEMBER AND ENJOY THE BENEFITS, CLICK ON
http://www.ibg.org.in/Link/IBG-Membership-Form.pdf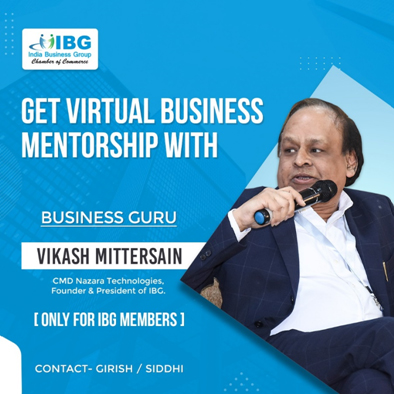 | | |
| --- | --- |
| | Updates |

Additional New Benefits on being IBG member:
Members get to present their array of work and business at our Networking event.
Members get to unveil their expertise and company credentials once in our IBG Newsletter which is released in the first week of every month and read over by 1 Lac Business People.
Get added on IBG Whatsapp Group and interact with other IBG paid members.
Get to be a part of only paid members event where you will get badges according to your industry sector which makes easier to identify specific needs.
IBG is connected and in collaboration with several consulates. Thus the trade inquiries which are floated from their country is been passed on to our paid members. Also IBG paid members get to be part of such meetings held in turns.

For regular updates please connect with us on Facebook, click on. Also kindly revert back to us with your mobile numbers so that we can message you with our event details prior. Like our IBG start ups group on Facebook to receive regular updates.
| | |
| --- | --- |
| | Sponsorship / Advertising |

In case you would like to advertise in this news letter at nominal rates please write to us at

priya@ibg.org.in

IBG IBG Newsletter goes to around 100000 people To view sponsorship & advertising details and rates

click here

Kindly let us know if you too would like to sponsor a lucky draw prize of your Brand / Company / Any services such as Airline Tickets, 2 Night Hotel Stay or any Product/Service related to your Company at this event as soon as possible so that we can advertise & promote your Company Logo linked to your website, in our mailers. Our mailers go out to 1 Lakh people.

| | |
| --- | --- |
| | We Welcome Your Views |

We welcome views of Members to make this news bulletin more useful to IBG Members in particular and businesses at large. Your interest in India Business Group (IBG) is highly appreciated.
| | |
| --- | --- |
| | Subscribe |

| | |
| --- | --- |
| | Updates |

For regular updates please connect with us on Facebook

click here

Also kindly revert back to us with your mobile numbers so that we can message you with our event details prior.

| | |
| --- | --- |
| | Contact Us |

India Business Group

51-57, Maker Chambers 3,

Nariman Point,

Mumbai - 400021, India

Phone:

+91 22 67471646

Fax:

+91 22 67473821

Email: ibg@ibg.org.in
IBG Team