Networking
and Events
Members
Corner
Member Referral
Program
Write
To Us
Connect
With Us
| | |
| --- | --- |
| | From The President's Desk |
Hello Friends, Associates, and IBG Members,

Indian and overseas stock markets have gone into overdrive. Despite Covid, and loss of productions, services, businesses down since a year, etc., the bourses and stock markets seem to be in a tear, climbing higher and higher, regardless. Just what is going on? Is it that people find no other options to channel their earnings and money? I read this morning that just in last 3 months over 50 lac people have entered the stock markets. All this spare money is driving markets to new peaks every day.

The governments across the world, especially USA have been printing money to stabilise the economy and this is being funneled into stocks as there seems no other options. People know they can come out of the markets at will when they need the cash.

The stock market are driving the huge inflow of investible funds both from within India and overseas.


NRI's as well as foreign Institutional funds are making a beeline for Indian equity as it is one of the best growth markets, and is expected to remain so for near future.

Everyone should start a SIP when there is a correction, which always follows a major bull run.
IBG Members Meet on 5th August 2021 at IBG Office
Mr. Vikash Mittersain - Founder of IBG taking about the real estate industry.
| | |
| --- | --- |
| | IBG MEMBERS MEETINGS WITH International Chamber |
1. IBG B2B meeting with International Chamber of Commerce, Afghanistan on Zoom held on 2nd August
2. IBG Members B2B meeting with National Chamber of Exporters of Sri Lanka held on 5th August.
3. IBG Members B2B meeting with ICIB -Indian Chamber Of International Business on 5th August.
Business Guru – Vikash Mittersain CMD of Nazara Technologies and Founder President of India Business Group, as the Guest of Honour for Ms India Brainy Beauty season 3
Check out Business Enquiries generated in sector wise meeting.
| | |
| --- | --- |
| | Webinar with Mrs. Rajyalakshmi Rao held on 13th August 2021 |
Mrs. Rajyalakshmi Rao , Ex-National President at Indo American Chamber of Commerce and an Independent Director of Tech Mahindra, spoke about her life's journey.
| | |
| --- | --- |
| | TESTIMONIAL BY IBG MEMBERS |
Mr. Vikash Mittersain, the CMD of Nazara Technologies and the Founder President of India Business Group, conducts Virtual Business Mentoring sessions for one #IBG Member each week. Each mentorship session is over an hour long and is done online to help every #IBG member understand their industry's opportunities better and build solid organizations that can last any and every business challenge.
| | |
| --- | --- |
| | Member's Corner |



Mr. Ainesh Jethwa
Founder - Ainesh Jethwa & Associates
ainesh@csaineshjethwa.com
9867278414 / 8828382740


Profile:

Mr. Ainesh Jethwa is an Associates Member of The Institute of Company Secretaries of India (ICSI). He is also a Law Graduate (Gen) from Mumbai University. Before entering into the field of Practice, Ainesh has gained work experience in corporates including National Stock Exchange of India (NSE).
In last 12 years he has gained experience of working in different types of industries such as Manufacturing, Exchange, Entertainment, and Practicing Firms. He has handled various corporate law compliance, secretarial audits, and due diligence.

Ainesh Jethwa & Associates ("the firm"), a firm of Company Secretaries with their associates has evolved to become a partner in corporate growth by giving complete Compliance Services to various business entities from Proprietary concerns to Corporate Houses.

Our associates include Company Secretaries and IP attorney having combined experience in ROC matters, Company Law, SEBI, Corporate Advisory, Issue Management, Digital Signature Certificates (DSC), Trademarks etc.

Founded by CS Ainesh Jethwa, the firm is specialized in Registration of Business entities and post incorporation compliance mainly for start-ups, private and public limited companies. Altogether firm is handling complete corporate law compliance for various corporate houses, start-ups, LLPs. The Team is backed by experts and professionals with aim of providing complete client needs at one step solution.




Mr. Deepak Jain
CMD - Harmony Lifestyles Group
djain@harmonylifestyles.com
http://harmonylifestyles.com/
9820072364

Profile:

Equipped with an MBA (Marketing) degree and a Strategic Leadership Certificate from Wharton University, USA, Deepak is the CMD of the corporate banner of Harmony Lifestyles Group which has a legacy of over 45 years in the real estate development sector. A well balanced individual with a natural entrepreneurial spirit, Deepak has over 25 years of on ground experience in all aspects of real estate development.
His efforts with a continued focus on customer satisfaction were rewarded as he and his group were conferred several awards and recognitions like the Innovative Marketing Award – 2008, India's Achievers Award – 2011, Corporate Excellence Award – 2015, Real Estate Icon – 2016 and the Upcoming Developer of the year 2017 Awards by various respected associations.

Currently, Harmony Lifestyles has four ongoing projects in Borivali and Thane of almost one million square feet. Going forward, Deepak's vision is to grow the Group into a respected corporate brand in the Mumbai /Thane region within the next few years by incorporating global best practices and building key relationships.

Deepak would like to connect with individuals & organizations that can add value to the growth story of Harmony Lifestyles Group- in areas including raising private equity, marketing, sales & branding, recruitment of key professionals, project management and the use of new age technologies.




Ms. Ishrat Bodawala
Proprietor - AFAF – Opulent Jewelry Studio
ishratbodawala@gmail.com
9769307678

Profile:

Ishrat Bodawala is a proprietor of AFAF - Opulent Jewelry Studio. She is a certified Diamond Graduate and a certified Image Consultant. She is also an alumni of GIA (Gemological Institute of America). Her past experience in various corporate firms includes Medical, FMCG, Advertising and Telecommunication industries. Currently, she is into Customized Diamond, Gemstones and precious Pearls Jewelry.


AFAF – Opulent Jewelry Studio:
AFAF offers range of customized Diamond as well precious & semi-precious Gemstones jewelry source. The range of jewelry styles includes studded, polki, meenakari etc.
It also provides authentic Artifacts and Home Décor products carved out of various semi-precious gemstones like Rose Quartz, Onyx, Tourmaline, Agate and many more sourced from across the globe at highly reasonable price. It specializes in big size Amethyst and Citrine Geodes.
Follow us on:
www.facebook.com/afafjewelrystudio/




Mr. Kairav Domadia
Proprietor - Dali Electronics
kairav@domadia.com
www.domadia.net
9594066275





Profile:

Since our incorporation in the year of 1997, we "Dali Electronics" are actively involved in manufacturer, wholesaler, trader, and importer a quality approved assortment of Alloys and Electrical Insulation Materials. We do offer ranges of Beryllium Copper Alloys, High-Temperature Insulation Materials, and Titanium Alloys. Our Presented products are highly acclaimed and demanded among our clients for their unmatched performance, sturdy construction and quality assurance features.


Provided products are made from quality approved basic material in full tune with relevant industry defined parameters and norms under the assistance of best industry experts.

We, at Domadia Group supply, in collaboration with various Internationally based Certified Manufacturing Companies, products with uncompromising Quality Standards. We are a sourcing company for special kinds of Semi-Precious Metals, Rare Earth, Metal Powder, Metal Alloys and Insulation Materials.




Mr. Rajshekhar Chavan
Founder -DATAEDGE
rajshekhar.chavan@dataedge.co.in
9892698547 / 9930330527





Profile:

I am a Software Engineer and have over 21 years of experience (Job + Business). I have worked with various multinational firms; my last job was with an Australian Bank where I worked in Investment Banking Division. I was part of various (M&A) Mergers and Acquisitions, (ECM) Equity Capital Market and Fund - Raising transactions.
What We Do:
We create wide range of innovative and Impactful presentations and documents.
We help you structure your presentations.
We provide PowerPoint Training.
Professional Company Profile
Business Presentation
Fundraising Presentation
Educational Presentation
Sales Presentation
Presentations for JV Proposal
PowerPoint Training
Impressive Word Documents
Our USP:
Professional and Engaging Presentations
Presentations that helps you stand out from the crowd
Investment Banking Experience
Total Experience of 21 years
Our Top Clients:
Adani | Axis Bank | AMP Capital | IoTian | Wadekar Group of Companies | Vastu Raviraj | UK's Resort | V2S Tech | Chhabi Electricals | Shubhay Tours & Travels | Shield India Pest Solutions
Clients from Various Industries:
IT | Engineering | Hospitality | Artificial Intelligence | Travel & Tourism | Pest Control | Elevator Industry | NBFC | Jewellery | Education | Financial Planning | Real Estate |Packaging and Logistics | Digital Printing | Baking | Interior Designing | Beauty and Spa | Construction | Legal and Compliance | Event Management | Data Recovery | Car Care | Heat Solutions and many more
Tag Line:
WE DON'T JUST TRANSFORM PRESENTATIONS WE ADD VALUE




Mr. Mohnish Choudhary

Technical Director
Bactibarrier India Pvt. Ltd.
mohnish@bactibarrierindia.com / mohnish.choudhary007@gmail.com
https://bactibarrier.in & http://drbacti.com/
9595280093


Profile:

We provide Anti-Microbial Treatment against all types of Bacteria and Virus since 2016. Our chemical is approved by CSIR, Haffkine Lab Mumbai & US-EPA. Our chemical is Organic, Alcohol-Free, non-flammable, odorless, non-leaching, and fit for all kinds of surfaces.
We provide protection warrant for 1 day, 30 days, 90 days, and 180 days with before and after test reports (ATP Test Report). Our chemical works effectively on Electronic appliances, floors, fabric, and cars without damaging them. We also provide services to Residential, housing Societies, schools, colleges, Covid, and Non-Covid Hospital.
Become an IBG member now!
TO BECOME AN IBG MEMBER AND ENJOY THE BENEFITS, CLICK ON
http://www.ibg.org.in/Link/IBG-Membership-Form.pdf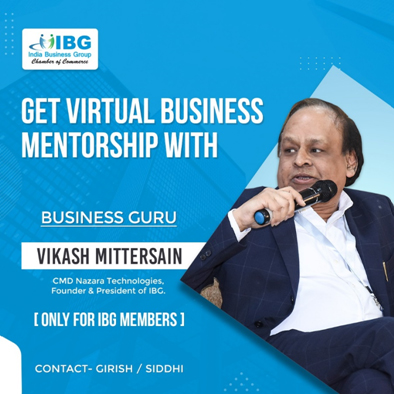 | | |
| --- | --- |
| | Updates |

Additional New Benefits on being IBG member:
Members get to present their array of work and business at our Networking event.
Members get to unveil their expertise and company credentials once in our IBG Newsletter which is released in the first week of every month and read over by 1 Lac Business People.
Get added on IBG Whatsapp Group and interact with other IBG paid members.
Get to be a part of only paid members event where you will get badges according to your industry sector which makes easier to identify specific needs.
IBG is connected and in collaboration with several consulates. Thus the trade inquiries which are floated from their country is been passed on to our paid members. Also IBG paid members get to be part of such meetings held in turns.

For regular updates please connect with us on Facebook, click on. Also kindly revert back to us with your mobile numbers so that we can message you with our event details prior. Like our IBG start ups group on Facebook to receive regular updates.
| | |
| --- | --- |
| | Sponsorship / Advertising |

In case you would like to advertise in this news letter at nominal rates please write to us at

priya@ibg.org.in

IBG IBG Newsletter goes to around 100000 people To view sponsorship & advertising details and rates

click here

Kindly let us know if you too would like to sponsor a lucky draw prize of your Brand / Company / Any services such as Airline Tickets, 2 Night Hotel Stay or any Product/Service related to your Company at this event as soon as possible so that we can advertise & promote your Company Logo linked to your website, in our mailers. Our mailers go out to 1 Lakh people.

| | |
| --- | --- |
| | We Welcome Your Views |

We welcome views of Members to make this news bulletin more useful to IBG Members in particular and businesses at large. Your interest in India Business Group (IBG) is highly appreciated.
| | |
| --- | --- |
| | Subscribe |

| | |
| --- | --- |
| | Updates |

For regular updates please connect with us on Facebook

click here

Also kindly revert back to us with your mobile numbers so that we can message you with our event details prior.

| | |
| --- | --- |
| | Contact Us |

India Business Group

51-57, Maker Chambers 3,

Nariman Point,

Mumbai - 400021, India

Phone:

+91 22 67471646

Fax:

+91 22 67473821

Email: ibg@ibg.org.in
IBG Team