Networking
and Events
Members
Corner
Member Referral
Program
Write
To Us
Connect
With Us
| | |
| --- | --- |
| | From The President's Desk |
Hello Friends, Associates, and IBG Members,

After almost 2 years, IBG kicked off with the Potboiler, the iconic networking event, which has become the best networking opportunity. Both social and business opportunities. Overall it was a big hit, though all Covid protocols were observed and followed.

IBG has during lock down grown in stature, adding members, and launched many new activities, albeit virtual. New memberships happened, new ideas germinated. From a one chamber and its activities, to over 70 local and International Chamber tie ups. The reach has gone to over 3 lac members (including all chambers in the network). Going forward we will be a hybrid chamber, with both online and real world activities.

IBG is beginning chamber interactivities soon.

Meanwhile, here are pictures of successful IBG Potboiler Networking Event.
Stupendously successful IBG's Potboiler
IBG Committee Members Meeting at IBG Office.
Mr. Vikash Mittersain - Founder of IBG taking about the real estate industry.
| | |
| --- | --- |
| | Webinar on Protection and Monetization of the Brand |
Intellectual Property experts Ms. Srishti Singhania , Senior Associate at K Singhania & Co. and Mr. Vanshaj Mehta, Associate at K Singhania & Co. Click here to view online: https://youtu.be/NZ3AD1MKJRo
| | |
| --- | --- |
| | TESTIMONIAL BY IBG MEMBERS |
Mr. Vikash Mittersain, the CMD of Nazara Technologies and the Founder President of India Business Group, conducts Virtual Business Mentoring sessions for one #IBG Member each week. Each mentorship session is over an hour long and is done online to help every #IBG member understand their industry's opportunities better and build solid organizations that can last any and every business challenge.
IBG Member Manisha Kelkar felicitated by Kiren Rijiju- Minister of State Youth Affairs & Sports
| | |
| --- | --- |
| | Member's Corner |



Dr. Adv. Harshul Savla
Managing Partner - Suvidha Lifespaces
harshul.savla@gmail.com / www.suvidhalifespaces.com
9819669692


Profile:

Dr. Adv. Harshul Savla (MRICS) is a Principal Partner of M Realty
(Suvidha Lifespaces) which has successfully completed more than 1.2 million sq.ft. in last 30 years across Mumbai City under the able leadership of Mr. Pramesh Rambhiya. CRISIL India recognized Dr. Harshul as "Young Thought Leader" and Realty NXT featured him as "Young Turk of Real Estate Sector". He has won the prestigious CREDAI-MCHI Golden Pillar Award in the category of Best Debutant Real Estate Developer and has been awarded "Young Achiever of the Year" by ET NOW, CNN News 18, ZEE Business, MAHARASHTRA Times, ABP News, MID DAY and Realty Quarter.

Dr. Harshul has worked as EA to Ramesh Nair, Former CEO and Country Head at JLL, India and has worked in the Wealth Management Team at TATA Capital where he was awarded the National Award for Exemplary Performance. He is a perfect blend of Corporate Experience along with stellar education credentials of Ph.D., LL.M, LL.B, MBA and BMS.

Dr. Harshul was awarded Doctorate (Ph.D.) for his Thesis on REITs (Real Estate Investment Trusts) which is first such thesis in India on the said subject and the Thesis is also available in the form of a book. Apart from this he is an NSE Certified Market Professional - Level 4 and has done a course on 'Strategic Real Estate Management' from ISB, Hyderabad.




Mr. Jitendra Nemade
Director
Medica Enterprises
jmedica04@gmail.com
9820002890 / 9324002890

Profile:

We are Medical Supplier- Medical /Surgical Equipments.

Description of Business:
1. Support to Doctors & Hospitals with variety of Medical equipments
2. Home patients - Sales and Rentals of Medical equipments & Customised Medical Footwear center
3. Corporate / Industrial - Health and safety products




Ms. Kanika Jaggi
Manager - Business Development & Communications
HSAG Consulting
kanika.jaggi@hsag.in / info@hsag.in
www.hsag.in
9167409351

Profile:

We are Business Consultants with an experience of over 2 decades who constantly pursue new ideas and embrace a culture of curiosity, agility and innovation. We deliver the greatest value by collaborating across services to create innovative, tailored solutions to resolve client's complex challenges.

Together with the insight, skills and resource required to address industry specific issues and opportunities, our role is to challenge clients to look at themselves and their


markets in new ways, making business complexities simple for them.

Services we Offer:
* Audit & Assurance
* Bookkeeping & Accounting Services
* Business Advisory & Consulting
* Certification & Attestation
* Company Registration & Coporate Services
* Compliance Services
* Corporate Finance
* Financial Accounting & Advisory Services
* Mergers & Acquisitions
* Payroll Services
* Refunds - Direct Tax & Indirect Tax
* Taxation Services

Industries We Serve:
Educational Sector, Consumer Product & Retail, Textile & Garment, Manufacturing, Logistics, Gems & Jewellery, Healthcare Industry, Importers & Traders, Real Estate, Financial Services, Media & Telecom & Travel.




Mr. M V Narayan
Director - NK Consultants
wealthynarayan@yahoo.com
9820346739




Profile:

My Mission – Empowering people to build Business Assets for long – term cash flow.


My Vision
- At least 10 lakh people will be covered in 3 years, globally and they will be benefited from my online course on
Building Business Assets
.
I am a
Business Consultant,
since last 10 years, empowering SMEs to build strong Business Assets for long-term cash flow. We provide Entrepreneurship Courses on a mobile app and we, also, consult on various challenges Businesses face, regularly. Based on the feedback, we consult and make sure it is executed.
I, also, am a
Business Mentor
helping people to start a business of their choice. Here, we understand what the person has achieved, as of today, and what their future plans are. Based on this, we suggest various strategies and, also, connect with appropriate industry people.
My corporate experience in the IT and Insurance industries has been more than 20 years. Hence, strong domain experience.
I am associated as a Business Consultant in the team of
Dr Vivek Bindra,
India's famous Business coach and trainer, since last 2 years. He has created Entrepreneurship courses in collaboration with Successful Business Leaders in India. I am, also, part of the Business Community of
Mr. Robert Kiyosaki
(author of the book- Rich Dad Poor Dad), since last 10 years; where we get Business Advice, regularly.
Our Associates have created Business Tools on the Net like Employee Expense Management, Marketing Tools, CRM systems, Customer Loyalty Program etc. These tools are meant to build long-term Customers. Some of the links for these tools are:




Mr. Sunil Shah
Co-Founder - Turtle Star Portfolio Managers
sunil.shah@shahoffice.in / 9820054037





Profile:

I am Sunil Shah, co-founder of Turtle Star Portfolio Managers.
We are a SEBI registered Portfolio Management Company. We have compounded wealth for our clients which is far exceeding the market returns and at times compounded over 30% over last ten years. Our stocks have become 100 times over a ten year holding period.

I am regularly invited to express my views about the equity markets on CNBC and ET now. I have been Head of research at Enam Securities, direct and a portfolio manager at ABN Amro Bank, in the past.
With more than 25 + years of being involved in fundamental research and PMS, Our strength lies in generating above market returns by finding mid and small for our clients since couple of decades now..

Would like to reach out to Individuals/ HNI who would seek to invest in stock markets and looking to generate safe returns.




Mr. Tarun Mackdani

Partner - Surya Shipping Services
tlm@suryashipping.in
9820449445


Profile:

Surya Shipping Services, Custom Brokers- CB No. 11/2231

We are Authorised Customs & Freight Brokers. We are the 4th generation in this industry.
We specialize in clearing Import & Export Consignments at:
Mumbai Port
Nhava Sheva Port
Mumbai Airport
ICD Tugklabad
Bangalore Airport
ICD Bangalore
ICD Jaipur
Become an IBG member now!
TO BECOME AN IBG MEMBER AND ENJOY THE BENEFITS, CLICK ON
http://www.ibg.org.in/Link/IBG-Membership-Form.pdf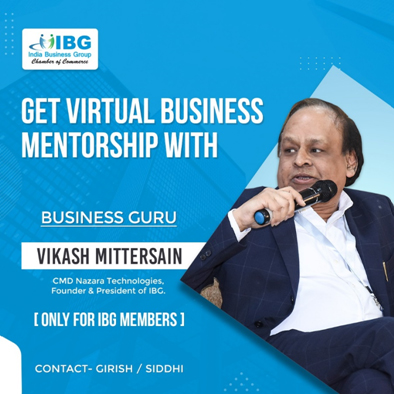 | | |
| --- | --- |
| | Updates |

Additional New Benefits on being IBG member:
Members get to present their array of work and business at our Networking event.
Members get to unveil their expertise and company credentials once in our IBG Newsletter which is released in the first week of every month and read over by 1 Lac Business People.
Get added on IBG Whatsapp Group and interact with other IBG paid members.
Get to be a part of only paid members event where you will get badges according to your industry sector which makes easier to identify specific needs.
IBG is connected and in collaboration with several consulates. Thus the trade inquiries which are floated from their country is been passed on to our paid members. Also IBG paid members get to be part of such meetings held in turns.

For regular updates please connect with us on Facebook, click on. Also kindly revert back to us with your mobile numbers so that we can message you with our event details prior. Like our IBG start ups group on Facebook to receive regular updates.
| | |
| --- | --- |
| | Sponsorship / Advertising |

In case you would like to advertise in this news letter at nominal rates please write to us at

priya@ibg.org.in

IBG IBG Newsletter goes to around 100000 people To view sponsorship & advertising details and rates

click here

Kindly let us know if you too would like to sponsor a lucky draw prize of your Brand / Company / Any services such as Airline Tickets, 2 Night Hotel Stay or any Product/Service related to your Company at this event as soon as possible so that we can advertise & promote your Company Logo linked to your website, in our mailers. Our mailers go out to 1 Lakh people.

| | |
| --- | --- |
| | We Welcome Your Views |

We welcome views of Members to make this news bulletin more useful to IBG Members in particular and businesses at large. Your interest in India Business Group (IBG) is highly appreciated.
| | |
| --- | --- |
| | Subscribe |

| | |
| --- | --- |
| | Updates |

For regular updates please connect with us on Facebook

click here

Also kindly revert back to us with your mobile numbers so that we can message you with our event details prior.

| | |
| --- | --- |
| | Contact Us |

India Business Group

51-57, Maker Chambers 3,

Nariman Point,

Mumbai - 400021, India

Phone:

+91 22 67471646

Fax:

+91 22 67473821

Email: ibg@ibg.org.in
IBG Team