| | | |
| --- | --- | --- |
| | | India's most widely read newsletter |
Networking
and Events
Members
Corner
Member Referral
Program
Write
To Us
Connect
With Us
| | |
| --- | --- |
| | From The President's Desk |
Hello Friends, Associates, and IBG Members,

Emerging from the chaos and chasm of Corona (Covid19). There are signs India is emerging from the worst of Covid. Vaccinations are at all-time high, and numbers infected at a low. Fatalities have come down and continue to be so.

A whole range of business sectors are showing a smart rebound, with a few having overtaken the revenues and profits of 2019, the period before Corona virus struck. We are less scared and terrified of stepping out of home. Leisure and entertainment activities are fast returning to normalcy. Let us hope this continues in this direction only, and no reversal as it is happening in many countries.

Continue with full precautions, it's not yet time to believe we are out of the woods. The virus is still lurking around us.

Set your sights to a business rebound. It is hoped the period post covid will see the needle jump smartly to higher levels, not seen even before advent of covid. Go for growth!
Follow IBG on Social Media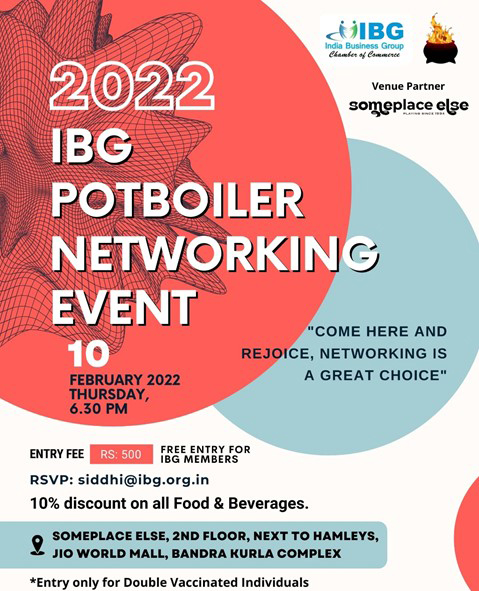 | | |
| --- | --- |
| | Glimpses of IBG Events: |
IBG Members Meeting held on 19th Jan on Zoom.
IBG B2B Meeting with Bodrum Chamber and ICIB held on 7th Jan on Zoom.
India Business Group along with IBG members, and Bodrum Chamber and ICIB Members attended a B2B speed networking meeting. Meeting was attended by Mr Hüseyin Aydin, Commercial Attaché, Turkish Consulate General in Mumbai, Representative of the Culture & Tourism Office, Embassy of The Republic of Turkey, Head of the Bodrum Hoteliers Association and IBG Members.
It was a fast-track meeting in which members introduced themselves showing open interest in business opportunities at domestic as well as international level. To join such speed networking sessions. Join IBG
https://www.ibg.org.in/IBG-Membership-LP.html
Mr. Vikash Mittersain - Founder of IBG taking about the real estate industry.
| | |
| --- | --- |
| | TESTIMONIAL BY IBG MEMBERS |
Mr. Vikash Mittersain, the CMD of Nazara Technologies and the Founder President of India Business Group, conducts Virtual Business Mentoring sessions for one #IBG Member each week. Each mentorship session is over an hour long and is done online to help every #IBG member understand their industry's opportunities better and build solid organizations that can last any and every business challenge.
Mentoring Testimonial by Mr Nirav Mehta

The virtual mentoring session with Mr. Vikash was beyond my expectations, he is so humble with zero attitude nature. He gave me solutions that I can easily apply and follow time to time. I am eager to meet Mr. Vikash in real soon. I recommend every business entrepreneur to be a part of IBG and know various methods to scale their business through networking. Thanks to the entire team of IBG for taking the process so smoothly with the best support.

Click here for Video: : https://fb.watch/aOafqAp2TW/
Mentoring Testimonial by Kajal Samwani

Business Guru Vikash Mittersain CMD @nazaradotcom and founder President of @indiabusinessgroup recently mentored Mrs Kajal Samwani the Founder of Venus Design.

Mrs Kajal Samwani an interior designer and an entrepreneur had a very edifying and enriching mentoring session with Business Guru Mr Vikash Mittersain.

Kajal Samwani was very thankful to Mr Vikash Mittersain for his guidance and his offer to mentor her from time to time. She also expressed her gratitude towards the IBG team. She highlights how she gets regular and new business constantly from the IBG platform. Kajal Samwani also told us how IBG as a platform is helpful towards women and how it has helped her get empowered.

Click here for video: https://fb.watch/aOaraRyFL_/
| | |
| --- | --- |
| | Member's Corner |



Mr. Darshan Gosar
Co-Founder - Mela – Discover Ethnic India
darsh_1231@hotmail.com / 9892935551


Profile:

Welcome to an incredible world of ethnic India in its varied colours & forms. It is a one stop shop of Indian art in all its glory, colour & design. Mela is an ultimate destination & a unique market place for handicraft lovers. Mela unveils you Indian handicrafts by the gifted hands of our craftsmen.

We travel extensively across the country going right up to the door steps of the artisans, bringing out their "Kala" (Skills). Our imagination and creativity backed by the natural skill and talent of the artisans and craftsmen creates traditional products with ethnic appeal yet suitable in modern lifestyle.


Our endeavor is to provide premium products with innovative imagination, superb craftsmanship & unmatched quality directly from the roots of Indian culture and tradition. Mela was founded with a strong belief to unveil the vast and diverse Arts & Craft of India.

Mela has strived to retain and revive the rudimentary styles which are about to extinct. Mela links over 125 artisans to modern urban markets, thereby creating a base for sustainable rural employment to more than 1000 skilled 'Karigars' at grass root level, thus preserving India's traditional handicrafts in the process. With a holistic view of encouraging the creative capacity of the artist, Mela envisioned the spread of their 'kala' and revive this traditional craft at global space.




Ms. Gayatri Chavan
BDM & Operations (Human Recourse) - Exertion HR Solutions Pvt. Ltd.
gayatri@exertionhrsol.com / 8599946333

Profile:

I am Gayatri Chavan. Co-owner of Exertion HR Solutions Pvt. Ltd. Mr. Jay Shah who is a founder and director of this Company. We are Mumbai based company and other office is at Pune. We as a Labour Law Consultants are very well known as practicing in the field of labour laws and various other industrial matters.
We mainly expertise in Contract Labour Registrations & Licenses, PF, ESIC, Minimum Wages, HRA, Bonus, Gratuity, Audits, Inspections etc. We provide customised Payroll Management and related services.

The issue of compliance is crucially important for the member enterprise. The risks are high for the company that gets it wrong or makes an error. Penalties include the possibility of state sanctions, costly litigation, damage to reputation and negative trade union activity within the organization.




Mr. Girish Marathe
Real Estate Developer - Radhika Construction Company
girishh19@gmail.com / 9619959315

Profile:

B. E. ( Civil ) & Licensed Structural Enginee with Municipal Corporation of Greater Mumbai (MCGM).
Joined my father's Real estate business in 2020. My father is into Real Estate development since 1990 & We have developed more than 40 properties in Dombivli.
I have worked with Shapoorji Pallonji Design Centre on many prestigious projects in the country like ITPO (Delhi), Lupin (Vizag), Bajaj (Chakan) etc.
Open to do Structural Audits of Industrial buildings
Looking to Connect with Entrepreneurs to explore opportunities in Mumbai.
Bio-degragable & Recycled Products business.
Modular Construction business.




Mr. Jayesh K Shah
Managing Partner & CEO – Percept-H Advertising Pvt. Ltd.
Founder and Director – Against The Flow Communication Pvt. Ltd.
jayesh@againsttheflow.in
9820708887
www.againsttheflow.in; www.perceptindia.in
https://www.linkedin.com/in/jayesh-shah-b763b314




Profile:

Jayesh has more than 20 years of experience in Advertising & Brand Communications.
Having worked with some of the large as well as small mainstream advertising agencies and creative hot-shops, Jayesh launched his own agency 'Against The Flow Communications' almost 15 years back.

Jayesh brings in a rare and unique blend of strategic and creative orientation (He holds a degree in Fine Art (Creative) as well as a Management Diploma. From being a Art Director, to Client Services Director to Strategic & Business Development Director and a CEO – he has worn all the hats.

A couple of years back Jayesh merged his company Against The Flow Communications Pvt Ltd and took over the realms at Percept-H as the Managing Partner and CEO. He is now busy reviving 'Against The Flow' Once again!

The clients list includes:
Aditya Birla Group, Times Group, SOTC, Cox & Kings, Kuoni Travels, Kuoni Academy, Essel Finance, Aptech, Focus Jeans, TATA housing, Panchshil Developers, Kumar Properties, Ajmera Group, Focus Jeans, Godrej Microwave, AGNI Jewels, TBZ Jewelers, RSJ Jewellers and may more.




Ms. Ritu Advani
Founder - Coding Tale
advani.m.ritu@gmail.com / 8097542547





Profile:

An IT engineer by profession Ritu graduated from Thadomal Shahani Engineering College in the year 2018. Her inclination towards connecting with kids drove her into the EdTech Field. Experienced in EdTech for over 5 years, Ritu has mentored over 10,000 students for STEM (Science Technology Engineering and Math) and Robotics. She has trained 42 teams for various Globe level Robotics and Coding competitions. Apart from coaching students she is also proficient in Curriculum Development and Teacher Training.
Ritu's zeal to do something for the community was her sheer motivation to bring up her own education institute under the name Coding Tale:
Instagram: https://www.instagram.com/codingtale/
Facebook: https://www.facebook.com/codingtale/

Designed for children aged 5-17, Coding Tale's educational programs empower and nurture students to become future innovators through experiential learning and computational thinking.

Ritu has always believed technological advancement is the key to a nation's Development. The Vision and Mission of Coding Tale stands to empower students in the field of STEM and also provide a platform to learn technologies like Artificial Intelligence and Machine Learning which would be accessible to all the Students across the length and breadth of the Country.
Become an IBG member now!
TO BECOME AN IBG MEMBER AND ENJOY THE BENEFITS, CLICK ON
http://www.ibg.org.in/Link/IBG-Membership-Form.pdf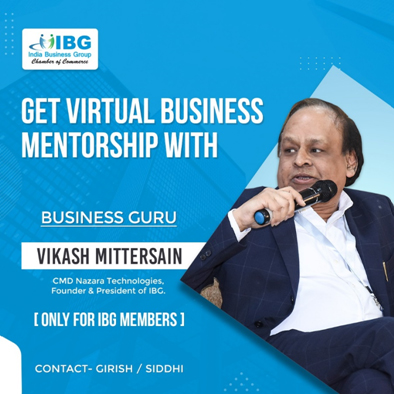 | | |
| --- | --- |
| | Updates |

Additional New Benefits on being IBG member:
Members get to present their array of work and business at our Networking event.
Members get to unveil their expertise and company credentials once in our IBG Newsletter which is released in the first week of every month and read over by 1 Lac Business People.
Get added on IBG Whatsapp Group and interact with other IBG paid members.
Get to be a part of only paid members event where you will get badges according to your industry sector which makes easier to identify specific needs.
IBG is connected and in collaboration with several consulates. Thus the trade inquiries which are floated from their country is been passed on to our paid members. Also IBG paid members get to be part of such meetings held in turns.

For regular updates please connect with us on Facebook, click on. Also kindly revert back to us with your mobile numbers so that we can message you with our event details prior. Like our IBG start ups group on Facebook to receive regular updates.
| | |
| --- | --- |
| | Sponsorship / Advertising |

In case you would like to advertise in this news letter at nominal rates please write to us at

priya@ibg.org.in

IBG IBG Newsletter goes to around 100000 people To view sponsorship & advertising details and rates

click here

Kindly let us know if you too would like to sponsor a lucky draw prize of your Brand / Company / Any services such as Airline Tickets, 2 Night Hotel Stay or any Product/Service related to your Company at this event as soon as possible so that we can advertise & promote your Company Logo linked to your website, in our mailers. Our mailers go out to 1 Lakh people.

| | |
| --- | --- |
| | We Welcome Your Views |

We welcome views of Members to make this news bulletin more useful to IBG Members in particular and businesses at large. Your interest in India Business Group (IBG) is highly appreciated.
| | |
| --- | --- |
| | Subscribe |

| | |
| --- | --- |
| | Updates |

For regular updates please connect with us on Facebook

click here

Also kindly revert back to us with your mobile numbers so that we can message you with our event details prior.

| | |
| --- | --- |
| | Contact Us |

India Business Group

51-57, Maker Chambers 3,

Nariman Point,

Mumbai - 400021, India

Phone:

+91 22 67471646

Fax:

+91 22 67473821

Email: ibg@ibg.org.in
IBG Team