| | | |
| --- | --- | --- |
| | | India's most widely read newsletter |
Networking
and Events
Members
Corner
Member Referral
Program
Write
To Us
Connect
With Us
| | |
| --- | --- |
| | From The President's Desk |
Hello Friends, Associates, and IBG Members,

Why become IBG member!!

IBG crossed 10 years of service in February 2022. It is an achievement of sorts by itself. No new serious chambers of commerce have been created since long. IBG has got well established and entrenched over these ten years. IBG is of the members, by the members and for the members. It operates only in the interest of its members. The management takes no benefit from it.

IBG does a lot of activities for its members

Regular Members Only Meets. We host a members meet where only registered members get together at regular intervals and exchange views, ideas, business etc.
IBG has a good connect with Government. We take a few members often to Government Secretaries, Ministers etc. Something our members can't do on their own without specific agenda or appointments
Visit to Consul Generals of various countries. Being an Honorary Consul of Mali, I have access to other Consuls. We take members to consulates for meets and discussions
Top Businessmen and Industrialists: Members can meet top well known business houses through IBG. This is a once a month thing
We have a periodical Consular Panel discussion of Consuls. This gives access to members to Consuls which is very difficult for them on their own
The cherry on the cake is the Potboiler. It's a super networking event where you get to meet high level business people, Government secretaries, Consuls etc.. Imagine the electricity
IBG is tied up with over 50 Indian and Overseas Chambers. we hold regular interaction between IBG members and these chambers members. What an opportunity for business
Mentoring by Business Guru Vikash Mittersain. This is only for members. He goes into details of their business issues and problems and suggests suggestions. Many have seen major change in their fortunes with such mentoring
IBG Knowledge Café: A monthly event where a top business star is invited to speak and advise
What more do you want. Become a member to gain from all this and more, much more
Follow IBG on Social Media
| | |
| --- | --- |
| | Glimpses of IBG Events |
IBG Diwalloween Potboiler Networking Event 2022
The IBG Potboiler has once again broken all the networking records! With members and guests joining us from across India and the World, the IBG DIWALLOWEEN Potboiler #8 was a stupendous success! IBG members were GROWING and GLOWING!
IBG had organized the Diwalloween Potboiler at @invincible_bandra - to celebrate the coming festive season and help entrepreneurs spread their wings!
Our Special guest was Consul General of Consulate General of Islamic Rep. of Afghanistan H. E. Ms. Zakia Wardak
| | |
| --- | --- |
| | IBG Members Meet on 6th October 2022 |
IBG gives its best, to get the best. We always aim for the best business opportunities for our members.

In an interactive IBG Members Meet held today, over 50 members were present at the IBG office. Many business referrals and business collaborations were proposed in the industries of Hospitality, Architecture, Construction, Media, Infrastructure, Advertising, Real Estate, Travel, Tourism, and Finance sectors.
Interactive meeting with Consul General of Turkey with IBG Members on 18th October 2022
In this Meeting with Turkey Consul General (india_in_turkey), Potential Exports that can be made to India were discussed. This included a broad range of products including Car engine, dishwasher, oil, raw materials for carpets, marble and furniture, machinery and industry products, electric construction products, etc. It also included consumable goods such as fresh apples, chick peas, raisins, dried figs, khus khus, olive oil.

Apart from the exportable items the meeting also focused on Tourism and collaboration with the IT Industry.
IBG delegation to Singapore Consulate


IBG Member had an opportunity to meet with H.E. Mr. Ming Foong Cheong, Singapore Consul General at their office, to tap into Singapore's evergreen and ever-growing manufacturing sector. India is now recognized as a hub for advanced manufacturing and we hope to open doors to vast business opportunities for IBG members.
IBG Knowledge Café with Mr. Sameer Nawani Head of Dubai Chamber International Office - India (International Relations).
In the IBG Knowledge Cafe hosted by IBG, it was a great honor for members to meet and discuss about International Trade opportunities
IBG as an outreach partner invites you to the Seventh Edition of ASCENT Conclave 2022 on Thursday, 24 November 2022
| | |
| --- | --- |
| | Member's Corner |



Mr. Tanmay Bhavsar
Founder at Evershine Wealth
tbhavsar@evswealth.com
www.evswealth.com


Profile:

Tanmay is a Certified Financial Planner CFPCM with over 20 years of experience in the Wealth Management Industry. He is passionate about helping individuals & Business owners to help them live a Stress-free & Care-Free Financial Life by helping them prepare a sound financial plan to ensure they meet their Short term & Long Term Financial goals.
At Evershine Wealth, they provide you with end-to-end solutions & professional advice regarding investments, mutual funds, insurance, tax, portfolio management services, wealth management, and retirement planning.
With over 4 years of Entrepreneurial Experience, currently Evershine Wealth Manages over 150 Crores of Asset Under Management.
Looking forward to connecting with all of you and growing our business together.
FB: -
https://fb.me/EVSWEALTH
Linkedin: -
https://www.linkedin.com/in/tanmaybhavsar19/8369842923
WA -
https://wa.me/919920155300?text=




Mr. Anand Lulla
Director at AVXellence Technologies Pvt. Ltd.
anand@avxindia.com
https://avstore.in/

Profile:

AVStore is India's Leading Online Audio/Video Store. Our goal is to help you get the best possible home entertainment solutions so you can enjoy your favourite movies, TV shows and music to the fullest.

We work tirelessly to make the online shopping experience for audiophiles and cinephiles alike, to be enjoyable and seamless.




Mr. Rajinder Singh
Styledec Developers
styledec13@gmail.com
https://www.styledecinteriors.com/
https://m.facebook.com/styledecinteriors
https://www.instagram.com/styledecinteriors/

Profile:
Rajinder has an experience of 25 years in the construction industry. His passion for designing and creating new and innovative spaces has brought him this far. He has worked with well-known Architects in Mumbai some of them are Hafeez Contractor and Associates, Ajit Bhuta and Associates. Some of his most renowned projects include Terminal 1B Airport Santacruz, Lilavati Hospital, Rainforest Resort - Igatpuri, and Dew Drops Resort - Igatpuri.
At Styledec we aim to provide the highest level of satisfaction to our customers and clients through our innovative work in the construction industry. With a renowned name in land development and construction of residential and commercial buildings, we have successfully completed a number of projects over the last 25 years. Our satisfied customers have put their seal of approval on our work by making our previous projects a success story. Trust and transparency are our hallmarks, and we are dedicated to providing the best possible experience to our clients. We design and give add-on features that enhance your project and further assist you in the sale of your project.

We provide you with end-to-end solutions from buying the land to designing and executing your project to selling it when it's finished.

We have experience in designing and executing villas, row houses of 2 bhk and 3 bhk, studio apartments, second homes, resorts, and residential and commercial interiors. We design all amenities, landscapes, and infrastructure design. Working as a turnkey contractor gave us knowledge and experience in working on many different requirements in different time frames.




Mr. Mittesh Gaiwala
Creative Head at GreenLands
mittesh@greenlands.co.in
https://www.greenlands.co.in/




Profile:

Mittesh, is the 3rd generation Entrepreneur & Creative Head at GreenLands. Nature was always closer to his heart as it runs in the family for generations. Concerned about the concrete jungles in Mumbai & the depleting natural resources he always wanted to do something related to nature, with a dream of planting trees & putting a plant in every hand.

Today with a chain of retail stores across ten major cities in India, a vast business network with top corporate clients of the country and with its impacting offline and online presence GreenLands has set a new trend in green gifting, home garden décor, landscaping and horticulture related services.

About GreenLands:
We are a professional firm expert in the field of Landscape Design, Development & Maintenance since 1940
We are practicing Horticulture Consultants & Contractors in Mumbai. Being in this field it's our Passion to Create a Greener World & contribute our bit against Global Warming!!!
We have created India's Biggest Garden Centre in a Mall open at Inorbit Mall, Malad West, Mumbai. "Book my Mali" one of its kind Mali service at your doorstep, is one of our brand.
The core value of GreenLands is to serve our clients well. We undertake projects on turnkey basis, and meet project schedule and budget parameters. We greet each project with enthusiasm; our success is built upon lasting client relationship.




Mr. Paresh Mohile
Business Partner at Paradigm Group of Consultancy Services
paradigmconsultants999@gmail.com





Profile:

Mr. Paresh Kumar Mohile is a Chemical Engineer and Post Graduate in Project Management by education. He believes into Innovative Ideas that are always to be nurtured and engineered for the benefit of industrial society and country as a whole. He began his journey with Paradigm as a Business Partner along with his wife, Bhavna in September 2015 to design business frameworks suiting to the requirements of the customer under specific product and process demands.

Striving towards 'Excellence' while serving the clients got transitioned into Inclined only for Excellence in short span of seven years.

Today Paradigm caters to be consulted for any Global ISO standards necessitating to fulfil market demands, product design needs, service realization, accommodating risk and treating it in the Business Continuity Framework. Group offers full-time support on IPRs like Product patenting, process patenting, trademarks and Logo designs.

The new consulting Paradigms offered are into Consulting and support on Anti-Terrorism Customs Trade for Supply Chain, Together for Sustainability (all pillars), Cybersecurity pre & post coverage and Prevention of Sexual Harassment.

In the long run, he vividly envisions to become a larger part of Global contribution of Industrious India.
Become an IBG member now!
TO BECOME AN IBG MEMBER AND ENJOY THE BENEFITS, CLICK ON
http://www.ibg.org.in/Link/IBG-Membership-Form.pdf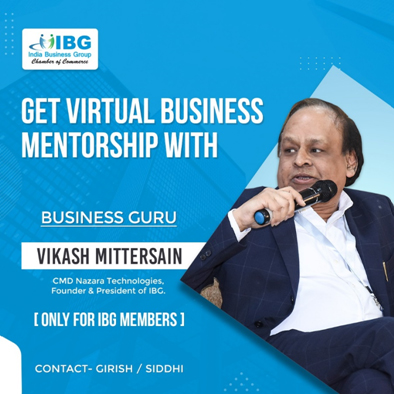 | | |
| --- | --- |
| | Updates |

Additional New Benefits on being IBG member:
Members get to present their array of work and business at our Networking event.
Members get to unveil their expertise and company credentials once in our IBG Newsletter which is released in the first week of every month and read over by 1 Lac Business People.
Get added on IBG Whatsapp Group and interact with other IBG paid members.
Get to be a part of only paid members event where you will get badges according to your industry sector which makes easier to identify specific needs.
IBG is connected and in collaboration with several consulates. Thus the trade inquiries which are floated from their country is been passed on to our paid members. Also IBG paid members get to be part of such meetings held in turns.

For regular updates please connect with us on Facebook, click on. Also kindly revert back to us with your mobile numbers so that we can message you with our event details prior. Like our IBG start ups group on Facebook to receive regular updates.
| | |
| --- | --- |
| | Sponsorship / Advertising |

In case you would like to advertise in this news letter at nominal rates please write to us at

priya@ibg.org.in

IBG IBG Newsletter goes to around 100000 people To view sponsorship & advertising details and rates

click here

Kindly let us know if you too would like to sponsor a lucky draw prize of your Brand / Company / Any services such as Airline Tickets, 2 Night Hotel Stay or any Product/Service related to your Company at this event as soon as possible so that we can advertise & promote your Company Logo linked to your website, in our mailers. Our mailers go out to 1 Lakh people.

| | |
| --- | --- |
| | We Welcome Your Views |

We welcome views of Members to make this news bulletin more useful to IBG Members in particular and businesses at large. Your interest in India Business Group (IBG) is highly appreciated.
| | |
| --- | --- |
| | Subscribe |

| | |
| --- | --- |
| | Updates |

For regular updates please connect with us on Facebook

click here

Also kindly revert back to us with your mobile numbers so that we can message you with our event details prior.

| | |
| --- | --- |
| | Contact Us |

India Business Group

51-57, Maker Chambers 3,

Nariman Point,

Mumbai - 400021, India

Phone:

+91 22 67471646

Fax:

+91 22 67473821

Email: ibg@ibg.org.in
IBG Team