| | | |
| --- | --- | --- |
| | | India's most widely read newsletter |
Networking
and Events
Members
Corner
Member Referral
Program
Write
To Us
Connect
With Us
| | |
| --- | --- |
| | From The President's Desk |
Hello Friends, Associates, and IBG Members,

This is the last newsletter for 2022. An eventful year finally comes to an end. Covid came under control, and life as we knew it returned to normal. We saw full activity, events, parties, conferences, etc.

The business sector recouped, stock markets soared, exports grew, and all seems great, going into the new year. Some issues seem to be imminent with China going into covid lockdown but we can hope it does not impact India.

India has hit a 7% growth in GDP. This is expected to become 4% in the coming year, making India the 4th largest large economy in the world. The government's efforts of last 7-8 years are paying off for everyone, individuals, companies, and the economy at large. There is a sense of confidence all around. Businesses must take full advantage, begin growth plans which we kept on hold since the beginning of covid. Hiring must increase, so should investments in equipment and people.


One of the key learnings is to allow people down the line take key decisions of running the businesses and not hoarding all decisions at the top. In reality people doing the nuts and bolts are better aware of the issues involved.

Please open up your mindsets and work positively to expand and grow your businesses
Follow IBG on Social Media
| | |
| --- | --- |
| | Glimpses of IBG Events |
IBG Members Meet with Mr. Nadir Godrej
IBG President Vikash Mittersain & CEO Priya Pansare led IBG Members for an Interactive Meeting at Mr. Godrej's Office. Mr. Nadir Godrej (Chairman and Managing Director of Godrej Group left us awestruck with his handwritten poetry, what an elegant way of addressing members in a meeting.
It was an honor to interact with Mr. Nadir, as he spoke on the joint ventures his company did with Unilever, GE Appliances, Procter & Gamble, Mahindra, etc.
He gave in-depth business insights on functioning of their company and briefed us about the CSR activities such as Zero Solid Waste Management across all Godrej Companies, Manufacturing their own palm oil, and 6 times water positive activity that promotes sustainability.
| | |
| --- | --- |
| | IBG Members Meet Hon. Speaker of Legislative Assembly Mr. Rahul Narwekar |
IBG President Vikash Mittersain & CEO Priya Pansare led a delegation of few IBG Members to Maharashtra Vidhan Sabha followed by an interactive session with the Hon. Speaker of Legislative Assembly Mr. Rahul Narwekar. It was a privilege for the IBG members to meet and interact with Mr. Narvekar. The meeting will pave the way for strengthening trade opportunities across Maharashtra.
Interactive meeting with Consul General of Turkey with IBG Members on 18th October 2022
In this Meeting with Turkey Consul General (india_in_turkey), Potential Exports that can be made to India were discussed. This included a broad range of products including Car engine, dishwasher, oil, raw materials for carpets, marble and furniture, machinery and industry products, electric construction products, etc. It also included consumable goods such as fresh apples, chick peas, raisins, dried figs, khus khus, olive oil. Apart from the exportable items the meeting also focused on Tourism and collaboration with the IT Industry.
IBG delegation to Afghanistan Consulate


IBG Members had an Interactive Meeting with H.E. Ms. Zakia Wardak, Consul General of Afghanistan, at their Consulate Office.

In this meeting H.E. Ms. Zakia Wardak held an extensive discussion with IBG Members on sectors like Health, Tourism, Handicrafts, Medicine & Pharmaceuticals. Potential opportunities to promote the expansion of trade and economic relations between India and Afghanistan were also discussed
IBG delegation to German Consulate
As India and Germany are growing closer together at breath-taking speed, IBG Members had an Interactive Meeting with H.E. Mr. Achim Fabig, Consul General of Germany.

H.E. Achim Fabig held an extensive discussion with IBG Members on range of exciting and important sectors such as automobiles, machine building, electrical engineering and electronics, chemicals, and food processing. His main focus is primarily connecting and businesses between the two countries.
| | |
| --- | --- |
| | Member's Corner |



Mr. Aditya Dadheech
Managing Partner
A K Dadheech & Co
aditya@akdadheech.com
https://www.akdadheech.com/


Profile:

Aditya is the Managing Partner at A K DADHEECH & CO, Chartered Accountants (www.akdadheech.com) and is a Fellow member of the Institute of Chartered Accountants of India.

He has over 8 years of professional experience in the field of corporate & international taxation, business advisory and auditing.

He has gained immense knowledge in tax advisory and compliance, FEMA matters, financial accounting and auditing, capital structuring in industries such as Media & Entertainment, Advertising, Healthcare & Wellness and Startups. Aditya is also a faculty at the WIRC - Mumbai Chapter of the Institute of Chartered Accountants of India ('ICAI') and mentors young CA aspirants.
Prior work experience:
(a) Ernst & Young
(b) KPMG Lower Gulf - Oman
(c) NM Raiji & Co

Professional qualifications:
(a) Chartered Accountant and Company Secretary
(b) LLB

Certifications:
(a) ICAI courses -
(i) Forensics Accounting and Fraud Prevention
(ii) Diploma in System Audits
(iii) Anti-Money Laundering
(b) London Institute of Banking and Finance - Certificate in Trade Finance Compliance




Mr. Alok Nag
Partner at A&H Capital
alok@ahcapital.in
https://ahcapital.in/

Profile:

A&H Capital – The Financial Partners in the lives of every SME & MSME

Hard work is the only key to success and there is no blueprint to earn successful results. This has been the mantra of Mr. Alok Nag, Founder, A&H Capital.

Growing up in a non-banking family background, his journey has been anything but a bed of roses but it was his focus and determination that has earned him his goals and leadership positions.

From a very young age Mr. Nag understood the importance of education and since then he has strived to constantly educate himself. With an ITM MBA degree under his belt, Mr. Nag started working with premium banks handling significant corpus where he received multiple awards and accolades. In his illustrious 21 years of experience in the lending business, Mr. Nag has single-handedly looked at unsecured loans for the immense benefits of his clients.

With his immense expertise and a dream to help budding entrepreneurs, Mr. Nag formed A&H Capital in 2014. In just a span of 7 years Mr. Nag has helped A&H Capital to grow exponentially. Currently A&H Capital is headquartered in Mumbai and has footprint in major cities in Western India. A&H Capital started with just one employee but currently has more than 50 employees. Mr. Nag envisions expanding to Delhi, Madhya Pradesh and other major cities and generate employment for more than 500 people in the near future.




Ms. Garrgi Sarkaar
Founder & MD at RA Brand Consultant
garrgi@rabrandconsultant.com
https://www.rabrandconsultant.com/

Profile:
A Political Science graduate with PGDSM from NIS SPARTA LTD then an MBA in Marketing from AMITY BUSINESS School. Created a training division in NIS SPARTA LTD with retention of students above 15% in the Fortune 500 companies. And worked with training department to provide training to American Express, Ranbaxy and SmithKline Beecham.
Instrumented the exponential growth of Luxury brands in India and subcontinent in the alcohol category. Managed a team of 100 people both Sales & Marketing. Got the best practice award for ABSOLUT vodka amongst 26 countries. Has a great understanding of luxury portfolio? Trained in Scotch whisky from Edinburgh, trained in Ahus –Sweden on vodka, trained in Champagne &Cognac region for Remy Martin &Piper Heidseick. Garrgi launched Decathlon in India, Managed Reliance Nippon, RAK Ceramics Social media mandate, Wacoal India, Welcom Hotel Dwarka and many more.

Gargi is a nut cum good singer cum life changing agent who sees only possibilities even in the impossible.

RA BRAND CONSULTANT is a combination of excited, interested, involved, engaged, innovative, dynamic, purposeful and passionate talents committed to deliver traction to brands.




Ms. Geetha Nerurkar
Executive Director
Ashapura International Ltd.
geeta@ashapura.com
www.ashapura.com




Profile:

She has done Masters in Business Administration with a specialization in Marketing Management.

Presently she is the Executive Director of Ashapura International Ltd., part of Ashapura Group.

Ashapura is acknowledged for Brand leadership in the world for many of the minerals like Bentonite, Bleaching Clay, Bauxite, Kaolin etc.

Geetha has been servicing in the field of Mining & Minerals for the last 22 years and has been responsible to develop Ashapura International as one of the most promising Profit Centres of Ashapura Group.




Mr. Samir Sathe
Executive Vice President
Wadhwani Foundation
samir.sathe@wfglobal.org
www.wfglobal.org





Profile:

Samir has 30 years of experience which ~15 years in senior leadership positions. 4 years in Equity and Investment Research, 23 years in strategy and transformation consulting leading key practices of Non-profit, LS and Healthcare, PE&FS, Automotive, Food, Government, Women empowerment, Mass entrepreneurs, led and implemented ~300
projects, ~4 years in non-profit and philanthropy - a global operating foundation with an endowment of $1.5 Bn

Wadhwani Foundation is a not-for-profit with the primary mission of accelerating economic development by driving job creation through large-scale initiatives in entrepreneurship, small business growth, innovation, and skilling. Founded in 2000 by Silicon Valley entrepreneur Dr Romesh Wadhwani, today, the Foundation is scaling impact in multiple countries across Asia, Africa, Latin America, and the US. WA is a disruptive and unique model which empowers Small and Medium Enterprises (SMEs) with in-house capabilities to maximise the growth potential and accelerate revenue growth.

WA was launched in India, in 2019 by blending empowerment, consulting and practical hand-holding support and have served 600+ SMEs across 50+ locations and 25+ industry sectors, and have built 30+ partnerships in government and private sector. In 2021, WA served 120+ clients, and we ended the year with a Net Promoter Score (NPS) of 73.

Samir is a thought leader, speaker and has also published 40+ articles on the topics of Government, Strategy, Scale, Transformations, Skills, Corporate Education/ L&D, Entrepreneurship, Women Empowerment, Psychology, and Industry specific topics, etc. in leading national and international publications.
He has received 3 Awards/ Public Recognition:
1. Brand Impact Award by Indian Achievers' Forum, 2020-21
2. Public Service Award by National Achiever's Recognition Forum: Contribution to society in solving large scale society problems 2021
3. High Flyer', one of the 50 achievers of "High Flyers 50 Vol. II, 2022




Ms. Yoshita Gurnani
Founder / Proprietor
Gilehrii -An Art House (SME)
gilehriistudios@gmail.com / gurnaniyoshita@gmail.com





Profile:

An Artist (Fine Arts)
A Certified Life Coach
A Certified Yoga Trainer Nutritionist.
A Certified Image Consultant.

I am the founder of *Gilehrii -An Art House and a Consultant for the makeover of exterior spaces/ Interior Stylist*. We have a niche in curating balconies in an Artsy way.

We at Gilehrii -
1. We Facelift spaces by transforming them.
2. We create a rub of innovation, creativity and practical style solutions......as design, organize and decor is not a solo sport.
3. We work with our clients where they feel the space and connect emotionally.
4. At Gilehrii, as an Artist, I love to work on bigger canvases (houses, offices, cafes, hotels, etc. as canvases)

Looking forward to connect and contribute and prosper together.
Become an IBG member now!
TO BECOME AN IBG MEMBER AND ENJOY THE BENEFITS, CLICK ON
http://www.ibg.org.in/Link/IBG-Membership-Form.pdf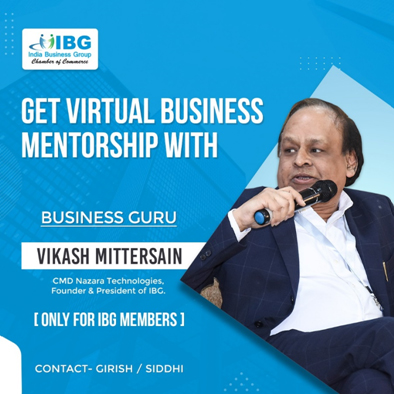 | | |
| --- | --- |
| | Updates |

Additional New Benefits on being IBG member:
Members get to present their array of work and business at our Networking event.
Members get to unveil their expertise and company credentials once in our IBG Newsletter which is released in the first week of every month and read over by 1 Lac Business People.
Get added on IBG Whatsapp Group and interact with other IBG paid members.
Get to be a part of only paid members event where you will get badges according to your industry sector which makes easier to identify specific needs.
IBG is connected and in collaboration with several consulates. Thus the trade inquiries which are floated from their country is been passed on to our paid members. Also IBG paid members get to be part of such meetings held in turns.

For regular updates please connect with us on Facebook, click on. Also kindly revert back to us with your mobile numbers so that we can message you with our event details prior. Like our IBG start ups group on Facebook to receive regular updates.
| | |
| --- | --- |
| | Sponsorship / Advertising |

In case you would like to advertise in this news letter at nominal rates please write to us at

priya@ibg.org.in

IBG IBG Newsletter goes to around 100000 people To view sponsorship & advertising details and rates

click here

Kindly let us know if you too would like to sponsor a lucky draw prize of your Brand / Company / Any services such as Airline Tickets, 2 Night Hotel Stay or any Product/Service related to your Company at this event as soon as possible so that we can advertise & promote your Company Logo linked to your website, in our mailers. Our mailers go out to 1 Lakh people.

| | |
| --- | --- |
| | We Welcome Your Views |

We welcome views of Members to make this news bulletin more useful to IBG Members in particular and businesses at large. Your interest in India Business Group (IBG) is highly appreciated.
| | |
| --- | --- |
| | Subscribe |

| | |
| --- | --- |
| | Updates |

For regular updates please connect with us on Facebook

click here

Also kindly revert back to us with your mobile numbers so that we can message you with our event details prior.

| | |
| --- | --- |
| | Contact Us |

India Business Group

51-57, Maker Chambers 3,

Nariman Point,

Mumbai - 400021, India

Phone:

+91 22 67471646

Fax:

+91 22 67473821

Email: ibg@ibg.org.in
IBG Team