| | | |
| --- | --- | --- |
| | | India's most widely read newsletter |
Networking
and Events
Members
Corner
Member Referral
Program
Write
To Us
Connect
With Us
| | |
| --- | --- |
| | From The President's Desk |
From the PRESIDENT'S DESK:

Hello Friends, Associates, and IBG Members, Emerging from the chaos and chasm of Corona (Covid19). There are signs India is emerging from the worst of Covid. Vaccinations are at all-time high, and numbers infected at a low. Fatalities have come down and continue to be so.

A whole range of business sectors are showing a smart rebound, with a few having overtaken the revenues and profits of 2019, the period before Corona virus struck. We are less scared and terrified of stepping out of home. Leisure and entertainment activities are fast returning to normalcy. Let us hope this continues in this direction only, and no reversal as it is happening in many countries. Continue with full precautions, it's not yet time to believe we are out of the woods. The virus is still lurking around us.

Set your sights to a business rebound. It is hoped the period post covid will see the needle jump smartly to higher levels, not seen even before advent of covid. Go for growth!
Follow IBG on Social Media
IBG delegation led by President Vikash Mittersain at UAE on a 3 day visit was extravagant and successful. We visited country pavilions of Hungary, Belgium, Australia, Sweden, Singapore, India, Ireland, Panama, Malaysia and Mauritius exploring business opportunities for engineering, sustainability, and financial technologies sector in India.
Along with this we visited Dubai Chamber of Commerce and DMCC – Dubai Multi Commodities Centre. There was a lot of give and take, lot of discussion for now and future.
| | |
| --- | --- |
| | IBG Women's day Event at Someplace Else on 9th March |
IBG Women's Day Event was a prominent success. Power-Packed Panelists sharing their thoughts on the IBG Women's Day Event.
We are proud to announce that the IBG Startup Event was a grand success. Unique Startup Founders participated in huge numbers, put forth their business ideas, and proposed collaborations with Investors, Founders, and other IBG Members at the IBG Startup Event.
'IBG Startup Pitch Event' was conducted on Friday 18th February 2022 at 4PM to 6PM on Zoom
Our Panellists:
Abhishek Agarwal - Rockstud Capital (Investor)
Suresh Menon - CEO - CIBA (Centre for Incubation & Business Acceleration)
Vikash Mittersain – President IBG, CMD – Nazara
Nischal Kapadia - IBG Startup vertical representation & mentor/investor
Ishan Nadkarni - Startup founder – Impact
Moderator: -Sagar Chandni - Head of Incubation and Startup Engagement – CIBA India
IBG New Members Induction Meeting
Every month we have New Members Induction Session to give an overview of the IBG Network, to Guide new members on making the best of IBG membership. This session is assisted by IBG Committee Members who have relished the association and continue to extract the best from the network.
Mr. Vikash Mittersain - Founder of IBG taking about the real estate industry.
| | |
| --- | --- |
| | TESTIMONIAL BY IBG MEMBERS |
Testimonial by our member Rohan Moktali for his experience at IBG Dubai Delegation 2022

IBG recently took a delegation of its members to Dubai to attend the Dubai Expo and meet with some esteemed trade organizations such as The Dubai Chamber of Commerce and DMCC. In hindsight, I can say that joining the delegation of IBG for this trip was indeed one of my best professional decisions. I represented my company CorpelServe India on this trip and am extremely happy to share that this visit has opened up many possibilities of international collaborations and revenue opportunities for us. We are in advance talks to sign a strategic partnership with an organization based in UAE which is in the same line of business as ours, i.e Market Entry Advisory. This was possible only through my attendance at the Dubai Expo with the delegation of IBG. Various meetings held with the Commissioner Generals and Ambassadors of many nations at their respective pavilion at the Dubai Expo have opened up new channels of business for us. Through this network I am confident that I will be able to raise our emblem across various embassies in the years to come. Each meeting that we had during those 4 days was of strategic importance and it's for this initiative of IBG that I have moved many steps closer to reach my target of having sustainable international alliances and maximum business opportunities. To sum up, this trip was much beyond just offering a higher return on my investment. I appeal to every member of IBG to strongly consider to join such business delegation of IBG in the future. IBG delegations are equivalent to the term Opportunities Infinite!

Having said all of the above, this overwhelming experience would not have been possible without the relentless and untiring support of the IBG's core team. Girish offered an unparalleled support to get me on board last moment (as my renewed passport arrived just few hours before the scheduled time of travel). Siddhi personifies all that can be termed as 'Excellent facilitation and liaison '. She is extremely efficient in ensuring that members are looked after well on a foreign business trip and Siddhi often went an extra mile to ensure that no inconvenience is faced by any of the delegates. Priya's Leadership ensured priority attention to all the delegates from all the trade organisations and country pavilions on this trip. She championed her role to successfully steer the entire business trip. And above all, Vikash's encouragement, constant guidance and Leadership positioned all of us well at various events, thus boosting our confidence to demonstrate excellence in our interactions with all the country representatives and trade bodies. Quite fortunate to enjoy so much of his time during the trip!! As a member of many other international business groups, I definitely can compare the difference in the value that IBG offers to it's members. It is indeed an amazing platform for business. As someone who has been associated with IBG from inception, I am really pleased to experience the growth of our own Chamber of Commerce over the past decade. Well done Everyone.... A biiig THANKS to everyone at IBG for making this Dubai trip happen so successfully. I am looking forward to many more delegation visits in the future. May opportunities prevail, May possibilities multiply.....💫

My best,
Rohan Moktali
IBG Corporate Member
Testimonial by our Member Chaitaly Mehta for her experience at IBG Dubai Delegation 2022

I am Chaitaly Mehta from EKF Global Logistics Pvt Ltd a relatively new member in IBG and definitely not very active. When I was informed about the delegation being taken by IBG for EXPO 2020 to Dubai I immediately agreed.

Initially a little apprehensive because I literally knew no one having limited interaction with anyone including IBG core team I decided to go ahead because meeting new people and forming relationships is part of my DNA. I am so glad that I went because my 1st international trip after Covid, the arrangements made by IBG, the meetings, EXPO and the overall level of comfort and care taken by IBG Vikash ji is a powerhouse and a very popular gentleman. His willingness and enthusiasm walking in the Sun for our meetings, his knowledge and reputation absolutely 👌🏻👌🏻.

Priya is a powerhouse and the key to IBG success. A CEO never being ruffled visibly inspite of issues impressed me tremendously. She is so approachable, involved and go getter. Siddhi is par excellence at whatever she does and whilst we would have some down time Siddhi was always in the job. Absolutely dedicated and a fantastic person.

Coming to the meetings I was impressed because everyone was expecting us courtesy all the hard work by Siddhi and the meetings were not faltu at all but each one has added more knowledge more possibilities and opportunities. Some may take time but I would like think we have broken the ground and now it is upto us individually to make what we make of it.

IBG in their part have fulfilled what they promised. Everyone was given opportunities and equal visibility which is most important. I would like to thank IBG for this fab trip and request every member in IBG to grab the opportunity the next time a trip is announced because you never know when and where you strike gold.

For the delegates even though it was only Khushnuma, Rohan, Sangeet and myself it was wonderful and I would like to think I have acquired new friends and possible collaborators.

A long testimonial but this needed to be said.
Testimonial by our member Khushnuma Khan for her experience at IBG Dubai Delegation 2022

It is said that whatever happens for the first time in your life leaves its reminiscence forever. So true… my first experience with IBG Dubai Expo Delegation has left so many memories to keep cherishing throughout. Every moment spent was an experience in itself. The meetings with the Commissioners was made so much special. Entries to the pavilion without queuing for hours.. Specific attention to each delegate member. The lunches the dinners, the tours the walks everything is just inexplicable. All this was only with the tireless efforts of Priya and Siddhi. Priya, she is the heart of the IBG and Siddhi… heartthrob… both of them were personally taking care of everything with smile, making the trip so much comfort. And of course, words would run short to describe the personality of Vikash Sir, he is crown of our IBG.. His presence kept vibrating the entire tour. He never got tired walking with us miles together at the pavilion, only to keep the tempo high of the delegation.. His presence added so much value to each and every professional meetings that we did at various pavilions with their respective High Commission or DMCC or Dubai Chamber of Commerce. Our delegation was greeted with so much honour and respect. My heartfelt gratitude to the IBG and its entire team… looking forward to more such happenings…
| | |
| --- | --- |
| | Member's Corner |



Dr. Nida Khateeb
Proprietor Dentokraftt Multispeciality Dental Clinic
drnidakhateeb1@gmail.com
www.drnidakhateeb.com


Profile:

Do everything in dentistry from basic / surgical /Implants/ pediatric and full mouth rehabilitation

Specialist in cosmetic dentistry...have done the smile makeovers for many past and reigning Miss India's
Separate operatories for patient privacy and comfort
Complete dental solutions including cosmetic surgeries, implants and orthodontic treatments under a single roof
Strict following of the international protocol for sterilization
Single sitting root canal treatments
Specialization in smile designing procedures




Mr. Anupam Ajay Shirodkar
Co-Founder - MechKonnect Industrial Solutions Pvt. Ltd.
anupam.shirodkar@mechkonnect.com
www.mechkonnect.com

Profile:

Started as a Trading Firm to serve Industries, we soon realized the need of our customers who faced problems for their customized parts to be manufactured. These parts were generally a part of a machine assembly that needed to be fixed or a part of a structure that needed to be replaced. Customers also found it difficult reaching out to appropriate vendors who would carry out their work, in the quickest lead time, thus wasting their time and efforts into these. These would further impact their production schedule and commitments.
MechKonnect was born out of these problems to cater Industry's needs and requirements. We have a developing network of vendors across services such as Fabrication, Machining, Casting, and 3D Printing. Within a short span, we have already catered to clients across domains such as Oil and Gas, Construction, Power just to name a few.

MechKonnect is currently working upon to digitize and ease this process where a customer would directly upload the design data and get its product manufactured in the shortest lead time. MechKonnect is a One Stop Solution for all the Industrial fabricated and processed parts. With technology at the center of our efforts, we facilitate access to high-quality machine parts and infrastructure to customers across the world.




Mr. Bharat Sarda
Founder & CEO - Bright District
bs@brightdistrict.com
www.brightdistrict.com

Profile:
Having experience in the lighting industry alone 13+ years, CFA in qualification, having total Experience of 18+ years in various industries from overhead transmission company, Stock Broking Company, Asset Management Company, Luxury lighting company.


He is a CEO & Co-founder of Brightdistrict, promising company since last 4+ years, honored to execute projects like Rue Du Liban which has featured in AD2018 and Gustoso which was listed in BRIT International Hospitality Award 2020 and continue to serve with repeated orders from its client in Real Estate, Hospitality, Shopping Malls, Luxury Hotels, High-end Modern Residences & Offices. *Brightdistrict* is a Leading lighting solution providing Company in India. Bright District is dedicated for complete Lighting Solution for the architectural Spaces like Home Interiors, Hospitality, Façade lighting, Landscape Lighting, Commercial office Lighting, Corporate Offices.

We believe in creating a never before ambience by lighting your space with best in quality & aesthetics. We at Bright District provide a complete guidance for our connoisseur customers. It is our objective to adorn your space with lights that will attract minds and attention.

It is not just a mere profession to us, this is our passion. We make an effort to interact with our clients and share knowledge to come up with complete solution on lighting. We ensure that we meet all the customer requirements for support. We have specialized team, who can provide installation guidance for your precious light and after sales services to enjoy worry free lighting Experience.




Mr. Mehul Patodia
CMO - Fab Cars
mehulp@fabcars.in
www.fabcars.in




Profile:

FABCARS Pvt. Ltd. is a leading Car Rental Provider in India and an approved transport operator with The Ministry of Tourism.
Established in 1980 as a family business, we have over 35 years of experience in car rental industry. We provide services in over 50 cities Pan India including all the metros.

We serve over 200 corporate entities across industries in India.

A wide fleet of well-maintained cars, a nationwide network, a team of dedicated professionals and an advanced technology solutions provider.




Mr. Sunil Singh
Director of Legal & Regulatory Affairs - CorpelServe India Pvt. Ltd.
sunil.singh@corpelserve.com
https://corpelserve.com/





Profile:

Sunil Singh is one of the Board Members of CorpelServe India Private Limited. A corporate lawyer by background, Sunil is a seasoned market entry consultant. He has been in the market entry domain since the year 2009 and has helped numerous foreign companies in setting up their business in India.

Sunil leads from the front and provides strategic leadership to the Company. As part of his roles, he defines the vision and operating framework for the Company. He is a master strategist and very good in establishing business partnerships and collaborations for the company.

As "Director – Legal & Regulatory Affairs" at CorpelServe, Sunil counsels and advises clients on wide range of Legal, Compliance, Regulatory and Policy matters. He has been working closely with key regulators in India and has nurtured strong connections in legal and regulatory fraternity. firm), Sunil slipped into his own legal practice and floated his own law firm along with Mr. Pankaj Hasija. Apart from his role in CorpelServe, Sunil holds key positions in Group's other ventures as below:

Managing Partner - LAW FORTE
Founder Consultant & Director at FuturAge




Mr. Nitin Parmar
Proprietor - Growthdriverz
nitinprmr4@gmail.com
https://www.growthdriverz.com/





Profile:

I am CA Nitin Parmar. I am the Founder of a new age management consulting company called Growthdriverz. I work with MSME and startup businesses. I help them increase their business profits and cashflows up to 50% by implementing proven financial systems and processes. This will help founders save from business failure and simultaneously build a Financially Fit Business.
Become an IBG member now!
TO BECOME AN IBG MEMBER AND ENJOY THE BENEFITS, CLICK ON
http://www.ibg.org.in/Link/IBG-Membership-Form.pdf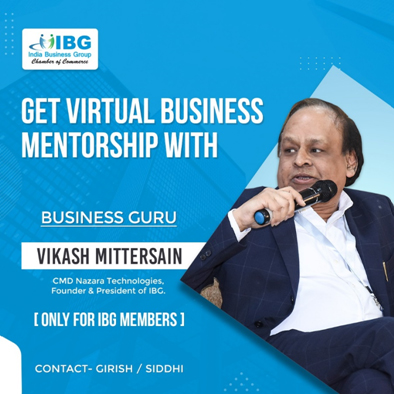 | | |
| --- | --- |
| | Updates |

Additional New Benefits on being IBG member:
Members get to present their array of work and business at our Networking event.
Members get to unveil their expertise and company credentials once in our IBG Newsletter which is released in the first week of every month and read over by 1 Lac Business People.
Get added on IBG Whatsapp Group and interact with other IBG paid members.
Get to be a part of only paid members event where you will get badges according to your industry sector which makes easier to identify specific needs.
IBG is connected and in collaboration with several consulates. Thus the trade inquiries which are floated from their country is been passed on to our paid members. Also IBG paid members get to be part of such meetings held in turns.

For regular updates please connect with us on Facebook, click on. Also kindly revert back to us with your mobile numbers so that we can message you with our event details prior. Like our IBG start ups group on Facebook to receive regular updates.
| | |
| --- | --- |
| | Sponsorship / Advertising |

In case you would like to advertise in this news letter at nominal rates please write to us at

priya@ibg.org.in

IBG IBG Newsletter goes to around 100000 people To view sponsorship & advertising details and rates

click here

Kindly let us know if you too would like to sponsor a lucky draw prize of your Brand / Company / Any services such as Airline Tickets, 2 Night Hotel Stay or any Product/Service related to your Company at this event as soon as possible so that we can advertise & promote your Company Logo linked to your website, in our mailers. Our mailers go out to 1 Lakh people.

| | |
| --- | --- |
| | We Welcome Your Views |

We welcome views of Members to make this news bulletin more useful to IBG Members in particular and businesses at large. Your interest in India Business Group (IBG) is highly appreciated.
| | |
| --- | --- |
| | Subscribe |

| | |
| --- | --- |
| | Updates |

For regular updates please connect with us on Facebook

click here

Also kindly revert back to us with your mobile numbers so that we can message you with our event details prior.

| | |
| --- | --- |
| | Contact Us |

India Business Group

51-57, Maker Chambers 3,

Nariman Point,

Mumbai - 400021, India

Phone:

+91 22 67471646

Fax:

+91 22 67473821

Email: ibg@ibg.org.in
IBG Team