| | | |
| --- | --- | --- |
| | | India's most widely read newsletter |
Networking
and Events
Members
Corner
Member Referral
Program
Write
To Us
Connect
With Us
| | |
| --- | --- |
| | From The President's Desk |
From the PRESIDENT'S DESK:

Hello Friends, Associates, and IBG Members,

IBG has emerged from Covid with all guns firing. Already 5 potboilers and external networking events have happened, each with minimum 125 members and others present. New initiatives have been planned and will be implanted in the coming times.

Membership is growing fast, word of mouth is spreading with every event. Many in office meetings of members are also taking place, one every week. Overall, there is euphoria in the air. Businesses are getting better, companies are again hiring, planning for growth to make up for the lost covid years. Many companies did go down, some collapsed.

A new dimension this year is the meetings with members of many Consuls of several countries. Even now we have a Consul panel planned on 25th May, where we have 3 Consuls (from New Zealand, Japan and Turkey) which will be moderated by our President Vikash Mittersain (who is Hon Consul of Mali himself)
Follow IBG on Social Media
| | |
| --- | --- |
| | IBG Awards of Excellence 2022 |
IBG Annual Awards Ceremony 2022 held at IMC Churchgate on Friday, 8th April 2022, 6 p.m

IBG's 4th edition of awards comprises - 8 categories like business excellence, government, consulate, start-up, entertainment, hospitality, social entrepreneur, healthcare & Pharma.

IBG AWARDS OF EXCELLENCE WINNERS

Consul General - H. E. Mr. Ali Tolga Kaya, Consulate General of the Rep. of Turkey
Honorary Consul - Dr. Lalit Chokhani, Honorary Consul of the Republic of Belarus Managing Partner - Chokhani Pharma
Social Entrepreneur - Ms. Neeti Goel, Successful Restaurateur, Co-Founder - 'Ghar Bhejo' Initiative
Healthcare & Pharma - Mr. Bipin Shah, Vice Chairman - Anuh Pharma
IBG AWARDS OF EXCELLENCE WINNERS - Members Category
Arts & Culture - Sanjukta Barik
Banking & Finance - Nischal Kapadia
Manufacturing & Retail - Sachin Bhand
Film, Media & Events - Yusuf Shaikh
IBG Startup - Nirav Mehta
Logistics & Infrastructure - Chaitaly Mehta
Real Estate - Sangeet Hemant Kumar
Legal - Gaurangi Patil
Travel & Tourism - Sachin Mehta
Healthcare & Pharma - Vineet Rastogi
Information Technology - Nirav Raval
GUESTS OF HONOR:
Dr. Lalit Kumar Kanodia - CMD of Datamatics
Mr. Bharat Dabholkar – Actor, Producer & Director
Mr. Ayaz Menon - Indian sports writer, journalist, columnist
Mr. Chiranjib Sarker - Deputy High Commissioner, Bangladesh Deputy High Commission
Mr. Satinder S. Ahuja - Honorary Consul, Consulate of Georgia
Mr. Premal Lokhandwala - Honorary Consul, Consulate General of the Rep. of Ghana
| | |
| --- | --- |
| | IBG Members Meeting with Consul General of Germany |
Meeting with Consul General of Germany H. E. Dr. Jüergen Morhard at IBG Office held on 5th April. He addressed IBG Members focusing on sectors like infrastructure, healthcare, education, etc. He encouraged members to explore German Trade Shows & trade fairs to showcase their products and services.
IBG Members Meeting with Consul General of Royal Norwegian held on 29th Mar at IBG Office.
IBGs initiative with Consul General of Royal Norwegian H.E. Mr. Arn Jan Flolo along with the Advisor of Economic Affairs Mr. Rahul Maheshwari and Mr. Naynesh Sukhtankar.
Highlights of the meeting were strategic data collaboration between India and Norway in the fields of Energy, Oil & Gas, Smart technology, Maritime, Electric Vehicles mobility & Scalability beyond the health sector.
The session was very well received by the members who attended. There are around 120 Norwegian companies present in India. Also, the NICCI chamber which is based in Oslo is very active and has many Indian companies as their members.
IBG Members Meeting with Consul General of Hungary held on 25th Mar at IBG Office.
IBG coordinated the Business meeting with Mr. Mike Pal, Commercial Attache Hungary Consulate and its Members. He shared his insights on Exports & Imports between India and Hungary. He also focused on sectors like Technology, Electronic Vehicles, Pharmaceutical, etc
Interactive Meeting with Cabinet Minister of Food & Civil Supply Mr. Chhagan Bhujbal at his residence.
Mr. Bhujbal shared his valuable insights about consumer affairs & discussed various opportunities with IBG Members.
Virtual B2B Meeting with Uganda Chamber of Commerce held on 31st March
Virtual speaker session with Principal Commercial Officer of USA
Virtual speaker session with IBG Members focusing on US exports of goods and services in India and to promote job-creating Greenfield investments in the United States.
IBG Members Meeting with Ghana High Commissioner
IBG Welcomed the High Commissioner of the Republic of Ghana H.E. Kwaku Asomah-Cheremeh, Mr. Ernest Nana Adjei - Minister-Counsellor, Political & Economic & Mr. Eric Amoako Missah - First Secretary / Consular, Mr. Premal Lokhandwala & Mrs. Maushmi Lokhandwala - Hon. Consulate of the Republic of Ghana at IBG Office.
Mr. Vikash Mittersain - Founder of IBG taking about the real estate industry.
| | |
| --- | --- |
| | Member's Corner |



Dr. Nida Khateeb
Proprietor Dentokraftt Multispeciality Dental Clinic
drnidakhateeb1@gmail.com
www.drnidakhateeb.com


Profile:

Do everything in dentistry from basic / surgical /Implants/ pediatric and full mouth rehabilitation

Specialist in cosmetic dentistry...have done the smile makeovers for many past and reigning Miss India's
Separate operatories for patient privacy and comfort
Complete dental solutions including cosmetic surgeries, implants and orthodontic treatments under a single roof
Strict following of the international protocol for sterilization
Single sitting root canal treatments
Specialization in smile designing procedures




Ms. Darshana Desai
Business Developer - T.A.J. Enterprises
tajent.dd@gmail.com

Profile:

We are glad to introduce our company T.A.J. Enterprises, that has been in the business of Interior's since past more than 10 years. We have established ourselves with excellent track record for best client satisfaction. Our various range of Interior and related services include:

1) Interior Designing.
2) Design & Built solutions.
3) Interior Turnkey works.
4) Interior Contracting.

5) Interior Project management consultation.
6) Modular furniture.

Our firm includes team of specialized, skilled & experienced Designers, 3D visualizer's, Site Engineers, Project managers, Project coordinators, Site supervisors, who are extremely dedicated to deliver their best. The office also sits other departments like Estimators, Purchase team and Admin. Besides our various Associates from diverse fields and Sub-contractors we have our own in-house team of workers on company payroll to give regular and timely services to our esteemed clients. Design is our strength, quality is something we never compromise on and we adhere time. We believe in client satisfaction and hence for all these years retained our clients. Our passion of doing something novel and striking has always kept us one step ahead of our competitors. T.A.J. has a lot to offer, we are akin to meet you in personal and explain our business and services better, that we can offer you to suite you. Kindly provide us with a convenient date and time to meet.




Mr. Bharat Sarda
Founder & CEO - Bright District
bs@brightdistrict.com
www.brightdistrict.com

Profile:
Having experience in the lighting industry alone 13+ years, CFA in qualification, having total Experience of 18+ years in various industries from overhead transmission company, Stock Broking Company, Asset Management Company, Luxury lighting company.


He is a CEO & Co-founder of Brightdistrict, promising company since last 4+ years, honored to execute projects like Rue Du Liban which has featured in AD2018 and Gustoso which was listed in BRIT International Hospitality Award 2020 and continue to serve with repeated orders from its client in Real Estate, Hospitality, Shopping Malls, Luxury Hotels, High-end Modern Residences & Offices. *Brightdistrict* is a Leading lighting solution providing Company in India. Bright District is dedicated for complete Lighting Solution for the architectural Spaces like Home Interiors, Hospitality, Façade lighting, Landscape Lighting, Commercial office Lighting, Corporate Offices.

We believe in creating a never before ambience by lighting your space with best in quality & aesthetics. We at Bright District provide a complete guidance for our connoisseur customers. It is our objective to adorn your space with lights that will attract minds and attention.

It is not just a mere profession to us, this is our passion. We make an effort to interact with our clients and share knowledge to come up with complete solution on lighting. We ensure that we meet all the customer requirements for support. We have specialized team, who can provide installation guidance for your precious light and after sales services to enjoy worry free lighting Experience.




Mr. Mehul Patodia
CMO - Fab Cars
mehulp@fabcars.in
www.fabcars.in




Profile:

FABCARS Pvt. Ltd. is a leading Car Rental Provider in India and an approved transport operator with The Ministry of Tourism.
Established in 1980 as a family business, we have over 35 years of experience in car rental industry. We provide services in over 50 cities Pan India including all the metros.

We serve over 200 corporate entities across industries in India.

A wide fleet of well-maintained cars, a nationwide network, a team of dedicated professionals and an advanced technology solutions provider.




Mr. Sunil Singh
Director of Legal & Regulatory Affairs - CorpelServe India Pvt. Ltd.
sunil.singh@corpelserve.com
https://corpelserve.com/





Profile:

Sunil Singh is one of the Board Members of CorpelServe India Private Limited. A corporate lawyer by background, Sunil is a seasoned market entry consultant. He has been in the market entry domain since the year 2009 and has helped numerous foreign companies in setting up their business in India.

Sunil leads from the front and provides strategic leadership to the Company. As part of his roles, he defines the vision and operating framework for the Company. He is a master strategist and very good in establishing business partnerships and collaborations for the company.

As "Director – Legal & Regulatory Affairs" at CorpelServe, Sunil counsels and advises clients on wide range of Legal, Compliance, Regulatory and Policy matters. He has been working closely with key regulators in India and has nurtured strong connections in legal and regulatory fraternity. firm), Sunil slipped into his own legal practice and floated his own law firm along with Mr. Pankaj Hasija. Apart from his role in CorpelServe, Sunil holds key positions in Group's other ventures as below:

Managing Partner - LAW FORTE
Founder Consultant & Director at FuturAge




Mr. Nitin Parmar
Proprietor - Growthdriverz
nitinprmr4@gmail.com
https://www.growthdriverz.com/





Profile:

I am CA Nitin Parmar. I am the Founder of a new age management consulting company called Growthdriverz. I work with MSME and startup businesses. I help them increase their business profits and cashflows up to 50% by implementing proven financial systems and processes. This will help founders save from business failure and simultaneously build a Financially Fit Business.
Become an IBG member now!
TO BECOME AN IBG MEMBER AND ENJOY THE BENEFITS, CLICK ON
http://www.ibg.org.in/Link/IBG-Membership-Form.pdf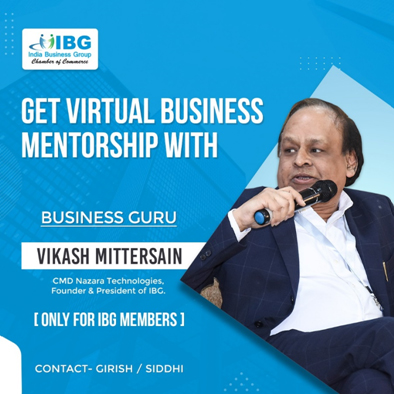 | | |
| --- | --- |
| | Updates |

Additional New Benefits on being IBG member:
Members get to present their array of work and business at our Networking event.
Members get to unveil their expertise and company credentials once in our IBG Newsletter which is released in the first week of every month and read over by 1 Lac Business People.
Get added on IBG Whatsapp Group and interact with other IBG paid members.
Get to be a part of only paid members event where you will get badges according to your industry sector which makes easier to identify specific needs.
IBG is connected and in collaboration with several consulates. Thus the trade inquiries which are floated from their country is been passed on to our paid members. Also IBG paid members get to be part of such meetings held in turns.

For regular updates please connect with us on Facebook, click on. Also kindly revert back to us with your mobile numbers so that we can message you with our event details prior. Like our IBG start ups group on Facebook to receive regular updates.
| | |
| --- | --- |
| | Sponsorship / Advertising |

In case you would like to advertise in this news letter at nominal rates please write to us at

priya@ibg.org.in

IBG IBG Newsletter goes to around 100000 people To view sponsorship & advertising details and rates

click here

Kindly let us know if you too would like to sponsor a lucky draw prize of your Brand / Company / Any services such as Airline Tickets, 2 Night Hotel Stay or any Product/Service related to your Company at this event as soon as possible so that we can advertise & promote your Company Logo linked to your website, in our mailers. Our mailers go out to 1 Lakh people.

| | |
| --- | --- |
| | We Welcome Your Views |

We welcome views of Members to make this news bulletin more useful to IBG Members in particular and businesses at large. Your interest in India Business Group (IBG) is highly appreciated.
| | |
| --- | --- |
| | Subscribe |

| | |
| --- | --- |
| | Updates |

For regular updates please connect with us on Facebook

click here

Also kindly revert back to us with your mobile numbers so that we can message you with our event details prior.

| | |
| --- | --- |
| | Contact Us |

India Business Group

51-57, Maker Chambers 3,

Nariman Point,

Mumbai - 400021, India

Phone:

+91 22 67471646

Fax:

+91 22 67473821

Email: ibg@ibg.org.in
IBG Team