| | | |
| --- | --- | --- |
| | | India's most widely read newsletter |
Networking
and Events
Members
Corner
Member Referral
Program
Write
To Us
Connect
With Us
| | |
| --- | --- |
| | From The President's Desk |
From the PRESIDENT'S DESK:

Hello Friends, Associates, and IBG Members,

Covid seems to have left us. While we do not yet have to celebrate, we can be happy to that extent that not many are falling prey to this terrible disease which recurred to humanity.

Besides loss of lives, there has been a great fallout for businesses, loss of jobs and livelihood, even to the extent of people going without food. This will have all round deterioration in World economies, and take years to become normal as we knew it. Contradictively, stock markets soared to new heights, giving a false sense of economic well-being. The reason for this was pumping of unprecedented amounts of cash into system by governments. USA led this feature by many billions of Dollars into their system, including giving $10,000 per person. India also pushed money directly into people's accounts, got banks to give huge loans for the asking, stopped bank recovery, rescheduled loans for the asking etc.
Most countries did their bit for their people. A huge amount of Government debt is built up, which will take years to normalise. Inflation in many countries, including India has soared to the 15% range, an unimagined scale.

Now that covid seems within control, governments are trying to pedal back, causing pain all round. The hot air built up in the system is escaping. Artificial sense of well-being is deflating. Already the real situation of the economy is becoming transparent to all. I get request for money nearly every day, even as low as Rs. 2000/-. Shows the suffering of people. It is expected a major recession is expected in 2023. Reality will set in. Further millions will lose their jobs, as companies tighten their belts to survive.

The government should not do a force landing; it should manage a soft landing. Slowly ease money supply, reschedule existing loans and ease personal loan repayments. We can be looking at a 1945 type of world recession if not managed.

Let's us all be very careful how we handle our personal finances.

Having said all this, let us just hope we all pass this post covid era. All the best.
Follow IBG on Social Media
| | |
| --- | --- |
| | IBG International Convention 2022 |
IBG's Biggest Event - IBG international Convention at Someplace Else BKC
IBG International Convention held yesterday at Someplace Else, Mumbai was a grand success. This discussion will prove useful for Investors, Founders and Entrepreneurs who are willing to grow their business globally and explore trade opportunities with other countries.
As the most seasoned panellists discussed business opportunities between India & the global world, business owners gained useful business insights.
We thank our speakers:
1. H. E Mr. Ali Tolga Kaya
Consul General - Consulate General of the Republic of Turkey
2. H. E Mr. Ralph Hays
Consul General - Consulate General of New Zealand
3. H. E Dr. Yasukata Fukahori
Consul General - Consulate General of Japan
4. Mr. Tollah Ubaidi - Economic Consul of the Republic of Indonesia, Mumbai
IBG Members Meeting with Deputy Consul of Brazil
IBG Members had an Interactive Session with the Deputy Consul of Brazil Mr. Rui Santos Rocha Camargo. He focused on how Brazil and India could enrich each other's efforts towards environmentally sustainable economic development.

Mr. Santos briefed on strategic sectors of the Brazilian economy like Energy, Hydroelectricity, Oil & Gas, Mining, Tourism, etc..
President Vikash & CEO Priya offered deepest condolences to the Late President of UAE His Highness Sheikh Khalifa Bin Zayed Al Nahyan with H.E. Mr. Abdulla Husein Almarzooqi at UAE Consulate.
Vikash Sir and our CEO Priya with Mr. Arne Jan Flølo, CG of Royal Norwegian for Norway's Constitution Day at Taj lands end
Mr. Vikash Mittersain - Founder of IBG taking about the real estate industry.
| | |
| --- | --- |
| | Member's Corner |



Mr. Alok Tibrewala
Director - Beyondnmore Designs Private Limited
Alok@beyondnmore.com
www.beyondnmore.com


Profile:

Personal Background:
38 years' experience in sales, marketing & operations, of which over 20 years as Global or National Head with companies like Aditya Birla Group, Reliance, Vip Ind, Greenlam Etc. Have managed SME to large companies with turnovers exceeding 1000 cr and team sizes of 400+
Current: Beyond&More,
We curate Luxury furniture from Europe & USA for living and working spaces. We work closely with Interior Designers, Architects, HNI & Corporate clients and offer end to end services I.e. recommend, supply and install.
We have our showroom and Office at Prabhadevi, Mumbai. We have been involved with projects for famous and well known HNI Houses and Offices.
Some of our curation & Profile
Living spaces:
Click Here
Working Spaces:
Click Here




Mr. Ketan Shah
Partner at Niks Services
ketan@niks.co.in
www.mysmartsystems.in

Profile:

Ketan Shah – 4th Generation into business and has carved a niche by providing Products & solutions to Multinationals & Corporates in India. Being Associated with Companies like Nestle, Parle, Viraat, and many more we ensure our clients get the best of products & Services.


Niks – Solution providers for Digitalised & Automated Workplace & Homes Company Profile

VAMS – Visitor Authentication & Management Solutions Our solution promotes safety, Security & efficiency – with over 1000 clients VAMS is the world's largest Platform for Digitalised Visitor Authentication & Management entry

Visitor Management Solutions (VMS) that can authenticate the genuineness of each person that walks into your office is the need of the hour and also a requirement for ISO certification.

Providing historical data of all the visitors at a click of a button, and a host of other Value-added benefits helps ADMIN & HR effectively manage the resources.

Automation Solutions for Homes

Niks converts Homes into Smart homes in just 1 day's time without any rewiring or renovation – our automation solutions are bespoke and designed around clients' lifestyles & Budget requirements.
Thanking you,
Ketan Shah
www.mysmartsystems.in




Ms. Unnati Manikeri
Brand Owner at Mumbai Memoirs Luxury Tours
mumbaimemoirs@gmail.com

Profile:
People love Travel, Culture, Food, Fun and making New Friends. Travel develops you in So many different ways.

So this is where Mumbai Memoirs comes in. With a passion for Travel and Experience of over 20 years in the Travel Industry, *Unnati Manikeri* brings *Mumbai Memoirs Luxury Tours.*

We specialize in Women Only Tours, Honeymoon tours, Family Groups
TRAVEL – CORPORATE AND LEISURE





Ms. Manjula Bangera
Founder at The Grand Gifts
thegrandgifts@gmail.com
The Mumbai spice co.
themumbaispicecompany@gmail.com




Profile:

The Grand Gifts was established in the year 2016 with a mission of Make in India. We provide services to our esteemed clients including five star hotels, pubs and corporates. We customize various products as per customers' requirements. Best quality is our first priority. Always happy customers. Beautiful Indian artwork on clay, wood, wax and metal.


Pandemic took a toll in our business as our clients mostly included hospitality group. However, in 2020 it was decided to get the best of spices from India and export by the name "The Mumbai spice co. The mission is "Healthy India, Healthy world". Again here the best quality is our first priority making it available around the world.

*About our company*:
Best quality Indian spices are assorted and packed as per requirements Spices are available in whole form as well as in powdered form.

PRODUCTS
Varieties of red chillies, cardamom, dry ginger, pepper.
Curry powders - Perfect blend of spices, Roasted, Hand pounded, Premium, Regular
All kinds of premium spices
All kinds of premium dry fruits - Packed to perfection
"Best quality is our first priority"




Mr. Gajendra Kothari
MD & CEO at Etica Wealth Pvt. Ltd.
gajendra.kothari@eticawealth.com
www.eticawealth.com





Profile:

Mr. Kothari is a Chartered Financial Analyst (CFA) Charter holder. He has also successfully completed Chartered Alternative Investment Analyst (CAIA) & International Certificate in Financial Advice (ICFA), UK London.

He has also done Masters in Business Administration (MBA) in Marketing & Finance from International Management Institute, New Delhi.

Mr. Kothari has more than 17 years of experience encompassing both Indian & overseas capital markets. He is leading Etica Wealth since 2011. His typical day at work involves overseeing the strategy of the firm, meeting the firm's esteemed clients & managing their personal finance portfolios.

About Etica Wealth (P) Ltd:
Etica Wealth was incorporated in 2009 based on T Rowe Price's principle "What is good for the client is also good for the firm". The word 'Etica' comes from Spanish / Portuguese language, which means Ethics and it is our constant endeavor to abide by our tagline "Ethics before Everything" that echoes our DNA. We would invest your money where we have put our own hard earned money. In other words, "The owner of this restaurant also eats here". All we look for is how many happy clients are we serving.

In nutshell, we pride ourselves only on two hallmarks: 1. Honest Advice 2. Quality Service Currently Etica Wealth manages around Rs 1200 crs of around 500 families across MFs and PMS schemes. The firm has a strong 30 members+ team based out of offices in Mumbai, New Delhi, Kolkata and Assam.




Ms. Heena Bhatt
Founder & Proprietor at Yugen Consulting
heena@yugenconsulting.in
https://www.yugenconsulting.in/
9527538700





Profile:

Enthusiastic, free-spirited, a crossfitter, and a pet parent are how Heena chooses to describe herself. With over 15 years of hardcore marketing experience in FMCG, E-Commerce, Fashion, and Lifestyle,
Heena has worked with brands like Lindt Chocolates, Welspun, Shaadi.com amongst others. For her every day is a new opportunity and that's her biggest driving factor in everything she does. With the changing face of the economy and the burgeoning startup sector, she saw a need gap in the market and decided to move away from her corporate stint to consult with startups for their marketing needs. In eight years, she created award-winning campaigns for her brands across platforms both online and offline. Her success stories have ranged from unique community initiatives on Facebook, strategic alliances with Uber India and have also been featured by Google for their SME businesses.

Driven to achieve and a goal-digger at heart, Heena is passionate about and committed to high performance and delivering results.

As a digital marketing service provider, the integrated team in tech, creative and marketing at Yugen offers a comprehensive solution to help you make your mark by bringing your business online. Across industries from Personal Care, Nutraceuticals, Home decor, Education, Retail, Fashion & Lifestyle to name a few

We drive the right audience to your website, Social Media, Application and third-party e-commerce applications while ensuring that you stand out from the crowd. We aim to fill a dire need gap by being a cost-effective marketing partner for start-ups and SMEs having limited marketing resources.
Become an IBG member now!
TO BECOME AN IBG MEMBER AND ENJOY THE BENEFITS, CLICK ON
http://www.ibg.org.in/Link/IBG-Membership-Form.pdf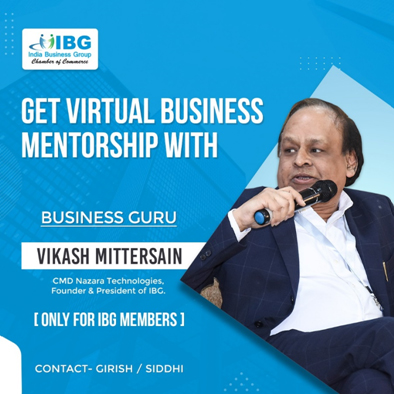 | | |
| --- | --- |
| | Updates |

Additional New Benefits on being IBG member:
Members get to present their array of work and business at our Networking event.
Members get to unveil their expertise and company credentials once in our IBG Newsletter which is released in the first week of every month and read over by 1 Lac Business People.
Get added on IBG Whatsapp Group and interact with other IBG paid members.
Get to be a part of only paid members event where you will get badges according to your industry sector which makes easier to identify specific needs.
IBG is connected and in collaboration with several consulates. Thus the trade inquiries which are floated from their country is been passed on to our paid members. Also IBG paid members get to be part of such meetings held in turns.

For regular updates please connect with us on Facebook, click on. Also kindly revert back to us with your mobile numbers so that we can message you with our event details prior. Like our IBG start ups group on Facebook to receive regular updates.
| | |
| --- | --- |
| | Sponsorship / Advertising |

In case you would like to advertise in this news letter at nominal rates please write to us at

priya@ibg.org.in

IBG IBG Newsletter goes to around 100000 people To view sponsorship & advertising details and rates

click here

Kindly let us know if you too would like to sponsor a lucky draw prize of your Brand / Company / Any services such as Airline Tickets, 2 Night Hotel Stay or any Product/Service related to your Company at this event as soon as possible so that we can advertise & promote your Company Logo linked to your website, in our mailers. Our mailers go out to 1 Lakh people.

| | |
| --- | --- |
| | We Welcome Your Views |

We welcome views of Members to make this news bulletin more useful to IBG Members in particular and businesses at large. Your interest in India Business Group (IBG) is highly appreciated.
| | |
| --- | --- |
| | Subscribe |

| | |
| --- | --- |
| | Updates |

For regular updates please connect with us on Facebook

click here

Also kindly revert back to us with your mobile numbers so that we can message you with our event details prior.

| | |
| --- | --- |
| | Contact Us |

India Business Group

51-57, Maker Chambers 3,

Nariman Point,

Mumbai - 400021, India

Phone:

+91 22 67471646

Fax:

+91 22 67473821

Email: ibg@ibg.org.in
IBG Team