| | | |
| --- | --- | --- |
| | | India's most widely read newsletter |
Networking
and Events
Members
Corner
Member Referral
Program
Write
To Us
Connect
With Us
| | |
| --- | --- |
| | From The President's Desk |
From the PRESIDENT'S DESK:

Hello Friends, Associates, and IBG Members,

We have a great event coming up on 24th August, 6.30pm at -Someplace Else BKC. We have 5 Consuls from great countries coming to speak on their countries and business possibilities. List below Get to know them first hand as they will be around after the panel discussions are over.

1 H.E. Mr. Peter Truswell, Australian Consul General

2) H. E. Mr. Kobbi Shoshani, Israel Consul General

3) H. E. Mr. Damian Irzyk, Poland Consul General

4) H.E. Ms. Alison Reilly Ireland Deputy Consul General,

5) H.E. Mr Zacchaeus Lim Singapore - Vice Consul,

IBG regularly hosts such panels and visitors to bring members into direct contact with the Consular Expats, something most members cannot meet easily. Last few such meetings are given below with few pics and names.
These are important days that all members must try to come. Its beyond networking. Its a mix, learning, meeting the top Consuls, networking, and being around them
Follow IBG on Social Media
| | |
| --- | --- |
| | IBG Potboiler Networking Event July 2022 |
IBG Potboiler is pushing the boundaries in the world of networking. Enjoy to the fullest as you connect with some of the most influential Businessmen of the country. Our IBG members connected with some of the biggest business tycoons of India at the IBG Potboiler.
IBG Members Meeting with High Commissioner & Consul General of South Africa
A big leap in developing new relations between IBG & Consulate General of the Republic of South Africa. High Commissioner of South Africa H.E Mr. J S Ndebele and H.E. Ms. Andrea Kuhn Consul General was warmly welcomed by IBG President Mr. Vikash Mittersain & CEO Priya Pansare.

IBG organized an interactive meeting for its members to explore opportunities for expanding trade, investment, and tourism between South Africa and the western region of India.

High Commissioner focused on prominent sectors like healthcare, tourism, education, textile, medical tourism etc. Economic Consul Mr. Dean Hoff addressed every member's query individually giving information about their respective sectors.
IBG Members Meeting with Consul General of IRAN
IBG organized an interactive session between IBG members and the Consulate General of IRAN in Mumbai - H.E. Mr. Abolfazl M. Alikhani, Consul General and Mr Seyed Mohammad Miraei, Commercial officer. They were warmly welcomed by IBG President Mr. Vikash Mittersain and CEO Priya Pansare.

India and Iran have had strong trade ties for many many centuries. These ties have influenced our cultures and our economies. A major focus of Consul General was on identifying and tapping latent industries that are poised to grow exponentially in the coming decade. He focused on some priority sectors like Space Technology, Education, Agri-business, Resources, Tourism, Energy, Health, Financial Services, Science and innovation, Infrastructure etc.
IBG Members Meeting with Consul General of Spain


IBG regularly seeks different opportunities for their IBG members to help them grow their business and expand their global network.

IBG President Vikash Mittersain and CEO Priya Pansare warmly welcomed H.E Mr. Fernando Heredia Noguer, Consul General of Spain. The event focused on chamber members identifying opportunities in commodity trading, multisector investment and tourism between Spain and the western region of India.
High Tea Meeting with Ambassador of the Republic of Indonesia at Taj Colaba


IBG Founder President, Mr. Vikash Mittersain, IBG CEO Priya Pansare and other IBG Members were invited to a High Tea organized by the Hon. Ambassador of the Republic of Indonesia H.E. Ms. Ina Hagniningtyas Krisnamurthi at the Taj Mahal Palace, Colaba.

Our Founder President Mr. Vikash Mittersain addressed the August gathering and was felicitated by the Hon. Ambassador for his contributions to Industry, Enterprise and Civil Society across the World.
Meeting with First Secretary Political, the Australian High Commission


IBG organized an Internal Meeting with delegates from the Australian High Commission - Mr. Paroksh Prasad First Secretary Political, and Mr. Allan Poon, First Secretary Economic. In this meeting, they had an extensive discussion on Political and economic policies at the macro level.
Mr. Vikash Mittersain - Founder of IBG taking about the real estate industry.
| | |
| --- | --- |
| | Member's Corner |



Mr. Bhavishya Gupta
Managing Director at Sensation Infracon Private Limited
bhavishya@sensationgroup.in


Profile:

I am founder of a company which is one of the largest developer of serviced hostels & co living in India - Sensation...with 50000 Beds taking shape in the next 3 years in Hyderabad, Bengaluru & Chennai, it is also one of the largest developer of Family Entertainment Centres in the country, we are developing over 15 such FECs ranging between 150000 Sft to 300000 Sft
in emerging micro markets of Bengaluru, Chennai & Hyderabad and in Progressive Districts of Telangana, Tamil Nadu & Andhra Pradesh, where the anchor tenant is Multiplex, followed by Foodcourts in next lower level, followed by Gaming Zones, Virtual Reality Zones, Fine Dining, Bars, Spas & Saloons. Thus developing a one stop destination for fun & frolic for the high spending & outgoing Indian crowd.
One such project of ours is in Narsingi, Gachibowli, Hyderabad called Sensation Fortune Bhoomika, opening doors this January 2023... We offer Rental Returns on Completion & by default our investors get very high Capital Value Appreciation.. We have launched the Tallest Branded Serviced Suites Skyscraper In The World In The Heart of Financial District, Hyderabad - Hyderabad One.. Operated By Oakwood..
https://www.oakwood.com/news/oakwood-and-sensation-group-announce-strategic-partnership-to-innovate-residential-lifestyle-in-india




Ms. Namrata Palaniswamy
Junior Associate at ZMC Law, Advocates & Solicitors
namrata@zmclaw.in
www.zmclaw.in

Profile:

Ms. Namrata Palaniswamy is a practicing lawyer and is a Junior Associate at ZMC Law, Advocates & Solicitors. She graduated from V.E.S. College of Law in 2021. She is currently pursuing her Masters in Law (Corporate & Commercial Law) from Amity University, Mumbai.

Prior to joining ZMC Law, she has worked as an intern with reputed law firms. She maintains a diverse corporate practice which takes into its fold general corporate, real estate and conveyancing.

Women empowerment and animal welfare are causes closest to her heart.




Ms. Neha Jangid
Founder at Neha Jangid (self is a brand)
njangid29@gmail.com

Profile:
I have always been into studies and loved reading books. I believe reading helps your mind to analyze better way. Since childhood I was always fascinated by stars, moon, rashi and knowing more about future etc.

I have been rebellious since childhood too but for better. Where the society labels you, as a young girl and later as a woman, I tried connecting with a logic always. I believe nothing is impossible unless you fear it. Fear is something I try to overcome as quickly as possible.

A woman should always know her limits No i don't believe that…..instead A Woman should know how to cross her limits.
Myself Neha Jangid, a Proud Tarot reader, Numerologist, vastu consultant and list is still continuing. Being a clairvoyant, dreaming and visualizing was never an obstacle in fact it helped a lot in growing.

My burning desire is to influence as many life's as possible positively. Talking about my contribution I have successfully influenced almost 81 lives for better. Soon will accomplish goal of 100 lives with better vision this year.

Currently I am dealing with people of corporates, real estate, career counsellors and financial advisors. Tag line that i believe in is "Honesty lies in transparency" You can also connect on my Instagram profile https://www.instagram.com/nehajangidofficial07






Mr. Pankaj Hasija
Director of Foreign Investments and Corporate Affairs
CorpelServe India Pvt. Ltd.
pankaj.hasija@corpelserve.com
https://corpelserve.com/




Profile:

Pankaj Hasija is a company secretary turned lawyer. He is one of the Board Members of CorpelServe India Private Limited. Pankaj is an astute corporate professional. He has been in the market entry
business since the year 2009 and has helped many foreign companies in incorporating their subsidiaries in India.

Pankaj is an avid reader and great researcher. As a subtle campaigner, he provides strategic leadership to the Company. He is the backbone of company's thinktank and plays vital role in articulating the vision and operating framework for the Company.

Pankaj had a key role in creating an eco-system of world class in-house legal, compliance and corporate governance capabilities and building, institutionalizing and driving compliance awareness and culture in the company.

As "Director – Foreign Investment & Corporate Affairs" at CorpelServe, Pankaj is part of core advisory team responsible for entire gamut of Corporate affairs, Compliance, Regulatory and Policy matters.

Managing Partner - LAW FORTE
Founder Consultant & Director at FuturAge




Mr. Paresh Shah
Director at BRAINTONE Technology Pvt. Ltd.
paresh@braintoneindia.com





Profile:

Braintone Technology Pvt Ltd was established in 1998 with a vision to provide an IT sales & Services company with experienced IT consultants who can offer valuable business solutions.

Braintone Technology Pvt Ltd are among the major players in Distribution of IT Products in Mumbai. Our committed teams have a unique blend of functional & operational knowledge, technical expertise and result-oriented management experience ranging from Sales & Services of end-to-end IT Implementation projects.



Braintone always tries to create great value and productivity gains for the clients by providing quality solutions to various business functions. We bring good experience in information technology, customer service, with our strategic thinking with the best in Technology, People, and Process.

With a perfect blend of young and experienced IT professionals, the team has a dual edged advantage of being both dynamic and stable. Both these advantages assure that our organization is dynamic enough to adapt itself to the fast-changing world of Information Technology and is always in a position to provide cutting edge solutions Our Strength: We currently have a team of 40+ Colleagues & 3 Stores Across Mumbai.

Our products/services: IT products Sales & Services / Distribution for HP, Dell, Lenovo & ASUS Laptops / Laptops Service Centres across Mumbai.

Our clients: We have a database beyond 75000 satisfied clients, some of few esteemed clients are mentioned below.
• Oman India Joint Investment Fund.
• Narsee Monjee Institute of Management Studies (NMIMS)
• Khadi Gramodyog Bhavan.
• Fit-Right Storage Systems.
• Indian Oil Corporation
• R.B Jewels & Gold LLP.
• Hiranandani Group of Companies

Sir to have a brief view on our Company profile please find our Website link as mentioned below. www.braintoneindia.com

Our experience in the service industry has taught us how to both reach and exceed customer expectations and provide service that they can count on. We as a company are focused and we are always willing to go beyond the minimum expectations to make sure we serve customer needs.
Become an IBG member now!
TO BECOME AN IBG MEMBER AND ENJOY THE BENEFITS, CLICK ON
http://www.ibg.org.in/Link/IBG-Membership-Form.pdf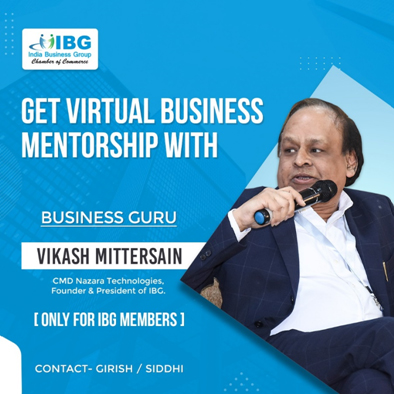 | | |
| --- | --- |
| | Updates |

Additional New Benefits on being IBG member:
Members get to present their array of work and business at our Networking event.
Members get to unveil their expertise and company credentials once in our IBG Newsletter which is released in the first week of every month and read over by 1 Lac Business People.
Get added on IBG Whatsapp Group and interact with other IBG paid members.
Get to be a part of only paid members event where you will get badges according to your industry sector which makes easier to identify specific needs.
IBG is connected and in collaboration with several consulates. Thus the trade inquiries which are floated from their country is been passed on to our paid members. Also IBG paid members get to be part of such meetings held in turns.

For regular updates please connect with us on Facebook, click on. Also kindly revert back to us with your mobile numbers so that we can message you with our event details prior. Like our IBG start ups group on Facebook to receive regular updates.
| | |
| --- | --- |
| | Sponsorship / Advertising |

In case you would like to advertise in this news letter at nominal rates please write to us at

priya@ibg.org.in

IBG IBG Newsletter goes to around 100000 people To view sponsorship & advertising details and rates

click here

Kindly let us know if you too would like to sponsor a lucky draw prize of your Brand / Company / Any services such as Airline Tickets, 2 Night Hotel Stay or any Product/Service related to your Company at this event as soon as possible so that we can advertise & promote your Company Logo linked to your website, in our mailers. Our mailers go out to 1 Lakh people.

| | |
| --- | --- |
| | We Welcome Your Views |

We welcome views of Members to make this news bulletin more useful to IBG Members in particular and businesses at large. Your interest in India Business Group (IBG) is highly appreciated.
| | |
| --- | --- |
| | Subscribe |

| | |
| --- | --- |
| | Updates |

For regular updates please connect with us on Facebook

click here

Also kindly revert back to us with your mobile numbers so that we can message you with our event details prior.

| | |
| --- | --- |
| | Contact Us |

India Business Group

51-57, Maker Chambers 3,

Nariman Point,

Mumbai - 400021, India

Phone:

+91 22 67471646

Fax:

+91 22 67473821

Email: ibg@ibg.org.in
IBG Team