| | | |
| --- | --- | --- |
| | | India's most widely read newsletter |
Networking
and Events
Members
Corner
Member Referral
Program
Write
To Us
Connect
With Us
Follow IBG on Social Media
| | |
| --- | --- |
| | Glimpses of IBG Events |
IBG International Convention August 2022
The IBG International Convention held at Someplace Else was a grand success. This discussion with diplomats will prove useful for Investors, Founders and Entrepreneurs who are willing to grow their business globally and explore trade opportunities with other countries.
Our speakers:
1. H. E. Mr. Kobbi Shoshani Consul General Consulate General of Israel
2. H.E. Mr. Peter Truswell, Consul General Consulate General of Australia
3. H. E. Mr. Damian Irzyk Consul General Consulate General of Poland
4. H. E. Ms. Alison Reilly, Deputy Consul General of Ireland.
| | |
| --- | --- |
| | IBG Members MEET |
IBG gives its best, to get the best. We always aim for the best business opportunities for our members.

In an interactive IBG Members Meet held today, over 50 members were present at the IBG office. Many business referrals and business collaborations were proposed in the industries of Hospitality, Architecture, Construction, Media, Infrastructure, Advertising, Real Estate, Travel, Tourism, and Finance sectors.
IBG members to meet Dr. Rajesh Gawande IFS, Regional Passport Commissioner along with IBG Members.
IBG President Vikash Mittersain & CEO Priya Pansare meet Mrs. Geetha Ravichandran, PRINCIPAL CHIEF COMMISSIONER OF INCOME TAX along with IBG Members


Mr. Vikash Mittersain - Founder of IBG taking about the real estate industry.
| | |
| --- | --- |
| | Member's Corner |



Ms. Jazmin Irani
Partner
M 10 Human Resources
jazmin.irani@mi10hr.com
https://mi10hr.com/


Profile:

"Hiring the wrong people is the fastest way to undermine a sustainable business", having close to 2 decades of experience in talent acquisition has taught me to attract and hire the right talent. For a quick background I am one of the founder/ partner of MI 10 HR, boutique recruitment.

My educational background (MCM) has acted as a key catalyst to grasp the IT requirements well and at the same time gauge the knowledge of the candidates "MI 10 Human Resources" a young company with the Partners having more than 25 years of experience in Recruitment having recruited extensively for IT, ITES, KPO, Manufacturing and NBFC.

During our stint with our previous companies we have had the opportunity to build companies from their incubation stages and add value at every step thus making us the preferred partner, also managed ramp-ups & contingency hiring. A quick snapshot of our scope of work & services.

Scope of Services
I. Permanent Recruitment
1. Search
2. Selection
3. RPO
II. Pre-screening Candidates
III. Outplacement


For more details please visit our website: www.mi10hr.com




Dr. Santosh Kumar Pandey
Acupuncturist
Rejua Energy Center
acu.santosh77@gmail.com
www.rejua.co.in

Profile:

Dr. Pandey, the founder of India's leading, cutting edge acupuncture clinic, Rejua Energy Center Health and Wellness. At Rejua, the Doctor provides safe, drugless, treatments to patients suffering from multifarious, acute health issues.
He treats patients holistically and not just superficially. He specializes in pain and weight management, obesity, infertility, PCOD, PCOS, Diabetes etc. He has a special team of well trained, Naturopaths, Acupuncturists and physiotherapists.
We also provide dietitians under one roof. We give combination treatment of Acupuncture and other sophisticated therapies like Hydrogen, Colon Hydro and Cryo Therapy. All these are highly effective and give excellent results to every patient visiting us. Our branches are located in 3 areas in Mumbai - Santacruz, Walkeshawar & Dadar. We have successfully treated as many as 500 patients in a month.
Please do visit our website
www.rejua.co.in
for more details,
Our Instagram handle
https://instagram.com/rejuaenergycenter/
Facebook
https://m.facebook.com/RejuaEnergyCenter
Twitter
https://mobile.twitter.com/RejuaEnergy/




Mr. Anilkumar Tolia
President - Vidhi Bulk Drugs
vbd.export@gmail.com
www.vidhibulkdrugs.com

Profile:
VIDHI BULK DRUGS (GUJ) the brain child of Mr. Anil Tolia, began its journey in 1985 from Mumbai. It's been more than three decades since the Inception and We have only expanded our reach to provide best of services, assuring reliability & serving every need of the customer. Our core Business Segment is Exports of API's, Excipients, Ayurvedic Raw Materials, Machinery and Pharma Packaging Materials. We provide one-stop solution needs for all your Pharma requirements.
We got 1star Govt Recognized Export House.We have been regularly catering the needs of international customers since 30 years and well understand the Global Market Trends. Our International Network includes Srilanka, Egypt, Syria, Bangladesh, Ghana and many more countries. Our company is ISO (9001:2008) Certified and adding to our credits is our association with the Pharmaceuticals Export Promotion council (PHARMEXCIL).

Our Experience & Expertise as Exporters fulfills the need of the hour providing our international clients innumerable advantages of Consolidated Cargo. Our Quality products are a result of contacts with reputed and leading Manufacturers which has been built up over the last 20 years.




Ms. Namrata Wanvari
CEO Founder & Managing Director
NM Chocohollics Pvt. Ltd.
namrata@chocohollics.com




Profile:

Chocohollics is a brand that enables businesses to ensure a full-suite of services for corporate cakes, confectioneries and chocolates. We believe in offering holistic and comprehensive gifting solutions for your employees, clients and vendors. From scheduling to delivery of cakes, we at Chocohollics ensure end-to-end services with our one-stop solutions for all your gifting needs.
Namrata Wanwari is a certified Chocolatier & confectioner, who believes the world is better with chocolate in it! She began her journey by travelling, learning and educating herself across the world at leading confectionery institutes like LCB, Paris, Barry Callebaut Academy, Mumbai & Belgium and IIM Bangalore. In 2012, she began a fully functional central kitchen with world-class facilities at Ghatkopar West, Mumbai. From thereon, there was no looking back. Chocohollics went on to become a household name in the industry, and also created exclusive cakes and confectionary for India's no 1 florist and gifting company.




Mr. Hardik Gala
AVP - Land & Capital Markets
Wealthkraft Investment Services Pvt. Ltd.
hrdkgala@gmail.com





Profile:

Hardik is a Chartered Accountant with over 12 years of experience in Real Estate Sector, having previously worked with IIFL & Aditya Birla in their Real Estate Lending Teams.

He specializes in Fund Raising for Real Estate Developers & Land / JDA Transactions.

He has extensively worked on new project acquisitions and studying the feasibility of projects in Residential & Commercial space, advising developers on their Land /JDA transactions.

Football is his passion and reading thriller novels his favorite pass time.
Become an IBG member now!
TO BECOME AN IBG MEMBER AND ENJOY THE BENEFITS, CLICK ON
http://www.ibg.org.in/Link/IBG-Membership-Form.pdf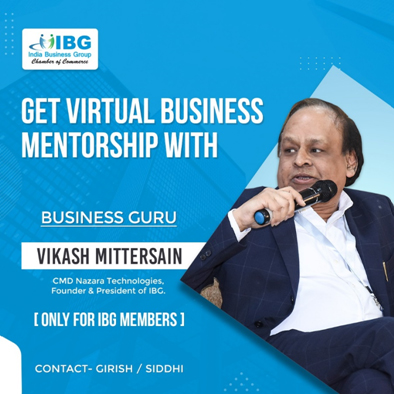 | | |
| --- | --- |
| | Updates |

Additional New Benefits on being IBG member:
Members get to present their array of work and business at our Networking event.
Members get to unveil their expertise and company credentials once in our IBG Newsletter which is released in the first week of every month and read over by 1 Lac Business People.
Get added on IBG Whatsapp Group and interact with other IBG paid members.
Get to be a part of only paid members event where you will get badges according to your industry sector which makes easier to identify specific needs.
IBG is connected and in collaboration with several consulates. Thus the trade inquiries which are floated from their country is been passed on to our paid members. Also IBG paid members get to be part of such meetings held in turns.

For regular updates please connect with us on Facebook, click on. Also kindly revert back to us with your mobile numbers so that we can message you with our event details prior. Like our IBG start ups group on Facebook to receive regular updates.
| | |
| --- | --- |
| | Sponsorship / Advertising |

In case you would like to advertise in this news letter at nominal rates please write to us at

priya@ibg.org.in

IBG IBG Newsletter goes to around 100000 people To view sponsorship & advertising details and rates

click here

Kindly let us know if you too would like to sponsor a lucky draw prize of your Brand / Company / Any services such as Airline Tickets, 2 Night Hotel Stay or any Product/Service related to your Company at this event as soon as possible so that we can advertise & promote your Company Logo linked to your website, in our mailers. Our mailers go out to 1 Lakh people.

| | |
| --- | --- |
| | We Welcome Your Views |

We welcome views of Members to make this news bulletin more useful to IBG Members in particular and businesses at large. Your interest in India Business Group (IBG) is highly appreciated.
| | |
| --- | --- |
| | Subscribe |

| | |
| --- | --- |
| | Updates |

For regular updates please connect with us on Facebook

click here

Also kindly revert back to us with your mobile numbers so that we can message you with our event details prior.

| | |
| --- | --- |
| | Contact Us |

India Business Group

51-57, Maker Chambers 3,

Nariman Point,

Mumbai - 400021, India

Phone:

+91 22 67471646

Fax:

+91 22 67473821

Email: ibg@ibg.org.in
IBG Team