Testimonials
---
Mr. Rohan Moktali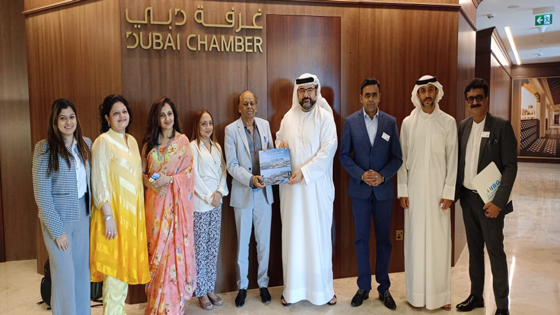 Testimonial by our member Rohan Moktali for his experience at IBG Dubai Delegation 2022

IBG recently took a delegation of its members to Dubai to attend the Dubai Expo and meet with some esteemed trade organisations such as The Dubai Chamber of Commerce and DMCC. In hindsight, I can say that joining the delegation of IBG for this trip was indeed one of my best professional decisions. I represented my company CorpelServe India on this trip and am extremely happy to share that this visit has opened up many possibilities of international collaborations and revenue opportunities for us. We are in advance talks to sign a strategic partnership with an organization based in UAE which is in the same line of business as ours, i.e Market Entry Advisory. This was possible only through my attendance at the Dubai Expo with the delegation of IBG. Various meetings held with the Commissioner Generals and Ambassadors of many nations at their respective pavilion at the Dubai Expo have opened up new channels of business for us. Through this network I am confident that I will be able to raise our emblem across various embassies in the years to come. Each meeting that we had during those 4 days was of strategic importance and it's for this initiative of IBG that I have moved many steps closer to reach my target of having sustainable international alliances and maximum business opportunities. To sum up, this trip was much beyond just offering a higher return on my investment. I appeal to every member of IBG to strongly consider to join such business delegation of IBG in the future. IBG delegations are equivalent to the term Opportunities Infinite!

Having said all of the above, this overwhelming experience would not have been possible without the relentless and untiring support of the IBG's core team. Girish offered an unparalleled support to get me on board last moment (as my renewed passport arrived just few hours before the scheduled time of travel). Siddhi personifies all that can be termed as 'Excellent facilitation and liaison '. She is extremely efficient in ensuring that members are looked after well on a foreign business trip and Siddhi often went an extra mile to ensure that no inconvenience is faced by any of the delegates. Priya's Leadership ensured priority attention to all the delegates from all the trade organisations and country pavilions on this trip. She championed her role to successfully steer the entire business trip. And above all, Vikash's encouragement, constant guidance and Leadership positioned all of us well at various events, thus boosting our confidence to demonstrate excellence in our interactions with all the country representatives and trade bodies. Quite fortunate to enjoy so much of his time during the trip!! As a member of many other international business groups, I definitely can compare the difference in the value that IBG offers to it's members. It is indeed an amazing platform for business. As someone who has been associated with IBG from inception, I am really pleased to experience the growth of our own Chamber of Commerce over the past decade. Well done Everyone....

A biiig THANKS to everyone at IBG for making this Dubai trip happen so successfully. I am looking forward to many more delegation visits in the future.

May opportunities prevail, May possibilities multiply.....💫

My best,
Rohan Moktali
IBG Corporate Member
(Show More)
Ms. Chaitaly Mehta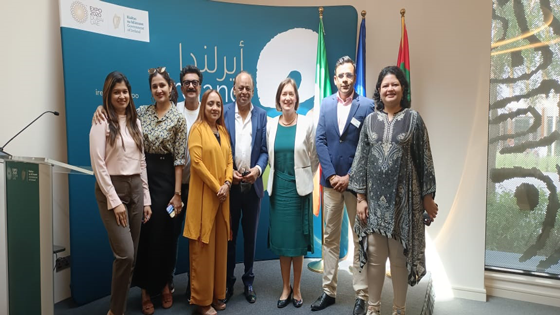 Testimonial by our Member Chaitaly Mehta for her experience at IBG Dubai Delegation 2022

I am Chaitaly Mehta from EKF Global Logistics Pvt Ltd a relatively new member in IBG and definitely not very active.

When I was informed about the delegation being taken by IBG for EXPO 2020 to Dubai I immediately agreed.

Initially a little apprehensive because I literally knew no one having limited interaction with anyone including IBG core team I decided to go ahead because meeting new people and forming relationships is part of my DNA.

I am so glad that I went because my 1st international trip after Covid, the arrangements made by IBG, the meetings,EXPO and the overall level of comfort and care taken by IBG Vikash ji is a powerhouse and a very popular gentleman. His willingness and enthusiasm walking in the Sun for our meetings, his knowledge and reputation absolutely 👌🏻👌🏻.

Priya is a powerhouse and the key to IBG success. A CEO never being ruffled visibly inspite of issues impressed me tremendously. She is so approachable,involved and go getter.

Siddhi is par excellence at whatever she does and whilst we would have some down time Siddhi was always in the job. Absolutely dedicated and a fantastic person.

Coming to the meetings I was impressed because everyone was expecting us courtesy all the hard work by Siddhi and the meetings were not faltu at all but each one has added more knowledge more possibilities and opportunities.

Some may take time but I would like think we have broken the ground and now it is upto us individually to make what we make of it. IBG in their part have fulfilled what they promised.

Everyone was given opportunities and equal visibility which is most important.

I would like to thank IBG for this fab trip and request every member in IBG to grab the opportunity the next time a trip is announced because you never know when and where you strike gold.

For the delegates even though it was only Khushnuma,Rohan, Sangeet and myself it was wonderful and I would like to think I have acquired new friends and possible collaborators.

A long testimonial but this needed to be said.
(Show More)
Ms. Khushnuma Khan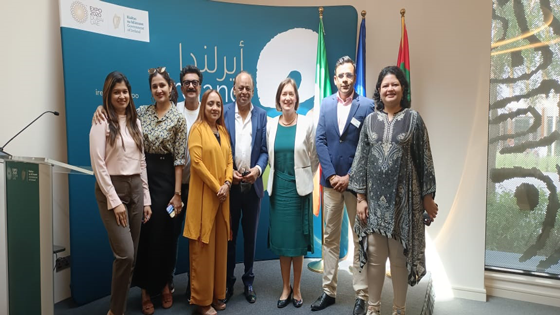 Testimonial by our member Khushnuma Khan for her experience at IBG Dubai Delegation 2022
It is said that whatever happens for the first time in your life leaves it's reminiscence forever. So true… my first experience with IBG Dubai Expo Delegation has left so many memories to keep cherishing througout. Every moment spent was an experience in itself. The meetings with the Commissioners was made so much special. Entries to the pavilion without queuing for hours.. Specific attention to each delegate member. The lunches the dinners, the tours the walks everything is just inexplicable. All this was only with the tireles efforts of Priya and Siddhi.

Priya, she is the heart of the IBG and Siddhi… heartthrob… both of them were personally taking care of everything with smile, making the trip so much comfort. And ofcourse, words would run short to describe the personality of Vikash Sir, he is crown of our IBG.. His presence kept vibrating the entire tour. He never got tired walking with us miles together at the pavilion, only to keep the tempo high of the delegation.. His presence added so much value to each and every professional meetings that we did at various pavilions with their respective High Commission or DMCC or Dubai Chamber of Commerce. Our delegation was greeted with so much honour and respect. My heartfelt gratitude to the IBG and its entire team… looking forward to more such happenings…
(Show More)
Mr. Vishwajeet Patki
Watch this video to understand IBG Member Mr. Vishwajeet Patki's experience of the mentoring session and his overall journey as an IBG member.
(Show More)
Mr. Vinitt Lohita
Shri Vinit Lohiya, the founder of ICCU - Intensive Car Care Unit, talks about the new business ideas he discovered with Mr. Mittersain in this session. His emphasis on his progress as an IBG member is one thing you shouldn't miss.
(Show More)
Mr. Mahesh Narvade
"ACP Havildar Mahesh Narvade, is a dynamic, young ex-Indian Army Officer, an IBG member and the Founder and Director of the JAY HIND Academy http://www.jayhindacademy.in/​ - which provides innovative, unique programs for practical self-defence skills for real world situations in a fun, family-friendly atmosphere. Reach him - maheshnarvade@gmail.com ; 9967113920 In this video, Mahesh talks about the mentoring, guidance and support he received from Vikash Mittersain to further grow and build his business."
(Show More)
Mr. Prasad Patki
"This week, he connected with Mr Prasad Patki, the proprietor of #ShreyaInnova​, a Rera Registered Real Estate advisory consultancy which helps Indian and Overseas Companies in Office Space Acquisition, Corporate Office Leasing, Retail Leasing, Warehousing Lease and Sale, Industrial Premises Lease and Sale, Built to Suit Properties, Residential Consultancy for Redevelopment and Project Marketing, Interior Fit Outs & Land deals. Connect with him at 9819503499 / 8879815989. innovashreya@gmail.com, prasad2004@yahoo.com"
(Show More)
Ms. Archana Sand
"Ms Archana Sand, the Founder of #SandAssociates​, had an hour long mentoring session today. In this video she talks about the new business opportunities which she will be targeting. In this session, she realized that there are many skills, which she as an individual has, but has neglected completely. Mr. Mittersain has generously offered to connect with her again, in case she needs any guidance. Archana can be reached at archana@sandassociates.co, http://sandassociates.co/​ - 9833795309"
(Show More)
Mr. Anurag Gangwal
"This week, he mentored, Mr. Anurag Gangwal, the MD of HRK & Co. Chartered Accountants. HRK is a 31 year old firm dealing in Audits, Project Finance, Investigation Audits, Due Diligence, Taxation (Direct and Indirect), Company Law Matters, Management Consultancy and Advisory Services. They operate in Mumbai, New Delhi, Surat, Bhilwara and Vapi. In this video Anurag mentions, that it is impossible for him to count the number of new opportunities that Mr. Vikash Mittersain suggested for HRK. He specifically appreciates his emphasis on building a strong team around himself, in order to scale up the business."
(Show More)
Mr. Vineet Rastogi
"This week, Vikash mentored Mr Vineet Rastogi, who is the Founder & Managing Director of Exponential Healthcare, MD of Healium.io and MD of BIZpaye India. Watch this video to understand his experience of the mentoring session and his overall journey as an IBG member."
(Show More)
Mr. Arvind Tandon
"This week, Mr. Mittersain connected with a senior member of #IBG​, Mr. Arvind Tandon, who is the Director of Ark Travels. Arvind is a veteran of the travel, tourism and hospitality industry. He introduced Star Cruises to the India market in 1994 as he saw opportunity in the cruising sector at a time when India was a virgin market for cruises. In this video, he talks about how mentoring with Vikash, has helped him look at the current #covid19​ #lockdown​ in a new light. It helped him locate opportunities in new markets and sectors."
(Show More)
Mr. Ghanshyam Gupta
"This week, he mentored, Mr. Ghanshyam Gupta, the Director of G.K. Associates. He is an alumni of the prestigious IIM Ahmedabad and has 28 years of engineering and mangerial experience. He now focuses on coaching HNI and Ultra HNI clients. In this video he talks about how Vikash's consistent advice about having strong business ethics, humility, diligence and unwavering purpose have helped him be an effective human being. He thanks Vikash for his guidance and useful advice."
(Show More)
Mr. Hemant Mistry
"This week, Mr. Mittersain mentored Mr. Hemant Mistry, the Owner and Partner at M Square Construction. Hemant is an #Architect​ and has 9+ years of experience in Real Estate Development. M. Square Construction is a Turnkey Solution Provider for new Infrastructure projects in Residential & Commercial Buildings. In this video Hemant genuinely appreciated the time that he received from Mr. Mittersain. He thanks Vikash for liberally sharing his time, information, and persistence. Hemant can be reached at hemant.mistry03@gmail.com ; 9820969114"
(Show More)
Mr. Jimmy Gandevia
"Mr Jimmy Gandevia, is an IBG member and the Owner of 3 businesses. He has a Car Rental Service - Marathon Travels, a 25 year old business. Through his company Specktrum Decor, he takes up paint contracts, interior and exterior work and small civil work. He also specializesin making customized precious and semi precious stones studded jewellery. In this video, Jimmy talks about how Mr. Mittersain's entrepreneurial skills have won him many admirers and yet, his is so easily accessible to all. He feels that one can learn something new from Vikash every day. He thanked Vikash for his kind words, guidance and mentorship."
(Show More)
Ar. Taher Ali Raotiwala
"This week, he spoke to Mr. Taher Raotiwala, the Founder and Director of Effusion Designs, which designs and builds Hotels, Offices, Hospitals, HNI properties, Retail Chains, Educational Institutes, etc. They have offices in Mumbai, Bengaluru, Hyderabad, Gurugram & Chennai. In this video, Taher appreciates the insights Mr. Mittersain has shared in the field of Real Estate, Design and Luxury HNI clients. He thanked him for sharing information of different areas of the industry. Vikash's thoughts and ideas have helped Taher look at how he runs his company, and has allowed him to look at operations, marketing and business development in a new light."
(Show More)
Dr. Renuka Desai
"This week, he mentored, Dr. Renuka Desai, who is the Founder of Artha Aarogya - The Lifestyle Clinic. She is also the Western Zone President of the International Human Rights Council. In this video Renuka talks about her mentoring experience. She mentions how words cannot qualify nor quantify how helpful Vikash's guidance and advice has been. She talks about the her profound gratitude for the knowledge she has gained from IBG and Vikash."
(Show More)
Mr. Ravi Sachdev
"This week, he connected with Mr Ravi Sachdev, Proprietor of Polestar Polymers, who has over 18 years of experience in manufacturing, imports & exports of engineering plastics and various polymers. In this video he mentions how Vikash Ji started giving him advice on WhatsApp. These were truly golden words, which he followed and received immense benefit from."
(Show More)
Mr. Ritesh Kapoor
"Meet IBG Member - Mr Ritesh Kapoor Ritesh is reputed Tax Consultant, Chartered Accountant, Founder/ Director of Globify Consulting Pvt Ltd/Japan India Partners and Aus-Indo Advisors Pvt Ltd (Australia). After attending the weekly mentoring one-on-one session, Ritesh got valuable insights of his industry from Mr Vikash Mittersain, which would otherwise be tough to get from any other source."
(Show More)
Mr. Haresh Tolani
"Mr. Mittersain connected with a senior member of #IBG​, Mr. Haresh Tolani, who is the Education Partner of Unicorn Futuring Olympiad (UFO) program. He endeavours to reach out to the Youth across India and beyond with UFO program to make future leaders take their first step towards bright future. In this video, he talks about a mentoring session with Vikash, it was a great opportunity to talk with Vikash, and get advice. He knows Vikash for a short period of time but just felt like as they know each other since long. He loves to be a part of #IndiaBusienssGroup​ and keep getting a mentoring session from Business Guru - Vikash Mittersain."
(Show More)
Ms. Payal Shah
"Mr. Mittersain mentored Ms. Payal Shah a professional photographer specializing in advertising, beauty, corporate portraits, editorial, and fashion. She had been a part of the Kingfisher Calendar 2003, 2004, 2006, Sahara Group, and some editorial magazines like Cosmopolitan, Elle, Femina, L'officiel and Time, and shooting famous personalities like Amitabh Bachchan, Mukesh and Anil Ambani, Shahrukh Khan. In this video Payal, genuinely appreciated the mentoring that she got from Mr Vikash Mittersain, as it was her first mentoring session. She thanked Vikash for liberally sharing valuable guidance and looks forward to these sessions."
(Show More)
Ms. Swini Deshpande
"Mr. Mittersain mentored Ms. Swini Deshpande, Founder and Director of SS Consultancy Services which provides strategic services in Human Resource Development in India & Abroad. In this video, Ms. Swini Deshpande says she is very thankful to Mr Vikash Mittersain and Priya Pansare (CEO of IBG) for creating such a wonderful platform for business owners, where we can connect and network globally. There is hardly any organization like IBG, that works efficiently for its members to build profitable businesses."
(Show More)
Ms. Priti Sshekhawat
"Ms. Priti Sshekhawat is a Vastu & Numerology Consultant at Shrri Vastufit. In this video, Ms Priti talks about how IBG and Mr Vikash's mentoring have helped her get opportunities to expand her business globally. She says how IBG helps people with multiple business interests can network easily anywhere in the world and not just India. She highlights how IBG has helped her grow and profusely thanked Mr Vikash for his valuable mentorship and guidance."
(Show More)
Mr. Yazdin Mistry
"Mr. Business Guru - Vikash Mittersain , CMD of Nazara Technologies and Founder President of India Business Group, mentored IBG member, Mr Yazdin Mistry - Head of Investment Banking - Manipal Group. In this video, he mentions that, IBG is one of the best active networking group he has came across. He was impressed with Mr. Mittersain's vision to help business owners grow their business in the right way He was able to crack certain large deals after some useful tactics, he learnt from Mr Vikash. He expressed his heartfelt gratitude to Mr Mittersain and his team for his continuous assistance and giving the utmost attention to all members without expecting anything in return. "
(Show More)
Ms. Yoshita Gurnani
"Its been a year since Yoshita joined IBG. She has come across many like-minded entrepreneurs at IBG and she is thankful to Mr Vikash for his mentoriship, support and encouragement. She even thanked the core team of IBG, who has been always supportive and helpful. The mentoring sessions are held every week, only for IBG members. Get in touch with us to be a part of IBG. "
(Show More)
Mr. Amith Ashokan
"Recently, Business Guru - Vikash Mittersain - CMD of Nazara Technologies and Founder President of India Business Group mentored Mr. Amith Ashokan, the Managing Partner at Aysdev Global Consultancy LLP. In this video, he mentions, ""While working in consulate projects the guidance and sessions provided by Ms Priya & Mr. Vikash Mittersain was valuable and eye-opening"". After attending the session, his misconceptions about business, networking and opportunity identification were cleared. He underscores how IBG as a network can help him and his network in business. He thanked Mr Vikash Mittersain, Mr. Girish and Ms. Priya for being generous with their insights and time."
(Show More)
Ms. Kavita Saxena
"In this week's mentoring session, Business Guru - Vikash Mittersain mentored Ms. Kavita Saxena, Founder of Digi Sparsh and member of India Business Group. Kavita was initially reluctant to join IBG, because she thought it would be similar to other Networking groups. After joining IBG, she is very happy and satisfied with the business she is getting. She was grateful to Mr Vikash Mittersain who has always been gracious enough to mentor her at every point of time."
(Show More)
Mr. Manish Khanna
"In this video, he mentions about how Mr. Vikash mentored and cleared the doubts he was facing. He is thankful to the team of #IBG​ for always being ready and responsive to help and guide IBG members for every minute query. Business Guru - Vikash Mittersain mentors IBG members each week, to help them excel in their chosen business."
(Show More)